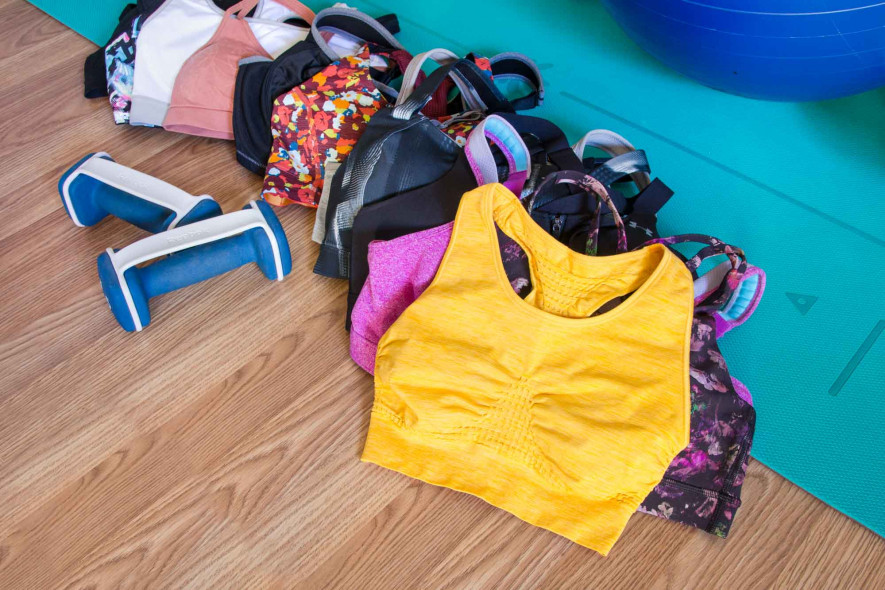 With entire research labs dedicated to breast biomechanics and athletic bra development, it's no surprise that the sports bra is still a work in progress. Though there may be no such thing as the perfect sports bra (yet), in the meantime we put 11 top-rated athletic bras through the paces to determine the current best of the best, testing their level of support, comfort, breathability and overall effectiveness for cup sizes A through DDD-plus.
For women who wear A and B cup sizes, our top pick is the Lululemon – Energy sports bra, a high-quality, comfortable bra for those who need light support with removable p
adding.
For C and D cup sizes, we recommend the Outdoor Voices – Doing Things bra, a solid, streamlined design that delivers secure support and excellent airflow.
The Brooks – Juno bra is the best model for D and DD cup sizes, with its intuitive and effective overall design and innovative strap construction.
Finally, our choice for sizes DDD and up is the Bravissimo – Inspire, a highly supportive, solidly constructed bra that made our larger-chested testers feel secure and comfortable during exercise.
Table of contents
The 13 sports bras we tested
1. Best for A/B cups: Lululemon – Energy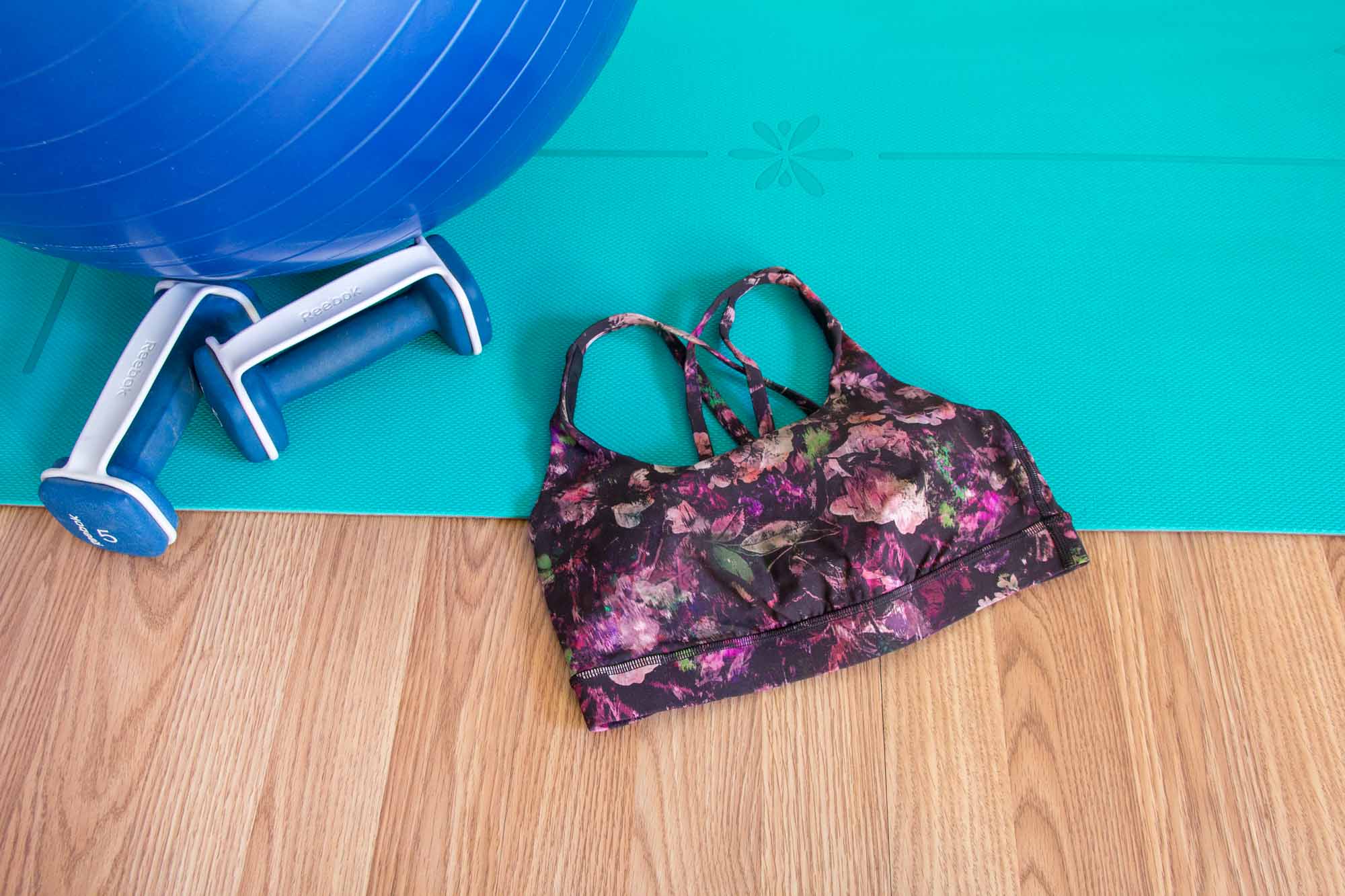 Our top pick for A and B cups is the Lululemon – Energy sports bra. Our petite-chested testers reported that its cups have the perfect medium amount of padding — and because the padding is removable, women who prefer no padding or don't need it at all can simply take it out.
Though a tad tight under the arms (we recommend sizing up), the compression-style Energy bra received high marks for comfort and stayed in place well during our testers' workouts, with minimal shifting. The neckline of the bra is high enough to control bounce with no chest spillage, and feels secure during exercise; there's no need to pull on it or make adjustments.
The Energy bra is made of a blend of several different fabrics that breathed well and wicked sweat nicely: nylon, polyester, coolmax, lycra and elastane. Though the bra's thin, criss-crossed racerback straps are undeniably cute, we were skeptical about whether they would provide much support and comfort. We were pleasantly surprised; the straps stayed in place well and were so comfortable that one of our testers completely forgot that the criss-cross design was there at all. Our testers also loved the broad range of chic color and pattern choices available: 17 total.
Key takeaways
The Lululemon – Energy sports bra is a great choice for women who need a high-quality, attractive compression bra that delivers light support and comes in a variety of appealing colors and patterns.
This bra includes medium-level padding that's removable, depending on your needs.
The Energy bra's criss-crossed straps combine chic design with a surprisingly high level of support and comfort.
2. Best for C/D cups: Outdoor Voices
The Outdoor Voices – Doing Things sports bra was the favorite of the testers in this size range. A pullover-style combination bra that leans heavily on the compression side, the Doing Things bra includes distinct padded cups for effective separation and encapsulation. Our testers found this bra's seamless, racerback straps particularly comfortable; even though they aren't adjustable, they're lightly padded and wide enough to lie flat on the shoulders without digging into the skin.
This bra is comfortable to run in and holds everything nicely in place during activity, with a wide elastic bottom band for extra support. We felt that the Doing Things bra had just the right amount of padding — enough for us to feel secure and supported (and to hide our "high beams," as one tester said), but not so much padding that we felt bulky wearing it.
Another big plus is the Doing Things' super-breathable mesh back and keyhole opening for extra aeration. Our testers also loved this bra's selection of fun colors and patterns, which range from cute solid colors (like mustard yellow) to polka dots and florals.
Key takeaways
With its balance of firm compression and secure encapsulation, the Outdoor Voices – Doing Things bra provides solid support for C and D cups.
This sports bra features a nicely aerated mesh back and lightly padded, seamless racerback straps that don't dig into the skin.
The Doing Things bra has just the right amount of padding to provide great support while remaining streamlined.
3. Best for D/DD cups: Brooks – Juno
The Brooks – Juno sports bra received the highest overall ratings of all the bras we tested. A combination compression/encapsulation bra with separate, moderately padded cups, the Juno provides excellent support and bounce control.
Our testers raved about the Juno's ultra-comfortable racerback straps, which are lightly padded and can be tightened or loosened in the front of the bra, rather than the back. The straps have a soft, felt-like fabric sewn discreetly into their underside, for a velvety feel against the skin. It's details like this that really set the Juno bra apart.
The bra also includes a back closure with three tightnesses, for yet another way to adjust it to your perfect fit. Like the Outdoor Voices bra, the Juno features a center keyhole in the back for extra breathability; in front, a hidden mesh panel allows for more airflow in the "underboob" area. The bra is also made of a blend of sweat-wicking DriLayer polyester and spandex that keeps it dry and comfortable, and comes in both solid colors and a few sporty, if somewhat generic patterns.
Key takeaways
With the highest overall ratings of all the bras in our lineup, the combination compression/encapsulation Brooks – Juno bra provides excellent support for D and DD cups and effectively minimizes bouncing.
The Juno bra features innovative front-adjusting racerback straps that received rave reviews from testers for comfort.
This bra is made for breathability, designed with sweat-wicking fabric, a hidden front mesh panel and open keyhole back.
4. Best for DDD and up: Bravissimo – Inspire
The Bravissimo – Inspire offers excellent support for cup sizes DDD-plus. The most bra-like of the sports bras in our lineup, the Inspire looks more like a traditional encapsulation bra, with a firm underwire and light padding in the cups. Our 34DDD tester was pleasantly surprised at how comfortable this bra was to run in and how well it controlled bouncing, with no chafing whatsoever.
Made mainly of nylon and polyester (with varying percentages of each, depending on the color and print you choose), the Inspire bra feels silky and smooth against the skin and breathed well during exercise. While sports bras made for larger cup sizes tend to look more "grandma" than sporty, the Bravissimo has a refreshingly younger vibe and comes in a few cute patterns beyond basic white and black.
The Inspire's adjustable padded straps are comfortable, stay in place well and, thanks to their generous width, don't dig into the shoulders. The bra is also cut high enough in front to fully contain the chest and control spillage.
Key takeaways
Finding a highly supportive, well-made bra for larger cup sizes can be a tough task — which is why we were so impressed by the Bravissimo – Inspire, an encapsulation bra that made our 34F tester feel well-supported and comfortable during her workouts.
The Inspire bra includes underwire for firm support and is cut high in the chest area for extra coverage and spillage control.
This bra breathes well during exercise and features wide, padded straps that don't dig into the shoulders.
5. Champion – Spot Comfort
Made of a soft polyester/nylon/spandex blend, the Champion – Spot Comfort bra received one of the highest ratings for comfort and breathability. A combination compression-encapsulation bra, the Spot Comfort clasps in the back and has adjustable, gel-cushioned straps that stay in place and are cut wide for better weight distribution.
The Spot Comfort comes up high enough on the chest to eliminate spillage, and offers good bounce control overall. One note: This bra's cups have no padding whatsoever, so if you prefer thicker fabric or padding in the cups, this bra may not be for you.
6. Beyond Yoga – Spacedye Lift Your Spirits Bra (recommended for low-impact workouts & smaller cup sizes)
Beyond Yoga is best known for its super soft workout attire that is just as comfortable as cute at the gym or studio. We tested the Spacedye Lift Your Spirits Bra on the treadmill, pilates, and yoga classes to see if this encapsulated sports bra provided enough support. While it's aesthetically pleasing to wear, the deep v design ranked low on the spillage control tests, and our testers were a little worried in some yoga positions.
The polyester and spandex material is one of Beyond Yoga's most popular materials because it's so soft it feels like you're wearing pajamas–our testers ranked comfort and overall support 10/10. This is great for an everyday bra, even when not working out. This encapsulation bra also has removable pads if you prefer a seamless design. Since it's on the more expensive side, we liked the versatility of this bra, but it may not be a perfect match if you want a bra for HiiT workouts because of potential spillage.
7. Sweaty Betty – Stamina
If you prefer a light-support compression bra with no padding, the Sweaty Betty – Stamina is an excellent, well-made choice for women who need just a little lift. Though the Stamina bra is cut a bit longer than most sports bras, with a wide underband for extra support and a chic cropped look, its perforated waffle detailing allows for increased airflow.
The Stamina also features wide, seamless racerback straps that don't chafe. This bra received high marks for softness and breathability due to its nylon and elastane fabric.
8. Glamorise – Elite Adjustable Underwire
Although the Glamorize – Elite Adjustable Underwire bra is available in cup sizes B through H (UK sizing), it really shines as an extra-supportive bra for larger-chested women. Similar to the Victoria's Secret bra, the Elite has two layers: an interior encapsulation bra with a firm underwire, and a front "hammock" made of aerated fabric that hooks over the front of the bra for extra support and compression. The hammock is adjustable to four different tightnesses, and the bra's adjustable straps are well-padded for cushioning.
We were impressed by this bra's level of support; all of its different elements kept the bounce factor very low. And despite its layers, the bra's aerated panels kept it fairly well-ventilated. The layers did make the bra a bit complicated to get into, though it gets easier once you've nailed down the best adjustment settings for your body.
9. Victoria's Secret – Incredible Knockout
The Victoria's Secret – Incredible Knockout sports bra has two layers: an interior encapsulation bra with flexible underwire and an outer compression layer that zips up over the interior bra. Though the design of this bra is similar to the Under Armour bra we also tested (see below), the Incredible Knockout turned out to be the superior choice. While we had problems with the Under Armour bra coming unzipped during exercise, the Victoria's Secret bra remained secure and closed. This bra really delivers in the support area — our tester's chest literally did not move during exercise. Made of sweat-wicking fabric, it also features adjustable racerback straps that are nicely padded for comfort.
The bra's zipper didn't give us problems during testing until we started doing exercises lying down on our stomachs; this turned out to be uncomfortable. However, if you're looking for a sports bra with strong support and like the look of a front zip, we recommend this one.
10. Patagonia – Barely
The Patagonia – Barely bra is a good basic, pullover sports bra for smaller-chested women looking for a comfortable, no-frills bra for light support. Though its racerback straps are not adjustable, they're comfortably form-fitting and we didn't feel a need to tighten them at any point during exercise.
This bra's soft, nylon spandex fabric wicks sweat easily, though we felt it could have dried more quickly after our workouts. For those who prefer no padding, the Barely bra's padding is removable (one tester felt that the padding was too thick and looked "pointy" under her workout tops).
11. Under Armour – Eclipse High Zip (not recommended)
The Under Armour – Eclipse High Zip bra has a similar combination design to the Victoria's Secret Incredible Knockout , with an encapsulation bra base and a zip-up outer layer for compression. Like the Victoria's Secret bra, the Eclipse provided strong support for high impact exercise, with barely any bounce. However, the Eclipse's racerback straps dug into our shoulders, and its double layers and thick fabric grew hot and somewhat stifling during our workout. And although the bra includes hook-and-eye closures underneath its front zipper, the bra unzipped itself once we started moving more vigorously.
12. Champion – Absolute Workout (not recommended)
The lowest-priced bra in our lineup, the Champion – Absolute Workout turned out to also be the most basic of the bras we tested, from a design and aesthetics perspective. A pullover-style racerback compression bra with no padding, the Absolute Workout's fabric is the same weight throughout, with zero bells or whistles, though its bottom band is thick for extra support. We found that its polyester spandex fabric's breathability was okay, but not the best.
13. Athleta Ultimate Adjustable Bra (not recommended)
The Athleta – Ultimate Adjustable Bra is unique in its front-facing adjustable straps that make it easy to fit your body. This compression bra is best for cardio and medium-impact workouts for those who have D-DDD cups. We tested this bra on treadmill runs and HiiT workouts.
Our testers didn't really like the pads because they felt bulky when working out, so removing them was more comfortable. We like the added mesh accent and back opening design for more breathability. The compression is very useful and offers a lot of support during running, but our testers found removing the bra difficult after the workout difficult. The bra also seemed to cut into the underarms for our petite tester, making it uncomfortable to wear for long periods.
How we selected products to test
There are many variables when it comes to choosing the right sports bra. If you generally wear yours for yoga and other low-impact activities, you may not need as much support as someone who runs regularly or plays vigorous sports. However, for this review, we selected bras we felt would provide excellent support during both low-impact and high-impact activities.
We started by interviewing top bra expert Laura Tempesta, founder of the sports bra education mecca Bravolution, to learn more about the design features that make a supportive, well-fitted, quality sports bra.
After our talk with Laura, we scoured trusted review sites like WireCutter and Business Insider to discover the top-rated, most recommended sports bras on the market — as well as cult favorites mentioned numerous times on subreddits like A Bra That Fits.
Finally, we narrowed the resulting list down to 11 models to test — the sports bras we felt were the absolute best choices on the market for our 4 cup size categories (A/B, C/D, D/DD and DDD-plus). All of the bras in our lineup are made of breathable, sweat-wicking fabrics (nylon, polyester and microfiber blends, as recommended by Laura), come in a variety of sizes and are priced below $75.
The complexity of the sports bra
The sports bra is a relatively new invention, first developed in 1977 as the female supportive equivalent of a jockstrap — literally. Made of two jockstraps sewn together, the "Jockbra" (later renamed the Jogbra) was designed to pull the breasts closer to the body for increased support.
Though we've come a long way from the Jockbra, the sports bra has yet to be perfected. Because breasts contain no muscle and are made up of glandular, connective and fatty tissue that varies from woman to woman, constructing an adequately supportive sports bra is no small feat. Breast movement, it turns out, is surprisingly complex — so much so that entire research labs are currently dedicated to breast biomechanics.
The University of Portsmouth's Research Group in Breast Health discovered that a woman's sports bra actually affects the way she runs — one of the many reasons why it's so important for a woman to find the right fit for her body. Studies conducted by Breast Research Australia found that up to 70% of women suffer from breast discomfort during exercises that include running and jumping, which then leads to reduced participation.
In this research, a high percentage of women with large breasts not only chose less intense workouts than their smaller-breasted counterparts, they also felt that their breast size affected how much and how vigorously they exercised. So, depending on breast size, the support and fit of a woman's sports bra can literally make or break her drive to exercise regularly.
Finding the right fit
When shopping for a sports bra, it's important to try on your different options. Sizing inconsistency is very real in the bra industry, with measurements varying from brand to brand or even within one brand. This is due in part to variations in the stretch fabric used for a bra's underband (the part of the bra that wraps around the torso). Inconsistent sizing is even more apparent in sports bras, which often have compressed cups and even tighter-fitting underbands. On top of all this, studies show that 85% of women are walking around wearing the wrong size bra.
The best place to start? With a professional bra fitting, which will save you from years of frustration and discomfort. For bra fitting services, our bra expert, Laura, recommends a visit to Nordstrom or Title Nine (which specializes in women's athletic wear and sports bras).
If you aren't able to get a bra fitting or are shopping for sports bras online, Laura recommends simply ordering multiple sizes and returning the ones that don't fit.
Important features to consider
Compression vs. encapsulation
There are three general types of sports bras on the market: compression, encapsulation and a combination of the two.
Compression bras are made to simply flatten the breasts and press them closer against the body, distributing pressure evenly throughout the chest area. Encapsulation bras are designed more like everyday bras, with separate cups that provide individual support for each breast. Combination bras incorporate elements from each type, usually incorporating separate cups and compression.
While compression bras are usually thought to be better for smaller chest sizes, and encapsulation and combination bras tend to be recommended for C cups and larger, a study of D-cup women by the University of Portsmouth showed that there was actually no significant difference between the bra types when it comes to reducing breast movement. Ultimately, the right choice will depend on the wearer's preferences.
"You could have five 34D testers," says Laura, "and the same bra would fit them all quite differently due to breast shape, tissue composition, space between breasts and shoulder slope and width. It depends on the bra and wearer. If you feel good in it and it doesn't distract you during exercise, that's paramount."
Fabric
To wick sweat away, maximize breathability and minimize discomfort, synthetic microfiber, polyester or nylon blends are your best bets. Avoid cotton, which will hold on to sweat, and look for bras with cooling mesh panels. Keep in mind that the more layers a bra has, the less air circulation it will allow.
"Unfortunately, there is no one fabric that's better for chafing than another," says Laura. "Chafing is related to things like how the bra is constructed, the wearer's skin sensitivity, intensity of exercise and climate."
While hand washing is the best choice to prolong the life of a sports bra, many women don't have time for that after every workout. The next best thing? Laura recommends this method: Place your bra in a lingerie bag and knot the bag to reduce its capacity and minimize your bra's movement within the bag. Wash on the delicate cycle — minus fabric softener, which can prevent fabrics from wicking sweat. Then hang your bra to dry (dryers make elastics wear out quickly).
Fitting room tips
Once you've chosen bras to try on based on the recommendations above, here are some vital features to pay attention to when you're trying on your options.
Cups
With the sports bra on, if you see wrinkling on the outside of the bra or can feel space inside the cups, it's probably too big. If, on the other hand, the bra gives you cleavage or your breasts are spilling out of the cups, it's too small. Remember, any part of the breast that isn't covered by your bra will move during exercise — which means less support for you.
Underband
If you're trying on a sports bra that hooks in the back, notice whether you can comfortably hook it at the middle setting. If so, you're wearing a well-fitted underband. But if you need to hook it on the tightest or loosest setting for a comfortable fit, the band is most likely too loose or too tight.
For both non-hook sports bras and bras hooked at the middle setting, if you can pull the band away from your body more than an inch, it's probably too loose. The wider the underband, the more support it will provide.
Straps
Shoulder slope and width is one of the most overlooked areas when it comes to finding the right bra fit. If you have narrow or sloped shoulders, or if you find that your straps are constantly falling off your shoulders, try a racerback or X-back style to keep your straps in place.
If you have larger breasts that weigh heavy on your shoulders, look for wider straps to distribute the pressure over more surface area. Cushioning and gel inserts can also help pad shoulders against extra weight.
How we tested
To try out the bras in our lineup, we enlisted 12 testers ranging in sizes from A cups to DDD cups (also known as an F cup in UK sizing). Our testers then wore the bras during activities ranging from running and HIIT to yoga and weight lifting.
Post-testing, we asked our testers to rate the sports bras on a scale of 1 to 10 using the following metrics:
Overall support
Overall comfort
Fabric comfort
Breathability
Cup support and comfort
Front "spillage" control
Bounce control
Strap comfort and design
Aesthetic design
We also surveyed our testers to find out what specific features each of them tend to look for when sports bra shopping, and how the bras they tested measured up to those standards:
Our A and B-cup testers tend to prefer a cute, flattering design that's comfortable and provides a bit of lift and support, with minimal padding.
Our C and D-cup testers' named non-bulky, streamlined design, durability, good support and light to medium padding as the top features they look for in a sports bra.
Our DDD-plus testers reported that they mainly look for sports bras that will keep their breasts supported and in place while working out, and prevent pain during more vigorous exercise like running.
Interestingly, twice as many testers said they tend to prefer compression over encapsulation bras, with the rest of the group favoring compression-encapsulation hybrids.
The bottom line
To find the best sports bra, we put 11 top-rated sports bras to the test with 12 testers ranging in bra size from A cups to DDD-plus cups. After wearing the bras out running and during weight lifting, HIIT and yoga sessions, we chose four winners.
For A and B cup sizes, our testers preferred the Lululemon – Energy bra, which offers light support with removable padding in a comfortable, high-quality design. We recommend the Outdoor Voices – Doing Things bra for C and D cup sizes; it breathes well and provides strong, secure support for the chest.
For D and DD cup sizes, we like the Brooks – Juno bra, which features an innovative strap design and provides unbeatable support. Last but not least, we're especially impressed by the Bravissimo – Inspire bra for sizes DDD and up; its combination of comfort, solid construction and high-level support wowed our testers.