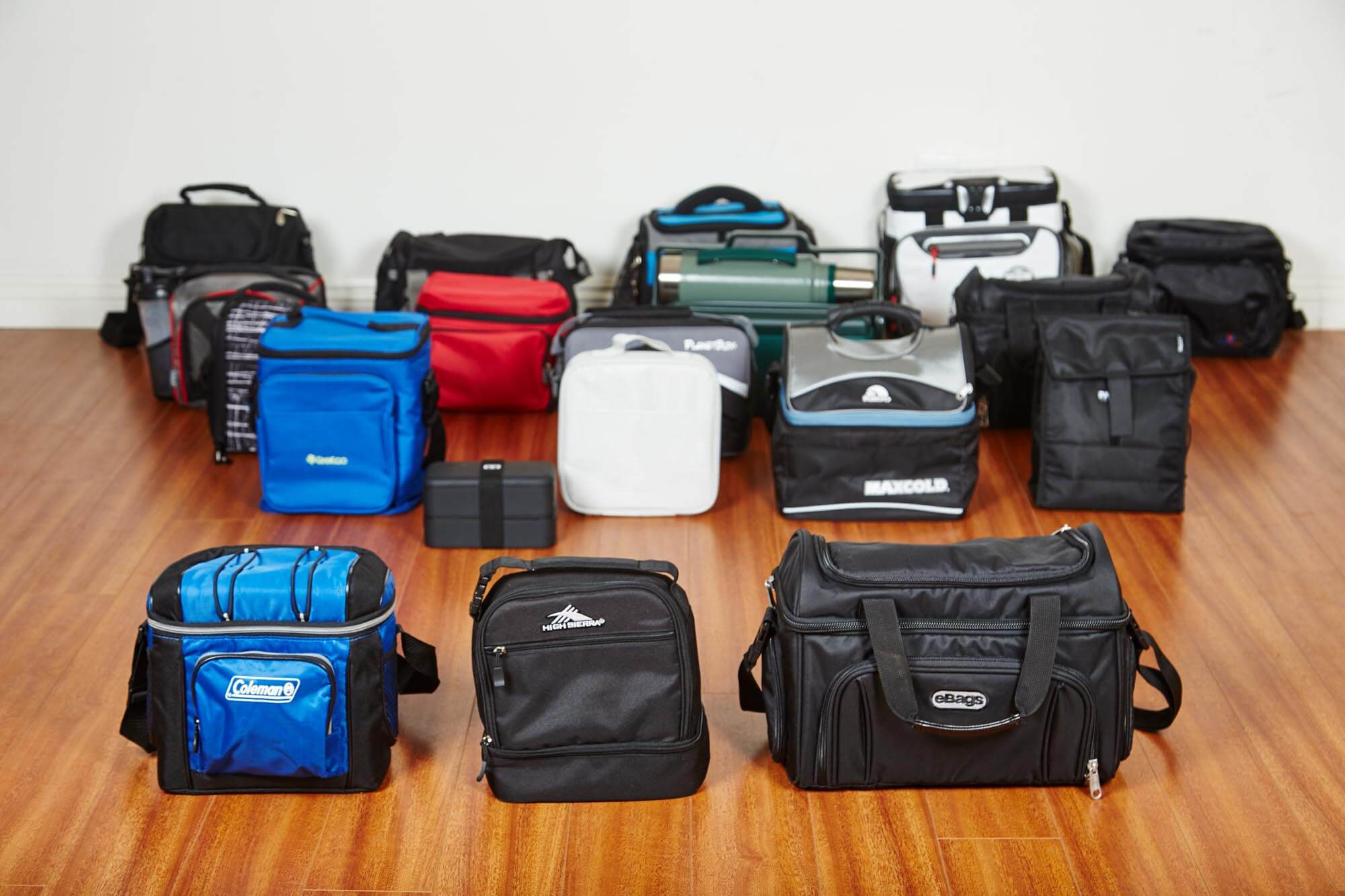 As the 2023 summer approaches, we tested three additional lunch boxes, bags, and coolers to compare them to the 19 products we previously tested. Our top pick for best lunch box is the Coleman – 9-Can Insulated Lunch Bag with removable hard liner. The Coleman offers plenty of room and utility, and it's the perfect modern version of a lunch box for adults. For those who only want to carry the basics, we like the High Sierra.
As the 2023 summer approaches, we tested three additional lunch boxes, bags, and coolers to compare them to the 19 products we previously tested. Our top pick for best lunch box is the Coleman – 9-Can Insulated Lunch Bag with removable hard liner. The Coleman offers plenty of room and utility, and it's the perfect modern version of a lunch box for adults. For those who only want to carry the basics, we like the High Sierra.
Table of contents
The 22 lunch boxes we tested
Small insulated lunch bags
Large insulated lunch bags
Bento boxes
| Bento boxes | Price $-$$$$$ | Style | Capacity | Accessories? | Microwave Safe? |
| --- | --- | --- | --- | --- | --- |
| 1. Monbento - MB Original V | $$$ | Stacking | Lunch | Small bowl | Y |
| 2. PackTOGO (Discontinued) | $$$ | Flat | Small lunch | | Y |
| 3. PlanetBox - Rover (Discontinued) | $$$$$ | Flat | Petite lunch | Two bowls, decorative magnets | N |
| 4. kinsho | $$ | Flat | Small lunch | Icepack | Y |
Best overall: Coleman – 9-Can Soft Cooler

With a hard plastic "tub" style liner, good pockets and all the other features we looked for in a basic bag, the Coleman – 9-Can Soft Cooler represents an amazing value at around 14 dollars. This is an ideal lunch box for adults or even a picnic bag for two.
While the Coleman wasn't the very best at keeping a lunch cold without ice, the real trick to keeping perishable food safe is to use lots of ice, and that's what this cooler is built for.
The removable hard liner is an ideal ice bucket. This is perfect for keeping a six-pack well buried on a scorching hot day, or carrying a 12-pack (without any ice) on a less-intense outing. Could there be a better way to design a lunch box for men?
The best thing about the hard tub liner is that it's easier to clean and dry than the soft zip-in liners used in many of the other coolers. Trying to get the last few drops of water out of a vinyl bag is a pain, but the Coleman will air-dry without problems and is easy to wipe down with a towel.
This makes an ideal lunch bag for large or bulky lunches. There's a zippered mesh pocket in the lid that will hold a small ice pack, and of course lots of room for more ice packs inside the tub.
The best reason we could find to use a different bag is if you really need to keep warm and cold food separate. With only one large compartment, you need to decide if you want everything warm or ice-cold. Even in a small insulated bag, though, most hot food will cool quickly: unless you're carrying soup in a vacuum-sealed container, keeping a hot lunch hot for more than an hour is unrealistic.
The other thing this bag didn't do is carry the picks from our water bottle review. With a 2.9 inch diameter, the 20-oz Kleen Kanteen will barely squeeze into the mesh side pocket, and while it might count as "fitting," we're pretty sure the elastic would tear if you did that every day. Most non-insulated 12-ounce water bottles should fit in the pocket, but there's enough room inside that you'll wind up keeping your water in there anyhow.
If you only have a small lunch and don't want to carry around something this bulky, there are other options. This cooler is a better bargain than even the smallest lunch bags we tested, though, so we recommend that everyone consider it first.
Key takeaways:
The Coleman – 9-Can Soft Cooler is a good size for a bigger lunch and has room for plenty of ice in the hard liner 'tub.'
Well-built and utilitarian, Coleman designed this bag with a great set of features and options for the price.
Best for work: Monbento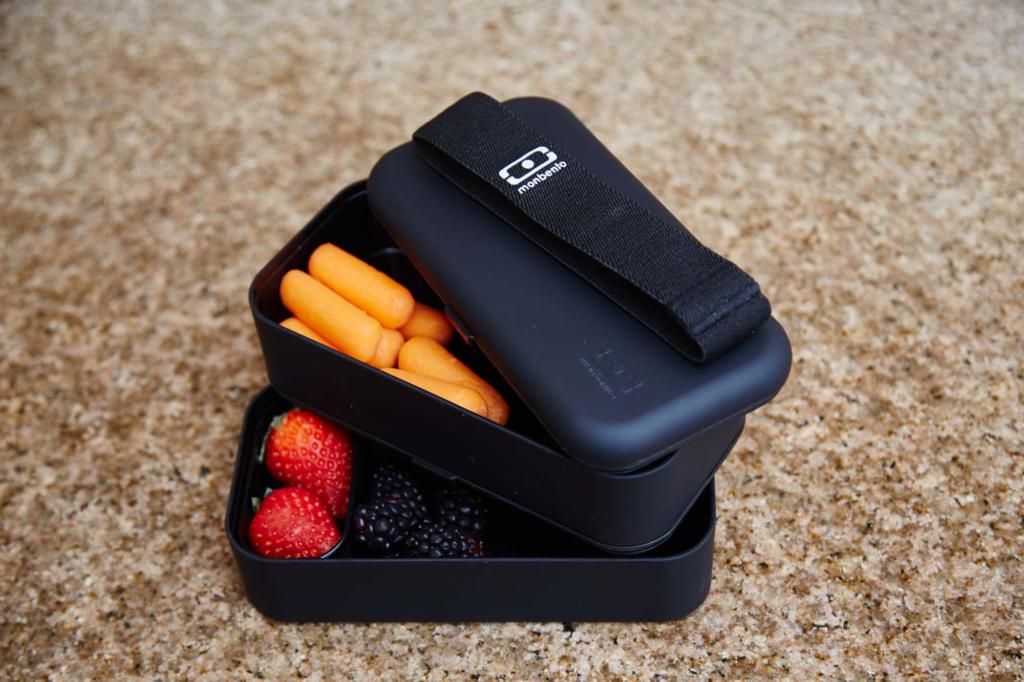 An insulated cooler with sandwich bags or reusable containers inside is probably the way most people will want to pack a lunch, but there are other options.
If you're working in an office that has a break room with a fridge, a microwave and a sink, you might be happiest with a compact lunch box.
The Japanese "bento" concept of taking a lunch in boxes with portion-sized compartments dates back more than four centuries, and modern-day practitioners have made it into an artform.
The three compartmentalized boxes we tried each had some quirks, but on the whole, our favorite was the stacking Monbento – MB Original. With two stacking compartments, it has room for a decent-sized lunch, and you can fit a small banana or carrot inside without cutting it into tiny pieces. The included tiny dish also works as a divider of sorts, which will help if you're looking for a bento box mostly because you don't like your foods to touch one another.
The PackTOGO (discontinued) also performed quite well if your lunches are small enough, but it's not as flexible as the Monbento. All three of the boxes we tested offered some way to seal liquids inside (PlanetBox includes a cup with a rubber lid), but we felt the Monbento's seal was the most reliable and easiest to clean.
None of the bento-style boxes offered much insulation at all, and even the included carry bag provided with the PackTOGO box doesn't give you a way to use an ice pack. (It barely has room for utensils.)
Best insulated bag – High Sierra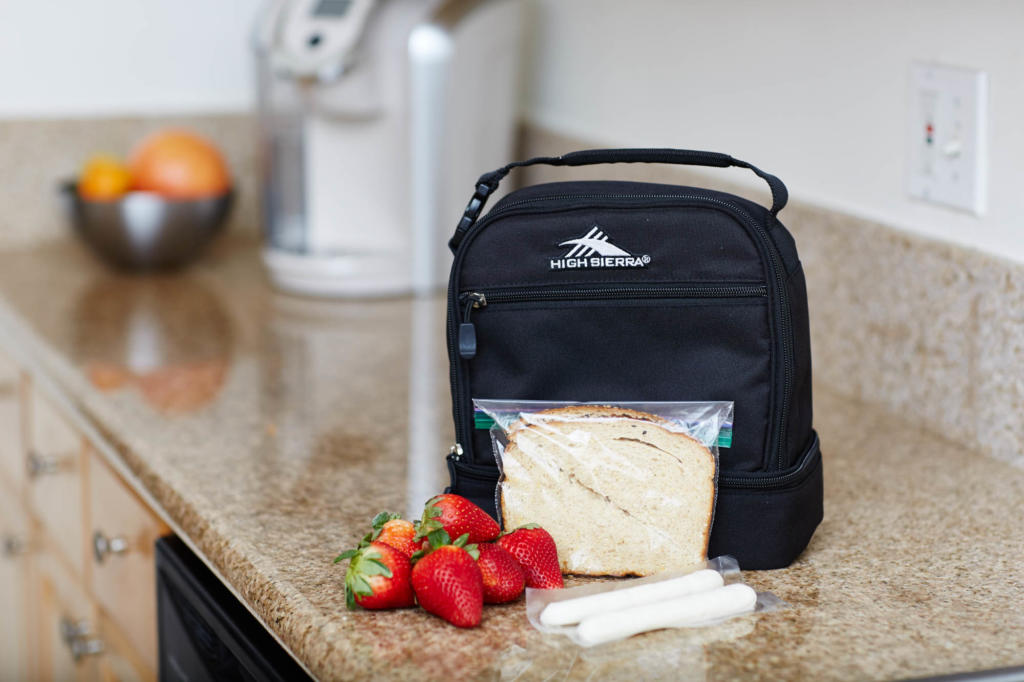 There are two ways to maximize insulation performance in a lunch bag: use a bag that's no bigger than you need, or take a lot of ice.
In our testing, the High Sierra – Stacked Compartment Lunch Bag was 3% better at keeping cold than our top pick, almost certainly because its main compartment is smaller. If you're not using much ice, this bag will also let you pack non-perishable food in a second compartment where it won't warm up the food in your main compartment. If your lunch bag will sit in a climate-controlled environment all morning, this is a good way to manage.
The one downside to this bag is that with all those zippers, there's a bigger chance that any leaking liquids will spill out. The Rubbermaid Lunchblox Bag was slightly better at keeping water in for that reason. In either case, you don't want to pack liquids inside unless you're very sure they're not going to leak.
Best cooler bag: eBags – Crew Cooler II
If you're looking to keep things cold for a long time but can't haul around a large insulated cooler chest, A large bag with plenty of ice is still your best bet. If you need enough food for a few people, then a large bag like the Crew Cooler II from eBags has room to spare.
We could get 23 12-ounce beverage cans into the two insulated compartments, and the zip-in removable liner is sealed tight so you don't have to worry about puddles at the end of the day. Like the High Sierra lunch bag, the second insulated compartment is great for stuff that you don't want to pack in ice — we found that you can fit a bigger-sized DSLR like a Canon 5D in the lid.
The Mojecto – Large Cooler Bag (discontinued) is very similar to the Crew Cooler, but it's four inches shorter; it also has a more padded shoulder strap. If you anticipate carrying your cooler any significant distance, that might be a better pick. Both bags have expanding water bottle pockets, a removable liner and quick-release buckles for the shoulder strap.
The best lunch bag for kids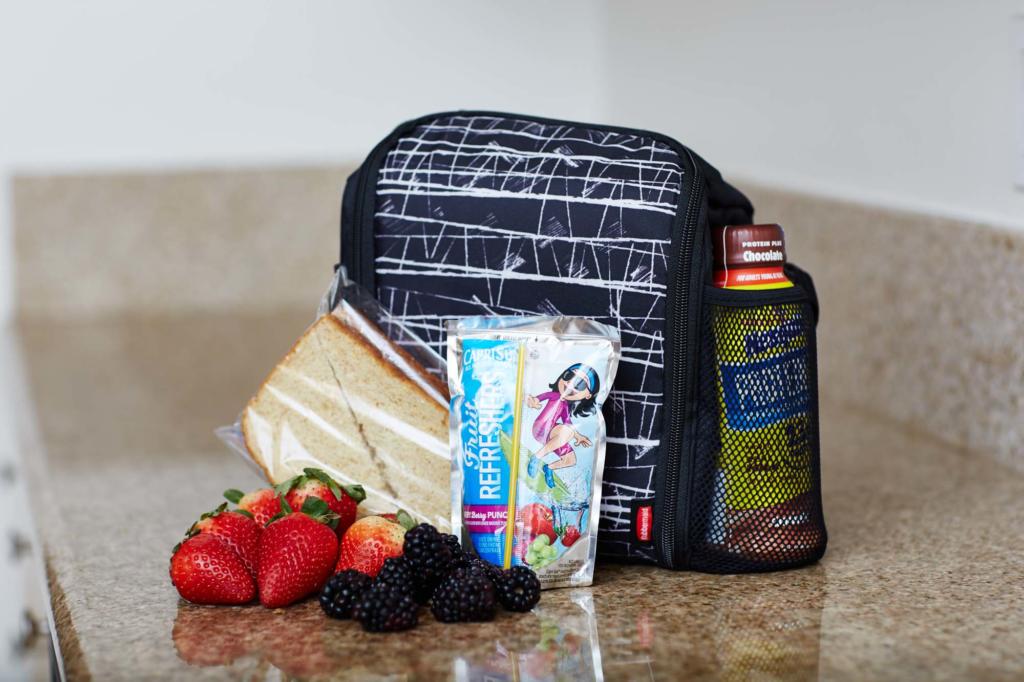 A small lunch bag with easy-to-use features is going to be the key to success when picking a lunchbox for school kids. Our favorite small bag is the High Sierra – Stacked Compartment Lunch Bag, but for school lunches the Rubbermaid – Lunchblox bag has a few things going for it. The simplicity of a single compartment in the Lunchblox bag might be better for some kids, and the shoulder strap might come in handy for those who tend to drop things and forget them in the hall or on the bus.
The LunchBlox bag is also a tiny bit better than the High Sierra bag at preventing spills, since it makes a better "tub" shape when it's lying on its back. If you flip it over, though, liquids will still leak through the zipper.
We love that there's a place to store utensils securely and enough space to hold a lunch and a water bottle. (Frozen water bottles are a great way to keep perishables cold.)
Other products we tested
(Editor's note: For this 2023 update, we tested three additional products: TuErCao Lunch Bag, Foundry Lunch Bag, and kinsho Bento Box. Reviews of each follow.)
TuErCao lunch bag
The TuErCao lunch bag was our favorite of the three products we tested for 2023. Super-elegant, this well-insulated bag is both fashion-forward and exceedingly functional. The insulation is thick and kept ice intact and drinks and food cold for 12 hours. It should be noted that the TuErCao physically resembles a woman's hand bag with its high handles, piping, and stylish gold zippers. However, TuErCao lunch bags are available in different colors, three of which are unisex.
The bag's deep interior pocket can accommodate 16 cans, although the zipper can get tight to close when the bag is fully stuffed. The bag has two zippered pockets: the smaller one is for a phone, the larger could be used for utensils. There is a mesh pocket on each end of the bag, and a shoulder strap is included. The bag stands fully upright, and when full, it doesn't tip over, so you don't need to worry about anything leaking out of the zipper. The TuErCao is also very reasonably priced for such a high-quality product.
Foundry Lunch Bag
Foundry Lunch Bag is another stylish addition to the lunch box gang. It has a sharp, sleek look and is compact enough so it doesn't take much room in the office refrigerator or on a beach-day trip. Sadly, it failed our tests. Foundry comes with two handy one-cup containers that fit quite snugly inside the thinly insulated interior, leaving just enough room for a banana and a couple of forks. You could probably get an ice pack under the containers, but forget using ice. Because the bag is poorly insulated, ice melted in less than two hours.
Also, the bag is poorly designed to stand up on its end as an 8″ x 11″ rectangle, which is sealed by a zipper all around the bag. (Think of it as a miniature piece of luggage.) When the ice melted during our testing, the water poured through the zipper. Not recommended.
kinsho Bento Box
As bento boxes go, the kinsho Bento Box/Lunch Bag is sturdy, well-made, and has plenty of containers to hold a decently sized lunch. The box itself has six compartments: four 1/2 cups, one 1.5 cup, and a 1/3 cup that's really intended for holding the included child-size plastic fork and spoon. A snap-on lid makes the box 100% waterproof. (We filled the box with water and shook it vigorously, and not a drop leaked out.)
The box fits into a lightweight, mylar-insulated matching bag (the kinsho boxes come in a variety of cheerful colors), that zips up like the Foundry lunch bag. The kinso bag differs in that the handle is placed horizontally, so you'd have to pack the box pretty snugly — and not with anything drippy, like a salad, because contents will shift when you lift the bag from its handle. A small ice pack is included, but it's skimpy and defrosted in about an hour, so we recommend a larger ice pack for keeping your lunch cool longer. Overall, though, we were impressed by the kinso Bento Box.
Jaxx – FitPak
Probably the biggest downside to the Jaxx FitPack is a lack of flexibility. No shoulder strap, no removable liner, and a design that forces you to find a way to divide your food among four two-cup and two one-cup containers.
The FitPak set is designed for gym gorillas, so it seemed like overkill for most of our testers; if you're packing for a family it's a fairly reasonable size (so long as nobody complains about sharing containers).
Many of the other bags will do the same job, though, with enough cash leftover to buy multiple sets of reusable containers. (Those bags all have shoulder straps, too.)
This is probably a pretty good package for someone who specifically wants the accessories included to fit efficiently into one bag, but we can't rationalize the price if that's not exactly what you're after.
Everest – Cooler Lunch Bag
Everest's Cooler Lunch Bag is a simple product that meets all the basic criteria. It's sealed against leaks and fairly well-built, but without even a liner or pocket there aren't any perks. For a few dollars more, the Coleman 9-Can will be easier to clean and hold more lunch.
PackIt – Freezable Lunch Bag
PackIt had an interesting idea in the Freezable Lunch Bag that didn't really pan out in execution. This is a lunch bag only in the most basic sense of the word; it's a bag, and you could put lunch in it. It's small, it's not easy to carry when it's frozen and stiff, and when we put liquids in it they soaked through the inner liner. If you're only ever carrying a dry lunch it might be fine, but absorbing liquids generally means smells will start to accumulate over time, too.
Certainly, the idea of a self-contained ice pack is a good one, but it's not worth the compromises presented here. The High Sierra or Rubbermaid bags are superior in every way, so long as you can make ice, freeze a water bottle, or buy a separate freezable gel pack.
Oniva – Pranzo
The Pranza "Picnic Time" bag was tough to review. Onvia has carefully thought out many of the features included: dual-compartment insulation for hot-and-cold (okay, ice and no-ice) storage, plus a full set of silverware for your romantic day-trip picnic.
If the main compartment were a little larger and included a removable liner, this would have easily scored a special mention. As it is, the eBags – Crew Cooler II can do everything this bag does and more, so long as you can come up with some silverware on your own.
Arctic Zone – Titan
The Titan is very similar to the Coleman – 9-Can Cooler, but with a liner you can't remove, a hard lid and velcro instead of a zipper.
We like the removable shelf and the capacity offered by this cooler, but since it sits in the middle of the size range, it's hard to say for sure it's going to be big enough for those who pack for a group. The hard lid does seem more robust than the soft lid offered by the Coleman, but it still doesn't hold water if you flip it upside-down. We're also not sure how well the Velcro will hold up over time, compared to a zipper.
If you want more capacity than the Coleman bag and find the Arctic Zone Titan on sale, it might be worth going for. At list price, you can buy two of the Coleman bags and get more drinks with the money you saved.
Igloo – Maxcold Gripper 16
If Igloo could have included a liner and a better pocket on the Maxcold Gripper 16 without increasing the price substantially, this probably would have been our favorite bag.
If you want to carry around a whole twelve-pack with ice and stuff some hot sandwiches in the insulated lid for an hour, this bag is fantastic. You don't get a water bottle pouch, though, and the patch-style pockets that are sewn on won't hold anything bulkier than the flattest of flatware.
The shoulder strap is basic but well-made, and the handle is very comfortable. The stitching is reinforced at all the right spots, and the strap is even sewn on at a slight angle to reflect the way a bag hangs when it's loaded. The zippers aren't exactly heavy-duty, but the main zip is sewn with a liner tape for snag-free zipping.
The antimicrobial lining proved to be fully waterproof in our testing, which is good, but we'd take a removable liner over anti-microbial materials any day.
The Igloo Maxcold doesn't have features that make it an alternative to pricey coolers like the Mojecto, and it's also not cheap enough to compete with our top pick. The only things it has on the Coleman nine-can is a bit more capacity and a separate insulated compartment in the lid; the Coleman is better in every other way for about $10 less.
Ramaka – Large Insulated Lunch Bag
Ramaka's Large Insulated Lunch Bag is basic, but it fared well in testing. It has everything except a removable liner: sturdy YKK zippers, a nice strap and a big water bottle pocket that actually holds a large Nalgene bottle. It's not that much bigger than the Coleman, though, and without a removable liner it won't be as easy to clean.
BF Systems – Extreme Pak
We hoped that the Extreme Pak from BF Systems would be a good bargain bag, but there were too many corners cut. The biggest problem here is the liner: It's sealed with some kind of seam tape, but water still leaked through in the course of our tests. It wasn't a really bad leak, but if you're going to be toting ice around all day you'll wind up leaving puddles everywhere. Not recommended.
PackTOGO – Bento Lunchbox (Discontinued)
The PackTOGO is the least expensive of the bento options we tried, and that might be enough to make it your first pick. The main reason we didn't pick this over the Monbento is size: the three small compartments limit what you can pack. If you're chopping up all your food and arranging it sculpturally it's probably a great choice, especially since the lid is see-through, but if you want to include a stick of celery or a carrot you'll almost certainly prefer the two deep rectangles of the Monbento box. We were also concerned that the white plastic might stain more easily over time than the black plastic of the Monbento.
PlanetBox – Rover (Discontinued)
PlanetBox is all about retro cool, and depending on how you look at things the all-metal Rover might be more earth-friendly than plastic. There isn't any other reason we could find to choose this to carry a lunch, though. Without a way to carry ice, you'd better have a fridge to keep it in, but in that case the tray will get uncomfortably cold.
The compartments stamped into the Rover are functional, but small. The best thing about this lunch box is the securely-sealing soup cup, but we're pretty sure you already have a reusable container that will do that job (and if you don't you shouldn't pay these prices to get one).
Stanley – 7QT Heritage Cooler (Discontinued)
A stalwart representative of the old school, we have mixed feelings about our time with Stanley's Heritage Cooler.
On the one hand, this is the most rugged of the coolers we tested — we're pretty sure you could run over it with a truck, but the editors don't like it when we do that. "Few people," they say, "are ever going to drive over a cooler."
On the other hand, people do have to carry a lunch bag around. This thing has a handle, but it's not exactly easy to carry. The Heritage Cooler's divided compartment also holds fewer than half as many cans as the other coolers its size; you can fit nine cans and some ice in the 15.5 inch-wide frame; the EvoVox cooler mentioned below holds 21 cans in a space just 13" wide.
If the Heritage Cooler gained significant thermal performance or leak-proofing over other bags, it might have earned a special mention, but it leaks when you turn it upside down and it doesn't really insulate very well, either. What you need for long-term food preservation is plenty of ice, and there are cheaper, better ways of carrying ice than this behemoth.
We do like the included vacuum-insulated 'Thermos' flask, though. (Buy it separately, or just buy a good travel mug if that's what you really need.)
Mojecto – Cooler Bag (Discontinued)
For all intents and purposes, the Mojecto Cooler Bag is the same bag as the eBags Crew Cooler II, but a little bit smaller. (It's about four inches shorter and holds four fewer drink cans when you pack them tight.) That's not an exaggeration: the way the compartments are designed and even the expanding-wing water-bottle pockets are almost identical. The zipper on the eBags cooler is a bit beefier, but the shoulder strap chosen by Mojecto is a bit better.
If you don't need the extra space and you can find the Mojecto for less, it's a good choice. List price for the Mojecto is higher than for the eBags cooler, though, so if you're looking for a big bag, just get the bigger one.
EvoVox – Insulated Cooler Bag (Discontinued)
The Insulated Cooler Bag from EvoVox is a great bag, and nearly got our pick for big-capacity cooler. The construction is rugged, and it seems that EvoVox used neoprene or some other stiff foam in the insulation here that makes the sides stiffer and more protective than the spongy foam in all the other bags. It didn't make the insulation properties any better, though.
The reason this isn't recommended above the eBags Crew Cooler or the Mojecto bag is that there's only one compartment. If you're not going to be carrying anything that won't squeeze into the pockets this might be a great bag, but we really loved the flexibility of the two-compartment system when we filled the other coolers with ice.
GreEco – Large Capacity Cooler Bag (Discontinued)
If you're looking for the most capacity-per-dollar, GreEco's Large Capacity Cooler Bag does score a win on that metric. We paid $12 and got 18 cans to fit into the super-tall compartment.
The GreEco bag didn't leak in our testing, but the construction was merely "good enough" and the shoulder strap was quite short. For a basic bag that you could fold up to keep in a glovebox, this one might be worth considering, but we liked the Coleman much, much more as an every-day lunch bag.
How we selected
We scoured the web for reviews and mentions of great bags. As always, we picked finalists that have plenty of verified purchaser feedback on major retail sites and eliminated contenders with consistent complaints (even if the complaints were in the minority of reviews).
"Lunch box" is a diverse product category. We looked at four groupings:
Bento boxes
These are minimalist trays designed to carry enough food to get most people through the day, and nothing else. Most offer some means of carrying silverware, too; if you need more than 900 calories in a lunch, though, this is definitely not the best way to go (unless you're carrying something like single-serving potato chips and soda in some other bag, in which case portion control might be exactly what you want).
Lunch bags
This is a category that's a bit ambiguous, but for the most part this is an insulated nylon bag that works like a reusable paper sack. The trick is that some of these bags actually have more capacity than small coolers; the major distinction is that they're tall rather than wide. For adults, we looked at bags with enough room to keep a big sandwich and something on the side. For kids, we were looking for frustration-free opening and intuitive organization features.
Small coolers
The most ambiguous category, we defined the small cooler as capable of carrying more than six but fewer than 13 12-oz. beverage cans. These are mostly horizontally-oriented in the way they sit, though you could argue that a few of them are "tall."
Large coolers
These bags can all carry a twelve-pack of beverages with room for ice, and will carry enough food to feed a family or a small party. A few have multiple insulated compartments, which really makes a difference if you're carrying a lot of different types of food. If you're planning on hauling a picnic for a crowd, check out our review of the best cooler or the best thermoelectric cooler.
How we tested
We took these lunch bags and coolers everywhere. We took lunch to work, and to the park. We had picnics at the lake, and snacks at the library. We strapped them to a motorcycle, and we even took food to Disneyland in the middle of a hot July.
At the end of our time with the bags, we sat down and rated each one according to these criteria:
Construction quality

This is a ranking of considerations like stitching, zippers, durable materials, easy-to-clean liners and insulation that seems like it'll maintain its shape over time.
Lunch bags aren't like gear bags or luggage where the contents are more valuable than the container, so we didn't do any abusive tests. We definitely took away points for cheap liners or thin nylon, though.
Leak-proofing

Any of these bags will keep food off your car seat, but we wanted to find out if they were good enough to be truly leak-proof. We filled all the bags with water then shook, flipped and dropped them to see how much they leaked. We also scored this category based on how easy it is to clean the liner of a bag.
While each of the plastic single-meal-sized bento options will keep liquids in place, shaking them around means liquid all over the lid of the entire box. PlanetBox's metal tray is not watertight at all, but the included soup cup is, and that's definitely the most mess-free way to carry and eat your tikka masala. (Too bad you can't put it in a microwave.)
The big bags were quite waterproof, but only to a point. None will actually keep water from leaking out the zipper, and even the locking lid on the Stanley cooler will leak if you hold it upside down. So at the end of testing, a five-star rating means that the liner held water perfectly in an upright position and was easy to remove for cleaning. If the bag scored less than a four in this category, that means water had soaked through the liner (or worse, came dribbling out a seam).
Note that the Jaxx – FitPak can stop leaks with the included accessories: six portion-control-friendly reusable containers. The bag has an easy-to-wash rubberized liner, but liquids will slowly leak out at the seams if they're not in the containers. (We give the system a five, the bag itself an even three.)
Design and practicality
This score is based on a variety of considerations, including bag shape, how comfortable the straps are, removable liners, features like expanding water bottle pockets and any other unique design considerations that made the bag better.
Insulation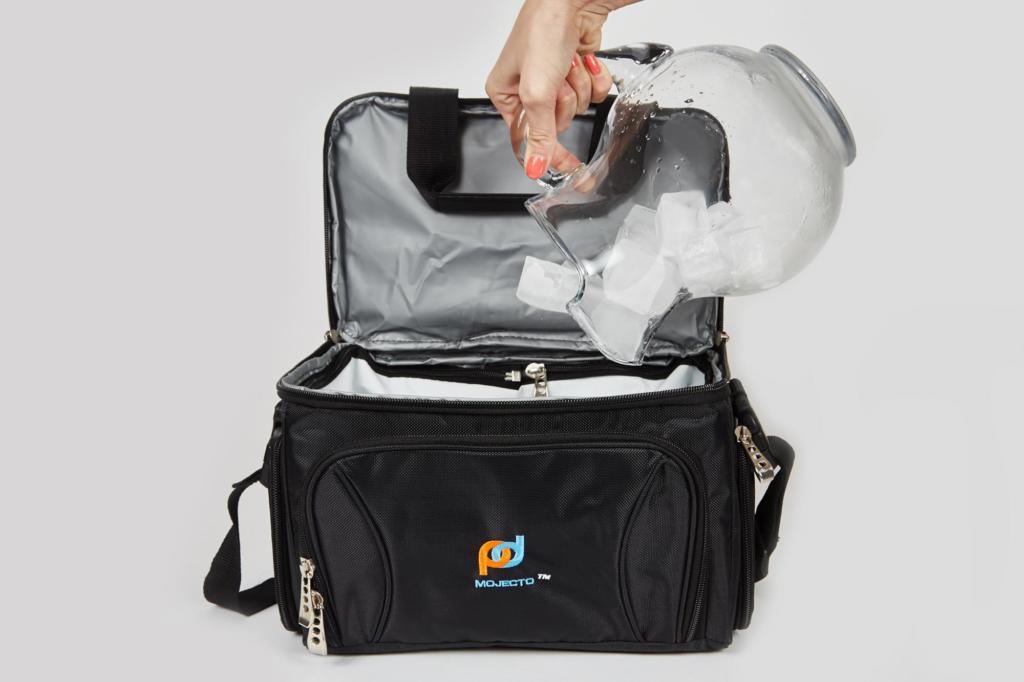 According to the USDA Food Safety and Inspection Service (FSIS), perishable food like your egg salad sandwich should be kept at 40° F or below. Any higher than that, and you run the risk of bacteria multiplying (yes, there's already bacteria in your food) to a level that might make you sick. Not all bacteria will make you sick, but unless you can assay a thoroughly representative sample of every lunch you pack… just pack some ice with your fresh food.
To see how much the insulation in these bags can help, we tested each bag in the hot sun. Smaller bags were loaded with three ounces of ice, and the bigger coolers were tested with six ounces. We left all the bags out in the hot sun (ambient temperature was approximately 102 °F) and checked on them after five hours. The score above is the percentage of that 40° target that the bags achieved; higher is better.
The results are not very promising. There was actually very little difference between the bags; smaller bags stayed cooler, but the biggest difference within a category was five degrees Fahrenheit (4% further from the target temperature).
None of these bags would keep a potato salad safe in a car on a hot day without extra ice to soak up the heat. The more ice you keep in your cooler, the longer your food will stay safe; that's one more reason to carefully choose the capacity you need.
On a hot day in direct sun, even the single ice pack included in the Jaxx kit and the ice-gel-liner in the PackIt bag were insufficient to keep a lunch in the safe zone for five hours out in the sun. The FSIS recommends at least two ice packs per bag, or an ice pack and a frozen beverage. If you have an icemaker and a supply of sturdy zip-seal bags, you can use ice cubes. However, commercial ice packs are durable and convenient. That said, keeping your bag out of the sun is the most important step.
Important features to consider
Number of insulated compartments: Separate compartments give you the opportunity to take hot or warm items in the same bag without unnecessarily heating up your ice packs in the main compartment. Some of the bags even have insulated pockets. This will be listed as, for example, 2.1 for two main insulated compartments and one insulated pocket.
Capacity: People eat different things for lunch; that's an uncontrolled variable in a comparison like this. We tried to sort our recommendations into three helpful size categories, but we've listed the capacities on our master table based on how many 12 oz. cans we could fit into each bag.
Liners: Some of the bags we tested feature removable liners. While a removable liner is not inherently more waterproof or stain-resistant than a sewn-in liner, it's easier to deal with a bag that's dirty if you can take the liner out to wash it.
Accessories: A few of these bags come with additional items that you might use: beverage containers, picnic flatware and even reusable storage containers.
The bottom line

We've tried to include enough data in our review to help you find a cooler that meets your particular needs. What most people want is a bag that holds enough ice, doesn't leak or get stained and is easy to clean out at the end of the day.
If you want a small bag to carry a simple lunch around, the High Sierra – Stacked Compartment Lunch Bag does all the right things. Split stacked compartments help calm your lunch-organization compulsion and help keep the cold stuff colder.
If you want to be able to carry drinks around for an afternoon (or if you're packing a monster-work-day sandwich) then the Coleman – 9-Can Cooler (which can hold up to 12 cans) is a fantastic choice. The hard liner makes it perfect for ice, but it also means your lunch won't get crushed and any spills will be easy to clean up.
We tested some large cooler bags, too, and we loved the features offered by the eBags Crew Cooler II. If you want to carry more food and ice than this will hold (between the two compartments you can almost squeeze in a 24-pack of drink cans) then you almost certainly need something with wheels.