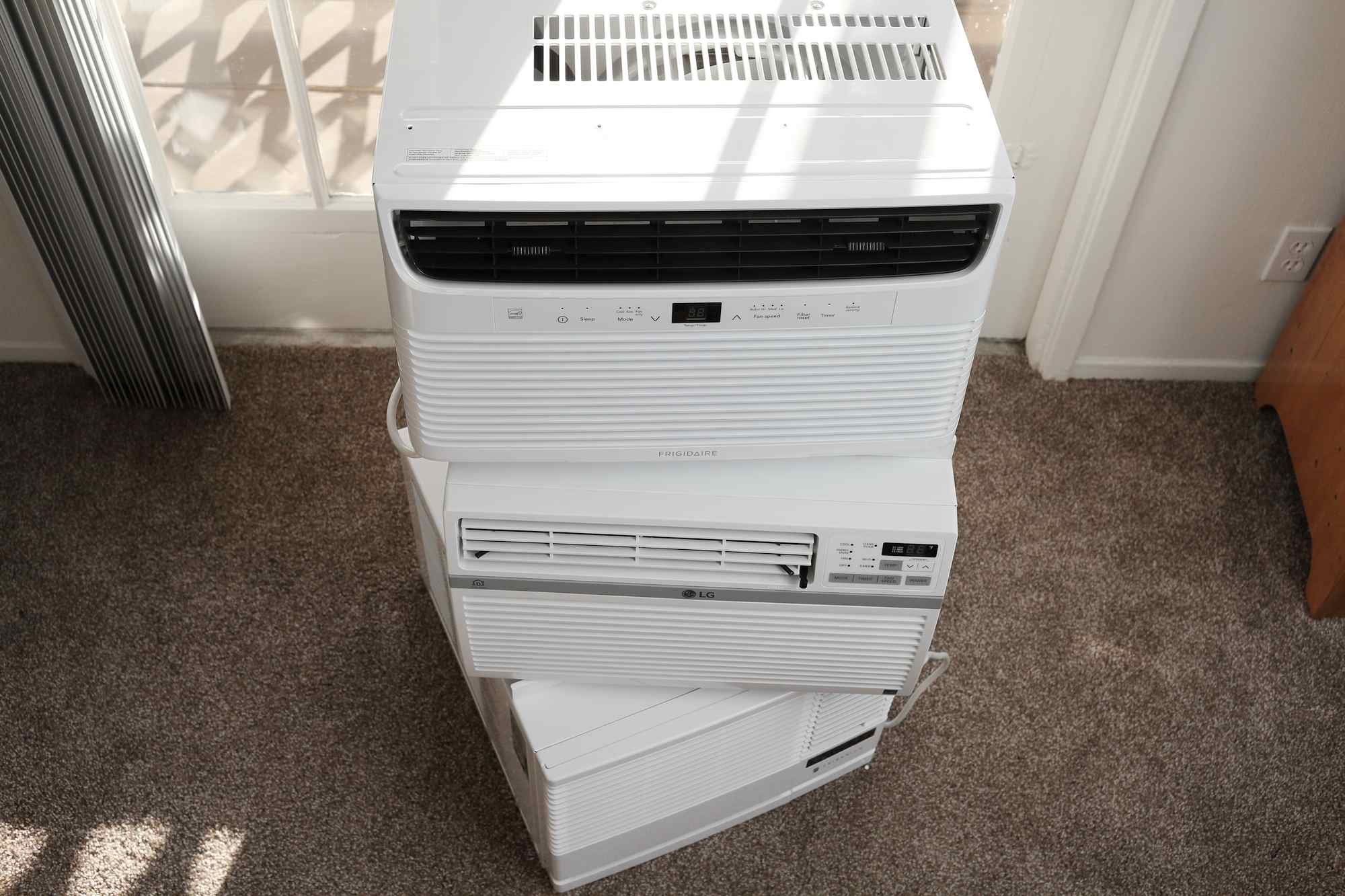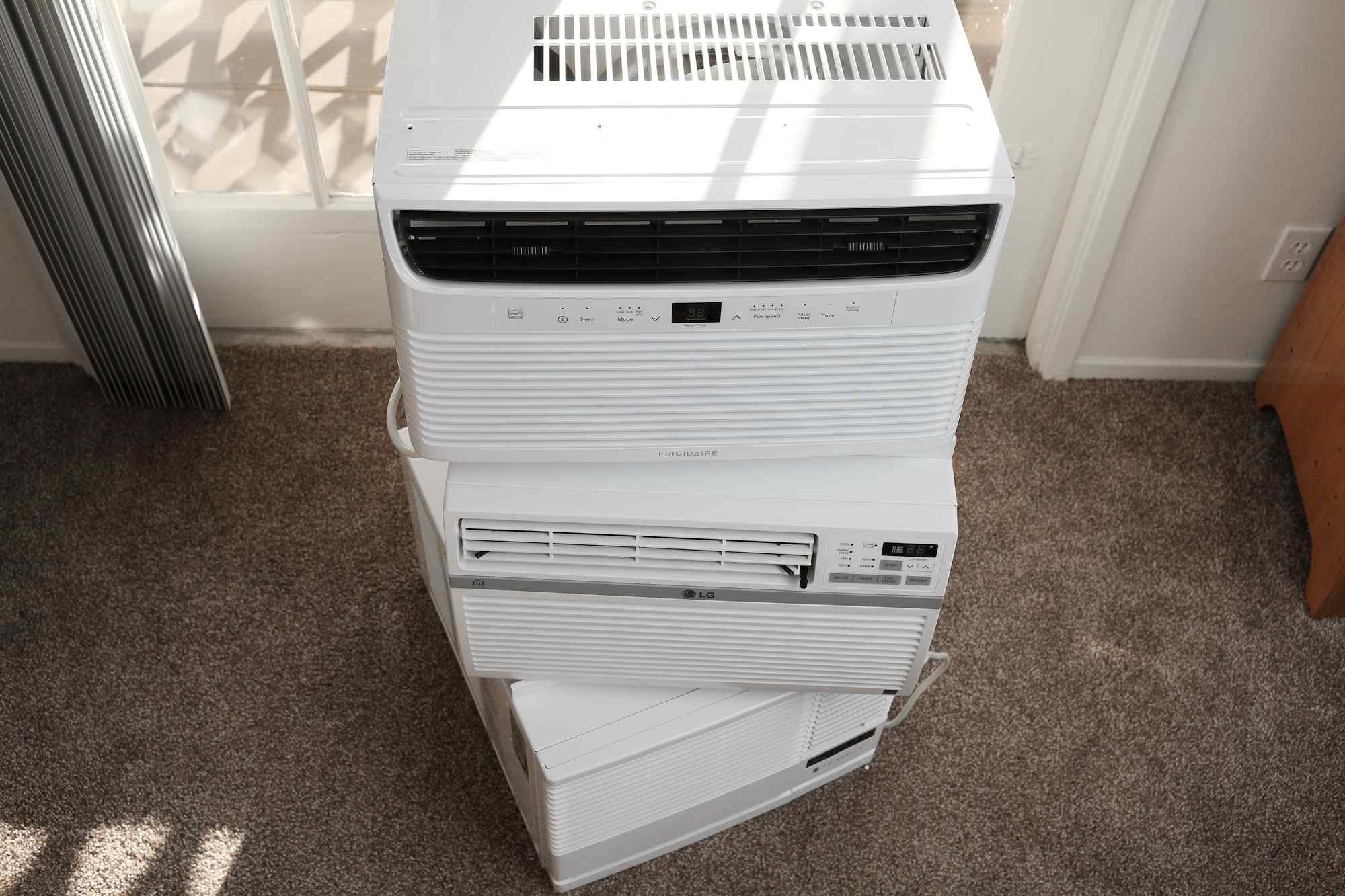 The Best Window Air Conditioners
After three months of research and extended testing, we've confirmed that the Frigidaire – FFRE0833U1 is the best window air conditioner for raw cooling power. The Frigidaire is relatively inexpensive, and at only 53 pounds it's easier to lift into your window during installation than the competition. We also recommend the GE – AHEK08AC as another lightweight unit that's simple to install and has similar features as the Frigidaire.
After three months of research and extended testing, we've confirmed that the Frigidaire – FFRE0833U1 is the best window air conditioner for raw cooling power. The Frigidaire is relatively inexpensive, and at only 53 pounds it's easier to lift into your window during installation than the competition. We also recommend the GE – AHEK08AC as another lightweight unit that's simple to install and has similar features as the Frigidaire.

What is the size of the room you need cooled in square feet?
Is your room heavily shaded?
Does your room get direct sunlight?
How many people regularly occupy the room?
Is the unit used in a kitchen?
Table of contents
The 4 window air conditioners we tested
Best overall: Frigidaire – FFRE0833U1
The 8,000 BTU Frigidaire – FFRE0833U1 is our favorite air conditioner for beating the summer heat. In our testing it ranked top for performance and it was the easiest to install, and it has some cool features that you can't get anywhere else.
Frigidaire has a long pedigree going back to the very first self-contained refrigeration systems in 1915. They've been doing room air conditioning for a long time, and their products continue to shine. This is a 2018 update that was just released as we started our research for this review, and it's encouraging to know that this is an updated design, though it doesn't seem like any significant features have changed over the 833S1 from 2016.
The real distinction between these models is performance. We used a Kill-A-Watt electricity meter to monitor performance, and the Frigidaire draws about 34 watts more electricity than the LG on high, but cooled our room at an average of -2.7 degrees per minute instead of just a -1.4 degree change for the LG.
That change in cooling performance should more than offset any difference in power draw, and the efficiency rating for both machines is the same, which indicates that official lab testing shows that they move the same amount of heat per watt of power used. In our small testing room, we just got our cool air much more quickly with the Frigidaire.
This also means a bit wider of a thermostat overshoot than LG: The lowest temperature we saw with the thermostat set to 70° was 67.6°, compared to 68.5° for the LG. Most of us aren't trying to maintain a specific accurate temperature so much as to cool a room quickly and efficiently, so we won't count this as a major fault, but it's something to note.
Frigidaire's most interesting feature is a "remote sensing" thermostat that uses the temperature of the remote to trigger the air conditioner, rather than the air in front of the window.
This means that if you have a big picture window or other hot-spot you're trying to cool, you can help keep the Frigidaire from shutting off before you're ready to give up the cool blast. We found this far more useful than the Wi-Fi features offered by LG. The only letdown is that the sensor on the remote reads about 4 degrees too hot, which means it would probably run for longer than it needs to if you're trying to reach a specific temperature like 72 degrees Fahrenheit.
The Frigidaire window air conditioner is solid but also subtle. The fan makes noise when it blows, but it's a consistent enough sound that we had to recheck a bunch of times to be sure the compressor was running. This AC is 1 dBA louder than the LG at max output, but the fan noise is smoother.
The airflow from the fan is strong, and the air it blows is cold, so at a price that's the same or better than the competition, it's hard to imagine a compelling reason to pick a different model.
The 8,000 BTU capacity we tested is the most popular size since it covers the widest range of common room sizes. If you're cooling a space smaller than 250 square feet, check out the 5,000 BTU model. If you've got a suitable window in a big room that's 300-450 square feet, look for the 10,000 BTU model. There's even a 12,000 BTU model for rooms bigger than 500 square feet.
Key takeaways:
Frigidaire's 8,000 BTU FFRE0833U1 is a great air conditioner on every count, though the others may beat it on a few details.
Top performance in our testing means this will keep you smiling with quick relief.
The fan is loudest by a hair, but it's a smooth and consistent sound.
The "remote sensing" feature means this model can be a bit better at cooling your whole room consistently.
Also great: GE – AHEK08AC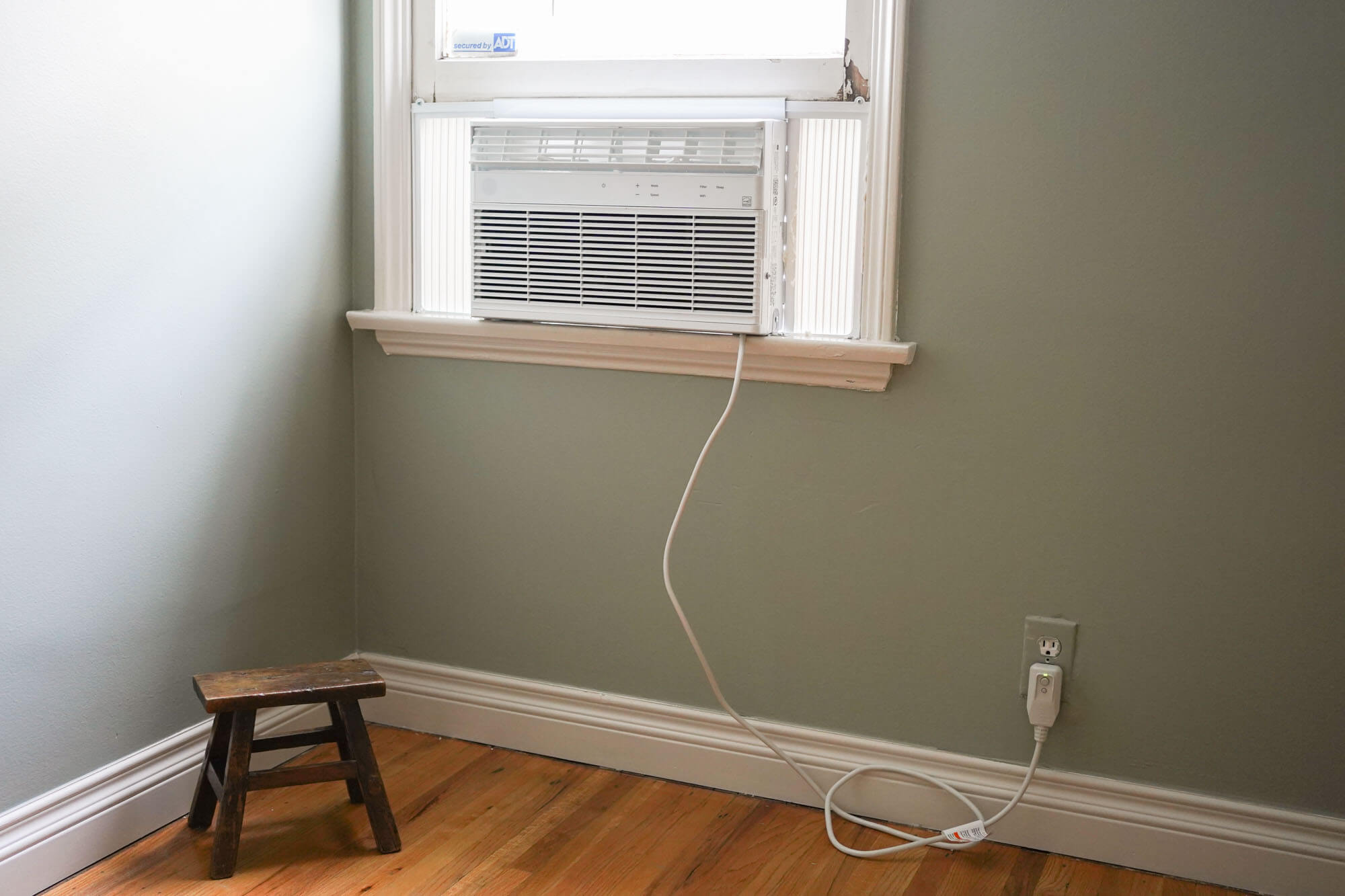 During a months-long heat wave in Southern California, we decided that it was high time to test a new air conditioner for this 2021 update. Using the same criteria we originally used to test air conditioners in 2018, we were impressed by the performance of the GE – AHEK08AC 8,000 BTU model.
Most functions can be controlled by the remote, which has a range of 20 feet. This model also has a WiFi hookup through the HQ Smart app. It takes a while to connect, but you can control power, temperature, mode, and fan speed as well as set up an on/off schedule from your Smartphone (Apple and Android).
We tested the GE when outdoor temperatures were over 100 F. We turned off central air conditioning, which pushed our test bedroom's temperature up to 88 F. We set the air conditioner's thermostat to 68 F, turned the unit on high, and set a timer. Airflow was strong and cold from the get-go, and the one-half of the room in direct line with the air conditioner cooled by 2 degrees in two minutes.
By 4 minutes, the other side of the room began to cool, and by 6 minutes, the entire room had cooled by another 2 degrees. Although it took the upper half of the room — closest to the ceiling a little longer — in 13 minutes, the room was a comfortable 72 F. (In about 20 minutes, our chilly set temperature was reached.)
Similar to other air conditioners, the GE has three cooling modes and speeds. There is also an Eco mode that cycles the fan on and off with the compressor, a fan-only mode, and an Auto mode that automatically adjusts the speed depending on room temperature. The Auto mode is "set-it-and-forget it" and much easier to use than manually adjusting speed. The Sleep mode gradually changes the speed and cooling settings over an 8-hour period to increase energy efficiency. Oddly, the Sleep mode can't be controlled by the remote and can only be turned on by pressing the unit's front panel.
The GE is slightly noisier than the Frigidaire. At the highest speed, the GE registered 62.5 dBA and at low speed and Sleep mode, decibel level was 58 dBA. When the air conditioner is in Auto or Sleep mode, the compressor kicks in to adjust to room temperature as needed, and decibel level registered at 60 dBA; not too loud but it could be quieter for sleeping.
The GE weighs in at only 50 pounds and was easy to install for a one-person "team." Though the GE didn't cool as quickly as the Frigidaire, it has comparable features and power enough to cool a 350 square-foot room and gives relief from summer temperatures at their most brutal.
Key takeaways:
The GE – AHEK08AC 8,000 BTU has plenty of power to cool a medium-sized room in minutes.
Its remote has a 20-foot range, but this air conditioner is also WiFi ready, and the excellent app lets you control and schedule every function from a Smartphone.
The GE doesn't have a remote temperature sensor. Its Auto function, however, does pretty much the same thing and adjusts cooling and power when needed.
Other products we tested
Friedrich – Chill CP08G10B
(Editor's note: In our last update, we praised the Friedrich – Chill CP08G10B as the quietest air conditioner we tested. For this 2021 update, we've learned that this unit is currently unavailable on Amazon. We checked with the manufacturer, and this model has not yet been discontinued and can be purchased at appliance retailers.)
The Friedrich – Chill CP08G10B is the 8,000 BTU model of the company's most popular line, and it's a step up from our top pick in luxury and quality, though not in absolute performance.
When we talk about luxury in an air conditioner, we're talking about more than just good-looking industrial design (though Friedrich has that, too). The big factors for comfort are noise and temperature stability, and this AC has both.
Even at full blast, Friedrich's noise level on this 8,000 BTU model is well below the 55 dBA level where an appliance starts to compete with you when you're having a conversation in the room.
With the compressor off and the fan on low, the measured average was 47 dBA, and that's quieter than most oscillating room fans. It's a smooth, consistent background noise even when the compressor kicks on, which makes this design perfect for a large bedroom.
The Friedrich thermostat was technically the least accurate we tested, with an average temperature of two degrees hotter than the set 70 F compared to half a degree either side for the other models. It had far less "swing" from hot to cold when run over a long period of time, though. The Friedrich would run whenever the room hit 73 F and cool until it got just above the set 70 F, compared to a 6-degree swing with the Frigidaire. So long as you're buying a unit that's the right size for your room, that's just about as perfect as it gets.
Friedrich was also the only manufacturer to make provisions for installing their units through-the-wall rather than in a window. The outer shroud comes right off when you remove four screws, so you can pre-install all of the screws and braces before you add the weight of the actual machine.
This is a good thing because it's 11 pounds heavier than the Frigidaire, and quite a bit longer so that the exhaust fan can clear the sides of a through-the-wall install. The install hardware also includes adjustable leveling feet so that you can be sure the condensation will drain properly.
Friedrich also includes an auto-swing fan option for those who don't like having all their cold air focused on one spot. How useful this is will depend on your room, but it's good to have the option.
The Friedrich remote doesn't have the fancy remote-sensor thermostat that makes Frigidaire's AC more flexible, but they did include a wall mounting bracket so your remote won't get buried in a drawer.
Friedrich's air conditioners don't have built-in Wi-Fi, and they're definitely more expensive. The Texas-based company is competing to offer you exactly what you need with design that does its job quietly and efficiently. They've accomplished that and still managed to come in well under the list price of Frigidaire's "Gallery" air conditioner (which should also be quiet).
LG – LW8017ERSM

The LG – LW8017ERSM is not a bad air conditioner by any means. If you can't find the Frigidaire or the GE, this is a solid replacement pick. The two things that kept this air conditioner from a recommendation are noise and performance.
Strictly speaking, this makes less sound energy than our top-pick Frigidaire. The difference is most pronounced on the lowest fan setting, where the sound level drops to 50 dBA when the compressor turns off. When the compressor turns back on, though, that goes up to basically the same level as the Frigidaire. That means the sound of the compressor turning on and off will be more noticeable, which is more jarring even if the average sound level is lower.
The fan noise from the LG is also slightly more irritating than the Frigidaire's, with a very slight-but-consistent buzzing or ticking quality to the drone of the fan. It's not bad enough that we think it's a broken part or obstruction, but it's noticeable.
For performance, the LG is steady and stable enough to compete with the Friedrich, but it can't keep up with Frigidaire. LG only managed an average temperature change of -1.49 degrees per minute in our small-ish test room, meaning if you come home and it's 90 degrees in your house, it'll take even longer to cool the 300-square-foot room this unit was designed for.
Slower performance can be an advantage if you're more concerned with pulling moisture out of the air than with cooling off, but all of these models have a "dry" mode, which will accomplish that very nicely by slowing down the fan. The fact that Frigidaire's and GE's air conditioner is lighter and easier to install basically seals LG's fate for this round.
How we selected
This is a tricky category to research. Retailers often keep dozens of listings for each manufacturer, and they don't make it immediately clear which models are current-year updates or what the other differences might be.
We combed through retailer listings and called a few sales representatives to decode the model numbers for top air conditioner brands to find the most recent models. We considered testing some old models that had been well-reviewed by other publications, especially the Haier – Serenity model that's won awards for quiet performance, but even that model is now discontinued and out of stock.
We only tested current models; no old stock or discontinued models. If you see more customer reviews of other models from the same manufacturers that have different model numbers, that's the reason. Hopefully, these models will remain easy to find for a while. Pricing will change throughout the year, but typically the up-to-date design is actually cheaper to buy.
Our testing picks centered on brands with a proven track record of making reliable and high-performance air conditioners. Older versions of the machines we tested have all won awards from sites like The Wirecutter or Consumer Reports.
We only tested models that meet the Energy Star efficiency rating. This label means the product is at least 10 percent better than the mandated minimum efficiency and can move at least 12 BTUs of heat out of your house for every watt-hour of electricity. These models also have an "energy-saver" mode that turns the fan off when it's not actually working to maintain the set temperature.
Our typical strategy for choosing products includes sifting customer reviews and owner discussion groups to see if people have had problems with a particular model. That strategy wasn't as easy to implement here, since we're picking a model that's brand-new and two others that don't have nearly as many reviews as older models from the same companies. Appliance reviews are also especially tricky with air conditioners since so much about the unit's performance can change depending on what room you put it in. These brands all have a great track record with past units, though.
How we tested
Installation
We tried to follow the installation instructions as best we could and managed to do a one-man install of each unit without losing any parts or dropping any of the units out the window. Installation wasn't identical, as each model uses a slightly different method for centering, sealing,  and securing the windows, but you could probably swap the parts from one install kit to another without problems.
Curiously, the LG and Friedrich units come with very similar installation booklets. There's almost certainly some relationship between these Texan and Korean companies, despite all the differences in the actual performance and features of their air conditioners.
Frigidaire wins our pick for the easiest install — although the GE comes in at a close second — just on account of how much more compact it is. Friedrich's install kit is the most complete and versatile if you've got a tricky situation like a through-the-wall install, and it was nice that the outer "sleeve" housing could be completely secured before we slid the heavy internals into place.
Performance test
After installing each air conditioner in a 115-square-foot bedroom, we ran it in the hottest and most controlled environment we could create. We started each test by running two space heaters and the apartment's central heating to get the room up to 90 degrees Fahrenheit, then letting it stabilize at 85 each time before powering on the AC. Outside temperatures during testing were between 65 and 70 degrees.
We tested these air conditioners in March rather than July or August, but we were happy to see that our controls gave a stable and consistent performance comparison with similar conditions across the three tests.
We logged the temperature and humidity in the room with an Elitech – GSP-6 for an hour after turning on each air conditioner to see how it would respond to the initial heat and how it would cycle after that initial drop to maintain a steady temperature.
Performance, as expected, was quite similar, but not identical between the three models. These are all capable of cooling the rated 350-square-foot room, but in repeated testing, we could see that the Frigidaire is able to respond more quickly and bring down the room temperature right away when you turn it on.
Humidity performance
As previously mentioned, if you're running any of these air conditioners in a room that's smaller than what they're designed for, you'll get a damp, humid environment if the air cools off too quickly. Fortunately, each one also has a "dry" operating mode that runs the AC for longer and at a slower fan speed to pull out more moisture.
If you're running an AC in an extra-humid climate and your room is on the smaller edge of the room-size categories, the fact that the LG and Friedrich air conditioners are a little bit slower to cool means that your humidity and comfort level will be a little bit more stable on the full-blast AC mode. They're rated for an extra 0.3 pints per day of water removed from your air, though the specifics of how well each model will do can change depending on what settings you choose.
Noise testing
We ran each air conditioner in the same room using the same sound pressure measurement equipment: a PC running REW v1.58 with a calibrated measurement mic mounted to a stand six feet away from the window. We measured using the standard "A" weighting scale, which means the system factors an annoying high-pitch whine more heavily than a low-pitch rumble.
The sound of the compressors turning on in all of these units was less dramatic than we expected, and the fan noise made up the biggest difference between them. We'd say that these are all good performers with only 60 dBA at the maximum.
Strictly speaking, Frigidaire is the worst performer by the numbers, but the quality that doesn't come across on this chart is a slightly annoying ticking or buzzing that comes from the fan on the LG. If you need a quiet fan setting but don't want to shell out for the Friedrich, the LG is an alternative; we think the smoother-though-louder sound of the Frigidaire's fan is better for most people.
We were expecting to see better noise performance with the more expensive Friedrich – Chill air conditioner, but the actual difference in testing was shockingly good. If you're installing a window unit in a bedroom and you can afford to spend a little bit more, the 7 dBA difference will seem about half as loud. (On the logarithmic decibel scale, sound doubles in perceived loudness every 10 dB.)
Comfort and accuracy
Tracking the performance of each air conditioner over our tests also means that we can compare the consistency and accuracy of the thermostats they use to turn the compressor on and off.
The Friedrich thermostat was the least accurate, with an average temperature of two degrees hotter than the set 70 degrees, but it also had the least "swing" from hotter to colder than the set temperature, running whenever the room hit 73 and cooling until it got just above the set temperature.
How to pick a window air conditioner
Window air conditioners are the most economical way to cool a room. Portable air conditioners are popular because they're versatile and can vent out of almost any window, but window-specific units are typically 30 percent more efficient since all the heat-generating parts of the air conditioner sit outside your house. They're also much easier to install than a wall-mounted "mini-split" system.
Choosing a cooling capacity that's right for your room is crucial for long-term comfort and reliability. Your Best Digs works and tests in the mildly dry climate of Southern California, so we sought out an expert from more humid regions to get the scoop on humidity and AC performance.
Richard Ciresi, owner of Aire Serv Heating & Air Conditioning in Louisville, says that oversized AC units are a big problem. "First," Richard says, "heating and air conditioning units are sized for the hottest and coldest days of the year. On a moderate day, they often don't run long enough to remove the excess moisture from the air.
"Second, some homeowners and even some contractors still believe in the 'bigger is better' concept, which further exacerbates the problem." We asked Richard if the opposite is true with AC units that are too small, and it is!
"An undersized unit," he says, "may not be able to lower the ambient temperature to the desired set point on extremely hot days, but moisture removal will be improved. You're better off both health- and utility-wise with a slightly warmer, dry home than the damp 'cave-like' conditions that occur when the equipment is oversized."
How to install a window air conditioner
The biggest variable in window unit installation is going to be your window. Almost all of the window air conditioners available are designed for "double-hung" windows with vertical window sliders. The slider pane rests behind a bracket and provides a stable and secure brace to keep the air conditioner from falling out of your window, and in most windows, it's easy to fill the gap on either side of your AC unit with the included expanding baffle "wing" curtains. Minimum size requirements are important to note but are not hard to match with most windows.
The install is pretty simple. Most window sills should be able to support the air conditioner without extra steps, though the kits include brackets or suggest ways to add bracing if you've got a storm window that prevents the AC unit from sitting right. One important step to note is making sure that your air conditioner tilts down slightly at the back since that's how it drains excess water outside instead of onto your floor.
Once you get the included foam sealing tape in place and attach the wings that will fill gaps on the sides, hoisting the unit into place is the hardest part. (We like that the Frigidaire is only 53 pounds, it's definitely the easiest to lift out of the box.) Resting a bit precariously in the frame as you steady it with one hand (or a helper), the air conditioner is secure as soon as you slide the inside window sash into place to brace it.
After that, it's just a matter of adding stop-braces to make sure nobody accidentally opens the window. It's also recommended that you finish up with insulating panels and tape to close any gaps and make sure your cold air doesn't get out.
Installing a sliding or casement window air conditioner
In comparison, to stay secure in a horizontal sliding window, the unit has to use some sort of brace or shelf against your exterior wall. There's also going to be a big gap above the air conditioner that you'll have to fill. Install kits included with slider-window AC units vary in how complete they are, but even the best kits require a lot of measuring, drilling holes, and sawing a plastic window insert to size.
Casement windows that pivot open on a hinge with a crank are even more complicated to fit, though air conditioners designed for horizontal slides are often also designed for casement windows.
If you're set on a window air conditioner for your slider window, a purpose-built model is going to be easier to work with than adapting a regular window air conditioner. We wouldn't blame you for trying to come up with a DIY solution, though; models for horizontal sliders come at double the price, and they aren't updated as frequently. (The top casement-window model from Frigidaire has a model number from four years ago.)
Through-the-wall installation is even less common, but Friedrich designed their high-end Chill series to work equally well in vertical sliding windows and through-the-wall installation by making it easy to slide the outer housing on and off and keeping the vents at the back of the unit.
The bottom line
If you don't have central air conditioning, installing a window unit can be a cheap way to get some relief in one room. A window unit is always going to be more efficient than a portable, and if you've got a vertically sliding window, then a window air conditioner is easy to install.
The Frigidaire – FFRE0833U1 8,000 is one of the easiest units to install and delivers the best cooling performance when you need it. The smooth-sounding fan isn't technically as quiet as LG's, but we prefer it, and the second thermostat on the remote is innovative and exceptional.
For this 2021 update, we can also recommend the GE – AHEK08AC as an alternate choice to consider. It has similar features as the Frigidaire, and though it cools slightly slower by a few minutes, its strong airflow will certainly give you equal relief from summer's heat.