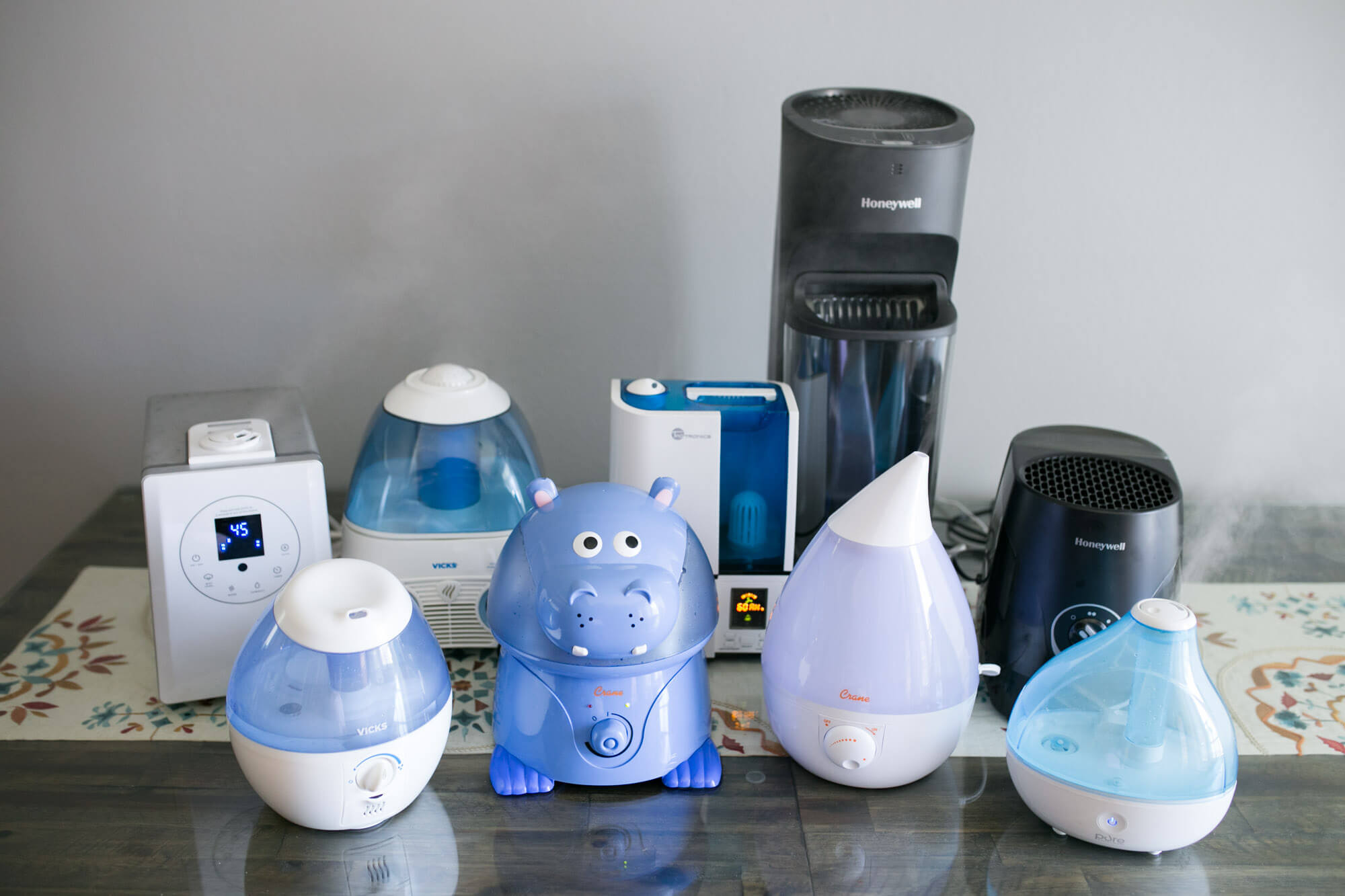 After five weeks of testing humidity output and evaluating day-to-day usability of nine top products, we picked the Honeywell – HEV620 as the best humidifier. Honeywell's biggest humidifier is easy to fill and clean, and it has a humidistat that keeps even a spacious room at a stable humidity. Its wicking-filter evaporative system also works great with any kind of water. Our top pick for cough relief is the compact ultrasonic-type Vicks – VUL520.
After five weeks of testing humidity output and evaluating day-to-day usability of nine top products, we picked the Honeywell – HEV620 as the best humidifier. Honeywell's biggest humidifier is easy to fill and clean, and it has a humidistat that keeps even a spacious room at a stable humidity. Its wicking-filter evaporative system also works great with any kind of water. Our top pick for cough relief is the compact ultrasonic-type Vicks – VUL520.
Table of contents
The 9 humidifiers we tested
Price
Type
Filling, Cleaning Score (5 max)
Overall Score (5 max)
Capacity (gallons)
Large Humidifiers
1. Honeywell - HEV620b
$$$$
Wick Evaporator
5, 4
4
1.7
2. Levoit - LV600HH
$$$$$
Ultrasonic
4, 5
3
1.6
3. TaoTronics - TTAH001
$$$
Ultrasonic
4, 2
2
1.1
Small Humidifiers
1. Honeywell - HEV320B
$$
Wick Evaporator
4, 5
5
0.8
2. Vicks - VUL520
$
Ultrasonic
4, 4
4
0.5
3. Vicks - Starry Night V3700
$$
Wick Evaporator
3, 2
3
1.0
4. Crane - Adorables
$$
Ultrasonic
1, 2
3
1.0
5. Pure Enrichment - MistAire
$$
Ultrasonic
2, 2
3
0.4
6. Crane - Drop
$$
Ultrasonic
2, 1
2
1.0

Top pick: Honeywell – HEV620
Honeywell's HEV620 is a smart, capable, easy-to-use machine. It's tall, so plan on giving it some floor space in the corner, but it doesn't have a very big footprint compared to Honeywell's other large humidifiers. It will happily blend into the background and dispense humidity as needed, without flashy fog shows to draw your attention.
The best thing about this humidifier is its tank. Even with almost two gallons of capacity, it's shaped just right to fill in a kitchen sink. Better yet, you can fill it directly from a water pitcher while it's sitting in the machine, since there's a grate-style lid instead of a completely closed top.
The best thing about the grate-style lid is that you can take it off and wipe down the inside of the tank without any trouble. Filling the tank, cleaning it periodically and drying it for storage are all very easy.
This type of humidifier does rely on a fan to get the moisture into your air, so if you're looking for something silent you'll want to check out our upgrade pick. Honeywell uses a quiet fan, but it's definitely noticeable when running on high speed.
This was the only evaporative-style humidifier we found with a timer or humidistat, and the fact that the tank is so much better than most makes it easy to forgive the need for occasional maintenance of the filter.
The filter, then, is really the only reason you might not like this machine. The Honeywell will remind you to check it every 30 days. Replacements can sometime be tricky to find (they're back-ordered at some retailers as we publish this review, but available from this filter shop and from Honeywell's store at better prices than Amazon typically has).
If you flip the filter every week (so one side isn't always absorbing more minerals than the other), you can keep them going longer. The manual suggests soaking to loosen buildup, but if you've got rust in your water you'll probably want to replace your filter every month.
The accuracy of Honeywell's humidistat is good, but the way it works means it's not exactly laboratory-grade. If you just want to let the Honeywell maintain a room's humidity, it works well, but you have to run the fan for a few minutes to get an accurate display of the room's humidity.
Key takeaways:
The Honeywell – HEV620 has a giant tank to run for a long time in the driest climates.
A humidistat means you don't have to turn this on and off all the time: It knows when it's needed.
The giant reservoir is also the easiest to fill and clean, which makes a big difference for long-term life of the machine.
The filter will need replacing eventually, but you don't have to worry about water spots or buying special water.
Premium pick: Levoit – LV600HH
If you want a high-capacity humidifier to treat a large room, the Levoit – LV600HH is our pick for a model that doesn't use filters. It had no trouble keeping up in a 400-square-foot room, though it can't pump out moisture as quickly as the Honeywell in a performance test.
All the essential qualities and features are covered: The reserve tank is easy to fill and clean, the humidistat was the best we tested at keeping humidity at a stable average and Levoit also makes (in our opinion) the best-looking humidifier.
The electronic controls, sadly, are a bit complex: Don't throw away the manual if you want to use this machine to its full potential. The "auto" button works well to get your room up to 68- percent relative humidity (which is the highest level recommended for indoor air), but most people are going to be better off at around 45-55 percent. (Go lower if you see any condensation on your windows or walls in the winter.) Skip the auto setting and tap the "water drop" button until it shows your target level.
While the humidistat is very good at keeping the average humidity level you set, according to our instruments the display reads eight percent lower than the actual room humidity.
Heated mist is a feature that's becoming hard to find because of fire hazard concerns. The Levoit has auto-shutoff features, but you should never leave the machine unattended when it's heating, just in case something goes wrong. Also note that we didn't find any evidence that heated mist is any better for your symptoms — it's a nice perk on a cold day, though.
The essential-oil diffuser built into this model works just like a fan-drawn diffuser, so it won't heat up your oil like the Vicks model does with the VapoPad holder. Diffuser options might not be a big deal, if you haven't already bought a dozen bottles of oil blends from your EO-enthusiast friends. But if you've thought about buying a diffuser and a humidifier, this model does double-duty.
As with any ultrasonic-type humidifier, this machine will spray whatever's in the water into your air. If you've got hard water that leaves deposits around all your sink fixtures, this type of humidifier will probably cause spots and white dust to appear on glass or metal surfaces.
If you've already got mineral-free water, though, the fact that there are no filters to replace means this will wind up being cheaper than the Honeywell after a few months of steady use.
Key takeaways:
The Levoit – LV600HH is an ultrasonic-type with all the bells and whistles.
It has the most accurate humidistat we found for set-and-forget operation.
Optional heated mist makes you feel better, even if it's not medically significant.
Essential oil lovers will like the evaporator pad, though it's not exactly a diffuser.
The tank is fairly easy to fill and clean and holds almost as much water as our top pick.
Best for bedrooms and babies: Vicks – VUL520
If you're looking for an inexpensive bedroom-sized humidifier that won't need replacement filters, the VUL520 from Vicks is our pick.
For parents dealing with croup or other throat infection, a humidifier is one of the first recommendations you'll typically get from a pediatrician.
This model's half-gallon capacity won't last for more than one night, but it makes up for that by being easy to carry, fill and set up. The compact size means it'll be easier to find a place to store it when your babies feel better.
Unlike the evaporative-style humidifiers, this is basically silent. The ultrasonic parts and the little fans make a quiet buzz, but the Vicks doesn't rely on moving significant amounts of air like the Honeywell – HEV320 or HEV620 do.
For a short-term humidity boost in a bedroom, the Vicks gives you everything you need. There's even a slot for Vicks VapoPads (one freebie included), which gives you the benefits of VapoRub without spreading grease on your skin. This works just like a heated plug-in essential-oil diffuser, so there's no reason you couldn't put other essential oils on a VapoPad after the menthol/eucalyptus scent fades.
Cleaning really set the 520 apart from other small ultrasonic humidifiers. There are a few corners inside the tank that are harder to scrub, but most people will be able to easily fit a hand inside to wipe it down.
Key takeaways:
The Vicks – VUL520 is an ultrasonic-type, so it's nearly silent and doesn't have a filter to maintain.
The compact size means this is easy to store, perfect for those buying because of croup or a bad cough.
Of the inexpensive models, this was definitely the easiest to clean.
Optional VapoPads are a bit of a gimmick, but grandmas swear by that stuff.
Everything that's in the water will go into the air, so distilled water is recommended.
Other products we tested
Another large humidifier: TaoTronics – TTAH001
We tried three larger models with humidistat functions, and the TaoTronics – TTAH001 is the one that fell hardest when we ranked them side-by-side.
Beyond the humidistat, the only feature that sets this model apart from cheaper ultrasonic humidifiers is the mineral filter. If you don't want to buy distilled water, this might help reduce the amount of white dust you see on your mirrors and windows. It's not as good as a pitcher-style filter system, though, since you've still got tap water leaving deposits in the tank.
The TaoTronics tank was nearly impossible to clean well. You can pour in vinegar for a rinse, but that's it.
The performance we saw from this model was good but nothing special. If you really don't care about being able to scrub out the tank, then it's a little quicker than the Levoit and more accurate than the Honeywell. The smaller tank, though, means you'll be filling more frequently.
Honeywell – HEV320
If you don't need a humidistat or a week of capacity, the Honeywell – HEV320 has most of the strengths of our top pick in a more affordable package.
Compared to the HEV620, the HEV320 has the same great performance of a wicking filter but without the electronic controls. This model holds half as much water as our top pick, and you have to unscrew a cap to fill it.
This is still one of the easiest humidifiers to clean, and the fan isn't overly loud. (If anything, you might be disappointed if you were hoping the fan noise would mask loud neighbors or traffic sounds.)
Filters for this model are a little bit easier to find than for our top pick, but on the whole we aren't sure who will benefit most from this size of machine.
If you're running a humidifier in a large room, this model will need babysitting that the larger Honeywell doesn't. If you're just using this in a bedroom for occasional relief of cough or cold symptoms, you might find the visible mist of our ultrasonic runner-up more comforting.
If you don't want to buy a big humidifier and would rather replace filters than buy distilled water, then this is a good pick over the Vicks – VUL520 at about the same price.
Vicks – Starry Night V3700
The V3700 from Vicks is a relative of the Honeywell – HEV320; it even uses a similar tube-shaped wicking filter. The big difference is that this model features a basic sort of planetarium projector to light up a bedroom ceiling.
The V3700 didn't rank well in our testing because of a few basic shortcomings. First, the fan is smaller than the Honeywell, so it doesn't put out as much moisture on high speed. Second, the opening for filling and cleaning the tank is small.
The star projector is a bit too simple and can't be aimed if you need to put it in the corner of a room. There's nothing terrible about this model, but nothing stands out as a reason to pick it.
Crane – Adorables
The Crane – Adorables line is a set of humidifiers designed to blend in with your nursery or a child's bedroom decor. We picked the purple Hippo (our test-toddler named it "Henry") and spent some quality time watching the mist pour out of the ears. There's a train-engine-shaped model that makes a bit more sense if you're going for realism, but they should all perform the same.
We like the performance of the Adorables model, but it has all the flaws of a typical cheap ultrasonic humidifier. The tank has only a tiny access hole for filling and cleaning, and you have to steady it with one hand while you fill it from a jug of distilled water. Worse, it can take a few tries to figure out which way it fits in the base, an annoyance if you're refilling in the middle of a long, sleep-deprived night during cold season.
Cleaning isn't much better, since most of the surfaces that would attract mold or algae are to the side of the hole and on the other side of the chimney.
We hoped this would be a great humidifier for kids, but in the end that's only true if you'll let your kids steal the themed spout and wear it as a hat.
On second though, it's not a good hat, either. Don't buy this.
Pure Enrichment – MistAire
The Pure Enrichment – MistAire is an unremarkable ultrasonic-type model. It's not especially bad; we didn't encounter any specific problems with it during testing, and it seems about as well-made as any of the other machines.
The reviews of this machine on Amazon are mostly positive, so it would seem most people don't have issues in the long run, but some people have had machines stop working. (Usually, this is caused by a stuck or broken float valve.)
Nearly every critical complaint talked about how difficult it is to clean this model, and we agree; it just doesn't make sense to buy a humidifier you can't clean. The capacity is small, and the output is slow, so there's no reason to buy this model.
Crane – Drop
The Crane – Drop is very similar to Crane's Adorables model, but for whatever reason, it didn't disperse moisture as quickly when set to full speed.
The tank here isn't much different than the Adorables tank. It's still impossible to scrub out, and it still can't rest on a flat surface while you're filling it.
The one concern that pushed this model to the bottom of our ranking is that the tank has a semi-opaque finish. If you diligently rinse this machine with clean water every time you use it and with vinegar every week, you might never have a problem with something growing inside the tank. If you do have a problem, though, you might not know until you can smell it in the air.
How we selected
To track down the best humidifiers, we checked in with discussion groups and buyer reviews, looking for real-world results from the driest parts of the continent.
When we found reviews from major publications, they were fairly polarized, with Consumer Reports favoring the inexpensive ultrasonic models and Wirecutter sticking to tried-and-true evaporative humidifiers that use replaceable filters.
Typically we filter our initial product list by customer-review averages to weed out models with reliability or quality-control problems. We look for scores well above four stars, but almost all of the models recommended by other major roundups have Amazon customer ratings below four.
It's scary when you realize that a product category has worse average scores than the oft-maligned inkjet printers. What makes so many people leave low-score reviews for their humidifiers?
Almost every negative humidifier review brings up an issue with something growing in or around the wet parts of the machine over time, be that mold on a filter or algae inside the tank. In the end, we tried to prioritize models that are the easiest to clean so that maintenance isn't difficult.
How we tested
For our small humidifier tests, we prepped a 35-square-foot bathroom by running a dehumidifier until our Elitech – GSP-6 humidity meter showed a bone-dry 22-percent relative humidity at a toasty 80 degrees Fahrenheit.
At that point we started our meter and recorded changes in room humidity as the humidifiers ran for 30 minutes.
If you're just looking to improve the humidity in your bedroom or your baby's nursery, note that all of the top performers will add moisture to the air at about the same rate, and even the worst-performing models can get a dry room above 40 percent in less than half an hour.
For larger machines, we were most concerned about their ability to hold humidity stable in a 400-square-foot space by using a "humidistat" sensor that turns on the machine when the room gets dry.
This case is a little more tricky, since we were testing in a large room not sealed off from the rest of the house. The Honeywell is the only evaporative humidifier in this group, and its big fan distributed moisture in the dry room much more quickly than the ultrasonic models.
We put our sensor at one end of the room and a dehumidifier at the other, with the tested humidifier adding moisture in the middle.
The Honeywell was also the only machine to overshoot the relative humidity target by more than five percent, while the others were very accurate.
We tracked how close these machines could hold a room's humidity to the target, running a dehumidifier for two minutes every 30 minutes to offset any differences in ambient humidity or temperature.
After two hours of tracking the humidity in the room, we found that they were all fairly good at maintaining the set humidity, though none were especially good at displaying an accurate number for us to see. It seems that the calibration for the on/off points is separate from the numbers shown on the display.
The big surprise was that the Honeywell's display was only accurate when it was running. When the fan was adding humidity to the air, the display reading was typically within two percentage points of our hand-held tester. Once the fan stopped, though, the display quickly counted up to about 10 percent above what our testing meter showed.
The ultrasonic humidifiers with humidistats did very well for accuracy; the displayed humidity was always off, but our testing monitor showed that they successfully maintained the average humidity of the room at the target level even better than the Honeywell did.
Ease of cleaning
This wound up being the most conclusive test we ran. You probably won't notice the difference between keeping a room at 40 percent and 45 percent relative humidity, but you will definitely notice a tank you can't clean. (Especially if you're unfortunate enough to find mold or algae growing in it.)
We filled, emptied, and tried to scrub the inside of each tank a few times over our five weeks of testing. The biggest difference is one that's almost impossible to see in advertising for a humidifier, but readily apparent when you're filling them: Some of these tanks have tiny fill openings that you can't even get a bottle brush into.
Fortunately, there are a few standout winners in this category. Honeywell and Vicks (both owned by Kaz USA) seem to know well that consumers want to be able to clean their humidifiers. Except for the Vicks – V700, each of the models from this company offers an opening big enough to get your hand through.
The other standout winner in this test was the Levoit, though it's also the most expensive.
The hardest models to clean, without question, had pointy-shaped tops. Pure Enrichment and Crane don't give you a very large opening to begin with, but even if you could fit a bottle brush inside, it would be impossible to effectively scrub all the corners.
Two types of humidifiers
Evaporative
Evaporative humidifiers use a large sponge-like filter to "wick" water out of the reservoir and allow air to pass through, meaning that there's also a fairly big fan in all of these models that makes some noise. The vapor is invisible rather than the billowing cloud you get with an ultrasonic type, but it's still a cool mist rather than steam.
The biggest benefit to this kind of humidifier is that because air has a limited capacity for holding moisture, evaporation works quickly when your air is dry, but a machine like this can't easily oversaturate air that's already humid.
The downside is that the filter will collect all the minerals in your tap water and eventually become crusty, if not brown. Plan on replacing a filter every 30-60 days if you're using your humidifier daily.
If you leave the machine turned off for a week when there's still water in it, non-mineral things will probably be growing in that filter, too. You should always let the filter dry and put the machine away if you're not using it.
Ultrasonic
Also called "nebulizers," these humidifiers use tiny vibration pulses to force water into a safe, cool mist that looks like steam. Next, a tiny fan pushes the vapor out into your room. These machines are nearly silent, and we could watch the mist rising, settling and swirling around for hours.
The downside for an ultrasonic humidifier is that it makes the same amount of vapor no matter how damp your air is already, which means if the air is already saturated you'll start to see a puddle under the machine.
The vapor also contains the same stuff that's in your water — mineral or otherwise — which means hard water spots on your mirrors or potentially bigger problems if your water has other stuff in it. If you don't trust your tap water, then using distilled water is definitely a good idea. Some manufacturers, however, sell filters to collect minerals before they're "uploaded to the cloud."
The worst problems with ultrasonic humidifiers come from letting the tank get dirty. Rinsing the tank out every week with vinegar will make a big difference. But if you can't get in there with a sponge or scrubber, it doesn't take much algae growth to ruin a machine.
The dilemma
Using distilled water and cleaning diligently will solve any concerns for ultrasonic models. If you're buying distilled water at 90 cents per gallon and using the humidifier constantly, the $12 filters (which should last at least a month) in an evaporative type will probably be a better value proposition in the long run.
Really, it's a preference decision you have to make: Would you rather stock up on water or filters every season?
Buying a humidifier for babies
Beyond improving comfort in extra-dry climates, the main reason people pick up a humidifier is for croup or other painful coughs, especially in infants and small children.
Studies haven't clearly demonstrated improved outcomes in settings like emergency rooms, but many pediatricians recommend humidifiers for home treatment of symptoms. Whether it's actually changing recovery time or not, most people feel more comfortable with moist air when they have a sore throat.
Warm mist hasn't been shown to do anything different than cool mist for symptoms, so the once-popular steam machines have mostly disappeared since there are burn and fire risks with a heating element and hot steam around. If you really like the feel of heated mist, our upgrade pick does include this as an optional mode, but be careful not to expose infants to the heated mist directly.
The main thing to note if you're buying a humidifier for your health is to be aware of potential risks from a neglected machine. The consumer product safety council has even issued a strongly worded advisory about keeping your humidifier clean.
Although it's recommended using a disinfectant like vinegar to clean your humidifier, you should always rinse it thoroughly with water. Never add anything you don't want to breathe into your humidifier water: Disinfectants designed to be added during use were once popular in South Korea, but widespread reports of lung problems led to a ban in 2011.
One case study of an infant developing lung problems after prolonged use of an ultrasonic-type humidifier with mineral-heavy water is especially sobering. Using distilled water and thoroughly cleaning your humidifier tank will help eliminate risks, and that's why we reward easy cleaning so much in our rankings.
Important features to consider
A humidistat: If you want to set-and-forget a humidifier, this is an essential feature. Just like a thermostat that turns on heat or AC when the temperature changes, a humidistat turns on a humidifier when the room gets dry.
Tank size: A bigger tank means less frequent filling if you're running a humidifier all the time, but it will also make the unit heavier and trickier to find a place for. If you're only buying a humidifier for temporary use, a smaller model might be the way to go.
Rate controls: If you don't have a humidistat to automatically turn the humidifier on and off, a way to turn down the mist when the air outside is extra cold will help keep condensation off your windows.
Easy-cleaning water tank: The worst problems reported by humidifier users are cases of things growing in the tank. Rinsing occasionally with vinegar usually keeps things sanitary, but it's much easier to clean a tank if you can fit your hand inside the filler hole.
Nightlights: A few of these humidifiers feature a separate control for turning on a light under the tank. Fortunately, you can also use them without a light if that's just going to keep you up at night.
Oil diffusion: While none of these humidifiers can disperse essential oils the way a dedicated diffuser can, some models allow you to add drops of essential oils to a separate pad, where they evaporate and blend in with the humidifier mist.
The bottom line
Our top pick overall is for people who need a device that will maintain the humidity in a large space over an entire season. The Honeywell – HEV620 uses a high-performance evaporative system, and the large easy-filling reservoir means you'll spend less time keeping it going.
This machine is by far the easiest to clean, and the filter is easy to monitor and replace if it gets clogged by minerals from your water. Best of all, you won't have to worry about white dust on your picture frames or puddles of condensation on your nightstand.
If you're looking for luxury features like heated mist and essential-oil diffusion in a design that's easy on the eyes, Levoit has the goods. The LV600HH has a great humidistat, good capacity, and a tank you can really clean. The only downside is the white dust left behind if you're in a hard water area, but distilled water is a good fix.
If you're not looking to invest in an appliance with computerized control, the Vicks – VUL520 is a great humidifier that you can keep in a cupboard most of the year without worries. Most will want to use distilled water to avoid white dust, but there's no filter to replace.