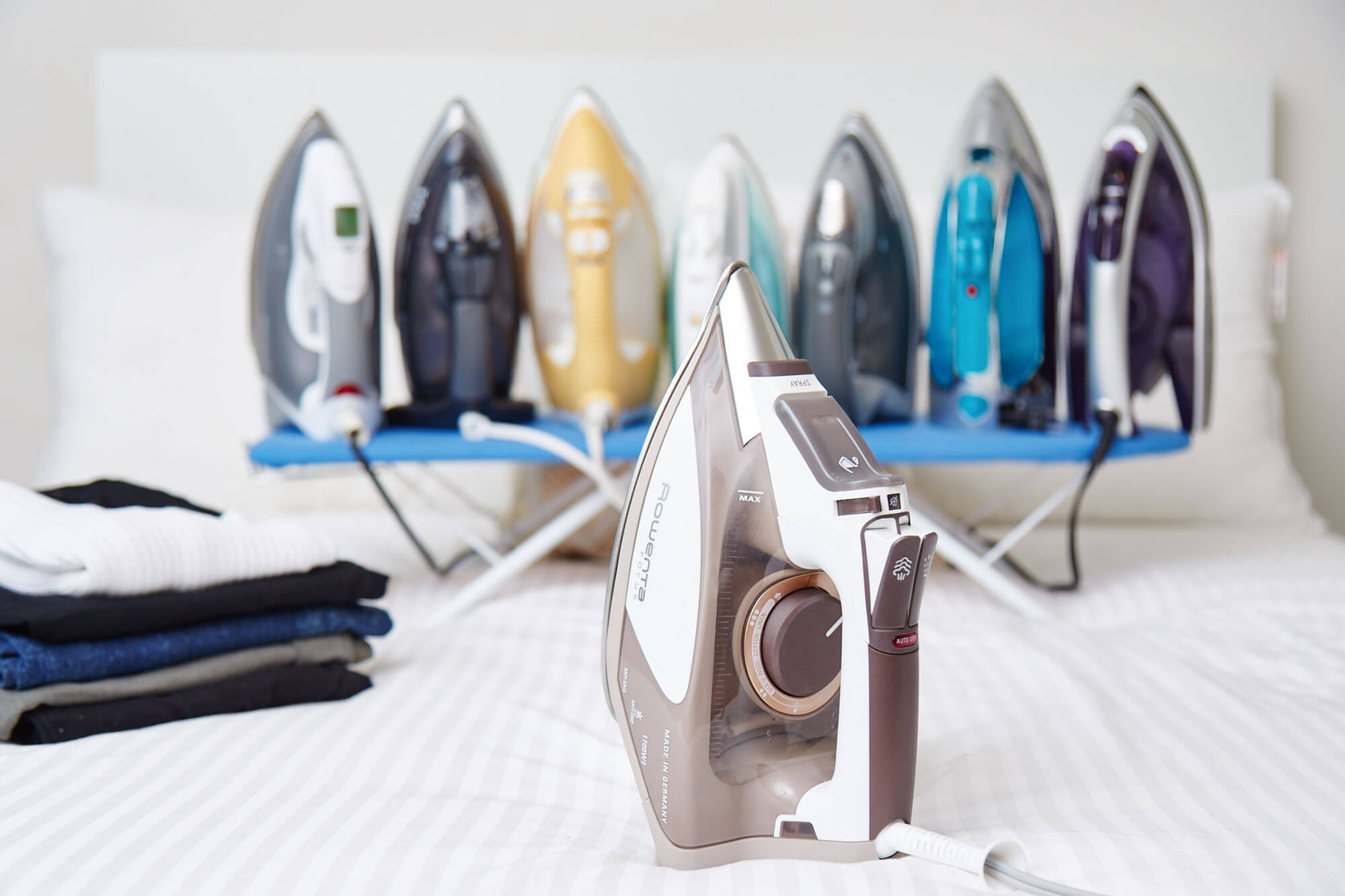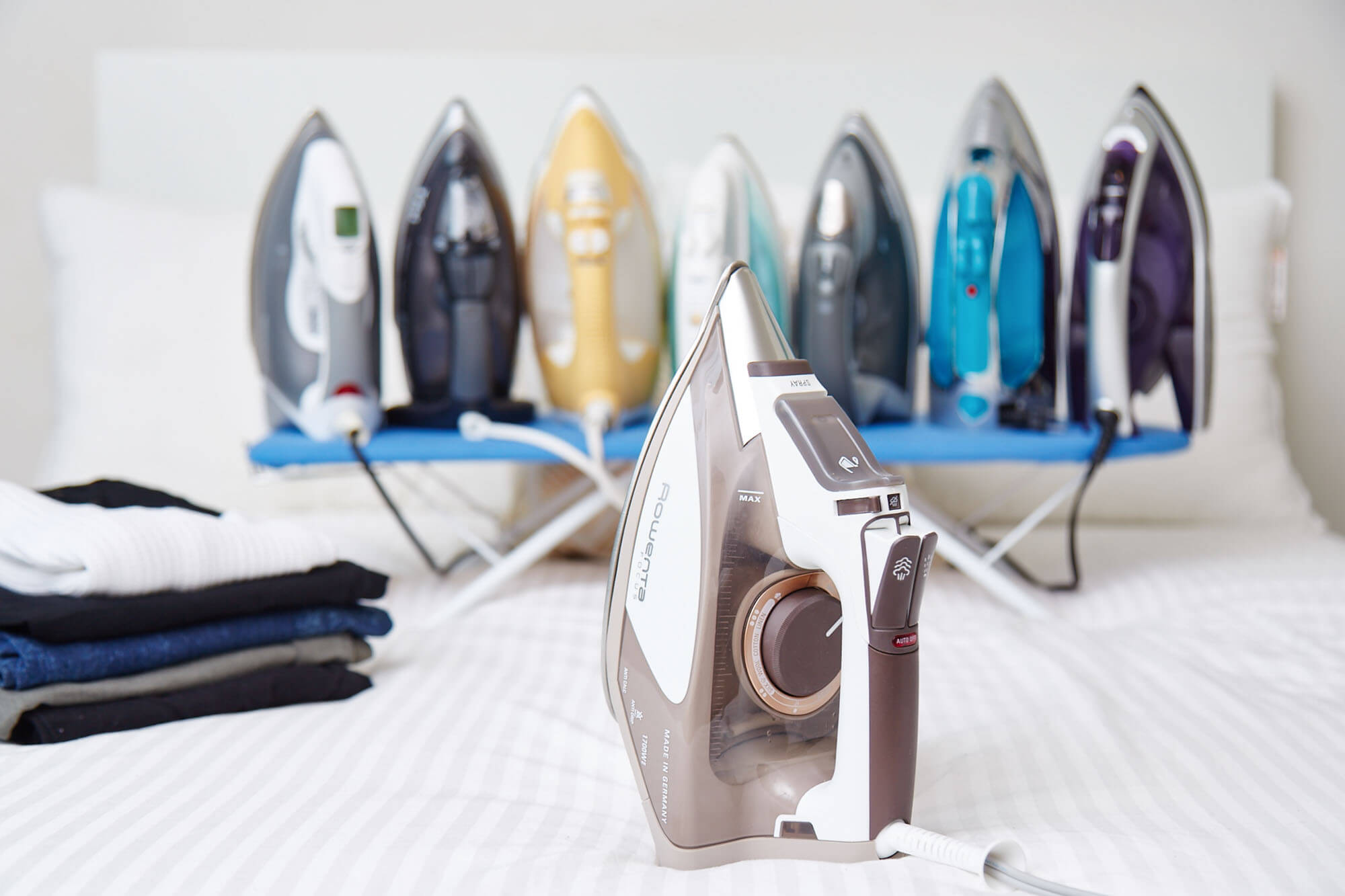 We spent over 50 hours researching and testing steam clothing irons to determine the best of the best. We also reached out to professionals in fashion design and sewing to get their take. For this 2022 update, we tested four new models, and all had pros and cons, but the Rowenta – DW5280 Focus is our new top pick for its precision tip and powerful steam burst for ironing out stubborn wrinkles. For our budget pick, we've selected the Mueller – MU77X with its speedy heat-up time and excellent steam dispersion.
We spent over 50 hours researching and testing steam clothing irons to determine the best of the best. We also reached out to professionals in fashion design and sewing to get their take. For this 2022 update, we tested four new models, and all had pros and cons, but the Rowenta – DW5280 Focus is our new top pick for its precision tip and powerful steam burst for ironing out stubborn wrinkles. For our budget pick, we've selected the Mueller – MU77X with its speedy heat-up time and excellent steam dispersion.
Table of contents
The 12 steam irons we tested
Best overall: Rowenta – DW5280 Focus
Our former top pick, the Rowenta – DW5080, has been upgraded to the Rowenta – DW5280 Focus, and although it wasn't as strong a contender this time around as the previous model, it's still an excellent iron for heavy-duty ironing. Of the four new irons we tested for this 2022 update, the DW5280 was by far the easiest to fill. The iron was designed to be filled lying horizontally, and the extra-wide water-filling inlet makes it a breeze, whether filling with a cup or simply straight out of the faucet. It was also easy to see the maximum fill line since the water tank is see-through. (This wasn't always the case with the other irons we tested.)
This model has a laser-etched stainless-steel soleplate with Rowenta's patented Precision Tip for getting into corners and buttonholes. The iron stands very sturdily upright at a slight angle, so the handle fits ergonomically into the palm of your hand when you're ready to lift it. Most impressive is its steam burst, which was the most powerful of the other irons tested and most effective at steaming wrinkles before and during ironing.
The DW5280 has an even steam dispersion but it didn't seem to emit much steam, so we used the steam burst throughout. The iron has a very fine spray mist that didn't spit and spatter, but although the Rowenta doesn't leak, droplets occasionally drip out of the spray hole. The DW5280 heats up in a minute, and when it hits the desired temperature, an orange preheating light goes out. We would have preferred a more overt ready alert because it's not really clear whether the light is a temperature alert or an indication that the iron is on.
The solidly constructed iron has a good weight so we didn't need to press heavily or re-do areas. Overall, as with the previous model, the Rowenta – 5280 Focus relieves the burden of ironing and helps you get it done faster.
Key takeaways:
The Rowenta – DW5280 Focus has a robust steam output that results in quicker and more efficient ironing.
Its patented Precision Tip helps navigate around the collar, cuffs, and buttonholes of a shirt.
The iron is designed, engineered, and manufactured in Germany.
Also great: Singer – SteamLogic Plus-770
Another worthy alternative to the Rowenta – 5280 is the Singer – SteamLogic Plus-770. This steam iron does have a couple of quirks, but overall it has more pluses than minuses. The Singer has a horseshoe-shaped ring of LED lights for four levels of heat that light up when the touchscreen power button is pressed. It hits the maximum temperature in one minute, and the ready alert beeps and the LED ceases flashing when the iron is hot enough.
Although this alert system is clear to see, one of the major bugs with the Singer is that the power button is located on the iron body exactly where your forefinger knuckle rests. Simply by gripping the iron's handle, it's much too easy for your knuckle to accidentally turn the iron off.
The Singer is easy to fill horizontally with the included well-designed pitcher, but like the Mueller, it's hard to see the water level because the water tank is dark gray. When standing vertically, the Singer's steam burst is unimpressive, but when holding it horizontally while ironing, the burst is strong. It also had excellent steam dispersion, and wrinkles were ironed out in a single pass. The Singer is leak-proof but every now and then a drop would emit from the spray.
This steam iron has an extra-long 12-foot cord but has no internal storage. Although the long cord was great for maneuvering around the ironing board, there is the issue of wrapping it up for storing the iron. The Singer has good weight without being too heavy and didn't require much pressing down. It doesn't have a precision tip, so it wasn't good with corners and buttons, but generally, the Singer had very good glideability and coverage.
Key takeaways:
The Singer – SteamLogic Plus-770 heats up quickly and has a very visible and audible temperature-ready alert.
It has an extra-long power cord that's great for maneuvering around the ironing board but it does require more storage space.
The iron's on/off and temperature set button are easy to accidentally turn off while ironing.
Budget pick: Mueller – MU-77X
Mueller is another German company that's well known for its kitchen appliances, and they score another hit with the incredibly affordable Mueller – MU-77X steam iron. The Mueller has some of the same attributes as the Rowenta. The iron can be filled horizontally, and though its water portal is slightly smaller (about the size of a dime), it was easy to fill without spilling directly from the faucet or with the included 200 ml water pitcher. The one issue we had is that the water tank is dark blue, and it was tricky to see the water level inside unless we tilted the iron at an angle. A big bonus, though, is that the Mueller is 100% leak-free.
The MU-77X has a slim profile and its soleplate has a precision tip just like the Rowenta. The Mueller heated up to high in only 50 seconds, and its orange temperature-ready alert light is easy to see because it's offset against the dark blue water tank. Its steam burst wasn't as robust as the Rowenta's, but nevertheless, it shot out plenty of steam when we needed it. We also liked the steam burst trigger located under the handle exactly where your forefinger rests, so it was easy to squeeze. Steam dispersion was excellent, and we only needed to iron in one pass for deeply creased wrinkles.
The Mueller has a standard 8-foot power cord, but it was the only iron we tested for this 2022 update that had a retractable cord, which gets stored inside the iron by simply pushing a button. With all of its bells and whistles — and high performance — it's surprising how inexpensive this iron is. It's quite lightweight, so it may not be suited to heavy-duty ironing like the Rowenta, but for occasional ironing and quick touch-ups, the Mueller – MU-77X is a great budget choice.
Key takeaways:
The Mueller – MU-77X has superb steam production and dispersion that's even better than our top pick.
Its water tank is easy to fill without spilling directly from the faucet, but its fill line is hard to see.
This steam iron is lightweight and glides swiftly over all fabric types.
Best for crafters: Oliso – Pro TG1600 Smart Iron
Oliso – Pro TG1600 Smart Iron deserves special mention as an iron designed for creative types. It's the most high-tech and forward-thinking of all the finalists with its unique innovations. Its construction and engineering are high-quality, well-executed, and on-par with our top pick, Rowenta.
Its most unique feature is its "iTouch Technology," which enables touch sensors to mechanically lift the iron up when not in use to prevent burning and scorching of fabrics. With crafters and creators at the forefront, this feature is wonderful for those who need to multi-task and or work with sensitive fabrics. It works surprisingly well, speaking to its overall high-quality design.
In a line-up, its soleplate design also stands out. While stainless steel is notorious for sticking to crafting materials like transfers, Oliso overcomes this shortcoming by adding a textured surface. This solution gives us the benefit of higher conductivity of stainless steel without the usual stickiness. Ceramic would typically be the better choice for crafting and synthetic fabrics, but it has its own flaws of color transfer in higher temperatures and rubbing off over time. Oliso's unique stainless steel soleplate gives us the advantages of both stainless steel and ceramic without their drawbacks.
Key takeaways:
The Oliso – Pro TG1600 Smart Iron was specially designed for crafters, sewers and quilters.
Its stainless steel soleplate is textured and has flat, minimal holes designed to work with transfers and adhesives.
Oliso's patented "iTouch Technology" is a clever feature that lifts the entire iron once it senses there is no movement, which makes it great for super sensitive fabrics or multi-tasking.
Beautural (not recommended)
The Beautural steam iron is a popular budget-priced choice, but it was the only iron for this 2022 update that we can't recommend. Design-wise, it's a bit of a mess. The iron has an LCD screen for denoting temperature levels, and though it's certainly bright, when the iron is standing up vertically, you can't actually see the screen unless you tip the iron forward. Its steam burst was the lowest of the other irons we tested, and its spray is too heavy and spits.
Spitting was also a problem when using the steam while ironing: Lots of drops spattered onto the fabric that we had to iron over. The steam button is too hard to press, and the on/off controls on either side of the LCD panel are confusing. The water port is tiny, and the tank is tricky to fill, even with the included (and pretty useless) filling cup. If you're looking for an inexpensive iron, go with our budget pick, the Mueller – MU-77X.
Panasonic – NI-W950A
Panasonic's second entry, the NI-W950A earned a #2 ranking on Consumer Reports and with good reason. It went neck to neck with our #1 pick, earning just a few points less. Though it's the only iron with an aluminum soleplate within our finalists, the material difference was not noticeable in our iron testing. As with Rowenta, it performed very highly in steam output and is generally well made.
The soleplate's unique shape, advertised as "Multi-directional" was an interesting feature that could be useful for those with more intricate ironing. The back of the plate comes to a point exactly like the front in a football shape.
Panasonic – NI-L70SRW Cordless Iron
For those wondering about cordless irons, Panasonic's NI-L70SRW entry does a solid job. You might expect the heat and steam to be weak, but it really did not disappoint here. The biggest drawback is that it loses steam a little sooner, but we believe that it's enough for regular use.
In general, this iron is well designed, engineered, and constructed. Controls are thoughtful and simple, and instructions are easy to understand. The main difference in function from corded irons is that you return the iron to the base instead of standing it on the heel when you make adjustments to your garments.
This model has a removable water reservoir, which means you can go to the sink to refill with tap water while leaving the iron in the base to charge. This also means that the heating element stays farther away from running water.
Most Amazon user reviews were favorable, expressing a similarly pleasant surprise at its strength. Some note that this iron is great for the elderly because of its lighter weight. It is also popular among those who need to iron for hours at a time.
Sunbeam – Steam Master GCSBSP-201-FFP
This Sunbeam iron represents the best of lower-budget irons and rightly so. Though the cheapest in price, it performed almost as well as the T-fal model which cost almost twice the amount.
The Sunbeam looks and feels more "budget," but it has many of the same features as irons that are double, triple, quadruple, etc. in price (sevenfold for the Oliso model). In fact, the retractable cord is an added feature that none of the others have in-unit. The execution of this feature is almost there. The retracting button is too harsh, requiring attention to the receding end. However, the effort pays off with not having to deal with a long, dangling cord in storage.
Discontinued steam irons we tested
Rowenta – DW5080 Focus (discontinued)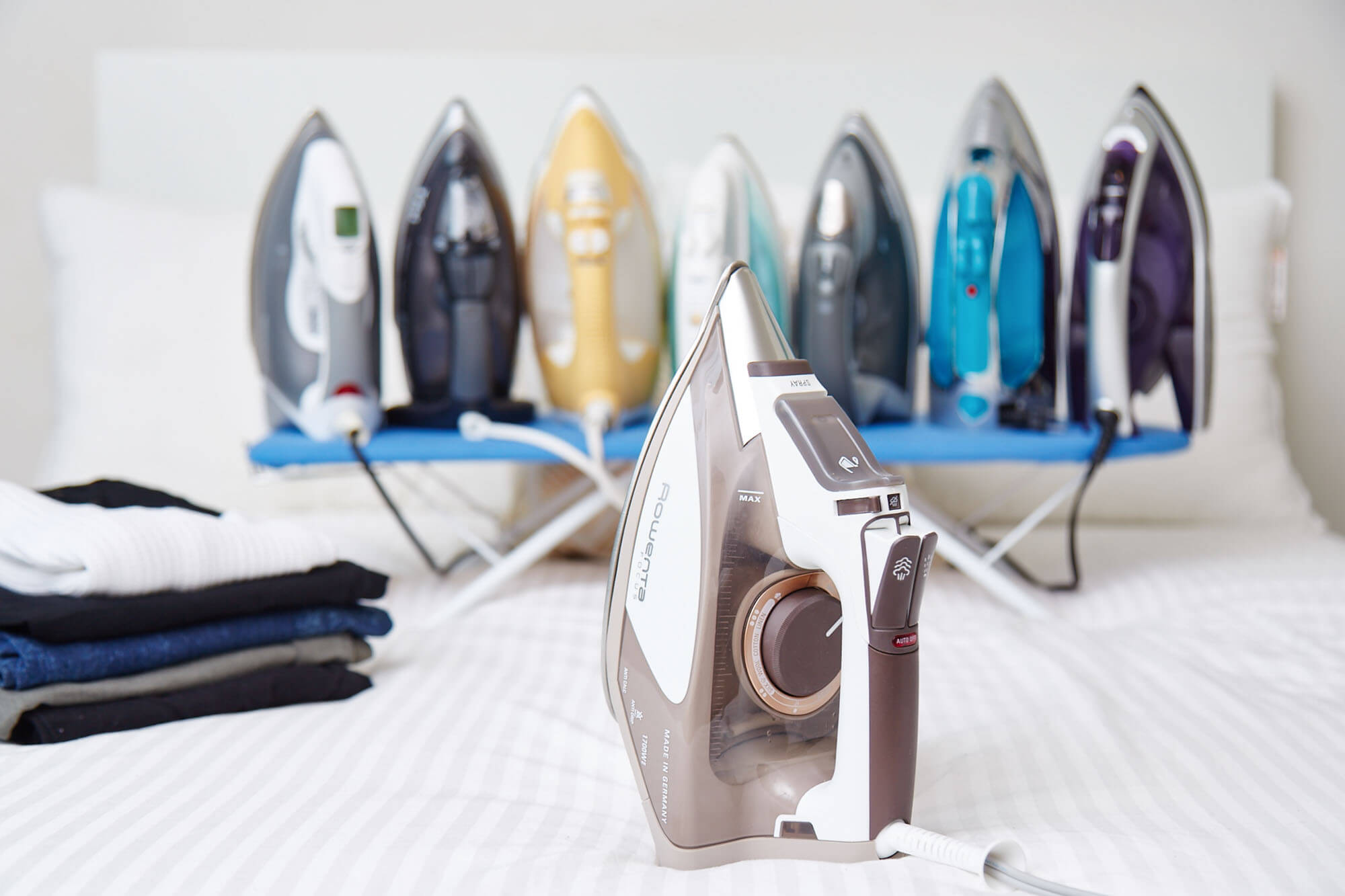 The Rowenta – DW5080 Focus had been our previous top pick, but it was recently upgraded to the Rowenta – DW5280 Focus. Our original review praised this model for its manual design, ironing and steam performance, and cleanup. It has a median price — not the cheapest and not the most expensive — but a sensible investment that can potentially save some time in the long run.
As a renowned name in irons since 1919, Rowenta boasts a long history of manufacturing home appliances. Paired with German engineering, the Focus steam iron achieves a superior feel from every button and dial, down to the soleplate. Unlike many irons, the DW5080 is manufactured in Germany, unlike the rest that are made in China.
Its "Precision Tip" soleplate design proved to be a simple yet effective innovation. While maintaining a sturdy, wide base that felt solid and substantial, the tapered tip allows for more nimble navigation around buttons and collars.
The Rowenta comes with a plastic water-filling cup, which worked well with its own filling spout, making water-filling a tidy no-brainer. The spout even has a slight spring-loaded action, which snaps in nicely when shut. The steam and spray buttons have a satisfying deep plunge action that doesn't stick as it did with some of the other irons we tested.
Maytag – M400 (discontinued)
A long-trusted name in home appliances, Maytag's M400 is a solid, if not unremarkable steam iron. It's named the "Speed Heat Iron" and in that respect, it does not disappoint. It's the fastest heating iron by six seconds. The box claims 55 seconds, but we clocked it in at 1 minute 3 seconds.
We liked that the water filling position is down flat, reminding you to unplug it before refilling. The water-filling hatch is easier to access because it's more stable to hold than at an angle.
Steam output, however, is a weakness here, with the area of steam burst just a bit smaller than other top performers. It unsurprisingly struggles as a vertical steamer, not unlike the rest. Leak tests show below average results, leaking a little bit during the silk ironing test.
T-fal – FV4495 Ultraglide (discontinued)
The Ultraglide iron highlights its unique feature: a ceramic soleplate. Typically made of aluminum coated with ceramic, this material is best suited for ironing synthetic fabrics due to its resistance to static electricity. Natural fibers like cotton and wool can possibly rub off in high heat.
Ranking #4 on Consumer Reports, it fared satisfactorily in our testing. We weren't too impressed by the instruction manual, which we found a little confusing and set in small type. However, it excelled in heating speed, only six seconds behind the fastest, clocking in at 1 minute 9 seconds to maximum heat.
Other quirks, like difficulty filling water and the fact that the "Ultraglide" was not so "ultra" knocked its grades down. The relatively smaller soleplate (which likely aided in quicker heating) leaves your hand closer to the steam, which may get slightly uncomfortable.
It performs notably well with continuous steam. This in combination with its relatively lighter weight makes the T-fal more practical as a vertical steamer.
BLACK+DECKER – Digital Advantage (discontinued)
BLACK+DECKER – Digital Advantage Professional is the best lower-priced alternative to the Rowenta. The digital interface is very simple, but well-implemented, including a feature that we think should be included in all steam irons: an audible beep to indicate that it's ready to use.
In general, the technology behind steam irons remains quite basic and simple in comparison to all the wireless, voice-command, smart-appliance doodads out there. We have simple circuits that turn voltage to heat up a conductive soleplate. It's almost comical that having a very basic digital readout is the crowning feature of this iron, but it does the job well and scores high in usability.
The Digital Advantage excels in one aspect we were baffled to find lacking in the others: "Temperature-ready" status going from higher to lower settings. The Oliso is the only other iron that does this but at a price that's more than four times that of the BLACK+DECKER. The BLACK+DECKER's alert is audible, which is more user-friendly than the Oliso to boot. Like the other finalists, Oliso's temperature light switches off and on to indicate "ready" status. This works but is easily overlooked, requiring you to keep a close eye on the iron.
Another advantage to note is that the BLACK+DECKER is the only iron that doesn't need to be emptied of water after each use. This is a boon for those who are always in a rush and rely on every spare second. Every other finalist emphasizes the need to be emptied or else risk build-up that would require extra time and care to clean. This is a great plus in our book. It's a wonder why they don't make this feature more prominent!
How we selected
We started by collecting the top-rated and reviewed items from retailers such as Amazon, Bed Bath & Beyond, and Target. A simple Google search revealed topics and concerns from relevant blogs and subreddits for obsessives like /r/BuyItForLife. Further digging revealed niche markets and hobbyists: in our case, crafters, quilters, and sewers.
We spoke to experts and professionals, like Nichole Ramirez, quilter and co-author of The Fussy Cut Sampler, who provided a deeper insight into the demands and needs of those who use steam irons comprehensively. Fashion designer Deanna Molina gave us insight into what she looks for in an iron.
Amateur reviews by real people on YouTube rounded out our sample group as we determined the most desired features in steam irons: heat-up speed, steam output, anti-drip, and safety. With these features in mind, we narrowed down our vast list to a concise but diverse group of finalists.
From there, we developed a rigorous routine of tests designed to address various issues like delicate fabrics, tough fabrics, water leakage and ease of use and storage. Considering speed and convenience, we also looked carefully at product and interface design from the process of filling up water to how the cord functions in operation and storage.
How we tested
Heating speed
To test heating speeds, we timed how long each iron heated up to its maximum temperature (typically the linen and or cotton setting).  This category takes both speed and usability into account for optimum efficiency.
We also considered how the iron indicated that it was ready to use, either by a light or sound. More discreet alerts may go off unnoticed, which may result in waiting longer than necessary. For instance, the Maytag has one light that simply shuts off when the iron has reached the set temperature. Some irons, like the Rowenta and T-fal do the same, except the indicator light is dedicated only to this purpose which is clearer. Others like Oliso and Panasonic – NI-L70SRW Cordless Iron have indicator lights that share other duties for indicating on/off or auto-off.
BLACK+DECKER – Digital Advantage Professional stands out here: Although it was not the fastest (13 seconds behind the fastest, Maytag), its digital dial with audible "beep" was the most user-friendly, which frees you from keeping an eye on the iron while you wait. Most notably, the Black+Decker was one of two brands that also indicated correct set temperature when going from higher to lower temperatures, the other being Oliso – Pro TG1600 Smart Iron.
When ironing multiple items, being able to switch temperatures without guesswork plays into overall efficiency and usability of the iron. Without any sort of indication, Sunbeam falls to the bottom in this category. It's up to you to wait for two minutes, as the manual suggests. To be fair, it is the most inexpensive iron of our finalists, roughly seven times less than the most expensive (Oliso).
By our measurements, Sunbeam took about 1 minute 37 seconds to reach its max temperature, just ahead of the slowest, Panasonic – NI-L70SRW Cordless Iron, which clocked in at 1 minute 53 seconds.
With all irons heating up in under two minutes, we found that how the irons were designed to indicate a "ready" state was equally as important.
Steam output tests
Steam is the jelly to heat's peanut butter. They work okay on their own, but together they really excel. On a particularly wrinkly swatch of thick cotton, a dry iron can only get you so far. A couple of puffs of steam speed up the process considerably. Among the most-desired features of irons, we tested steam output in the following subcategories:
Steam burst: A feature of most new steam irons that shoots out a puff of steam from the soleplate. We graded the amount of steam and consistency from consecutive bursts.
Ease of use: Steam button and dial feel and responsiveness and general ease of use.
Steam dispersion: How well steam is dispersed and general functionality of steam during ironing.
Vertical steam: Another method of removing wrinkles by holding the irons upright and subjecting the fabric to steam without the pressure and contact of the heated soleplate. We graded the functionality of this secondary feature.
Ease of filling water: An important aspect of using steam, grading the design and functionality of the water intake.
Electronics and water don't mix, so it's up to each brand to design an experience that is both safe, easy, and minimal in drippage. We started by filling each iron with water to capacity. Irons that have tricky hatches, hard-to-read "max" lines, or just feel plain awkward can be difficult or uncomfortable to use. The last thing we want is to iron atop a damp board or have to wipe off the counter afterward.
Oliso and Rowenta delivered top scores in water filling scores. They both came with plastic water filling cups well suited to their respective filling spouts. Both were remarkably drip-free on the first try. BLACK+DECKER and Maytag included identical filling cups, which were difficult to pour without spilling.
Panasonic – NI-L70SRW Cordless Iron deserves special mention as it has a removable water reservoir that can be accessed even as the iron recharges. Since you can fill it under the sink, there is no worry about spillage.
Next, we graded the power of each iron's steam bursts. This feature now comes standard on nearly every contemporary steam iron; the functionality is identical to one another. A button atop the handle has somewhat of a hydraulic action that pushes extra air through the steam. The extra burst of steam adds extra wrinkle-busting power where it's needed, stubborn cotton or linens, especially.
To grade steam dispersion, we graded both continuous steam output and steam bursts on the highest heat setting. BLACK+DECKER, Maytag, and Sunbeam models fell short here because the steam burst function got uncomfortably hot on the handle with repeated use. On the other hand, the Rowenta impresses again with a forceful steam burst that also felt well-controlled and dispersed.
Each one of our finalists lists vertical steam as a feature, but we found that they were all not well-suited for this task, and some were worse than others. This feature hopes to double its function as both a heavy iron and a steamer used on hanging clothing. It's best left to dedicated steamers which have a lightweight hose end with an easier to press button. Here, the user must press and or pump the same steam burst button in order to output usable steam.
With all the weight of an iron without the advantage of pressure, their use as a vertical steamer is pretty dubious. We concluded that if you really have to use one, steam irons might somewhat work as a vertical steamer. If this is an important feature for you, definitely stick to either Panasonic – NI-W950A or Rowenta.
Overall, Rowenta wins in overall steam output with Panasonic – NI-W950A not too far behind. Despite being cordless, Panasonic – NI-L70SRW Cordless Iron surprised us in strength, coming in third. It suffered low marks as a vertical steamer because it did have trouble with leaking during continuous use.
In fact, all of the steam irons start leaking water at some point due to continuous usage of steam burst. By nature, steam and especially steam bursts push water vapor which cools down the soleplate. Eventually, the soleplate and water aren't hot enough to vaporize. Oliso addresses this issue in their instruction manual, stating that the user must wait three seconds between every steam burst.
Safety tests
The ubiquity of steam irons might cause you to forget that it is a high-watt appliance that can cause serious damage without caution. Fortunately, the automatic safety features mostly come standard now. Design and construction also contribute to the overall safety of steam irons. We took a look at a few subcategories and graded each for effectiveness and quality:
Stability on heel: We applied some force in different directions to determine the stability and balance of each iron while standing on the heel.
Cord design: A crucial point in design with steam irons. We grade how well it stays out of the way, how it packs for storage, and its overall quality.
Auto shut-off: Some irons have multi-way auto shut-offs, safeguarding your fabric and your home from scorching or fire.
Overall construction: Considering metal and plastic parts near high heat and high-wattage electrical heating elements, quality construction is a must. We graded the overall feel and construction of each iron.
As far as stability while standing on its heel, all of the irons were great. From our lowest price to our highest, all of them scored top marks. By the feel of stability, they all felt like high-quality irons that were weighted and balanced well.
When it came to cord design, Panasonic – NI-L70SRW Cordless Iron was our favorite. Its charging base had a nice retractable cord that worked well and cleaned up easily. As for the iron itself, there was no cord to contend with, meaning high mobility and lightness.
Rowenta edged out the other finalists with Oliso and T-fal not far behind. These three had small hooks to help wrap the ends of a cable to itself, making things a little easier and tidier.
While retractable cables are a great usability feature, the Sunbeam was a little difficult to use. It was a common negative comment among Amazon reviews, and we agreed. The release button was too fast and forceful, which made retracting the cable more of a hassle than it should be. It's liable to cause minor injury if allowed to snap back without manual guidance. Otherwise, once it's retracted, it's nice and easy to store with no danger of tripping or getting pulled by the wire.
In general, all finalists had well-designed cords that were strong and effective at staying away and being hardly noticeable. A feature we are happy to see standard now is a ball-bearing joint that attaches the cable to the iron.
Auto shut-off features varied with each model but its goal is common: prevent burns. All finalists performed as expected. Maytag, Rowenta, Sunbeam, and T-fal scored best marks for having multi-way auto shut-off with visual indication.
Oliso takes auto shut-off to the next level with a feature that lifts the iron up when it senses it's stopped moving. Though impressive, it was almost too responsive, lifting at any hesitation, which caused some dragging on the fabric of the lifters when moved again. Luckily there is an on and off switch to disable this feature.
For overall construction, Oliso and Rowenta impressed us the most. With easy-to-press buttons and an overall professional and well-engineered feel, we believe they would last longer and be less likely to fail mechanically.
In total, it's Rowenta again, followed by Panasonic – NI-L70SRW Cordless Iron and T-fal / Oliso in a tie for third as our top safest irons. Thankfully, the rest of the finalists rank average or above.
Performance tests
In a series of performance tests, we put our finalists through the real test: ironing different types of fabrics. We took the following criteria into account:
General ease of use – A culmination of good design and construction.
Interface design – We grade the functionality of parts and features and how they affect overall usability.
Ironing samples – Real samples of fabrics to test the variable temperature settings and steam in action: Cotton, silk and linen.
"Glideability" – Smoothness of soleplate while in use.
Ease of clean-up and storage – We measure the ease of emptying water and putting the iron away.
BLACK+DECKER was a favorite in interface design, with its easy-to-read digital screen and audible beep indicating it's ready. The compact and easy-to-use and read dials of Sunbeam and Oliso are our favorites of the dial types.
Maytag and Panasonic – NI-W950A suffered from poorly designed dials, which were hard to read. The arrows indicating selected choice were not immediately obvious. While using the Maytag, we accidentally moved the dial, switching the fabric option to linen from cotton. The dial on the Panasonic got noticeably hot during use.
One aspect we were eager to test was claims made by different brands, especially of their soleplate. Rowenta is known for its "Precision Tip," a slight tapering towards the tip of the iron. In our testing, it did feel slightly more nimble, especially going around buttons. We felt that it did make a difference in usability, which we scored high across all three ironing samples.
Panasonic – NI-W950A has a unique symmetrical eyeball shape that promised a "multi-directional" experience. We experienced a slight advantage in maneuverability. It was possible to back up into more spaces, like around buttons and around edges and iron from the back. Of course, the surface area of the soleplate is slightly reduced, but we didn't feel a difference in terms of coverage. We can see how sneaking back into fine spaces could be useful for more intricate garments.
T-fal went so far as to trademark the word "ultraglide," but that only brought us disappointment. The only ceramic soleplate of the bunch, the T-fal, did not impress. We thought that even our low-budget finalist, the Sunbeam, gave us a smoother ride. It particularly faltered in our silk test, feeling slightly sticky in comparison to the rest.
Since ceramic soleplates are favored for resisting static cling, T-fal may be a better choice if you iron a lot of synthetic fabrics. But for cotton, linen and silk, its grades are middling.
Panasonic – NI-L70SRW Cordless Iron offers a few unique features that may appeal to those with specific needs. Professional crafter and co-author Nichole Ramirez cited the usefulness of lightweight and cordless irons for those who need to iron for hours at a time.
Though the Panasonic's test results were about average, the fact that it's easier to use for longer stretches of time could make all the difference. That it comes with a cover, a retractable cord (for the base) and a removable water tank make it an appealing choice for crafters and those who favor lighter irons.
Leak tests
Last, but certainly not least, we have our series of leak tests. Water leaks can hamper your overall speed of ironing. The more leaks you get, the more you need to slow down as the soleplate needs more time to heat back up.
In order to test for leaks, we agitated the irons with repeated steam bursts in three different states:
Upright
Down and flat
While ironing
To test the anti-drip features, we set the irons to a high setting and then turned them down. This feature closes off the holes in lower temperatures where the water has trouble vaporizing due to reduced heat.
Again, Rowenta sweeps the top, next to Panasonic – NI-W950A in second and T-fal in a close third.
Important features to consider
Efficient heat-up and temperature-ready alert: Time is money, and the sooner you can start ironing, the sooner you'll be done. For those who rush in the morning to those who just want to be done quicker, a fast heat-up time will give you a slight bump. In our study, we found that the indicator light or sound to signal when the iron is ready for use is just as crucial as the time it takes to heat up. We favored more obvious indications, like an audible "beep" or obvious indicator light, and factored this feature in our score for heating speed.
Steam output: The more steam, the quicker the job. This category includes a grading of steam burst, ease of use, and an oft-touted feature called "vertical steaming," which turns a horizontal iron into a freehand steamer that removes wrinkles without direct contact.
Anti-drip: One of the most annoying yet unavoidable symptoms of a steam iron is dripping water. When the temperature of the soleplate drops down to silk and synthetic ironing temperatures, it is not hot enough to produce steam, potentially dripping water. Anti-drip measures aim to prevent drippage when set to lower temperatures.
Compatibility with tap water (anti-scale / anti-calcium): These days, many irons accept tap water almost exclusively. Gone are the days of buying a big jug of distilled water solely for the purpose of ironing. Good riddance! However, most manuals state that if you have very hard water, you can mix it 50/50 with distilled water.
Auto shut-off: High-powered heat and forgetfulness do not mix. An auto shut-off feature ensures that if you accidentally leave the iron plugged in or face down on fabric, it will not cause a fire.
Soleplate material: Depending on your needs, you should consider the soleplate material. The main types are:
Stainless steel: Better option if you iron more natural fabrics like cotton and wool, as it conducts heat better, resulting in better steam. It is also better than ceramic for pressing creases on sleeves and pant legs. Crafters should be aware that stainless steel plates can stick to glues and decals at higher temperatures.
Aluminum: A slightly cheaper soleplate to manufacture, also better at distributing heat evenly across garments.
Ceramic: Typically made of aluminum that is coated with a ceramic layer. If you need to iron a lot of synthetic fabrics, ceramic resists static but is more likely to absorb colors from natural fibers like cotton and wool. Ceramic can also peel or wear down over time.
Warranty: Steam iron warranties tend to range from one to three years.
How do steam irons work?
Dating back at least a thousand years, the practice of using heat to smooth fabrics has seen many technological advances, culminating in the modern electric iron we see in most households today. Steam now comes standard with consumer-grade irons, making ironing tougher fabrics like cotton and linen much easier.
The combined force of heat and steam work together on a molecular level to get your fibers in line. More particularly, the long chains of polymer molecules can be moved and shaped with the application of heat and then cooled in place. This is the reason why ironing experts suggest cooling just-ironed clothing before wearing them. Reader's Digest even suggests cooling for hours to allow creases to set.
Professor Mark Lorch at the University of Hull explains that wrinkles happen when water comes into contact with fabrics, such as in a washing machine. He explains "water molecules insert themselves between the cellulose molecules, break up the hydrogen bonds and act like a lubricant, allowing the cellulose molecules to slide over each other."
The application of heat and steam works to break these hydrogen bonds again, and the weight of the iron forces the cellulose molecules to line up, in effect "ironing" the fabric flat.
Until 2012, it was believed that steam and water help loosen cotton fibers and other tough fabrics, which makes the straightening of polymers easier. Researchers at Laboratoire de Physique de la Matiere Condensee et Nanostructures de Lyon found that water vapor acts on the contacts between fibers of woven material. Over time, a crease will unfold itself very slowly as the capillary bridges between fibers reorganize themselves. The study found that raising the level of humidity considerably speeds up this process.
This explains why the application of steam helps get out wrinkles more quickly and effectively. An iron with more steam will therefore help you get through the pile of clothes more quickly.
What about starch and wrinkle-free fabrics?
Starch has been used as early as 800 BC to aid in ironing. When starch penetrates cotton fibers and dries, its molecules bind to one another and stiffen the fiber. It is a temporary solution and will keep the cellulose molecules in line until the next washing.
Formaldehyde had first been used in the 1930s to treat fabrics as a permanent solution to those wretched wrinkles. Formaldehyde — a human carcinogen — emits a foul odor, and in the 1990s, manufacturers started squeezing out excess formaldehyde with large rollers and curing the fabrics in ovens to decrease its output from finished fabrics.
Formaldehyde was then combined with other chemicals to form "cross-links," which help keep the formaldehyde at bay. However, newly developed cross-linking agents like dimethyloldihydroxyethyleneurea (DMDHEU) and ethylene-urea/melamine-formaldehyde (EUMF) still output small amounts of formaldehyde. Manufacturers of "permanent-press" instituted a "Sealed Jar Test" to measure the amount of formaldehyde released from fabric in order to better monitor its levels.
Since the 1960s, polyester fabrics gave us another wrinkle-free alternative. Since this notoriously uncomfortable fabric has fallen in and out of favor over the years, permanent-press cotton is still popular. Formaldehyde-free agents such as dimethylurea glyoxal (DMUG) exist, but they are expensive and not as effective.
As such, formaldehyde-emitting permanent-press fabrics are still used today, though they are ten times less harmful than its original formulations. It's best for those with sensitive to skin allergies to avoid permanent-press fabrics altogether and go back to the ironing board.
The bottom line
Clothing steam irons are the type of item you want to purchase far and few in between. We expect it to be well-constructed and last a long time, which we believe indicates an ultimately safer iron. Fast heating, robust steam, and good engineering and design are the cornerstones of a steam iron that can save you time.
Our top choice for this 2022 update is the Rowenta – DW5280 Focus, an upgrade from our previous top pick. This model has supreme glideability, thanks to its robust steam burst and dispersion and precision tip technology. Our budget pick is the Mueller – MU-77X, an incredibly affordable steam iron with many of the same features as our top pick. We also recommend the Singer – SteamLogic Plus-770 that's a great option for heavy-duty ironing.