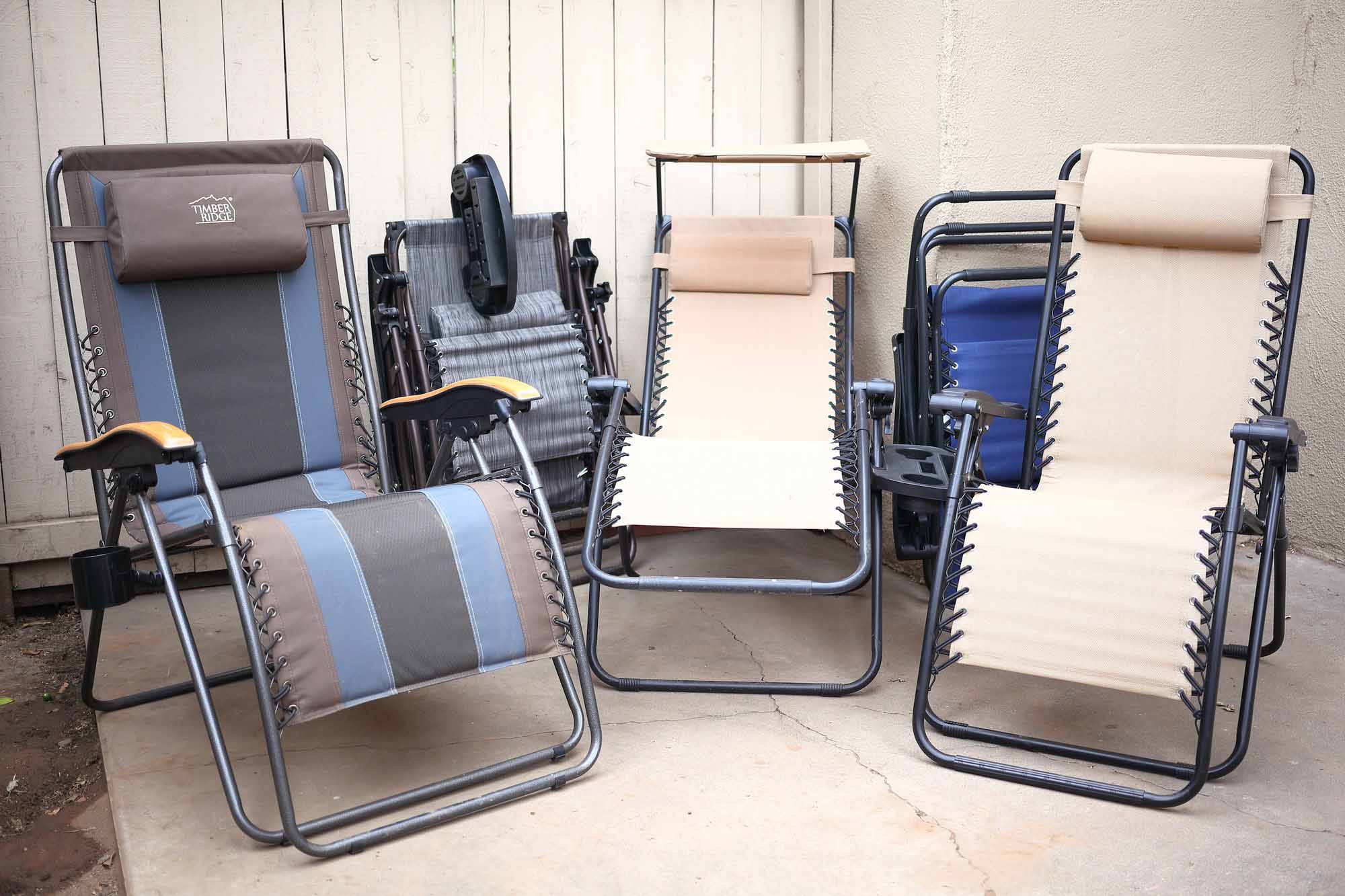 The 7 Best Zero-Gravity Chairs
After five weeks of lounging at the park and beach, on the patio, watching movies in a reclined position and experimenting with a neutral-posture office setup, we think the Timber Ridge is the best zero-gravity chair. If you're willing to live with lesser-quality materials and a narrower seat, the Amazon Basics is a good choice. For a canopy option to shield from the sun, we recommend the chair from Best Choice Products.
After five weeks of lounging at the park and beach, on the patio, watching movies in a reclined position and experimenting with a neutral-posture office setup, we think the Timber Ridge is the best zero-gravity chair. If you're willing to live with lesser-quality materials and a narrower seat, the Amazon Basics is a good choice. For a canopy option to shield from the sun, we recommend the chair from Best Choice Products.
Table of contents
The 7 zero-gravity chairs we tested
(Editor's note: For this 2023 update, we tested two different zero-gravity chairs. See their reviews in the "Other products we tested" section below.)
Top pick: Timber Ridge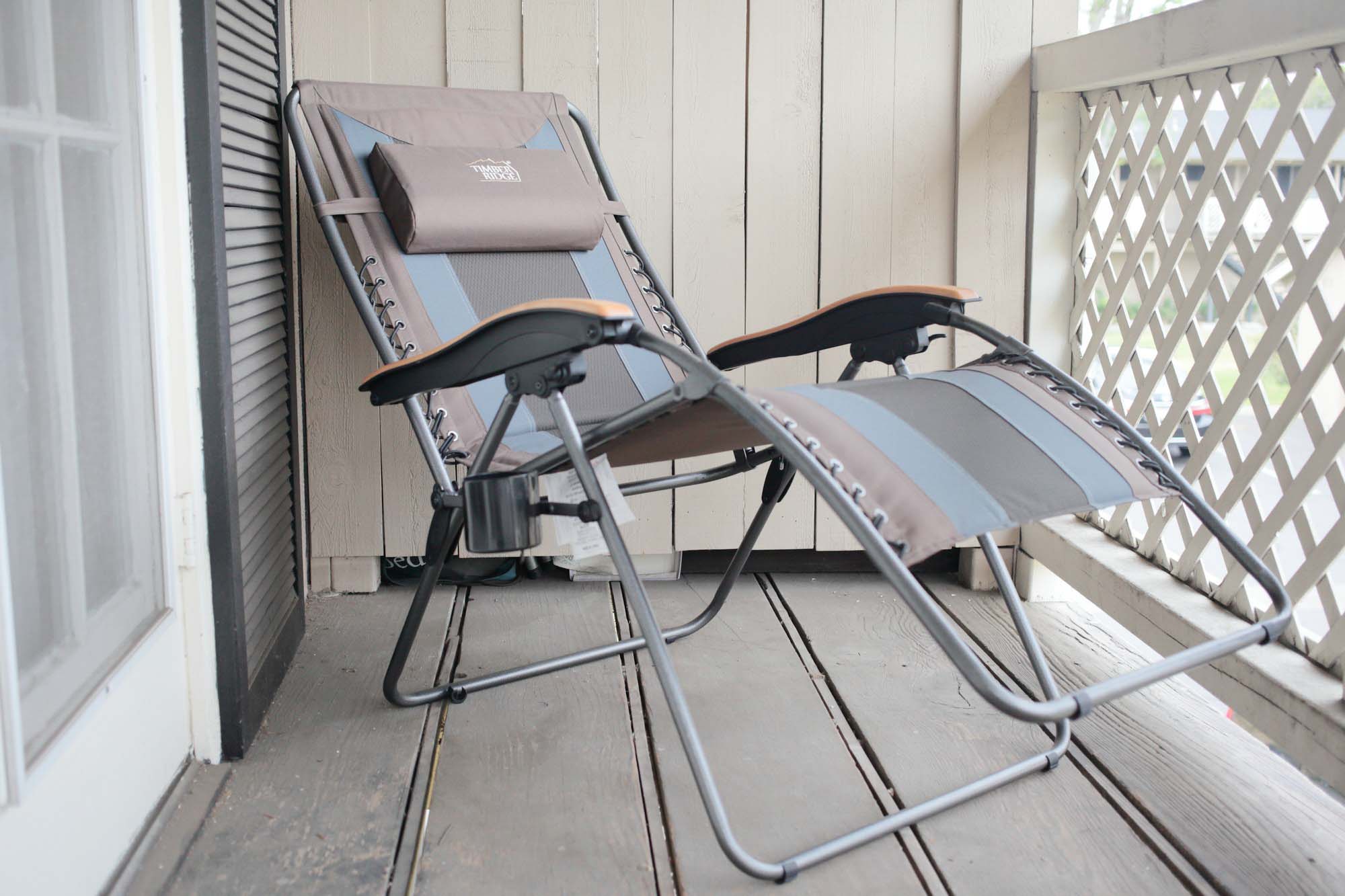 The Timber Ridge – Oversized XL Zero Gravity Chair doesn't come at the bargain price of some other models, but it's enough of an upgrade that at around a hundred dollars, we think it's worth splurging on.
If you want to commit to a chair that gives you neutral posture for everyday use, this is definitely the model we'd pick. The seat reclines farther than any of the others; if you take the pillow off, your head is just below the level of your knees.
The colors and pattern of the Timber Ridge are a bit bolder than the other models, too, which means it might be harder to match with your decor.
One note on materials: the Timber Ridge uses padding in the seat and wood in the armrests. (It could be maple, but manufacturer/distributor Westfield Outdoor doesn't say what kind of wood it is.) These are nice touches that really make the chair look and feel nicer, but they do make this less ideal for patio use.
The padding dries in a few hours on a sunny day and the wood seems treated to repel water, but this chair just won't handle long-term exposure to sun and rain as well as the plastic armrests and mesh seats on the other designs. There are versions of this chair made from mesh and plastic instead, if you like the design but need it to survive more weather; however, you don't save much money.
Key takeaways:
Timber Ridge makes the best-built zero gravity chair with nicer materials and a padded seat.
The folding and reclining action of this design are much smoother than on the rest of the chairs.
A lock that's solid and engages easily makes this a more trustworthy recliner.
The included cupholder works well and can actually stay attached when the chair is folded.
Budget pick: Amazon Basics
The Amazon Basics – Zero Gravity Chair is a great example of Amazon's branding strategy. They've taken a popular product, found a reliable manufacturer and ordered a special version with all the essential features in an affordable package.
With only one sample from each manufacturer represented, it's difficult to say how variable quality control will be. But of the chairs we received, Amazon's is just a bit better than the others in the budget price bracket. The folding and reclining action is smoother, and there are fewer loose threads.
The locking mechanism on this model is a simple twist-knob that presses a cam lobe against a sliding tube; it's the same mechanism on the Belleze, but it's easier to tighten on Amazon's. It's possible to twist the cam-style lock tight enough that you can sit up or shift your weight and the chair will stay in a half-reclined position. In comparison, the friction-sleeve lock on the chair from Best Choice will start to slip if you put any real pressure on it.
Amazon's model, whether by design or by some accident, reclines a little lower than the other budget models as well. The back goes down to the same 34-degree angle as the Timber Ridge chair, though this one doesn't elevate the knees quite as much.
A cupholder is easy to add, but a matched-fabric canopy is not going to be so simple. We think the better design and quality control is more important, but if you're going to use this as a beach chair and don't want to bring an umbrella or other shade, the canopy on the Best Choice chair might be worth more than Amazon's superior lock.
Key takeaways:
Amazon Basics uses established manufacturers to make a bare-bones version of a popular product, and the formula works perfectly here.
This zero gravity chair reclines almost as well as the Timber Ridge but with less impressive materials.
The friction lock can be tightened as much as you need to secure this chair, but it's not our favorite system.
No canopy or cupholder, but we think the better quality is worth that sacrifice.
Best with a canopy: Best Choice Products
The Best Choice Products – Zero Gravity Chair is an attractive set of features on paper: for the same price as the other value leaders, you get an easy-to-use flip-lever lock, a built-in canopy and a detachable cupholder.
The value-added accessories are pretty good, but the core design of this chair isn't our favorite. The friction-sleeve this chair uses to lock isn't very secure, if you want the chair back to stay in position when you move around.
The canopy and cupholder aren't better than traditional patio tables or umbrellas: the cupholder is a bit wobbly, and the canopy won't keep you from getting sunburned. That said, they're functional.
The cupholder tray gives you a slot for a tablet or magazine as well as a cell phone and two full-size cups. Sadly, it doesn't have a place to stay on the chair when you fold it for storage; the canopy clips neatly to the back.
So far as we can tell, this is the same design as the Bliss Hammocks design that shows up on QVC, though without the variety of fabric patterns offered there.
Strangely enough, the version Best Choice Products is offering in a two-pack for ridiculous prices is more like our bottom-pick Belleze model than like this one. The twist-lock design and pinched-tube footrest joints are a giveaway, and at $34 per chair you could be playing a lottery, hoping to get one that doesn't have problems like our Belleze chair does.
You can easily find the cupholder accessory to add on to other models, but a matching add-on canopy is going to be nearly impossible to get. If the canopy is a must-have, and you don't need to lock your chair securely in a semi-reclined position, this is a good price.
Key takeaways:
Best Choice Products includes a canopy and cupholder to make your sunny-day reading that much more relaxing.
The friction lock is easy to engage with the flip of a lever, but it's not very tight.
The quality of this chair is almost as good as the Amazon Basics model, though at these prices we wonder how consistent they'll be.
For this 2023 update, we tested two different zero-gravity chairs, Maison Arts, and Ever Advanced, the reviews of which immediately follow.
Maison Arts
The Maison Arts zero-gravity chair we purchased was labeled Phi Villa, a company that specializes in outdoor furniture, and after some research it appears that Maison Arts — which has its own furniture line — is selling a few Phi Villa products. Adding to the confusion, the Maison Arts Amazon page states in small print that its furniture is actually sold by Homeworld Store.
Whoever actually makes the Maison Arts anti-gravity chair manufactures a very good product. It's easy to fold/unfold, and its steel frame is solidly constructed. The chair padding is comfortable, and when fully reclined, your entire body feels supported. The padding is made of Oxford fabric, so it's designed to withstand outdoor weather and resists fading by the sun. Bungee cords and steel eyelets are also well made and secure.
The catch lock is a bit stiff, however, but it does lock the chair firmly in place. We take issue, though, that the lock mechanism is made of plastic, and with repeated use, it could snap off, rendering the chair useless.
The Maison Arts zero-gravity chair comes with a cupholder tray that's identical to other accessory trays you can purchase elsewhere. The tray, however, doesn't fold up with the chair, but it can be stored inside the chair when it's folded up.
Ever Advanced
The Ever Advanced zero-gravity chair is $20 more expensive than the Maison Arts chair and not nearly as comfortable. Build-wise, it's very similar — if not identical — to other zero-gravity chairs.
It has a solid steel frame with a mottled pattern, which you might think is interesting or ugly, although most of the models are made of aluminum instead — lightweight but not especially durable. The Ever Advance chair is marketed as over-sized, but at 22″ wide, it's really not.
The tray accessory folds up when the chair is folded up, but it's tricky sliding the tray out again and attaching it to beneath the armrest. The plastic lock is a lever, and when released, rather than an automatic slow lowering of the bottom half of the chair, it simply slams to the ground.
Our testers also found the Ever Advanced more difficult to recline, requiring more leg effort. The chair's fabric is padded, but it's quite thin, and so when we were fully reclined, we felt no support on the back, the lower back in particular, and it just wasn't enjoyable lying on for a period of time.
Caravan Sports – Infinity Oversized
Put simply, Caravan Sports took a great idea and executed it poorly. The Infinity Oversized chair is four inches wider than most, and the locking mechanism is a good budget version of the locking rail design that Timber Ridge uses.
The flaws are in whatever modifications the design team made to the lengths of the frame pieces and joints. We haven't figured out exactly where the change is, but you have to push really hard with your feet on the footrest bar, much more than with any of the others.
If this were the only zero gravity recliner you ever tried, you would probably write off the whole concept. It's hard to use and doesn't recline very far, and the joints flex in a scary way if you put your weight on the armrests.
Belleze (Discontinued)
Editor's note: In 2023, we learned that the Belleze Zero Gravity Chair is no longer available on Amazon, and the Belleze website has a limited number in limited colors.)
We picked the Belleze – Zero Gravity Chair to test because it's available in a two-pack for a very low price-per-chair, and it includes a cupholder and canopy for the same price as the bare-bones Amazon chair.
Sadly, the quality here isn't quite up to the same standards as the other chairs. The lock design is the same as the Amazon Basics chair, but it isn't as smooth and it takes more effort to get it really locked.
The elastic support on this chair wasn't as strong as on the other models, either, despite the 300-pound rated capacity. The final nail in the coffin? The canopy won't stay in the clipped storage position: it pops out after a few minutes, flopping around as a pathetic indicator that nobody actually tested this feature after assembly.
Your mileage may vary, of course, but with the other options available we wouldn't buy one of these chairs again, let alone a two-pack.
How we selected
As always, we began our journey with a search for enthusiasts and professional reviews. Sadly, even Reddit has barely any information about what's good and bad about the various options, and review sites we found are pretty much copy-and-paste collections of affiliate links and advertising copy.
If you only hear a passing reference to zero gravity chairs and follow up with a Google search, you might be convinced that this is originally and exclusively a type of patio furniture.
In fact, there are some very nice-looking and expensive ergonomic and therapeutic chair designs, but we know that most consumers are not in a position to buy $3,000 chairs. (We hope that if you are, the retailer will let you sit in a bunch of them first to see how you like them. Let us know if you find anything out.)
To narrow our list of contenders, we set a budget of $150 and picked the top-selling models, eliminating designs that had fewer than 300 reviews on Amazon, Walmart and Target, or that appeared to be built the same way as other chairs. Reviews of these chairs average in the 4-5 star range without any clear lemons, so we were expecting this to be a tight race.
How we tested
For four solid weeks, our tester family used these chairs in a living room and outside on the patio and lawn with guests. They're all compact enough when folded to fit one or two in a trunk if you want to take them to the park or beach, though they're much larger and heavier than our favorite ultra-light chairs. We manage to squeeze five of them in the back of a mini-van to take over to a friend's move-in party.
One tester has some mild chronic back pain. He experimented with using some of these chairs in a home office: if you can support your laptop or monitor in a good position, it works. It's more awkward than sitting on a balance ball at a desk, since the chair takes up so much space, but it's a surprisingly comfortable setup so long as you're not craning your neck to see a screen.
Build quality
With a piece of furniture that costs less than a C-note, expectations are low. That said, we did dock points for any problems with materials or quality control.
The biggest complaints are for models that cut corners: Belleze seems to have used inferior elastic and skimped on quality control. The Caravan Sports chair has joints that wiggle and fasteners that stick out. It's not easy to see the problems when you're just looking at the chairs, but after sitting on them all we started to notice the losers.
Recline performance
Reclining these chairs is basically the central purpose of their design. All the chairs require you to push out with your feet on the bar at the end of the footrest if you want to easily recline them; it's not quite as easy as the lever on your grandpa's recliner. On the better chairs, we found they offered a consistent and reliable way to ease the back of the chair down smoothly.
The Timber Ridge is the only chair that really tries to get your knees elevated. Strictly speaking, the angle of recline isn't a factor in the NASA neutral-body-position spec (since it's built around floating astronauts rather than people sitting in a gravity-laden environment), but elevating the legs is one commonly cited benefit among those who really like these chairs.
Locking mechanism
Each chair has a locking mechanism that should prevent it from reclining or shifting back up unexpectedly. Of the chairs we tested, our three 17-inch-wide chairs use a simple friction lock to stop a tube from sliding, while the wider chairs (like our top pick) use a rack of teeth to allow a more secure grip.
The friction locks worked better or worse depending on how tight we could get them. Amazon's chair and the Belleze use a knob that can be tightened more than the two-position lever on the Best Choice model, though if you want the chair to stay reclined half-way down you'll have to make them pretty tight.
What is a zero gravity chair?
What would your posture be like if you didn't weigh anything? What's the most neutral position for arms, legs, spine and neck?
NASA tried to answer that question when measuring body positions of crew members aboard the Skylab space station and early shuttle missions in the '70s and '80s. The man-system integration standards were intended to help solve problems for crew members in space, but they've since been applied to designs on the ground, like ergonomic car seats and these "zero gravity" chairs.
Designing around the "average" turns out to be a bad fit for some people, and NASA's follow-up studies aboard shuttle missions have pretty thoroughly debunked the idea that you could find one posture that would be perfect for everyone. That said, lying back with your hips bent and knees elevated has proven more comfortable than the slab-like position many recliners and lounge chairs offer.
The "Perfect Chair" from Human Touch is one of the early examples of a furniture company applying the NASA standards to a chair design that promises relief for back pain and pressure points. It's a pretty pricey chair, though.
Some brilliant and unknown engineer somewhere figured out how to make neutral-posture reclining work on a mass-production scale with bent steel tubing and plastic joints, and thanks to that clever manufacturing you can have a part of NASA's legacy on your patio or in your living room for less than $50.
The bottom line
We tested the range of quality that's available for these chairs, and you definitely get what you pay for. At just over $100, the Timber Ridge zero gravity chair is made of nicer materials and is nicer to use in every way. Everyone who sat in this chair was impressed. It reclines father than the rest, and the cupholder doesn't have to come off to put it away.
If you just want an inexpensive chair for your patio that you don't want to worry about leaving in the rain, Amazon Basics has a good budget model to try. It's relatively smooth and you can crank the lock knobs down to make it secure, but it's definitely a step down from our top pick.
For those who want an all-in-one folding lounge setup, Best Choice Products is the chair we like best. If you need the back to stay halfway up, the lock on this model will disappoint, but it's a good value if that's not on your radar.