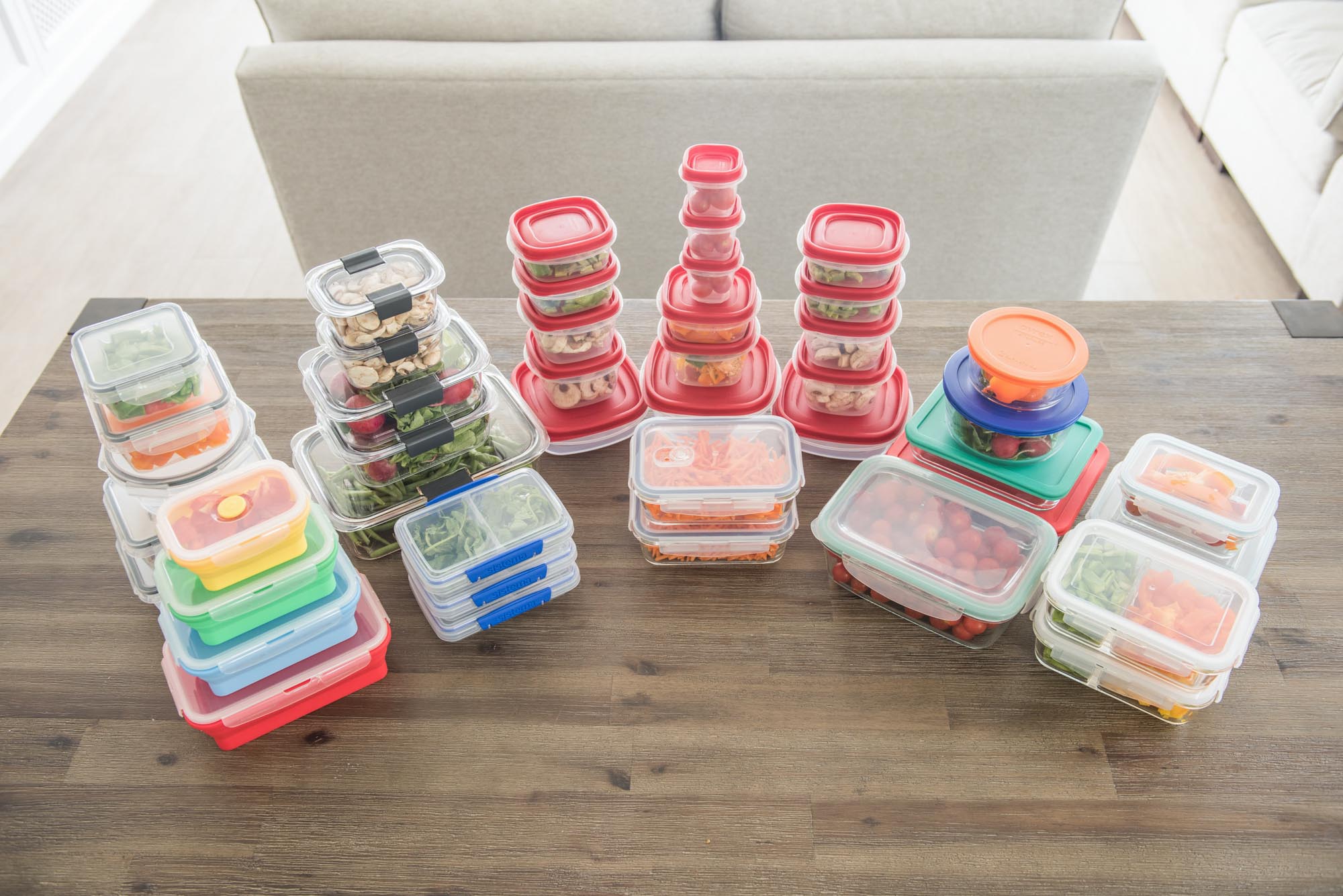 The 12 Best Food Storage Containers
We submerged, froze, microwaved, baked and machine-washed ten of the most popular food storage containers to find which one could keep food fresh longest. The best glass food storage container is OXO Good Grips – Smart Seal. Its unique lid with a soft silicone gasket ensures a leakproof and airtight seal. A lightweight and less expensive option is the Rubbermaid – Brilliance. Made out of sturdy BPA-free Tritan plastic, this attractive set is also 100-percent leakproof and looks like new even after repeated use. If you want yet another upgrade, we love the plastic-free glass & silicone container set from Pyrex – Ultimate.
We submerged, froze, microwaved, baked and machine-washed ten of the most popular food storage containers to find which one could keep food fresh longest. The best glass food storage container is OXO Good Grips – Smart Seal. Its unique lid with a soft silicone gasket ensures a leakproof and airtight seal. A lightweight and less expensive option is the Rubbermaid – Brilliance. Made out of sturdy BPA-free Tritan plastic, this attractive set is also 100-percent leakproof and looks like new even after repeated use. If you want yet another upgrade, we love the plastic-free glass & silicone container set from Pyrex – Ultimate.
Table of contents
Compare the best food storage containers
Plastic
Glass
Best plastic containers: Rubbermaid – Brilliance
The Rubbermaid – Brilliance 14-piece set is made of Tritan, a BPA-free plastic that resembles glass, but it's shatter resistant and more durable than other plastics. The seven lids for the seven containers are also made of Tritan, which allow you to see their contents from all sides in the refrigerator. The set includes a large 9.6-cup container, two medium 3.2-cup containers and four small 1.3-cup containers.
Each container in this attractive set is rectangular with flat lids that are slightly recessed, so you can stack them in the refrigerator without fearing they'll topple.
As we mentioned earlier, a thick silicone gasket inside the inner lip of the lid floats on top of the container. When you press down on the lid, air is expelled out of the container through the lid's vent holes with a whoosh. The two small latches on the long sides snap shut and create an airtight seal, which proved to be 100-percent leakproof.
The containers also have one-quarter-inch extensions at opposite ends, which stay cool when you lift the hot container out of the microwave.
Online instructions advise that turmeric will stain the Tritan plastic but tomato-based sauces will not. Our marinara sauce did stain the container and lid very slightly, but it was much less than on other containers we tested.
The Rubbermaid – Brilliance made it through the heavy-duty dishwashing cycle and showed no signs of pitting or scratching. Except for the rosy tint left by the spaghetti sauce in the container's beveled edges, the container and lid looked brand new.
The only thing we didn't like about the Rubbermaid – Brilliance is that the silicone gaskets cannot be removed from the lids. The gasket bends so you can scrub underneath its ridges, but to completely avoid odor retention, the entire lid would need to be submerged in cleaning solution.
Rubbermaid – Brilliance is reasonably priced for such a high-quality product. It's available in 6-piece and 10-piece sets, and you can also buy various sizes individually if you need more of one size than another. The 1.3-cup size, which is perfect for packing school lunches or snacks, are available in a very affordable two-pack.
Rubbermaid – Brilliance proved resistant to microwaving and dishwashing, and we believe it will outlast all of the other plastic food containers we tested.
Key takeaways:
Rubbermaid – Brilliance containers are made of lightweight, durable and BPA-free Tritan plastic.
This leakproof set has small sizes that are perfect for kids toting lunch or snacks to school in their backpacks.
During our tests, these materials showed no signs of being damaged by freezing, microwaving or a heavy-duty cycle in the dishwasher.
Each lid is flat with a recessed edge that allows you to stack the containers in the refrigerator and see contents from every angle.
Best glass containers: OXO Good Grips – Smart Seal
Glass containers are much easier to clean than plastic, and you don't have to worry about BPAs and phthalates. The OXO Good Grips – Smart Seal was our favorite of the glass containers. It's made of borosilicate glass, so it can withstand changes in temperature and go from the freezer to the microwave or a preheated oven.
What made OXO stand out from the other finalists is the thick silicone gasket that's set into a channel in the lid. The gasket is made of soft silicone and floats on top of the container, so when you press down, not only does it make an airtight seal, the latches are easy to lock into place. The silicone gasket slips right off for cleaning and slides back into the lid's channel with no effort.
The OXO performed perfectly in all our tests. It was leakproof, airtight, and the marinara sauce heated evenly in the microwave and oven. Although the glass container emerged sparkling clean from the dishwasher, the plastic lid was moderately stained. A big plus, however, is that the silicone gasket could be removed for washing.
OXO's glass containers are a little more expensive than the others we tested, but the OXO's sturdy lid and latches made the strongest seal and were the easiest to clean.
Key takeaways:
OXO Good Grips – Soft Seal has a thick silicone gasket that ensures a leakproof and airtight seal.
It was the easiest of the glass containers to clean because the gasket can be removed and washed separately.
The OXO is more expensive than other glass containers, but we found it to be durable and easy to snap shut.
Best non-toxic glass & silicone: Pyrex – Ultimate
We like to limit the amount of plastic we use at home to stay away from BPAs or other harmful chemicals that come with plastic, so we looked into more non-plastic storage sets. After researching different brands and websites, we found the Pyrex – Ultimate (also available in single parts on Amazon) glass food storage set that's made with a glass container and silicone and glass lid.
It's important to note that these containers are made of glass, you need to treat them more carefully than plastic storage containers. However, they are tempered glass, they're stain proof, microwave safe, and don't absorb flavors of the food. After using them for about six months, we haven't broken or lost any pieces so they're a lot more durable than what we assumed.
The silicone rims of the lids are also really easy to wash and don't have unreachable crevices like other OXO, which requires removing the gasket to fully clean. What we love the most about these containers are they are completely dishwasher safe so it's made for easy clean up.
These storage containers come in a 10 piece set with varying sizes (16, 24, 32, 48, and 56 ounces) and two different shapes (square and circular containers). The different sizes are great for different types of leftovers and the similar shaped sizes nest within each other too.
When you compare the Pyrex Ultimate Glass storage set to the OXO Good Grips storage containers, they both come in similar sizes and shapes, but differ in pricing even though they're both made of a majority of glass.
The ease of the silicone lids on the Pyrex Ultimate Glass storage sets are also a plus if you don't want to bother with snapping lids that can be a little difficult to use like the OXO Good Grips containers. To use the silicone lids, press the lids on top of the glass bottom and push down until it's level to the rim and you've pushed out the air from the inside–you can also see if the silicone gaskets are completely inside the container. Oftentimes the OXO Good Grips lids won't snap without force because the rubber gaskets are misaligned.
For us, the bottom line between these two is based on your preference of materials. If you prefer to use less plastic when storing your food, then the Pyrex Ultimate Glass containers are totally worth it. They need a little extra care but it's worth the tradeoff especially with the ability to throw the dishwasher without worrying about plastics.
Caraway – a non-toxic alternative
We're always looking for non-reactive, food-safe storage containers we can use without worry. In our kitchen, we've ditched 99% of all our plastic food storage containers since, and despite anything labeled "BPA-free," we're still worried about other chemicals leaching out of the plastic when in contact with hot food. We found the all-glass and silicone food storage container, which we named our best non-toxic pick, and have used it for over a year.
So, we were curious when seeing a rare competitor to this niche non-toxic category with Caraway's food storage container offering and wanted to try it. We will say it checks off the non-toxic attributes we want, and there's an aesthetic appeal to being able to get it in fun colors.
The main gripe people have when switching to a non-toxic alternative is that it's not cheap and that glass is many times heavier than plastic, so most people just stick with plastic. We already made these sacrifices by switching to Pyrex and felt this same issue with the Caraway food storage containers. They're heavy, and slightly thicker-walled than the Pyrex.
You lose visibility with the opaque material of the Caraway vs. clear glass, but this may be a visual aesthetic some prefer in their fridge. The large border of recycled rubber on the lid also reduces visibility into the container, making it a bit harder to identify what food you've put inside each container. And once you have food inside, Caraway instructs you not to use metal utensils because it may damage the ceramic coating – for people who eat out of their storage containers, this might be annoying.
We also had an issue opening the lids on these Caraway containers. We'll admit the Pyrex ones aren't a breeze either–there's always some fidgeting required to squish the silicone in the right place and to avoid creating pressure/suction in the wrong area, making it hard to open and close relative to plastic containers. The Caraway doesn't have a flexible silicone corner on the lid like the Pyrex to provide airflow to ease opening/closing, but it has a tiny lip you're meant to pry to open. This lip is too small to operate comfortably, so it takes some effort to pry it open. You want to do this on a counter in the real likelihood that your hands may slip and drop the lid or container.
Plastic food storage containers
Fullstar – 12-Pack has five different sizes in rectangular, square and round shapes. They're made of regular polypropylene plastic like the other containers we tested, so after microwaving and dishwashing they got stained and pitted. Its silicone gasket is embedded in the lid's channel, and it needed to be precisely lined up or the latches wouldn't close properly.
The Fullstar was leakproof and airtight and remained so after our testing. The container survived the microwave and dishwasher, but its lid warped and became convex.
Rubbermaid – 2063704 Easy Find Vented Lids was one of our early favorites. Like traditional Rubbermaid or Tupperware, the lid snaps on top of the container and is then removed with a corner tab. We found the lids very easy to open and close. A square vent, which snaps up and down, is intended for releasing steam in the microwave. The Rubbermaid was the only plastic container that had a lid designed for the microwave.
The Rubbermaid – Easy Find Lids design was leakproof, even with the vent. Surprisingly, it was even airtight. But the marinara sauce proved its downfall. After microwaving and dishwashing, the container was deeply stained and massively pitted. Although the lid still closed easily, and the container was still leakproof, it was clear that the Rubbermaid – Easy Find Lids wouldn't last.
The Sistema – Klip-It are rectangular, divided containers for storing two different food items. The small size, which comes in a pack of three, are quite tiny, and can only really fit baby carrots and small grapes inside. The 4-cup container is a good size for school or work lunch, and the 8-cup container is for storing leftovers. Two problems plague the Sistema containers: They're not leakproof or airtight, so if you're toting something with liquid, expect to find it pooled in the bottom of your bag. Also, the dividers aren't high enough to reach the lid, so liquid or sauce on one side easily leaks into the opposite side.
We really wanted to love the Vremi – VRM020376N silicone containers. Their four rectangular sizes are in bright primary colors, and because the containers are made of silicone, they collapse to one-third of their fully expanded height. We researched several silicone containers, and most buckle when you secure the lid, resulting in an explosion of anything liquid inside. The Vremi containers, however, have a rigid lip, so after some practice, we were able to snap on the lid without the sides buckling in.
Sadly, the Vremi was neither leakproof nor airtight, and after its round through the dishwasher, one of the lid's latches had cracked, and the container reeked of marinara. Great idea but poorly executed.
Glass food storage containers
None of the glass containers showed any signs of damage from the freezer, microwave or dishwasher. The plastic lids, however, differentiated one from the other.
The Glasslock – 11339 was leakproof and airtight, but its hinges were stiff to close. The smaller ends snapped on and off without too much struggle, but there was more resistance from the hinges on the long side of the container. We had to press down very hard to get the hinges to secure. Although the glass container itself is fine, someone with weak hand strength would be frustrated by these lids.
1790 – Glass Meal Prep Containers did well in our tests. The latches were easy to lock and unlock, and when sealed, they were leakproof and airtight. 1790's label warnings about the glass containers are a bit scary; it's a long list of don'ts, some in capital letters. The containers are made of durable borosilicate glass, yet the manufacturer states that hot glass could shatter if the container is placed on a countertop, metal surface or sink.
We were justifiably nervous about what to do with the hot 1790 when we removed it from the oven. We opted for the marble counter, and thankfully, no explosion occurred.
After dishwashing, the 1790's lid was stained and slightly pitted. The latches still closed easily, but now the seal was no longer leakproof.
Prep Naturals is a popular brand with people who use the containers for meal prep. The containers are divided in two, so you can store two different portions of food in them. Since the dividing glass wall doesn't reach the lid, anything that's liquid on one side will leach into the other side. When sealed, the Prep Naturals were neither leakproof nor airtight; so much water had been absorbed by the tissue, we had to squeeze it out. After dishwashing, the lid was stained and pitted, and the latches were difficult to snap shut. As for cleaning, food particles were trapped between the gasket and the lid and could not be removed.
We tested the Pyrex – 1123268 Simply Store set, because it was frequently mentioned by Amazon reviewers as their long-time favorite. It passed the freezer, microwave and oven tests, and its lid was not harmed by the dishwasher. From the beginning, however, the lid was difficult to snap on, and we had to pry it off before it would release from the container. Naturally, we thought this would indicate that the Pyrex would be airtight and leakproof. But the Pyrex performed just as poorly as the Prep Naturals.
How we selected
There are literally hundreds of food storage containers that you could buy online and at practically any store. There's a very good chance that you've got cabinets, drawers and pantries stuffed with them and that they're stained, warped and damaged from microwaving leftovers. You probably want to throw them out, but what do you buy as replacements?
To narrow our selection, we started by reading customer reviews on Amazon. The reviews pointed us in the direction of food storage containers that stand up to years of heating and reheating, radical changes in temperature and dishwashing.
We also checked out reviews from reputable cooking websites and recommendations from health and diet websites. Parents of schoolchildren had lots of opinions about which containers are best for school lunches, as did people who do weekly meal prep dietary or workout regimen.
Finally we divided our finalists into those that were plastic and those that were glass — five of each — since the number of consumers who prefer one to the other is about equal.
Although glass containers last longer than plastic containers, glass containers are also prone to chip, particularly around the edges where the top snaps on. There are also complaints that glass containers can explode in the oven. We had some highly rated glass containers on our list, but we eliminated those that tended to chip and shatter.
How we tested
Leaks
We filled each container two-thirds full with water and secured the lid. Then we vigorously shook each container for one minute over paper towels and noted any leaks. Almost all of the manufacturers advertised their container as leakproof, and for the most part, they were. The Pyrex and Sistema don't claim to be leakproof, and they weren't; water leaked from their corners. But Prep Naturals was supposed to be leakproof, and water also poured out.
Airtight seals
Airtight containers hold in moisture and keep out odors from other foods in the refrigerator. For this test we made sure that each container was completely dry. Then we placed one sheet of toilet tissue into the bottom of the container and sealed it. Next, we filled a three-gallon bucket with water colored with food dye and plunged each container one at a time into the bucket, holding it under for one minute. After that, we flipped the container upside down and submerged it for another minute. We then withdrew the container from the bucket, unsealed the lid and noted whether the toilet tissue was wet or dry.
All of the manufacturers claimed their containers were airtight. Not surprisingly, the same three that were not leakproof — Pyrex, Sistema and Prep Naturals — were also not airtight.
Lid sealing
The majority of food storage containers that we tested were sealed by aligning a silicone gasket inside the lid with the edge of the container, then locking it with hinged latches on all four sides. Four exceptions were the Pyrex and the Rubbermaid – Easy Find Lids, which simply had snap-on lids, and the Rubbermaid – Brilliance and Sistema, both of which had two latches on the longer sides of the container.
We tested the lids and latches by opening them and closing them repeatedly and noted whether or not they were easy to snap on and release.
Staining
Plastic food containers are notorious for being stained by tomato-based foods, such as spaghetti sauce, and curries with turmeric. We began this test by filling each container three-quarters full with marinara and then froze them overnight in the freezer. The next day, we defrosted the containers with lids askew in the microwave until the marinara was boiling. When the sauce had been completely defrosted, we allowed each container to fully cool before dumping the marinara out.
As expected, all of the plastic containers and their lids were stained. The Rubbermaid – Brilliance, however, was only slightly stained. All of the plastic lids for the glass containers — except for the OXO – Smart Seal — were also stained.
Microwave safety
After we microwaved the frozen marinara in the plastic containers, we checked each one over for signs of warping. None were affected by the long microwaving. Two glass containers, 1790 and Glasslock, warned to not microwave their plastic lids. Since their lids were exactly the same as the other glass containers, we ignored the dire warning. Other than staining, neither were affected by the microwave.
Oven safety
If you read consumer reviews online, you'll see some terrifying photos of glass food storage containers that have exploded in the oven. Borosilicate glass is resistant to sudden high changes of temperature, because it doesn't expand like regular glass.
Still, all manufacturers advise putting borosilicate glass containers — especially from the refrigerator or freezer — into a preheated oven. This seems to defy logic, but when a glass container is put into a cold oven and then the heat is turned on, the heating element initially radiates heat unevenly, which doesn't allow the glass to expand properly and will cause it to crack or shatter.
For our test, we removed the plastic lids from each glass container filled with frozen marinara and put the containers into a preheated 350℉ oven. All of the glass containers reheated the marinara in the same amount of time, and none shattered.
Dishwasher cleaning
The dishwasher undoubtedly does the most damage to plastic food containers and lids. We followed manufacturer instructions and loaded the glass containers into the lower part of the dishwasher and the plastic containers and all the lids into the upper rack. We then set the dishwasher on a heavy-duty wash cycle.
All of the glass containers cleaned beautifully. The Rubbermaid – Brilliance was the only plastic food container and lid that showed no signs of damage. The other plastic containers were deeply stained and pitted, the worst being the Rubbermaid – Easy Find Lids.
Odor retention
Plastic food containers and silicone tend to retain food odors, so after dishwashing, we did a sniff test. Only the Vremi, the silicone container, smelled strongly of marinara sauce. The silicone gasket in the Glasslock lid didn't retain food odor but instead had an acrid chemical odor.
Retesting latches and leakproof capability
Amazon reviewers frequently complain that after dishwashing and microwaving, the latches are too difficult to close, and we found this to be true only with the Glasslock and OXO. However, we opened and closed the OXO's latches several times, and they worked normally again. Although the Vremi's silicone container held up in the dishwasher, one of its plastic lid's latches had cracked after a single wash.
Finally, we repeated our leakproof test to see if freezing, microwaving and dishwashing had any structural effect on the containers. The same three that failed the first time — Pyrex, Sistema and Prep Naturals — leaked again. But this time the 1790 also leaked.
Health concerns with plastic
You're probably aware of two chemicals associated with plastic containers: BPA and phthalates. BPA (Bisphenol A) is a chemical used in the manufacture of polycarbonate plastic, which is the type of plastic used in most food containers.
When heated in a microwave, BPA leeches into the food or liquid, and although the U.S. Food and Drug Administration stated the low levels of BPA are safe, research suggests there are possible health effects on the brain and behavior of infants and children.
The National Institute of Environmental Sciences recommends avoiding products that are not labeled BPA-free and not microwaving products made of polycarbonate plastic.
Phthalates are chemicals used to make plastic pliable. The Centers for Disease Control and Prevention state that although phthalates have affected the reproductive system of lab animals, research continues as to how phthalates affect humans.
If you prefer to use plastic food containers, buy those that are labeled "BPA-free" and "Phthalate-free." However, additional research is being conducted about whether such products are actually harmful as well.
Important features to consider
Plastic vs. glass: Both have pros and cons. Plastic containers come in a variety of shapes and sizes, large and small, and they're lightweight, so you can carry them in a backpack or shoulder bag. If they're leakproof and airtight, food and liquids won't spill out if the container is dropped or accidentally turned upside down or sideways.
Plastic containers are also significantly cheaper than glass containers. For $20, the Rubbermaid – Easy Find Lids comes with 24 various sizes of containers and lids.
The downside to plastic containers is that they simply don't last. Mostly everyone microwaves food in a plastic container and then tosses it into the dishwasher. After our testing, all of the plastic containers were stained to some extent, and most were pitted and scratched.
Glass food storage containers are heavier and more expensive. However, they're also far more durable than plastic and much easier to clean. If you're concerned about BPAs and phthalates, you can rest assured that a glass container is healthier. All of the glass containers we tested had plastic lids, so these should not be microwaved or run through the dishwasher.
Finally, if you're ecologically mindful, glass is one of the best options.
Silicone gasket: Many of the food storage containers we tested had a silicone gasket inserted into the inner lip of the lid where it connects to the top of the container. When the lid is locked into place, the silicone gasket forms a tight seal.
Our two winners — Rubbermaid – Brilliance and OXO – Smart Seal — had gaskets that were twice as thick as the other finalists, so their lids floated on top of the containers. When the latches are locked, a vacuum seal is created, thus ensuring both were leakproof and airtight.
Food particles can get trapped between the gasket and the lid's lip, and silicone tends to retain food odors and must be periodically soaked in a vinegar-water solution. You'll want a silicone gasket that can be removed for cleaning and easily reinserted.
The OXO – Smart Seal was, by far, the easiest silicone gasket to remove. The lid has side tabs that allow you to pull out the gasket and then snap it back on. (In fact, its design reminded us of the Instant Pot, which we loved in our review of the best pressure cookers.)
Stacking/Nesting: Whether you have a big or small kitchen, ample cabinet or drawer space is a premium. Glass food storage containers aren't great for stacking or nesting, because sometimes a smaller container gets stuck in a larger one. Many plastic containers are designed for nesting, but you run into trouble with all of the bothersome lids.
Of the containers we tested, the Rubbermaid – Easy Find Lids were the easiest to nest, and their interlocking lids prevent your rummaging around the bottom of drawer trying to find the right size.
The bottom line
Plastic food containers are great for storing food in the refrigerator or freezer and for carrying lunch or leftovers to work or school. They're less expensive than glass, but as our tests showed, microwaving and machine-dishwashing damages both the containers and their lids. You'll probably want to replace them after a few months of use.
An exception was the Rubbermaid – 1977447 Brilliance, our top pick for plastic food container. The Rubbermaid – Brilliance was 100-percent leakproof and airtight, and although it stained very slightly — much less than the other plastic containers we tested — its durable Tritan plastic retained clarity and structure over the course of our rigorous tests. It's a quality product for a reasonable price.
If you don't want to worry about potential health hazards from plastic, our favorite glass food storage container was the OXO Good Grips – Smart Seal. The OXO is more expensive than other glass containers (not to mention plastic containers), but its unique removable silicone gasket ensures a perfect seal. The OXO is leakproof, airtight, freezer-, microwave- and dishwasher-safe and will hold up for years.