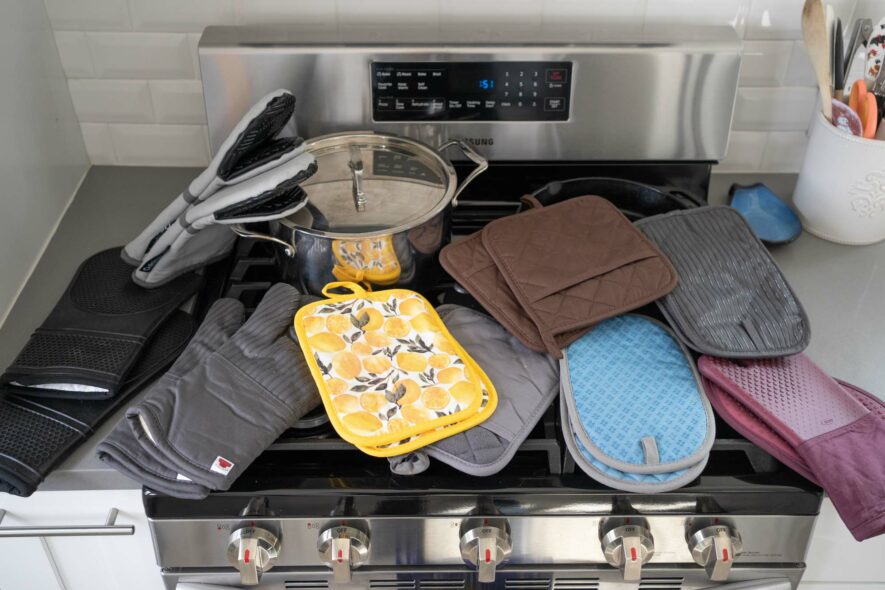 The 16 Best Oven Mitts & Pot Holders
After more than 60 hours of researching, handling, testing, and cleaning 16 of the best oven mitts on the market, we concluded that the HOMWE – Silicone Oven Mitts are our top choice. They offer more coverage of the wrist and forearm than any other mitt we tested and are flexible enough to manage small kitchen tools. For this 2023 update, we also tested six pot holders and selected the YEKOO pot holder set as the best for its excellent heat resistance and affordability.
After more than 60 hours of researching, handling, testing, and cleaning 16 of the best oven mitts on the market, we concluded that the HOMWE – Silicone Oven Mitts are our top choice. They offer more coverage of the wrist and forearm than any other mitt we tested and are flexible enough to manage small kitchen tools. For this 2023 update, we also tested six pot holders and selected the YEKOO pot holder set as the best for its excellent heat resistance and affordability.
Table of contents
(Editor's note: We learned that several oven mitts that we tested and recommended have been discontinued. For this 2023 update, we tested four new oven mitts and six new pot holders, the reviews for which follow below.)
The 16 oven mitts and pot holders we tested
Best overall: HOMWE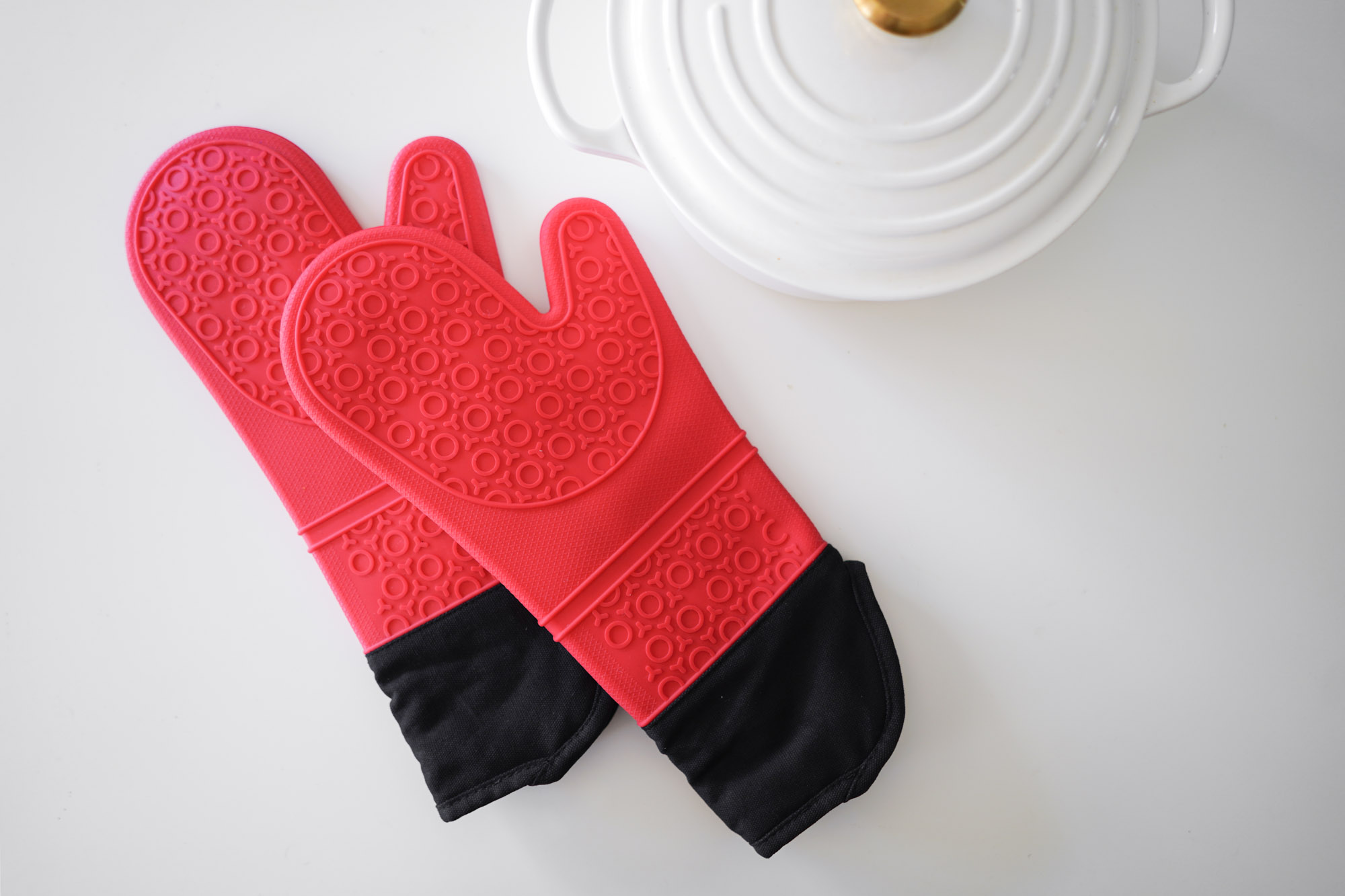 The HOMWE – Silicone Oven Mitts are our top pick. They provide the best combination of protection, flexibility, and user experience.
We felt that the HOMWE's design brings it to the top of the pack. The extra-long fabric cuff, which extends the mitt nearly to the elbow, provides a much more functional level of protection. From the opening to the fingertip, the HOMWE Mitts measure 15 inches, a full two inches longer than any other product we tested.
While it didn't rank first for protecting against a hot dish, it was one of the easiest mitts to manipulate while wearing. Our fingers didn't feel trapped or inhibited as we performed common kitchen tasks with the mitts, and it grips onto heavy dishes effortlessly. Even small utensils, like the tablespoon we used in the dexterity test, were easily picked up and maneuvered.
The silicone construction of the mitt is very easy to clean, and the interior cotton lining is comfortable and insulating. Its wavy, red silicone and black cotton design looks sleek, and it comes with a loop to hang it. At a little over $14 for a pack of two, it's an excellent value.
For any task that might bring your hands in contact with hot surfaces, the HOMWE is the best option.
Key takeaways:
The HOMWE – Silicone Oven Mitts provide solid surface coverage of the hand, wrist, and forearm, and it protects more skin than any other mitt.
It's equipped with a strong silicone gripping texture, that's flexible enough to handle small kitchen tools and accommodate detailed kitchen tasks.
Priced just under $8.50 per mitt, it's a great value without compromising quality.
Most versatile: The Ove' Glove
We liked the five-finger dexterity of  The Ove' Glove. It's the only product in our top eight that can easily perform any action — not just in the kitchen but around the grill and campfire as well. However, it's also the smallest and thinnest mitt, barely covering the wrist, and it lasted just 26 seconds of holding the hot dish in our heat test.
Best for hot liquid: Mastrad

The Mastrad – Orka Plus was a strong contender because of its unique waterproof outer shell that allows you to grab items like eggs or potatoes directly out of boiling water. It also sports gripping strips similar to the OXO Good Grips for added security. But its design forces the thumb under the other four fingers, instead of to the side, and makes even simple adjustments to grip more challenging than the other brands.
Best pot holder: YEKOO
Of the six pot holders we tested for this 2023 update, the YEKOO pot holder stood out as the best because of its high heat resistance. At first glance, the YEKOO pot holder doesn't look much different than any other pot holder. It's square-shaped (8″ x 8.5″) with a large pocket on the fabric side (cotton, in this case) and has a sturdy hook for hanging. The big difference is that its opposite side is covered in neoprene, which is completely waterproof (it's used for wetsuits) and can also withstand wide fluctuations in temperature, both cold and hot.
During our testing, the YEKOO's heat resistance was an outstanding 77 seconds, outperforming all of the new products we tested. The neoprene is very flexible and can easily pick up a kitchen utensil and grab onto a hot pot cover or handles. We also liked that the pot holder can be used as a trivet because its heat absorption is so good and won't damage a wood table or countertop. The YEKOO pot holder is very well priced at between $9 and $10, depending on which of the five colors you choose, for two pot holders.
Gorilla Grip
The Gorilla Grip oven mitt was the best of the new oven mitts that we tested for this update. Similar in style and design as our top pick, HOMWE, the mitt is a generous size with plenty of room inside so fingers aren't constricted. Its interior is made of a plush cotton that's stuffed with polyester, and its exterior is waterproofed silicone with a honeycomb pattern that helps prevent slippage when holding a hot pot.
The Gorilla Grip mitt was a lot more flexible than the other new mitts and could be easily manipulated to pick up a spoon or other cooking utensil. Its heat resistance was at 40 seconds, which was average with the other mitts, but the silicone got exceedingly hot and couldn't be touched for several minutes until it cooled down. The Gorilla Grip mitt comes in two sizes — 12.5″ and 14.5″ — and a dozen different colors. It doesn't best the HOMWE, but it's a good alternative to consider.
Big Red House – oven mitts
The Big Red House oven mitt is a highly rated product that, unfortunately, didn't live up to its hype during our testing. It's certainly a good size (12.5″) with a long sleeve for protecting wrists from heat, but the pocket for fingers is quite narrow and tight. The mitt is made of cotton with a plush polyester inner lining and has silicone stripes on the exterior for a non-slip grip. We found the mitt to be stiff and not easy to maneuver, and the silicone stripes — despite how this mitt is advertised — offered no protection from heat with resistance at only 18 seconds.
OXO Good Grips  – oven mitt & pot holder
For this update, we tested the OXO Good Grips set, which includes an oven mitt and a potholder. We were more impressed by the potholder than we were by the mitt.
Eschewing the design of its previous silicone mitt (now discontinued), this version is bulky with a finger pocket that is both too narrow and too long. The inner shell is made of cotton, and the exterior section for the hand is covered in silicone, while the wrist is only shielded by potholder-thin material. The mitt's bulk prevented any maneuverability, so it was impossible to pick up a kitchen utensil. At 40 seconds, the OXO Good Grips mitt also paled in comparison in heat resistance to its previous model. The silicone also got extremely hot, and we singed our fingers on it when removing the mitt from our hand.
The pot holder is made of the same materials as the oven mitt — cotton on one side, silicone layer on the other side — but we found it to be flexible and easy to manipulate kitchen utensils, pot lids, and handles. The OXO pot holder is wider and longer — 7.5″ x 10″ — than other pot holders, and our hands felt roomy and comfortable when wearing it. It beat out the OXO oven mitt in heat resistance, and as a stand-alone product, it's a good choice for a well-made and functional alternative to our top pot-holder pick, YEKOO.
Cuisinart
The Cuisinart oven mitts are resounding proof that just because something is more expensive doesn't mean it's the best. On the plus side, the Cuisinart is 14″ long and protects the arm like a medieval gauntlet. The mitt is made of cotton and polyester and is shaped like a hand puppet. Its "mouth" is lined with silicone, and although the odd design was good for grabbing pot lids and handles, it was nearly impossible to get a grip on the sides of a pot.
The silicone had a heat resistance of 40 seconds, but the majority of the cloth mitt had a terrible heat resistance of only 13 seconds. As with all of the silicone-lined mitts we tested, the silicone gets burning hot and care must be taken when removing the mitt from your hand.
Big Red House – pot holder
The Big Red House pot holder is nicely designed and is almost like using an oven mitt. It's a 10″ x 7″ curved rectangle with a deep groove hemmed into the upper center that bisects the pot holder, creating two comfortable sections for fingers and gives excellent flexibility. Sadly, the Big Red House pot holder is made of the same materials as the Big Red House oven mitt (cotton and polyester with silicone stripes) and offers almost no resistance to heat. During testing, heat penetrated the pot holder after only 13 seconds.
Lifaith – pot holder
The Lifaith pot holder is a 7″x 9″ rectangle made of quilted cotton and despite its marketing, does not have a silicone exterior layer. Instead, the silicone is composed of tiny diamonds that, although attractive, do nothing to protect against heat. The Lifaith's heat resistance was slightly better than the Big Red House potholder at 17 seconds, but after a single use, the silicone squares singed, and the material stained from the high heat.
Sage + Stitch
The Sage + Stitch pot holder that we tested is a typical 7″ x 9″ curved rectangle and has a very pretty lemon tree pattern, and other attractive patterns are available, such as herbs, oranges, and sunflowers. It's made of cotton and bisected on one side for inserting your hand. But we found it awkward to use since the upper pocket is too small for fingers, and the bottom pocket is too large for a thumb. Again, it's marketed as being heat resistant, but in our heat resistance test, it got too hot to hold at 17 seconds. This is really just a nice ornamental pot holder without much practical use.
KitchenAid Asteroid – pot holder
We're not sure why KitchenAid has named this pot holder the Asteroid, but you wouldn't want to go near a burning rock with this one. Long and narrow, our hand felt cramped inside, and the stiff cotton provided little flexibility. At 13 seconds, this pot holder had the worst heat resistance, so we had to rush to get the hot pot out of the oven before our hands got too toasty. It comes in 20 very nice colors, but although it has the revered KitchenAid brand name, pass this pot holder by.
OXO Good Grips Silicone Mitt (Discontinued)
The OXO Good Grips – Silicone Oven Mitt proved itself as an extremely effective product that would be a substantial addition to any kitchen. It provided the longest protection against sustained contact with a hot object straight out of the oven. At 59 seconds until heat traveled through the mitt to the skin, it established itself as being a stronger, thicker option than the other finalists.
The textured silicone strips that cover the mitt provided such a secure hold that it was nearly impossible to drop something — even the heaviest of blazing hot pots — once they've latched onto it. While the strong silicone had its benefits, it made adjusting your grip on a dish or picking up a small kitchen utensil more challenging.
In our dexterity test, it was the stiffest product in our top eight and the most difficult to maneuver. In our cleaning test, the tough fabric prevented stains better than the other mitts, and the rubber ring attached to the cuff made the display easy and attractive.
Calphalon Textiles (Discontinued)
The Calphalon Textiles – Twill Thumb Mitt was available in 13 different colors and had a simple design with less silicone than the other brands. But because it had thin silicon strips over a cotton mitt, it came in last in the heat protection test. It also felt too bulky to perform many tasks around the kitchen.
ZBling Mitts (Discontinued)
The ZBling Mitts and The Triumphant Chef Silicone Oven Mitts look and perform similarly. They are great examples of the new standard of oven mitts, using a combination of solid silicone on the outside to cover a quilted cotton interior. However, nothing in terms of features or functionality separates them from the pack or from each other.
How we selected
First, we dove into researching the best oven mitts, combing through blogs, reviews, burn statistics, and magazine articles. We watched videos of testing techniques and developed a system for rating our top mitts using both qualitative and quantitative data.
Then, we spent three days in an increasingly hot kitchen testing our top eight oven mitts in a variety of scenarios designed to measure their heat resistance, usability, and ease of cleaning. We also analyzed their aesthetics, materials, and design features. All told, we spent more than 40 hours reading about, analyzing, and testing our top products.
We read blog posts that discussed different mitt features and materials, watched video reviews of the top oven mitts on the market, and analyzed test results from a variety of cooking websites.
First and foremost, oven mitts should protect the skin from burns. But after researching the features of the best oven mitts, we found that consumers want a lot more from this simple kitchen tool.
We found that people look for the following features most often when shopping for an oven mitt:
Heat protection
Maneuverability
Durability
Aesthetics
Affordability
Once we finalized the metrics, we used them to shop for the best oven mitts and selected our top picks.
How we tested
Dexterity test
Most of the time, an oven mitt will be used to remove a dish from a hot oven, but sometimes a greater range of motion is required. During the cooking process, we stir and mix contents, add new ingredients, measure temperature and rearrange racks — all with our hands in a hot oven.
We can also use oven mitts to assist us in handling hot surfaces like grills and household items like lightbulbs.
To test the flexibility and dexterity of our mitts, we used each one to pick up a tablespoon from a kitchen counter and then changed our grip of the spoon in various ways. We rolled and rotated the spoon, grabbing different parts of the handle and maneuvering it as one might do when stirring or scooping food in the oven or over a hot stove.
The only product we tested that separated all five fingers was The 'Ove' Glove, and it easily performed best. We were able to freely and quickly manipulate the spoon in our covered hand. The 'Ove' Glove also allows you to wrap your fingers around the handles of a dish or pot, which can make for a more secure grip on certain kinds of cookware.
Many of the silicone mitts offer a similar experience in terms of flexibility. The Calphalon Textiles – Twill Thumb Mitt and ZBling Mitts, because they have thicker cotton insulation, are bulkier and harder to maneuver. We could lift the spoon off the counter, but we couldn't do much with it. The Triumphant Chef mitts provided more dexterity and allowed for manipulation of the spoon.
The OXO Good Grips mitt was much more difficult to use in this test because of the gripping strips that run across both sides of the mitts and wrap around the palm to cover the thumb. While they're great for securely holding larger objects, they make it difficult to change your grip or perform other actions with smaller items in hand.
Likewise, the design of the Mastrad mitt, which forces the thumb under the four fingers instead of to the side, resulted in a limited range of motion and control over the spoon.
Cleaning test
Since oven mitts often end up on display in the kitchen and must be cleaned frequently to avoid spreading germs, it is important that they be easily and effectively washed.
In general, silicone is a great repellent of liquid. Simply wiping down or rinsing the silicone shell of many of the mitts was sufficient to keep them looking sharp. If a mitt has any fabric components, including the wrist cuff area and the interior lining, it can be much more prone to attracting grime, grease, and food stains.
To measure how our mitts stood up to common kitchen spills, we stained each mitt with a quarter-sized drop of two common kitchen condiments: hot sauce and soy sauce. If the mitt's shell material was silicone, we stained the cotton liner in order to equally compare products.
We allowed the stains to set for two hours and then followed the recommended cleaning instructions for each product.
Some oven mitts — like the Calphalon, the OXO Good Grips, and The 'Ove' Glove — are completely machine washable. While tossing them in the laundry is easy, the spots of each condiment were still obvious after two washing cycles. The soy sauce stain faded more than the hot sauce, but both were still clearly visible on the light-colored cotton sections of the mitts.
The Mastrad mitt recommends separating the outer silicone shell from the cotton liner to wash. Both condiments wiped off very easily from the stain-repellent shell, and we added the machine-washable liner to the laundry load with the other mitts. After cleaning both components of the Mastrad, the liner and shell came out looking like new.
The 'Ove' Glove, made with Dupont's high-tech flame-resistant fabrics, proved the most difficult to clean. It's the only white glove in the top eight, and its exterior stains remain visible.
Care instructions for the other mitts — the HOMWE and The Triumphant Chef recommend hand-washing with warm water and soap. These gloves cleaned up much better, and the condiment stains disappeared with one wash. In particular, The Triumphant Chef required the least amount of effort to remove the stains.
While the ZBling Mitts lacked cleaning instructions, we decided to be safe and hand-wash them. The condiments left a faint stain on the cotton part near the wrist.
The Triumphant Chef and Mastrad have no exterior fabric — just water-repellent silicone — so we performed our cleaning test on the interior lining. Because these gloves have less stainable surface area, they're more likely to look better longer.
Heat test
We learned a lot about our mitts and pot holders by testing their flexibility and how well they cleaned up, but nothing is more important than the protection they provide against heat. To measure their insulation capability, we placed the same ceramic casserole dish in the same oven set at 450 ℉. For this 2023 update, we used a Le Creuset Dutch oven to test the new 10 finalists.
After 15 minutes of baking, we used each oven mitt and pot holder to pull the dish/Dutch oven and its lid out of the oven. We gripped the dish/Dutch oven the same way with each mitt and pot holder then time how long it took for the initial feeling of heat to come through the mitt or pot holder to the skin. Our results established three tiers of protection among the top eight.
The top performers protected our hands from the heat for upwards of 50 seconds. To our surprise, the YEKOO pot holder exceeded our former top pick, the OXO Good Grips (now discontinued) with a heat resistance of 77 seconds.  The Triumphant Chef also provided excellent protection.
We felt the heat of the dish a bit quicker with the oven mitts in the second tier. The HOMWE, Mastrad withstood the heat at 43, 39, and 32 seconds, respectively.
The 'Ove' Glove and Calphalon fell in the bottom tier, due to their absence of total silicone coverage. The Calphalon, which is protected by thin strips of silicone over thick cotton, afforded the shortest protection time, at 18 seconds until heat penetrated the mitt. The 'Ove' Glove, with its proprietary combination on Nomex and Kevlar, also failed early.
The oven mitts we tested for this 2023 update all averaged about 40 seconds, and the cotton pot holders fared the worst, hovering between 13-17 seconds.
Important features to consider
Material
Cotton is an antiquated technology when it comes to oven mitts. None of the top eight mitts we tested relied on cotton alone to protect from heat.
Most of the best oven mitts use silicone, which can withstand temperatures in excess of 400 ℉ for a prolonged period without burning or melting. Silicone also ensures a more secure grip with a hot surface and it won't slide like cotton.
Other mitts, like the 'Ove' Glove, are made using high-tech synthetic materials like Kevlar and Nomex. Kevlar is an incredibly strong fiber, used to manufacture bulletproof vests. When it comes to oven mitts, it provides a lot of durability and security. Nomex is a heat- and flame-resistant material that often serves as the foundation for firefighter apparel and auto racing tracksuits.
Size and Shape
For an oven mitt to be the most effective, it must enclose the entire hand and have a cuff that covers the wrist and the beginning of the forearm. Our top eight products offer this kind of protection.
Most products on the market are designed in the style of a mitten, keeping the four fingers separate from the thumb. By forcing the four fingers together, this style may provide a stronger, more secure handle for heavier loads.
However, there are five-fingered glove options as well. This glove style allows for more delicate maneuvers, like stirring a dish with a kitchen utensil while it remains inside the oven or manipulating hot food directly.
Appearance/Aesthetics
Because oven mitts are used so frequently, they often become a part of a kitchen's decor. Many people choose to hang or display their oven mitts, which makes their design an important feature to consider. Many of the mitts we tested come equipped with a small loop for the purpose of hanging them.
Some mitts are available in a variety of colors and patterns and are designed to go on display in a kitchen. Others look more utilitarian, like the fully silicone mitts, which can appear rubbery and unattractive.
Price per mitt
While price is a factor in choosing an oven mitt, it shouldn't be a limiting one. As we were selecting our top pick, we chose not to weigh price heavily. We decided to focus primarily on performance metrics because an oven mitt should last many years, and the ones we tested are similar in price.
If you're comparing prices, it's important to consider the cost per mitt. Oven mitts are packaged in singles and in pairs. Our top eight were evenly split, with four products sold as pairs and four sold solo.
Most oven mitts cost under $20 for a pack of one or two. Our top eight range from about $7 per mitt to $18 per mitt. Our top pick, the HOMWE – Silicone Oven Mitts, comes in a pack of two and falls on the lower end of the price per mitt range, at around $8.50 per mitt.
Many people can get by with just one, but we recommend owning two oven mitts to ensure a proper hold on heavy trays and dishes. We found that packs of two have the best value: a lower price per mitt and the extra support when you need it.
The bottom line
The best way to guard against burns from hot surfaces is by using an oven mitt, and the best mitts on the market come from HOMWE Oven Mitts. It provides great protection from heat, using high-quality silicone construction and an extended fabric sleeve that covers more of the arm than any other product we tested.
Other mitts may be better for specific functions, like the five-fingered 'Ove' Glove for dexterity or the Mastrad for removing food from boiling water, but for overall, everyday protection the HOMWE Silicone Oven Mitts are our pick for best overall mitts.
For this update, we also tested six pot holders and have selected the YEKOO pot holder because of its excellent heat resistance and flexible neoprene covering that's waterproof and absorbs high heat up to 450 ℉.
And now that you've selected the perfect pair of oven mitts, check out our review of the best nonstick cookware.