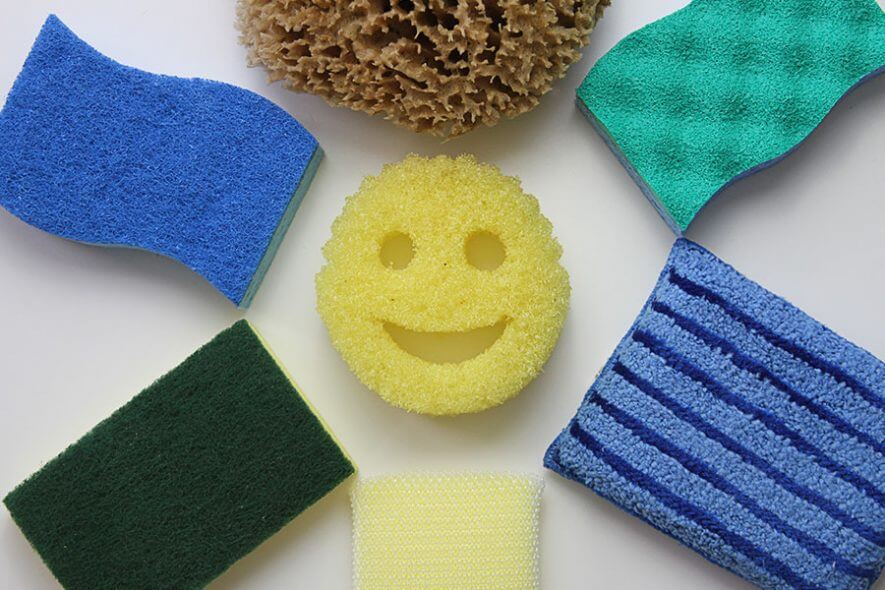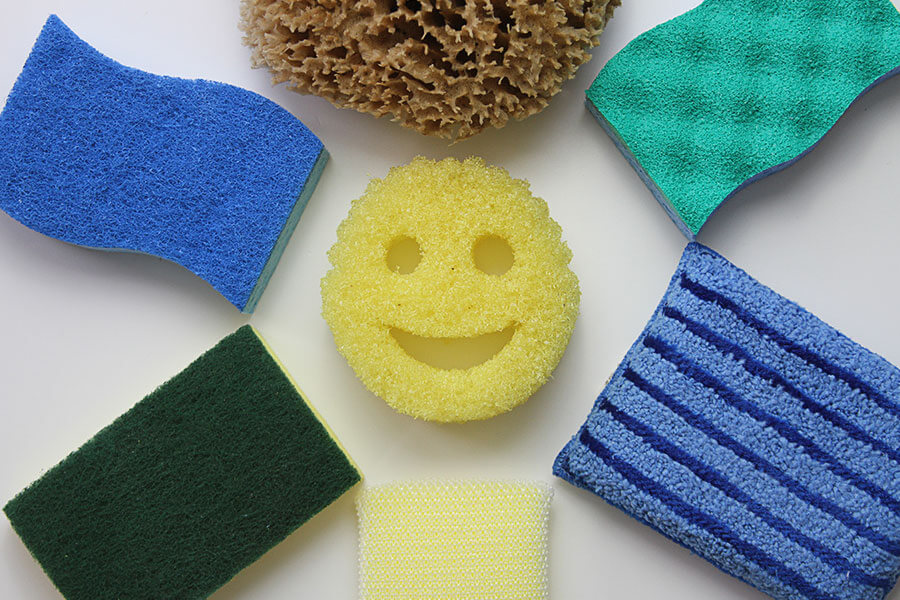 The 11 Best Kitchen Cleaning Sponges
For this 2023 update, we added three new products to the top eight kitchen cleaning sponges we previously tested. Hands down, the Scrub Daddy – Flex-Texture Scrubber is is still the best sponge for scrubbing ability, versatility, ergonomics, rinsability, absorbency, longevity, and scratch-free cleaning.  Scrub Daddy also ranked highest in drying time and doesn't hold onto food articles or build up odors (it's also dishwasher safe), making it the most hygienic of the sponges we tested. For extreme jobs, we can still recommend the Scotch-Brite – Heavy Duty as a top-notch performer.
For this 2023 update, we added three new products to the top eight kitchen cleaning sponges we previously tested. Hands down, the Scrub Daddy – Flex-Texture Scrubber is is still the best sponge for scrubbing ability, versatility, ergonomics, rinsability, absorbency, longevity, and scratch-free cleaning.  Scrub Daddy also ranked highest in drying time and doesn't hold onto food articles or build up odors (it's also dishwasher safe), making it the most hygienic of the sponges we tested. For extreme jobs, we can still recommend the Scotch-Brite – Heavy Duty as a top-notch performer.
Table of contents
The 11 sponges we tested
Top pick: Scrub Daddy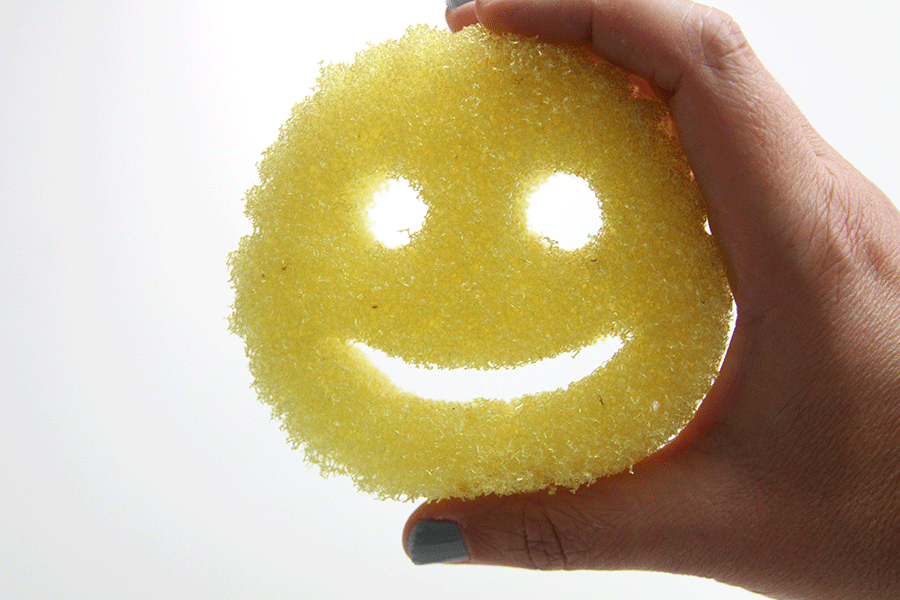 If you watch Shark Tank, you may be aware that the Scrub Daddy Original "boasts the most revenue of any business to appear on Shark Tank since the show first aired in 2009". Priced between three to four dollars each, this sponge has received a lot of attention. We found that it lives up to the hype.
One of the most fascinating things about the Scrub Daddy is its ability to change texture. In warm water, it's softer and more pliable. In cool water, it's rigid with more scrubbing power. It only takes a matter of seconds to change textures. You can move from job to job and different types of surfaces without needing to switch sponges.
There are not many sponges that are both scratch-free and can be used to clean a BBQ grill. The Scrub Daddy's silicone surface glided along the pan without any noise or snags. It removed the food and oil quickly, too, so you weren't putting extra pressure on the pan as you cleaned.
In the kitchen, it fits into small spaces and has thorough coverage. It tackles both big jobs, like baked-on cheese and delicate jobs like wine glasses. Another cool feature to the Scrub Daddy is you can use it dry to make light work of removing older, set-in stains. The upside to its relative lack of absorbency is that it dries much faster, and food particles do not stick to the surface.
Since bacteria thrive on a moist environment and a food supply of trapped particles, the Scrub Daddy is less likely to harbor nasty bacteria. It can also be thrown in the washing machine or dishwasher. In fact, one of the ways you can tell that this sponge is more hygienic than other sponges is its refreshing lack of odor.
The Scrub Daddy smile is more than just a pretty face — it's actually part of the design. The ergonomic shape is designed to clean both sides of kitchen utensils at once, and the eye holes give you a good grip, similar to a bowling ball. The smile part of the sponge accommodates the curve of dishes and is especially convenient for cleaning spoons.
There's also the "hair" on top of the sponge, which we found to be more effective than a bottle brush at getting into awkward corners like drinking glasses and coffee mugs.
Each sponge should last at least two months before becoming less effective. Some reviews suggest that the Scrub Daddy fell apart quickly, but we did not find this to be true in our testing. It may not look as fresh as one right out the box, but it was still effective and fairly sturdy after a week's use on a variety of surfaces. At the end of two months, we found that it had held up to everyday use and fit even better into small spaces.
Last but not least, the bright yellow color and smiley face make this sponge fun to use (especially for kids). It's also a little more aesthetically appealing to leave at your sink than a traditional sponge. You can thread the smile right onto your faucet handle, which keeps it off your kitchen counter.
We tested the drying time on the faucet handle to see if the Scrub Daddy dried faster than leaving it on a flat surface, but we found that it didn't speed up the drying time.
Gravity caused the top half to dry quickly, but water pooled in the bottom half and took the same amount of time to dry as when we left it on a flat surface. We still appreciated this feature, since storing your sponge in a dry location is one of the best ways to keep your sponge clean.
It also has some very creative uses that you wouldn't expect with a traditional sponge; for instance, you can use it as a loofah in the shower or remove paint from your fingernails and hands.
Scrub Daddy fits perfectly in the kitchen-sink drain, so you can prevent carrot peels or hard-boiled eggshells from going down the drain. Chrome fixtures shine like new when you clean them with an almost dry product. You can even use a Scrub Daddy sponge in a potted plant for an aerating effect and good drainage.
If you're interested in learning more about this amazing product, check out our full Scrub Daddy review.
Key takeaways:
Scrub Daddy is our choice for best sponge due to its versatility, scrubbing power and hygienic properties.
The ergonomic design and aesthetic appeal of Scrub Daddy make it comfortable and agreeable to use on a daily basis.
There are easily 50 ways to use a Scrub Daddy sponge that make it more valuable than a traditional sponge.
Best non-scratch: O-Cedar
The O-Cedar – Multi-Use Scrunge Scrub Sponge is a dense cellulose sponge with an abrasive side in the form of a three-dimensional scrubber. Thanks to a unique rippled surface that breaks up and lifts away dirt, it takes one-tenth the amount of elbow grease to remove debris than other sponges.
The O-Cedar sponge stands up to the tough jobs like boiler pans and stovetops while gliding along a nonstick frying pan. In fact, this sponge is the only product endorsed by DuPont for use on Teflon nonstick coatings.
What really impressed us about this sponge is how well it rinses clean. The scrubber part doesn't trap food particles, even pesky egg and cheese residue don't stick to this sponge. It's no fun to switch back and forth between different types of sponges when you're trying to clean a kitchen.
With the Scrunge, you can go from one task to the next, because it rinses thoroughly clean no matter what kind of job it has just tackled. This means that it can stand up to a lot of use.
The sponges are reported to be up to 20 percent more durable, and they are odor resistant up to two months, so there are no foul smells. The thickness of the cellulose sponge makes it more absorbent than some of the other brands, yet it still fits comfortably in the palm of your hand. At two dollars a sponge, the Scrunge Scrub Sponge gives you a lot of bang for your buck.
Key takeaways:
The Scrunge Scrub Sponge is the only sponge recommended by Dupont® for use on their Teflon® coated cookware.
The Scrunge Scrub Sponge rated high in our rinsability test, thoroughly removing the egg, cheese, and other food particles.
Best for tough jobs: Scotch-Brite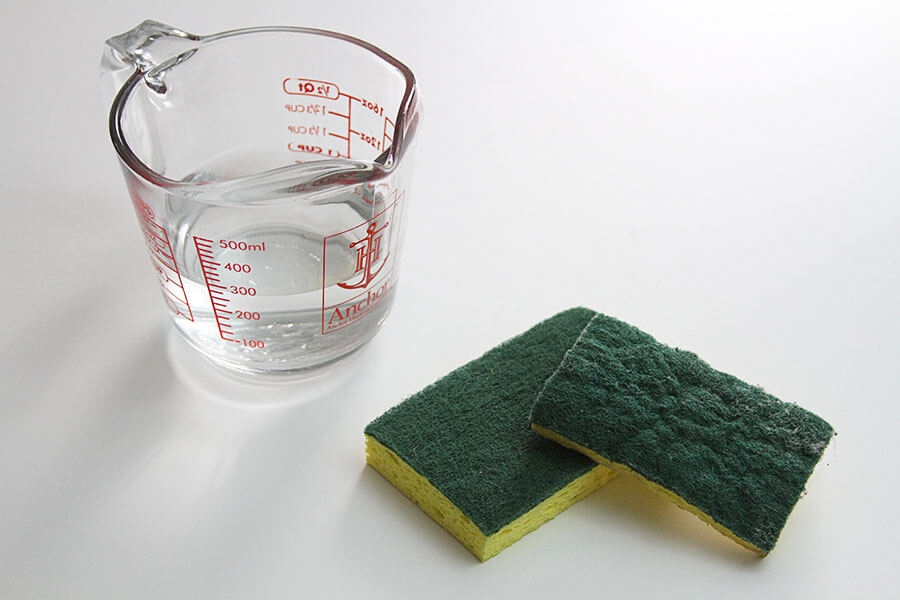 Sometimes you need a scrub sponge that will go above and beyond the call of duty. When you need to clean pots that you left overnight or scrape off baked-on food from oven racks, a Scotch-Brite – Heavy Duty Scrub Sponge is the one to use.
The Scotch-Brite sponge is softer than steel wool but equally effective on deep cleaning projects. Do make sure to test this sponge in a hidden area because it is tough enough to damage some finishes and you won't want to use it on stainless steel appliances.
We found it especially useful in the bathroom, where we used it with Bon Ami Polishing Cleanser to attack soap scum on tile and the tub. At three-fourths of an inch thick, this sponge is thinner than the other dual-sided cellulose sponges we tested and comfortable to hold. They stayed intact (the abrasive side didn't separate from the cellulose sponge) even with some heavy-duty cleaning.
At less than a dollar per sponge, these are handy to keep around for all of your tough cleaning jobs and cheap enough to toss out after really nasty cleaning projects, or if they begin to harbor any odors.
Key takeaways:
When we needed to bust out the big guns, the Scotch-Brite Heavy Duty was our answer.
Bought in bulk, this sponge is the most cost-effective of our top finalists.
Most eco-friendly: Natural Sea Sponge
Unlike synthetic sponges (often made from polyurethane foam) or even cellulose sponges (which can have a polyester filling and/or nylon scrubbing pads), The Natural Sea Sponge is 100-percent biodegradable, free from toxins and hypo-allergenic.
They've also been used for more than 2,000 years, for a variety of purposes, so you know you aren't falling for the latest fad. The Natural Sea Sponge is a quickly renewable natural resource that is native to the waters surrounding Florida.
While the size and soft texture of this sponge made it a little unwieldy for doing dishes, we were impressed with its versatility. If it's a little too large for your job, you can cut it in half without damaging the sponge.
The softness, incredible absorbency, and pliability make it a great choice for washing floors, upholstery, windows, and cars. This sponge is especially popular for cars because it won't scratch the metal. It held a cup of water in our test and made a fine lather with liquid soap.
These sponges are often used when painting to create a textured look and are great for clean-up because they rinse out well and stand the test of time. They can even be used in the shower as a personal care product.
Key takeaways:
It's nice to know that you're not harming the planet when you purchase a sustainably harvested natural sponge.
This sponge holds a full cup of water and is incredibly soft, making light work of your Saturday afternoon car washing chore.
Zen Living – Plant-Based Sponge
For the ecologically minded, the Zen Living Plant-Based Multipurpose Sponge is a good alternative to the more common artificially made sponges. The sponge size is made from natural wood fiber cellulose, and the scouring side is made from coconut husk fibers, which were quite effective in removing egg and cheese without it clinging to the sponge. When you closely examine the scouring side, you can clearly see the coconut-husk fibers distributed through several layers.
The coconut scrubber softens slightly in water, but it still has enough resistance to make short work of scrubbing. There's nothing really special about the cellulose side that makes it stand out as better than the other sponges we tested. When fully dried, the sponge tends to curl up, resembling a slice of coconut, and needs to be fully soaked to regain its shape. But as one of our new contenders for this 2023 update, the Zen Living sponge does the job and is 100% recyclable as well.
Skura Style – Skrubby Sponges
Actress Eva Mendes is one of the triumvirate of owners of Skura Style products, and the company's Skrubby Sponge is a popular product. Made of extremely dense polyurethane foam, the Skrubby has extreme absorption power, and dishwashing liquid gets firmly trapped inside, so you don't have to keep squeezing the soap onto dishes and pots as your cleaning them. The Skrubby has a very thin scrubbing layer, which really didn't do much in cleaning pans that weren't non-stick. Skura Style touts that the color of the scrubbing layer fades, presumably alerting you that you should change out the sponge, but as other reviewers have noted, the scrubber dries and cracks sooner than the color fades.
The sponge is infused with Polysept, a type of iodine antiseptic that's used for treating contaminated wounds, and according to Skura Style, protects against odor-causing bacteria, mold, and mildew. Nobody likes a smelly sponge, of course, so presumably Polysept keeps the Skrubby sponge smelling fresh. The Skrubby does dry very quickly, but because of its excellent absorption, you need to rinse out the soap completely and squeeze out all moisture. It's a decent sponge, but we prefer our top picks.
Scotch-Brite – Stay Fresh
We're a big fan of the Scotch-Brite Heavy Duty sponge, so for this 2023 update, we tested the Scotch-Brite Stay Fresh sponge, but were disappointed by its results. The sponge is made from wood-fiber cellulose with vegetable, cotton, or hemp fibers to keep it from falling apart. Basically, it's like any sponge except that it's been treated with some antibacterial agent (Scotch-Brite doesn't say what it is) to prevent bad smells. The Stay Fresh is noteworthy for its wafer-thin scrubber with circular patterns of blue dots that are non-scratch and supposed to aid with food removal. As other users have complained, however, food gets trapped between the dots, and so, in effect, you need to scrape the dots clean after every use.
Scotch-Brite – Dobie Cleaning Pad

This sponge is an old faithful that you probably saw in your mom's kitchen. It's been around for years. When a sponge has been around since 1958, you know that countless numbers of consumers have tried, approved, and continue to buy this classic product.
The Dobie Cleaning Pad is like two sponges in one: a soap-holding sponge wrapped in nylon netting. It has exceptional scouring power without being as abrasive as steel wool. We found it to be quite versatile and was equally effective at removing lasagne residue from pans and insects from a car window. It lasted two months with regular cleaning, and you can toss it in the dishwasher.
Compared to other sponges, the Dobie Cleaning Pad is thin and easy to hold. Even while completely dry, it can easily be manipulated and fits into the palm of your hand. This may not be the sponge you want to use to soak up a large liquid mess, but we appreciated how quickly it dries out, making it a less hospitable environment for bacteria.
Food particles can get caught in the netting, so it does need to be rinsed thoroughly after cleaning dishes. You'll also need to be careful when cleaning knives, as they can cut the netting. It has a special coating that glides over surfaces, giving it a slippery feeling, especially when used with dish soap.
In our testing, the Dobie Cleaning Pad did not scratch Teflon nonstick, stainless steel, glass, plastic, or tile surfaces. However, you still should be careful and always test first in an inconspicuous area. It should not be used to clean glass aquariums or painted surfaces.
It will remove paint, and while that makes it less valuable in the scratch-free metric, it also makes the sponge versatile when you need to remove paint from surfaces and is yet gentle enough to remove paint from your skin.
As Seen On TV – Microfiber Magic Sponge
There's a lot to be said about a microfiber sponge that can absorb dirt and oil but is soft enough that it won't scratch or damage surfaces. The As Seen On TV Microfiber Magic Sponge is a greener option than other sponges because it can be washed in the washing machine and requires little or no detergent.
One side is microfiber and when used dry, works like a microfiber cloth and naturally attracts dust. When used wet, it soaks up a spill and doesn't leave any liquid on your counter or floor. On the other side with dark- and light-blue lines, the surface has a dual-action surface that scrubs and absorbs.
We found the scrubber side was able to able to remove cheese and egg without any detergent. It did take extra pressure to remove the cheese, which was more tiring on the arm, but because it's so soft, it didn't cause any damage to the frying pan. It also rinses clean, so you don't have to worry about food particles going in the washing machine.
These cost about two dollars each when purchased in a value pack and are able to be washed and reused, so it's an economic and environmentally-friendly choice.
Superio – Ultra Micro Fiber Sponge
This is another reusable sponge that functions more like a dishrag than a sponge, as it can be thrown in both the washer and dryer when it needs cleaning. You can also rest easy knowing this sponge is fume and chemical-free.
These absorbent sponges are ideal for wiping up spills, and they hold soap well, but we found them to be on the soft side for cleaning jobs that need a little more oomph, and food particles did stick to the fabric.
Unlike with cellulose sponges, food residue isn't an issue in terms of longevity, because the Superio – Ultra Micro Fiber Miracle Sponge is washable and reusable. They are on the thicker side and we found them to be a little too large to hold comfortably for long periods of time. It was also harder to clean smaller items like the insides of glasses.
Overall, we found this sponge to be a good go-to for general purpose use and safely cleaning nonstick cookware.
Lysol – Multi-Purpose Scrub Sponge (Discontinued)
(Editor's note: In 2023, we learned that Lysol had stopped manufacturing this product.)
Found in multipacks for around a dollar a sponge, the Lysol Multi-Purpose Scrub Sponge is great for everyday use, because it's durable, rinses clean, and contains an antimicrobial agent built into the fibers that inhibits the growth of odor-causing bacteria.
We appreciated the dense, super-absorbent sponge that feels nice in the hand and allows you to create a soapy lather on your dishes. Since it soaks up almost half a cup of liquid, this is the sponge to grab if you spill a glass of water.
The scrubber is non-scratch and passed our nonstick coating test, but you'll want to test the scrub part on your surface in a hidden area as some dulling of finish can happen.
How we selected
During our research phase, we read through blogs and articles to determine the qualities people look for in a sponge in order to narrow the list down to our eight finalists. We looked at subreddits, like /r/advice/, and watched YouTube reviews to gather consumer input. We did some fact-finding legwork on what to look for in a sponge, and more importantly, how to keep it clean in an environment laden with food and moisture (the kitchen sink).
Once we narrowed down the field, we put our eight finalists through a series of household tests to find out how much water they would hold, how fast they dried and whether or not they would scratch a frying pan with nonstick coating.
In addition to our specific tests, we put each of the sponges through two months of daily use to see how well they would hold up in the kitchen, bathroom and during other cleaning projects around the house.
How we tested
Rinsability
A sponge dotted with flecks of food sitting out on the sink is unsightly and unhygienic. Bacteria thrive on the food particles and residue left behind on a sponge. Additionally, these particles break down a cellulose sponge and can create odors, so you'll have to toss it. A sponge that rinses clean lasts longer.
To test rinsability, we used the sponges to remove the ultimate sticky culprits, eggs and cheese. Each sponge was used to scrub a baked egg-and-cheese dish and then rinsed thoroughly under running water.
The Scrub Daddy and O-Cedar Scrunge Scrub Sponge were clear winners in this category, rinsing fully clean with no need to pick little flecks off. The Lysol Multi-Purpose Scrubber, Natural Sea Sponge and TVTimedirect Microfiber Magic Sponge performed well in this test, too.
The other sponges we tested all had residue or food particles left behind, even after being rinsed for several minutes at full force.
Scratch test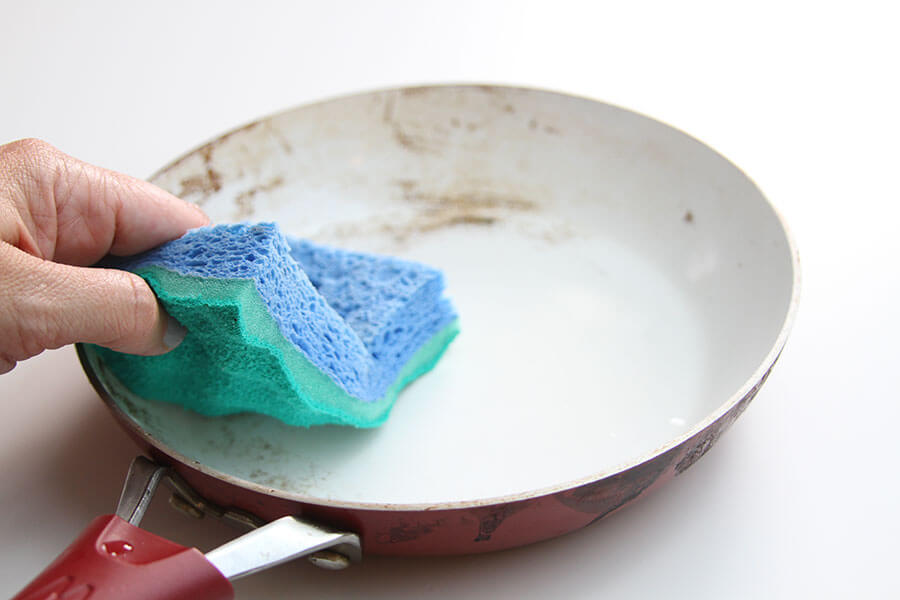 During our research, we found that consumers are concerned about sponge abrasiveness. We wanted to make sure that our sponge finalists wouldn't dull the surface while removing debris. When deciding which sponges made the cut, it was important for us to consider which surfaces, if any, can be scratched. Some of the surfaces we studied were:
Wood
Plastic
Copper
Cast iron
Fiberglass
Stainless steel
Vinyl
Car exterior paint
Nonstick coatings
Glass
Teflon-coated or other nonstick cookware is easy to damage with an abrasive sponge, and it's not a good idea to eat food cooked in a nonstick pan that has been scratched. We tested each of the sponges on a frying pan with a nonstick coating.
When you think of the types of foods that you cook in a nonstick pan, including egg and cheese, you know that you need a scrubber that is delicate and won't scratch while still able to remove baked-on debris.
In order to test this, we gave each sponge a workout on a frying pan with nonstick coating. First, we whipped up a meal of scrambled eggs and cheese, undoubtedly a messy affair.
Then we scoured the pan with one of the sponges to remove all the dried-on bits of egg and cheese to see if it would scratch the nonstick coating in the process. We repeated the process with each of our eight finalists.
All of the sponges passed our scratch test. We felt most confident using the O-Cedar Scrunge Scrubber Sponge, considering that its patented non-scratch scrubbing surface is created by Teflon and endorsed by DuPont, but we were pleased to note that every sponge we tested was able to clean the frying pan in its entirety without damaging the delicate nonstick coating.
Ergonomic comfort
For this test, we tackled both a load of dirty dishes and a tough bathroom job that required scrubbing a tub in circular motions. We found that in addition to the size and shape of a sponge, firmness and scrubbing power played a role in how comfortable the sponge is to use.
After all, the more pressure and length of time it takes to get something clean, the harder it is on your hand, wrist and arm.
The Scrub Daddy was the clear winner here because it fits perfectly in the palm of your hand and can be gripped in two different ways, easing the burden on your hand and wrist since you can change positions.
It's extremely helpful to be able to change textures as you go along. You can adjust it for either more scrubbing power or softness in your hand and allow you to move along quickly.
We appreciated how little effort it took to get through a load of dishes with the dual scrubbing sides and ability to clean utensils. In the bathroom, we scrubbed with cold water, letting the firm texture take off the soap scum easily.
In the end, the least amount of effort and ability to complete the job quickly made the Scrub Daddy our pick for most ergonomic.
In the same vein, the scrubbing power and relatively thin shape of the Scotch-Brite Heavy Duty Scrub Sponge earned it an honorable mention in the ergonomic comfort test.
Absorbency
When you're cleaning up liquid messes, absorbency becomes a critical factor of a useful sponge. Absorbency is also important in holding soapy water for more cleaning power without scrubbing. In this test, we added one tablespoon of water at a time to each sponge until it reached its capacity.
The Natural Sea Sponge was superior to the other sponges in this test. While most of the sponges held a number of tablespoons, the Natural Sea Sponge held a full cup of liquid. The next most-absorbent sponge, Lysol Multi-Purpose Scrubber, held almost half a cup.
Drying time
Drying time is important because a sponge that stays damp for hours can breed bacteria, especially if there are food particles trapped inside. In a test of drying time, we completely soaked and wrung out a sponge and left it out on the sink to dry.
Not surprisingly, the most absorbent sponges took the longest to dry and the least absorbent was fastest, even when they were completely wrung out.
The Scrub Daddy, holding three tablespoons of water, dried in eight hours. The Dobie Cleaning Pad, which held the same amount of liquid, was a close second at approximately nine hours.
This means that you could sanitize these sponges at the end of a day, and they would dry overnight. On the other end of the spectrum, the sea sponge and microfiber sponges took a little more than 24 hours to completely dry.
What to look for in a sponge
The main purpose of a sponge is scrubbing to remove food and debris. Most often, sponges are used to remove caked-on food from dishes, pans, and utensils, but in determining the best sponge, we found that it needs to be useful in a wide variety of functions. For instance, sponges are also used to scrub stovetops, BBQs, remove soap and scum from bathroom fixtures and tiles, and even wash cars.
Keeping in mind the number of ways you can use a sponge and the many different types of cleaning sponges that exist, there is a lot of information to consider when deciding which sponge will make your cleaning task the easiest. One option is to dedicate precious shelf space to stock a whole arsenal of sponges.
However, your best space-saving bet is to find one or two sponges that will accomplish a wide range of cleaning goals. Obviously, this makes versatility an extremely important factor when choosing a sponge.
A second important component of sponges is absorbency because sponges are often used to soak up excess liquid from spills prior to cleaning with a solvent. You also want them to be able to hold soapy water and assist in removing debris.
However, a sponge that holds a large amount of water is also a sponge that stays wet on your counter after you're done using it. A wet sponge can become a breeding ground for bacteria, so you'll want to balance absorbency with a fast drying time.
Last but not least, comfort is a valuable consideration. A sponge is a daily cleaning tool, so if it fits awkwardly in your hand or requires a great amount of effort to scrub off food particles, you're not going to be inclined to use it. The less strain on your hand and wrists, the better.
We found that the key metrics to use when determining the value and efficiency of a sponge include:
Scrubbing ability
Longevity
Ergonomics/comfort in your hand
Absorbency
Versatility
How easy is it to rinse out?
Does it scratch surfaces? What types of surfaces?
How to clean a sponge
While sponges are a highly effective cleaning tool, the downside is that they can be an ideal breeding ground for dangerous bacteria. Organisms can become lodged in between the sponge, and in this moist environment with plenty of food, new bacteria can grow at the rate of once every 20 minutes.
Not something you want to think about it when you're using that same sponge on a later load of dishes.
In order to lower the risk of cross-contamination, we recommend that you clean your sponges daily.
There are a few different cleaning techniques. The best bet is to completely submerge the sponge in a bleach-and-water mixture. Make a disinfecting solution with one part bleach to nine parts water (about 14 ounces of bleach to about 14 cups of water) and soak the sponge for 30 seconds or longer. Store the excess solution in an empty plastic milk jug under the sink so you always have it on hand, since you'll want a fresh bowl of bleach solution for each session.
Microwaving your sponge is another means of disinfection. The sponge should be submerged in a bowl of water and then placed in the microwave. This can be more difficult as the water must be heated to a boil in order to kill bacteria.
After sanitizing with either method, wring the sponge out, and allow it to dry to prevent any new bacteria from growing. Cleaning your sponge on a regular basis will help reduce the risk of growing and spreading bacteria, but you should also replace it frequently. This is especially important with kitchen sponges. Odor indicates the presence of bacteria, so if it starts to have a smell, make sure to toss it out immediately.
In addition to cleaning your sponge and replacing it regularly, there are a few "don'ts" to keep in mind. Remember that sponges can't do everything. Avoid wiping up meat juices from ground beef or poultry in order to prevent cross-contamination and food poisoning. In general, avoid cleaning countertops with sponges. Your best bet in these cases is paper towels or disinfectant wipes.
The bottom line
We found that the Scrub Daddy was the most versatile, able to wash dishes, remove soap scum from a bathtub and scour the insects off of a tire wheel and car exterior without scratching the paint.
Out of our five tests — Rinsability, Scratch Test, Ergonomic Comfort, Drying Time, and Absorbency — the Scrub Daddy surpassed the other sponges four out of five times. Scrub Daddy dried the fastest of all eight finalists. Thus, despite its lesser rating for absorbency, the Scrub Daddy has high value, being extraordinarily versatile and ultra-hygienic.