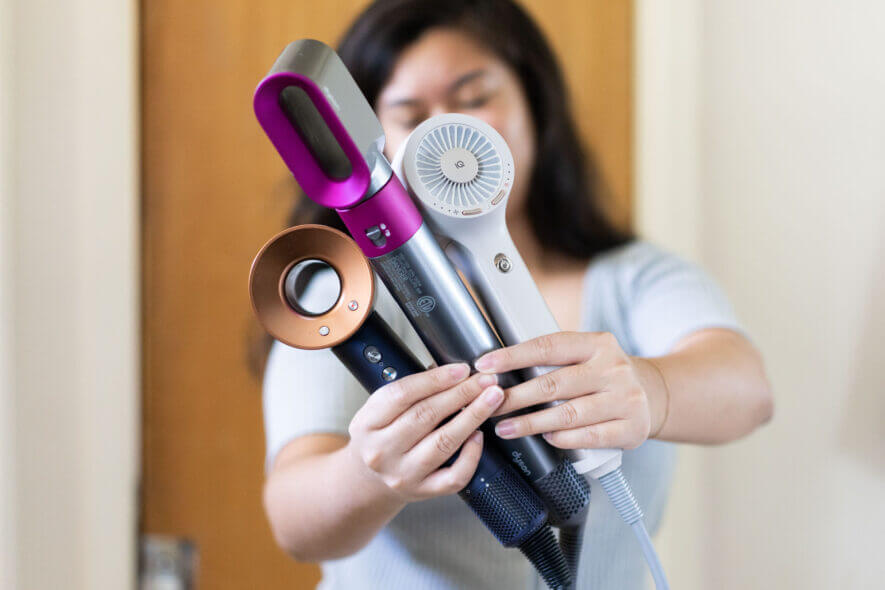 Shark HyperAir IQ Hair Dryer Review
Shark is part of SharkNinja, a company that specializes in a wide range of electronic home products and is often compared to companies like Dyson and Eureka. In 2021, Shark took its first step into the hair care industry by introducing the HyperAir IQ Hair Dryer, which, clearly by its design, is meant to compete directly with Dyson's hair dryer. So we had to test it out.
Shark is part of SharkNinja, a company that specializes in a wide range of electronic home products and is often compared to companies like Dyson and Eureka. In 2021, Shark took its first step into the hair care industry by introducing the HyperAir IQ Hair Dryer, which, clearly by its design, is meant to compete directly with Dyson's hair dryer. So we had to test it out.
Why we wanted to try the Shark
Home tech companies like Shark and Dyson move into industries like hair care because they can apply their expertise in producing home tools (such as vacuum cleaners, steam mops, and air purifiers) to other aspects of people's lives. They often take traditional products like blow dryers and improve their designs for a better user experience.
Just like with their vacuums, Shark is obviously using the HyperAir IQ to go after the higher-end market that Dyson targets with their Dyson Supersonic and Airwrap Styler. The HyperAir IQ offers similar features to its Dyson counterparts, like fast-drying and attachments for different styling methods. Shark also created IQ technology with this blow dryer, which produces both heated and ionized air at high speeds to dry hair not only faster but also with less heat damage.
Unlike Dyson, however, Shark products are often more affordable in price, and the HyperAir IQ reflects this theme. At $249.60, it's nearly half the price of the Dyson SuperSonic and Airwrap Styler. In addition, the HyperAir IQ is often much more available for purchase, unlike either of the Dyson hair products, making this a good dupe for someone who likes styling their hair.
How we tested
We tested the Shark HyperAir IQ hair dryer on type 2A, thick hair by reviewing the quality of the tool, measuring how long it takes to style hair, and testing various attachments over two months.
Build quality & ergonomics
The HyperAir IQ is composed of a typical plastic body and a circular head instead of a fluted nose that measures 12.5 cm x 7.49 cm x 27.99 cm and weighs 1.65 pounds with an eight-foot cord.
IQ Technology is a combination of heated and ionized air that flows through the air dryer at high speeds. Shark states that this technology helps to dry hair faster and with no damage compared to other tools.
This new hair dryer is built with what Shark calls IQ Technology, which measures the temperature up to 1,000 times per second to make sure it doesn't overheat and burn your hair. However, unlike Dyson, Shark doesn't state the maximum temperature it will heat the tool so we don't necessarily know how hot it gets on the highest setting.
Attachments and accessories
The HyperAir IQ has four different attachments available for purchase or included in a bundle.
IQ 2-in-1 Concentrator: This attachment is a common tool for many traditional hair dryers, however, the HyperAir IQ 2-in-1 Concentrator has two settings for airflow through the slim nozzle. The wider nozzle is useful for pre-style drying and the slimmer nozzle helps target specific sections of hair, especially when using a brush for a blow-out hairstyle. To switch settings, locate the switch and flip it towards the airflow you prefer.
IQ Styling Brush: This tool looks like a brush with firm and plastic bristles atop a movable head that moves in a 360-degree area. This attachment helps to straighten and add shine to hair while drying similar to some hot air brushes we've tested.
IQ Curl-Defining Diffuser: This diffuser comes with two different settings that retract and extend the inner prongs to use with shorter or longer curls.
IQ AirWave: This attachment creates beachy waves by using air to circulate hair in a cylindrical tube and make ringlets. You can also switch the direction the air circulates from left to right depending on how you want to style your hair.
One of the interesting features of the HyperAir IQ is the dual optical sensors that automatically understand which attachments are connected and set the appropriate heat and airflow settings. Since there are three airflow and temperature settings each, it's helpful to know where to start when styling your hair.
There are also additional accessories that can come in different bundles depending on what you purchase. For example, we purchased the Premium Styling Tools bundle that came with all four of the attachments (and filter brush), hair clips, and a nonslip mat.
Drying performance
Using the HyperAir IQ to dry freshly showered, wet hair without any attachments took about five minutes and 30 seconds on the second level of heat and third level of airflow. Like the Dyson SuperSonic, this hair dryer is especially powerful.
Using other attachments like the IQ Styling Brush was not a great experience due to the awkward angle you need to brush your hair while holding the hair dryer. Although you can move the brush attachment 360 degrees, it felt bulky and awkward in our hands. The plastic bristles also didn't grab onto the hair adequately.
When using the IQ 2-in1 Concentrator, it was useful to have different options for pre-style and targeted drying in one attachment. The wider pre-style width helped quickly dry the hair with controlled airflow. We liked that you didn't need to change out attachments to create a blowout hairstyle with a brush, especially because the attachments get fairly hot and are difficult to remove when you use them.
When we asked Shark directly about the maximum heat temperature of the HyperAir IQ, they couldn't give us an answer. Overall, the HyperAir IQ quickly dried the hair, but we did notice that the hair felt more damaged and less glossy than when we used either of the Dyson tools.
Curling performance
Using the IQ AirWave to curl hair was a bit of a confusing experience. It wasn't until months of using the HyperAir IQ that we noticed a QR sticker on the machine that leads you to a tutorial website. Previously, we had to look up videos online to learn how to use the IQ AirWave. To adequately get ringlets, we needed to pre-dry our hair to about 80% dryness level, then section off the hair in about four to eight sections.
Starting from the bottom section, add about half an inch of thickness of hair into the tube and make sure it's in the correct curling direction. Then, turn the machine on and slowly flip the tube upside down. You know it's properly curling when you can see the hair circulating inside the tube.
It took about 45 minutes to one hour to do our entire head, and it was a workout. Holding the IQ AirWave and the hair dryer takes a lot of endurance and gives you very thin ringlets; it definitely will not give you large bouncy curls or a nice blowout style like you can get with the Dyson Airwrap. While the beachy curls did last an entire day's worth, it wasn't our preferred style.
Who would benefit from the Shark HyperAir
If you're looking for an affordable Dyson Supersonic and Airwrap Styler dupe, then the Shark HyperAir IQ would be a good choice with some caveats, like potential hair damage from setting the heat on too high or the lack of options when curling hair.
Both the Dyson Supersonic and Shark HyperAir IQ run at the same power of 1,600 watts and share some similarities. Here's a quick comparison between the three:
| | Shark HyperAir IQ | Dyson Supersonic Hair Dryer | Dyson Airwrap Styler Complete |
| --- | --- | --- | --- |
| Drying hair | 5+ minutes on type 2A thick hair | 4 minutes on type 2A thick hair | 7+ minutes on type 2A thick hair |
| What can it do? | Dry, Blowouts, Diffuse, Smooths, and Curls | Dry, Blowouts, Diffuse, Lengthen, Reduces frizz and smooths flyaways | Dry, Blowouts, Curl, Smooths and lengthens thin & thick hair |
| Power | 1,680 watts | 1,600 watts | 1,300 watts |
| Weight | 1.6 lbs | 1.8 lbs | 1.5 lbs |
| Heat settings | 4 settings (3 heat, 1 cool) | 4 settings (3 heat, 1 cool) | 4 settings (2 heat, 2 cool) |
| Speed settings | 3 settings | 3 settings | 3 settings |
| Attachments | 4 attachments | 5 attachments | 6 attachments |
| Max heat setting | Unknown | 212℉ | 302℉ |
| Retail price | $229.80-$249.60 | $399.99-$429.99 | $549.99-$599.99 |
Who would NOT benefit from the Shark HyperAir
If you want a hair styling tool specifically for curling your hair quickly or styling your hair in big bouncy curls, the HyperAir IQ is not the tool for you. The IQ AirWave attachment is marketed to create "effortless beachy waves," however, we disagree that it's effortless due to the large and heavy attachment you need to hold while using the HyperAir IQ.
Due to the type of curling attachment, you can't adjust the width of curls you want to achieve using the IQ AirWave like you can using the different-sized barrels of the Dyson Airwrap or other curling irons. More often than not, the hair we tested had curls that ended up being about a half-inch thick, no matter how much hair we used while curling.
From out-of-the-shower wet hair to styled and slim tendrils of curls, the entire process took about 45 minutes to one hour. This is definitely not a shortcut to getting beachy curls.
Conclusion
If you want something similar to the Dyson Airwrap styler to curl your hair or keep your hair healthier like both Dyson products, this may not be the styling tool for you. However, if you're in the market for a powerful and affordable semi-dupe to the Dyson Supersonic, the HyperAir IQ may be an appropriate choice with some caveats, like potential heat damage due to the recommended heat settings. We advise lowering the heat settings to prevent heat damage and applying a heat protector to the hair before using this product. If you just want a powerful hair dryer without attachments like smoothing brushes or curling tools, you might want a traditional hair dryer that's even more affordable than the HyperAir IQ.