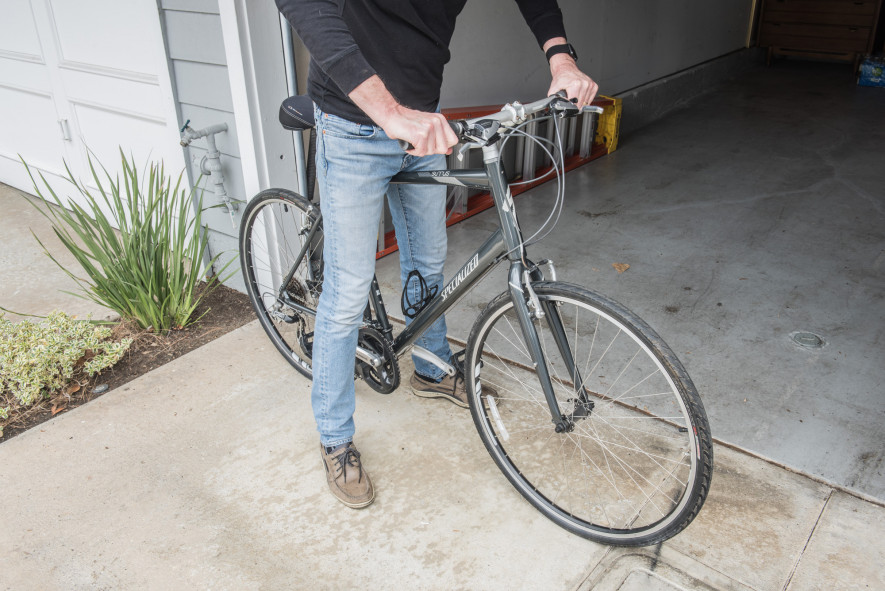 Bike Size Chart: What Size Bike Do I Need?
Before researching which bike to buy, you need to know what's the right size bike for you. A properly sized bike will perform as you want it and be easier and more comfortable to handle. It's always better to try out a bike in person at a bike shop, where you can also have it fit precisely to your body type and how you like to ride.
If you don't have access to a bike shop, though, you'll need several measurements — your height, inseam, torso length and arm length — to buy a bike online. There is no industry standard for bike sizing, and sizing varies from one manufacturer to another. So it's a good idea to have your exact measurements at hand.
Choosing the style of bike — mountain, road, hybrid — is your first step before measuring since their frames are somewhat different in design. How and where you want to ride your bike is a crucial factor in determining the right size for you.
Bike frame terminology
When researching the type of bike you want to buy, you'll see several terms of which you need to be aware to ensure that you purchase a properly sized bike.
Top tube
This is the horizontal tube that runs from the seat post to the handlebars. The length of the top tube will determine your reach to the handlebars and your posture while you're riding.
Bike frame size
The industry standard is that road bikes are measured in centimeters, while mountain bikes are measured in inches. Some manufacturers provide sizing charts that are based on a person's height, such as x-small, small, medium, large, etc. This vertical measurement is taken from the middle of the pedal crank to the top of the seat tube.
Standover height
An important measurement is standover height, which, for road bikes is 2″ higher than your inseam and for mountain or commuter bikes is 3″-4″ higher than your inseam. This additional height allows for safe and comfortable standing over your bike when you've dismounted.
However, these sizes are different for different styles of bikes, so it's not a one-size-fits-all scenario. For example, a top tube that measures 54 centimeters is usually considered to be a medium, but in some cases, it may actually be a small, depending on the bike's model and manufacturer.
So although it may seem the easiest to choose a bike size like you would choose clothing size, it won't necessarily be accurate, which is why you should take certain measurements to ensure a good fit.
Figuring out the right size bike for you is a lot easier than properly fitting a bike helmet.
Example of bike-sizing process
First, measure your inseam with a measuring tape from floor to your crotch. In this example, a 6'1″ man has a 33″ inseam.
Next, measure your torso from your crotch to your sternum (the v-shaped indentation at the base of your throat. Our 6'1″ man's torso measures 25″.
Measure your arm from the tip of your collarbone to the middle of your closed fist (where you would grip the handlebars. In our example, it's 30″.
Add torso and arm lengths together, divide by 2, then subtract 6 from that total, and you'll have the top-tube length, so for our 6′"1 man, the ideal top tube length would be 21.5″
According to the following bike size chart, a 60 centimeter road-bike frame or an extra-large mountain-bike frame should fit our 6'1″ man.
Whatever size bike you decide to buy, one of our top picks for the best bike rack will support it securely in your garage or home.
Road bike sizing chart
A road bike is designed for smooth and fast riding on paved areas. It has a lower-placed handlebar to encourage a forward-leaning position. A road bike's frame is rigid, which transfers the power of your pedaling directly to the wheels. Road bikes are always measured in centimeters because it allows for a more precise fitting to your body.
| Rider Height (feet/inches) | Rider Inseam (inches | Bike Frame Size (centimeters) |
| --- | --- | --- |
| 4'10"-5'1" | 25.5"-27" | 46-48 cm |
| 5'0"-5'3" | 26.5"-28" | 48-50 cm |
| 5'2"-5'5" | 27.5"-29" | 50-52 cm |
| 5'4"-5'7" | 28.5"-30" | 52-54 cm |
| 5'6"-5'9" | 29.5"-31" | 54-56 cm |
| 5'8"-5'11" | 30.5"-32" | 56-58 cm |
| 5'10"-6'1" | 31.5"-33" | 58-60 cm |
| 6'0"-6'3" | 32.5"-34" | 60-62 cm |
| 6'2"-6'5" | 34.5"-36" | 62-64 cm |
Mountain bike sizing chart
A mountain bike is designed for control and stability over rugged terrain. Its frame is more upright than a road bike and allows for better visibility for the rider. A mountain bike's frame often has forward or full suspension to absorb bumps. The industry standard is to measure a mountain bike in inches.
| Rider Height (feet/inches) | Rider Inseam (inches) | Bike Frame Height (inches) | Bike Frame Description |
| --- | --- | --- | --- |
| 4'11"-5'2" | 25"-27" | 13"-15" | X-Small |
| 5'2"-5'6" | 27"-29" | 15"-17" | Small |
| 5'6"-5'10" | 29"-31" | 17"-19" | Medium |
| 5'10"-6'1" | 31"-33" | 19"-21" | Large |
| 6'1"-6'4" | 33"-35" | 21"-23" | X-Large |
| 6'4"-6'6" | 35"-37" | 23"-25" | XX-Large |
Kids bike sizing chart
When buying a kids bike, it's important to remember that a child will soon outgrow it. Experts recommend buying a bike that's slightly larger, which will allow for the child's growth. The child's height and inseam measurements (in inches) are necessary for ensuring the bike is a good fit. Sizes for kids bikes are grouped together by wheel size; for example, 12″, 14″, 16″, etc.
| Child's Age | Child's Height | Child's Inseam | Wheel Size |
| --- | --- | --- | --- |
| 2-3 | 2'10"-3'4" | 14-17 | 12" |
| 3-4 | 3'1"-3'7" | 16-20" | 14" |
| 4-5 | 3'7"-4'0" | 18-22" | 16" |
| 5-8 | 4'0"-4'5" | 22-25" | 20" |
| 8-11 | 4'5"-4'9" | 24-28" | 24" |
| 11+ | 4'9"+ | 26"+ | 26" |
Final thoughts
Every bicycle expert strongly recommends sizing a bike to fit your body on the actual bike you want to purchase. Even if you use our sizing charts to buy a bike online, it's worth your while to find a bike shop to make adjustments because all bikes will need to be adjusted to ensure that you have an enjoyable and comfortable ride.
Our guides, however, are a great starting point, and if you've measured yourself correctly, it's likely that you'll be able to make the adjustments to your new bike yourself.