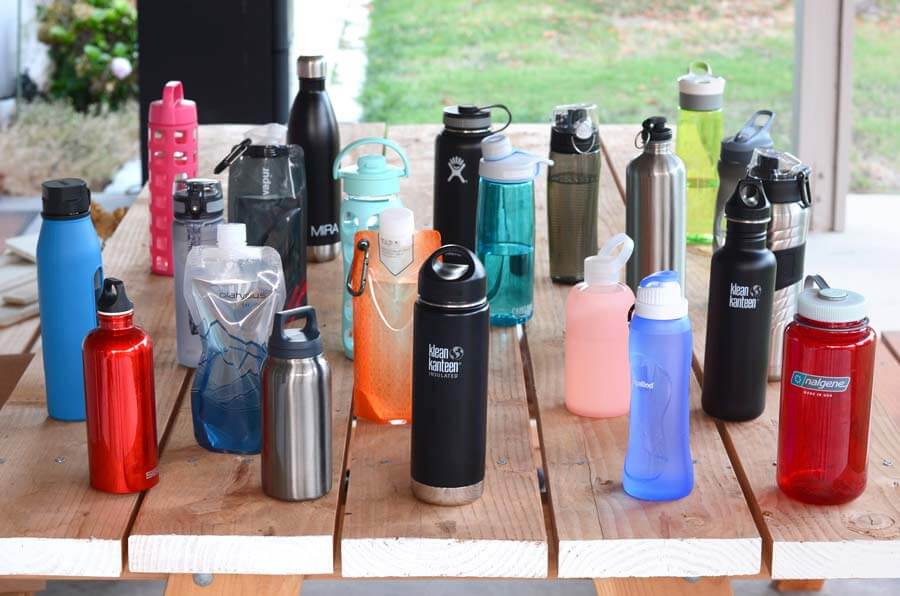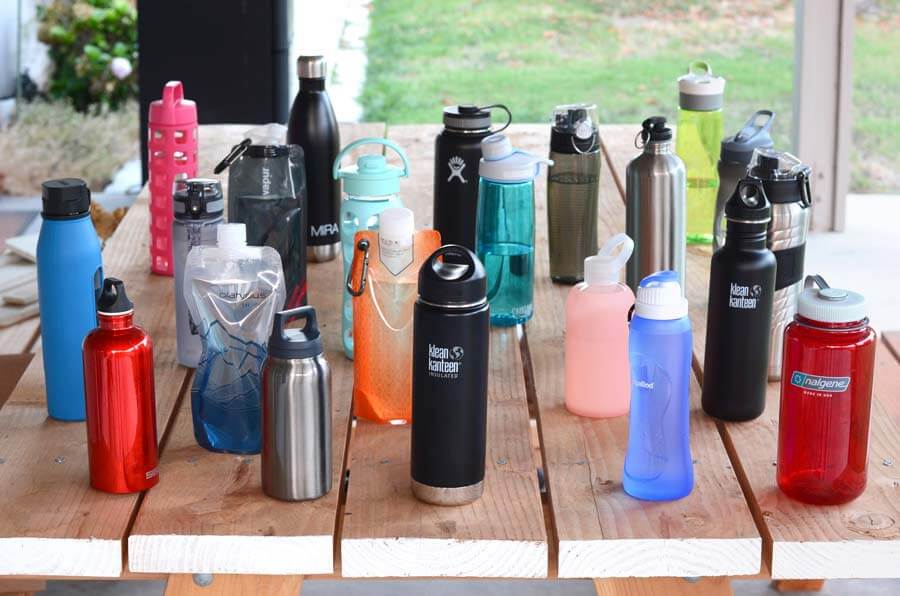 The 22 Best Water Bottles
We spent several weeks subjecting 22 water bottles to rigorous testing that included washing, carrying, performing leak and stress tests — and, of course, drinking. Of our five categories, we found the Klean Kanteen – 20-Ounce Insulated is the best water bottle due to its wide mouth, performance, versatility and sleek design.
We spent several weeks subjecting 22 water bottles to rigorous testing that included washing, carrying, performing leak and stress tests — and, of course, drinking. Of our five categories, we found the Klean Kanteen – 20-Ounce Insulated is the best water bottle due to its wide mouth, performance, versatility and sleek design.
Table of contents
Compare the best water bottles
Insulated Stainless Steel Bottles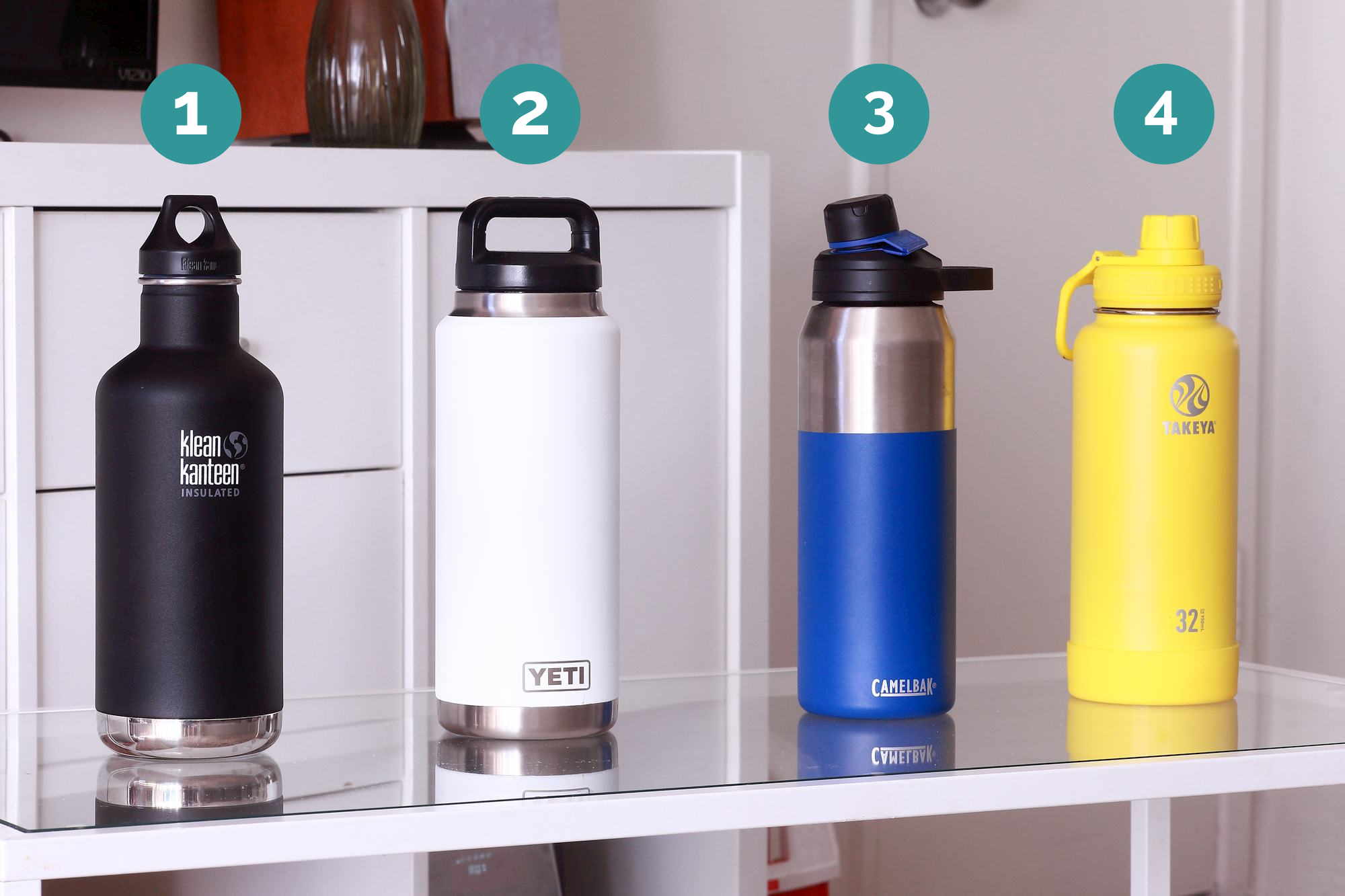 Glass Bottles

Stainless Steel, Uninsulated
Klean Kanteen with loop cap, 20 oz.
SIGG Traveller, 0.6L
Cheeki, 34 oz.
Plastic Bottles

Collapsible Bottles

Vapur Element, 0.7L
Tap, 16.9 oz.(discontinued)
Aquabod, 17 oz.(discontinued)
Platypus SoftBottle, 0.5L
Best insulated: Klean Kanteen
After testing a variety of sizes over the last three years, the best insulated bottle is from Klean Kanteen, either the 20-ounce wide mouth if you need a compact bottle or the 32 ounce classic if you want to keep beverages cold or hot all day long.
A smaller insulated bottle
The wide mouth of the 20-ounce made it easy to fill with ice and to drink out of, and its slim design made it easy to fit in cupholders and bottle compartments in most backpacks. The wider mouth is a slight compromise in insulation, but for a smaller bottle you might not notice the difference since you'll be refilling long before your ice is gone.
A Smaller Option
The big loop lid makes it easy to carry with a few fingers or loop onto bags with a carabiner. If you don't care for this feature, wide mouth Klean Kanteen bottles can also take the totally leakproof Cafe Cap 2.0 twist-open lid. We tested this design in our travel mug review. We liked it better than cheap flip-up lids, though it's not as good as other mugs for one-hand sipping and has a lot of parts to clean.
This bottle fared well in our drop tests with minimal damage to both the bottom and the lid. In the insulation tests it ranked 2nd for cold water, and 3rd for hot water. One downside of any steel bottle is that the mouth gets hot to the touch after letting it bake in the car on a hot day.
A larger insulated bottle for all-day cold
The Klean Kanteen-Classic 32-ounce is a great water bottle for storing and sipping ice-cold water without as many refills. The opening is about half an inch narrower than the wide mouth on Klean Kanteen's mug-size bottles, which means it's a little more tricky to pack with ice, but still much easier than the wine-bottle shaped MIRA and S'WELL bottles.
Whether you're filling with ice water or some other beverage, this insulation will keep it cold (or hot) for longer than any wide-mouth bottle. Klean Kanteen also sells this same bottle design with with a clamp-down growler lid for filling up at your favorite micro-brewery. (The Growler model also works with the standard lid.)
Best glass: Takeya – Classic
Our top pick for glass bottles was the Takeya Classic 22 ounce. We loved the large cap threads around the top of the bottle, which makes it easy to open and close the cap without missing the threads.
This bold and simple design of the cap helps prevent it from damage when dropped too. In our drop tests there was minimal cap damage, and the silicone sleeve surprisingly prevented the bottle from shattering. The sleeve design on this bottle makes it easy to see the remaining water levels too.
Just like the other glass bottles we tested, there's no insulation, but there's also no lead or chemicals and it's completely dishwasher safe. However, this bottle's perfectly sized for easy holding and drinking, and the silicone grip makes it even more secure if you're using it for sports. For more reviews on the best glass water bottle, read our in-depth review.
Best Stainless Steel: Klean Kanteen – Classic
The Klean Kanteen was an easy #1 pick out of the three finalists. The mouth was much bigger, easier to fill with ice and water and more pleasant to drink from. It also had a cap with bigger threads to more easily open and close the bottle.
Its lid was the best of the steel bottles we tested, but a bit squeaky sounding and not as smooth in opening and closing as the insulated or glass bottles. For those who want options, this brand has many cap options you can buy separately, like a sport cap or a sippy cap.
You also can't really appreciate the importance of the bottle's mouth size until you're trying to aim it under your fridge's water dispenser. Klean Kanteen sells a version of this bottle with a mouth that's even wider, but the classic is noticeably wider than the other two bottles we tested. It's easy to sip from, but still easy for adding ice, too. All three stainless steel bottles are very basic products and similar in concept, but the Klean Kanteen is built with better materials and feels like a more polished product, making it our clear winner in this category.
Best plastic: Thermos – Intak
We loved the Thermos – Intak, ranking it our top plastic water bottle. The flip top lid and single-handed use were pretty big factors that helped set this model apart. It's tough to beat that convenience.
This bottle's the only one that has a textured design built into the bottle to help improve grip — great for when you're using this for sports since this bottle builds up condensation with cold water inside.
This bottle's the only one that has a textured design built into the bottle to help improve grip — great for when you're using this for sports since this bottle builds up condensation with cold water inside.
This bottle's the only one that has a textured design built into the bottle to help improve grip — great for when you're using this for sports since this bottle builds up condensation with cold water inside.
Although all of the plastic bottles we used had markings to measure liquids on the side, the Thermos has a unique ring built into the cap ranging from 1-5 so you can track how many times you've refilled or used the bottle throughout the day.
Best collapsible: Vapur – Element
Our top pick was the Vapur – Element bottle. This bottle has a flip-top cap for easy access, but it also closes securely with an audible click and will not pop off accidentally in your bag. The Vapur and the Tap were the only two we tested with mouths wide enough for ice cubes and for a brush to fit inside for thorough cleaning.
This was a 0.7L model, and you can get the most of that capacity by first blowing up the bag to expand it before adding water. Materials and construction on this bottle are excellent and should last for many years of use. In addition, it's light weight and easily folded, which makes it great for taking on runs, hikes, or stowing away into luggage or carryons when traveling.
Other insulated water bottles we tested

The 25 oz. Mira bottle performed best in the cold water test. It likely gets a bump in performance due to its relatively small cap design — the main area where there isn't vacuum insulation and where external temps would seep in.
The smaller opening of this bottle also comes with a downside though — it's slightly awkward to drink out of since it's sized perfectly to hit your nose with each sip. In the hot water test, it was not a surprise that the Mira ranked second. The 25 oz. bottle we tested was a bit on the larger side for cupholders, so if you opt for Mira's 17 oz. bottle it would be a nicer fit.
As another great option geared for sports, we liked the 24 oz. Under Armour bottle. It ranked fourth in our cold water test, but is by no means a poor performer given its other perks. This bottle features a spring-loaded flip cap and silicone grip makes it easy for one-handed operation while running or driving. It even has a latch to ensure the bottle stays locked during transport in your backpack or gym bag. One downside is the manufacturer says this bottle can't be used with hot water, likely because of the plastic components in the lid.
The SIGG Thermo performed best of the small bottles in our first hot water test, sadly, it's becoming difficult to track down. Specifically designed for tea drinkers, the SIGG has a built in metal filter, if you won't ever use that feature you can remove it for hot water or coffee. You have to separate the lid by unscrewing it which is not as simple as it should be, but it is an option. We looked at the larger versions in Sigg's Classic series, but most owners agree they're better as a thermos (using the cup that slides over the base of the bottle) than as a bottle to drink from.
Other glass water bottles we tested
We ranked the 20 oz. Ello bottle in a close second place, largely due to its simplicity. It gets the job done without features that are prone to issues. Like the Takeya, it has large threads in the cap for easy opening and closing of the lid. Its large loop on the cap lets you carry the bottle with multiple fingers, distributing the weight for comfortable carrying for longer periods of time.
This cap design also helped spread the impact nicely in our drop test that left no noticeable damage on the bottle. Like the other glass options, we have lots of options in silicone sleeve design and color too.
The little drinking spout on the Life Factory bottle might be convenient to some, but there was no other hole to let air in as you drink from it, so you basically have to waterfall from the little spout to take a sip. Although this bottle didn't leak in our tests, the mini spout cap is very prone to popping off so you don't want to throw this into a bag that you can't keep an eye on.
The CamelBak' storable straw doesn't have issues with potential leaks because it is easily folded back when not in use. The uncentered design of the cap loop can affect the outcome of a drop depending on how it happens to be dropped, but in our testing it fared well. The CamelBak is a well-designed bottle overall that's easy to use, but the straw makes it pretty difficult to ensure a proper cleaning, putting it further down on our list.
It's hard for the short bKr bottle to go unnoticed — it looks very well designed! This one's basically famous for being used by celebrities and being covered in magazines. When we bought it, the price was $35; this is an astounding 2-3x the cost of the other glass options. The slanted cap made screwing the cap on particularly difficult, and the small spout makes it impossible to fit any ice or a bottle brush. The bKr bottle is definitely a design-centric purchase if you're willing to put up with its issues and price tag.
Other metal bottles we tested
The bottom of all of these bottles were dented in our drop test, which caused a few to wobble on the table. However, all remained leakproof afterwards. None of these were made to insulate liquids, and all had condensation running down the outside. These are a good cheap route to go if you just need to keep water cold for shorts amount of time.
The aluminum SIGG bottle is lightweight, but it has a tiny cap and threads. This made for a slightly clumsy opening and closing, and was the only bottle in this category that couldn't fit ice in the mouth unless it was crushed. The aluminum dented slightly on the bottom in our drop test but still sat perfectly flat on a table. Even though it can't fit ice, this bottle felt a little more polished than the Cheeki bottle.
The Cheeki was the largest stainless steel bottle we tested, perhaps contributing to the amount it was dented in our drop test. This bottle was noticeably uneven and even wobbled on the table after this test. Its mouth was large enough to fit ice cubes in, but the usage of the flip top lid is a bit awkward because of its small size and poor design. In terms of quality of materials, this bottle was easily the worst when you examine the cap material, design, and loop material.
Other plastic water bottles we tested
We loved the look of the plastic CamelBak bottle and it proved to be very durable and leakproof. The spout has a cap that locks into the lid, which is a bit difficult to snap in each time, but it works to keep it out of the way. This bottle features a loop that keeps the lid attached to the bottle when you remove the lid for refilling too, something not present on the Embrava or Contigo or Thermos.
Although the the Embrava and the Contigo also had single-handed operation, the Embrava was slightly on the small side, with six ounces less capacity than the top ranking Thermos. Embrava's next size up is a whopping 32 ounce bottle, which is a bit on the large side. However, we appreciated the spout's added air vent in the cap for easier drinking. The flip cap was surprisingly strong in our drop test too. If you prefer a slightly smaller bottle than the Thermos and can get past Embrava's design aesthetics, this was a close runner up.
Both the CamelBak and the Nalgene had large threads for an easy opening lid and a wide mouth for cleaning and adding ice. However, the Nalgene had pretty bad plastic smell, even after a few washes. It looks like many other owners of this bottle had this issue too, although many reported no smells. Perhaps they vary by bottle or manufacturing batch, but this factor, combined with a very cheap looking lid, pushed this bottle further down our list.
The Contigo Autoseal has a unique button you hold on the back to open the drinking spout. This bottle was leakproof when the button isn't held, but it's far too easy for that button to be pressed when thrown into a bag. Having to put your mouth on the bottle proved to be a little weird, and almost like a toddler's sippy cup, but it has an air valve so you can drink without having to waterfall.
These bottles are not for hot beverages. If you're looking for a hot beverage bottle take a look at our vacuum insulated stainless steel pick above. All five bottles we tested were made of the copolyester, Tritan, which is a trademark of Eastman Chemical Company. This material is popular because it's impact resistant, free of BPAs, as well as estrogenic and androgenic activity. However, every bottle we tested, including the collapsible plastic bottles, were made from BPA-free plastic.
Other collapsible water bottles we tested
Our second pick for collapsible bottles was the Tap, which was sold in a pack of two. Like the Vapur, it has high quality construction and has a wide mouth for ice cubes and for cleaning with a bottle brush. Cleaning is much harder without a wide mouth since it wouldn't clean well in a dishwasher. This bottle has a carabiner for convenience, but is only pushed to second place because lack of a convenient spout when compared to the Vapur.
The Aquabod is a unique bottle since you can roll it up, secure it, then stash in your gym bag or backpack until you're ready to use it. It's also the only collapsible one we tested made of silicone. The bottle has a neat spout designed to limit how much water comes out, but both the cap and the carabiner felt cheap compared to the others.
Although all these bottles have some flop to them when you drink, the Aquabod was extra floppy since there's less structure to it, forcing you to use two hands to drink most of the time. The flop also makes it difficult (but not impossible) to put this bottle into a backpack's bottle pocket, making clipping with the carabiner the way to go.
If you don't need a carabiner, you might appreciate the Platypu' more utilitarian design, and slim center for easier handling. Its mouth was too small for ice or a cleaning brush, so you might have to boil it or do lots of manual shaking to get it clean. The only reason to go with a Platypus is to utilize the push-pull cap option they have. For us, we would rather just go with the Tap bottle with a carabiner and wider mouth.
All bottles had a slight smell — plastic or otherwise, before the first wash. You might have to wash it a few times or soak it in vinegar and water to get rid of most of the smell and taste. If you're very sensitive to smells, you may want to consider another bottle material altogether.
Hydro Flask vs. Klean Kanteen
The 32 oz. Hydro Flask is a strong runner-up. Hydro Flask ranked 3rd in our cold water test and 4th in the original hot water test, but they're a very close competitor for our top pick. The loop on the cap makes it easy to pick up with one finger if your hands are full carrying other things and the grip on the cap makes it easy to open and close the lid.
We interviewed loyalists for each brand, and they all have glowing accounts of how great the bottles are. They also rave about how easy it was to get a replacement cap or sometimes even a free replacement bottle after a dramatic accident.
The biggest difference between Klean Kanteen and Hydro Flask is in the availability of different neck shapes. Hydro Flask uses wide-mouth openings for sizes from 18 to 64 ounces, with the narrower "standard" mouth is only available in 18, 21 and 14 ounce bottles. Klean Kanteen has almost the opposite selection, with their "classic" narrow-mouth design available in sizes from 12 up to 64 ounces, with wide-mouth options in 12, 16 and 20 ounces.
Since the narrower mouth is better at insulating while still making ice fairly easy to add, and the 32 ounce Klean Kanteen is more affordable, we think Klean Kanteen has the edge overall. If you're carrying a bottle packed with ice for sipping cold water on a hot day, the temperature difference is going to be less important and you should feel free to buy whichever bottle has the cap and styling you prefer.
Both of these brands also makes a spectrum of durable powder-coat colors that should satisfy anyone, but the availability of your favorite color might change from month to month. If you can't find the color you like in stock, it's probably worth checking the other brand.
What bottle type is best for you?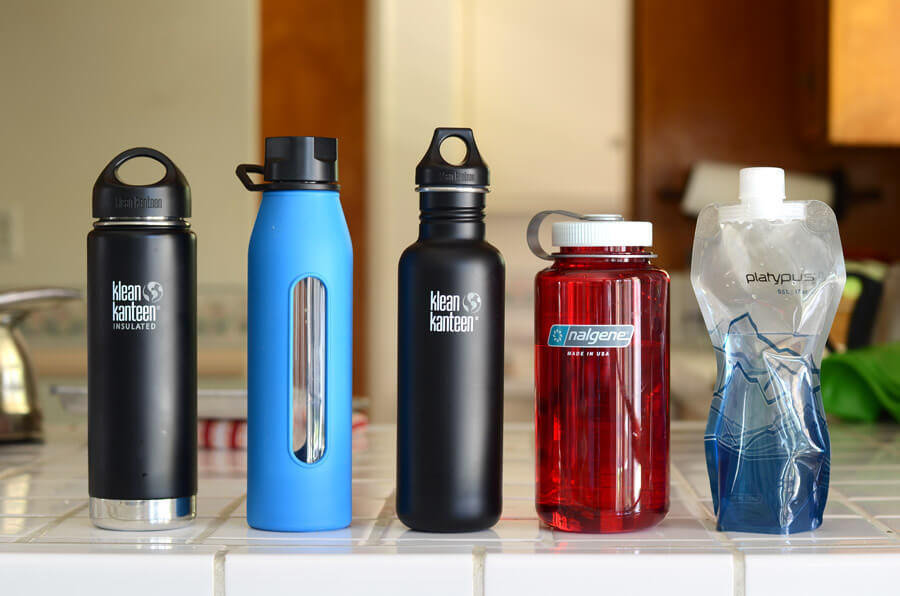 With all the different types of water bottles — plastic, metal, glass, insulated or not — it can be confusing to pick the best one for your needs. In addition to our top pick, we've identified four runner-up options to give you plenty of choices to pick from, including a collapsible version.
Each bottle material has its own strengths, and knowing the advantages of each will help you find a bottle you'll be happiest with. The only type of bottle to keep drinks hot or cold are vacuum insulated bottles. Every other type does not, and these other ones all form condensation on the outside when you put cold water inside. Check out the breakdown below for more differences:
Vacuum insulated bottles are the best way to keep your water super cold for an entire day, or to keep beverages hot for an impressive five hours. These insulated bottles have two inner chambers, one for the water and then one surrounding that with a vacuum channel. This proves to be a very effective method for insulation, but these weigh more because of it.
Glass water bottles eliminate plastic or metal tastes and chemicals / BPAs. Being able to see how much liquid is left without having to pick up or open the bottle is a nice perk. All were covered in a silicone sleeve for drop protection (no bottles cracked or shattered in our drop tests) but glass and silicone will not insulate your water. Condensation formed on all glass and silicone surfaces even though the silicone sleeves helped improve grip.
Stainless steel bottles are an effective, low-cost option. They're non-reactive, BPA free, and lightweight compared to glass or their insulated stainless steel counterparts. You can't put hot water in these as directed by the manufacturers (and you'll burn your hands). But if you just need something for short amounts of time and don't care about insulation, it's tough to beat the value. Some folks prefer glass to avoid the metal smell or taste, but we found no issue with tastes on these bottles at all. We also tested one aluminum bottle, which is a bit lighter but otherwise similar.
Plastic water bottles are geared towards sports and workouts. Even if you're not using it for those purposes you can still benefit from their sporty design features. Three of the bottles we tested had a flip-top lid that lets you drink using one hand, which we loved. They're also lightweight compared to glass and insulated bottles. Every bottle we tested was made of Tritan, a material claiming to be free of BPAs, estrogenic and androgenic activity. We still found these bottles to have the strongest smell though.
Collapsible water bottles are perfect if you're traveling or hiking and space is very limited. They are incredibly thin and the lightest weight option by a large margin — collapsible bottles we tested weighed eight times less than insulated bottles, and four times less than our tested plastic bottles. These do have a smell but mostly go away after a few washes.
How we selected bottles to test
There are a lot of water bottle options out there, so we started by narrowing our list of finalists by only selecting those that fit specific criteria. There are many materials and styles these bottles are made in, so we tested five of the most popular types.
We searched Amazon, Reddit, forums and other water bottle reviews to find the highest quality and most popular brands of water bottles.
A review on Outside Online cited a SIGG bottle that outperformed anything we've heard of in terms of thermoregulation, so we had to add that to the test list as well.
Every bottle we chose fit these criteria:
Water capacity: It held enough water to quench thirst, but it wasn't too big that it would be cumbersome to lug around. Many brands have larger bottles at 32 and even 64 oz capacities.
They're well-reviewed: Other reviews that praised bottles, and bottles on Amazon's best-sellers list were slightly favored.
Fewer issues with quality: Any bottles that have a higher than average history of complaints on build quality, leaking or other functional qualities were omitted.
They're not too specialized: We avoided bottles that were designed for very specific tasks, such as cycling.
They're not knockoffs: Whether it's a knockoff or rebrand, many of these are actually the same exact bottle so we didn't test duplicates. See more detail below.
Knock-off and rebranded water bottles
If you shop for water bottles online or in many retail stores, you'll notice many brands with products that look identical. For example, the Mira bottle we tested seems to have the same design as Simple Modern, ICONIQ, and the popular S'well to name a few.
The popular Hydro Flask looks to have the same design as 321 Strong, Glacier Point, and Fifty Fifty.
Some Redditors explained the source of the many knock-offs of popular water bottle brands out there: most knock offs are just rebrands that come out of the same factory as the originals. So we assumed their performance to be the same and avoided testing any rebranded products.
How we tested
There's a lot more that goes into a great water bottle than meets the eye! We put our 22 finalists through an extensive series of tests to see which would come out on top. Those tests included:
Thermal insulation test
Hot water test
Leak and drop test
Condensation test
Usability test
Thermal insulation test
Since drinking room-temperature water isn't something most people prefer, we tested every bottle for its ability to keep water cold. For the bottles that were designed for it, we tested their ability to keep water hot too.
We tested temperatures with an instant-read thermometer so the bottles only needed to be opened for a short amount of time during temperature testing.
Just for good measure, we tested the vacuum insulated bottles as well as the uninsulated bottles with cold water: glass bottles, plastic bottles, collapsible plastic bottles and stainless steel bottles. Starting with cold, 42°F water, we let the bottles duke it out in a temperature controlled room  and measured the temperatures along the way.
The cold water in uninsulated bottles rose a whopping 20°F in the first hour and coasted to room temperature after just five hours.
Insulated bottles, on the other hand, fared much better. It took about 20 hours for all of the bottles to reach near room temperature, which is very impressive! This means you can be sipping on ice-cold water throughout the course of a normal 8 or 10-hour day using an insulated bottle.

It's clear from the poor rank of the 10-ounce Sigg in this test that a big factor in keeping your drink cold is how much water is inside. With cold water (or ice), the more you can keep inside, the better it will stay cold.
Hot water test
Four of our five vacuum insulated bottles were suitable for use with hot water. We tested the Klean Kanteen, SIGG, Hydro Flask, and the Mira bottles. We added boiling water to each bottle, and adjusted water levels until each reached 196°F, then checked on them in even intervals.
We removed the lids and tested temperatures with the same instant-read digital thermometer we used on the cold water test. Hot water returned to room temperature much faster than the cold water did, but these bottles performed according to manufacturer promises.
2018 Updates: 32oz bottle test
In 2018 we tested our new contenders in another heat retention test. This time, we picked a standard size (32 ounces) and tested with an uninsulated stainless steel bottle as a control. Water started at a rolling boil, but by the time we pre-filled and blended the water between the bottles to get a fair comparison the average temperature was 184.
In this test, it was once again the narrowest-neck bottle that took top position. Unlike the narrow mouth on the Mira bottle from our first lineup, Klean Kanteen's Classic 1.7-inch opening is wide enough to fit full-size ice cubes, but it still gives an edge in insulation performance. 160 degrees after 12 hours is toasty, even on the edge of piping hot.
The other standout in this test is YETI, with the heavy (and expensive) Rambler Bottle. If you want top insulation with a wide-open mouth, YETI was only four degrees lower than the Klean Kanteen after a full twelve hours, compared to more than 20 degrees difference in the other wide-mouth bottles.
Leak and drop test
A bottle that leaks is not much more useful than a lidless cup, so we tested each bottle for leak potential. Thankfully, none of the bottles leaked with normal use and vigorous shaking or twisting, so we decided to do some drop tests to see how they stand up to some abuse.
We filled each bottle to 75% capacity, then dropped it from standing position three feet from the ground on its bottom, then once again on its top, and finally we pushed it off a table about three feet tall.
Surprisingly, all bottles remained leakproof after being dropped. All stainless steel bottles dented to some degree, and the uninsulated steel variety dented the worst, causing them to wobble when placed on a flat surface.
We expected the sport bottles with seemingly fragile flip caps — like the Embrava, Under Armour and the Thermos — to break or at least leak after they were dropped, but they did not. During one drop, the Embrava's lid actually shifted off the cap threads a bit and took some force to unscrew — yet it still remained leakproof after being put back on.
While dropping the glass bottles, we were bracing ourselves for shattered glass everywhere with each drop, yet no bottles ever shattered. The silicone sleeves did a good job of absorbing the drop impact.
Condensation test
Condensation forms on the outside of cold water bottles because cooler air around the bottles can't hold as much moisture as warmer air, causing the moisture to condense. This matters because it will affect grip on the bottle, as well as potential to damage electronics you're storing in the same bag as your water bottle if enough moisture is formed.
Every uninsulated bottle had condensation form on the outside of the bottle when there was cold water inside. Even the glass bottles with silicone covers had condensation form on top of the covers.
The amount of moisture was consistent between the bottles, but varied by day, depending on the humidity. If you plan to transport bottles with laptops or other electronics, the safest option is to use a vacuum insulated bottle or room temperature water.
Usability test
Each bottle went through usability testing, to see how it stood up to regular use.
Ice: We wanted to know if it was possible to add ice and how easy it was to add water. We used standard ice cubes from a freezer's automatic ice machine. About five of the bottles we tested didn't have mouths wide enough for ice or for cleaning with brush. Some could only fit one at a time, while many wider mouth bottles could be filled with multiple cubes at once.
Loops and grip: We took bottles out on trips over the course of a few weeks to test how easy each was to carry. Loops in the lid made it much easier to hold a bottle at the same time as groceries, bags or keys, whereas bottles without any loops forced you to dedicate a hand to it. Loops and clips make it easy to hang bottles from a backpack too.
Cupholders: Larger bottles and most collapsible bottles we tested were not made to fit in cupholders. Most fit fine, but some barely made the cut. We tested the bottles in our cars for fit.
Cleaning: Before the first use and after multiple refills, we washed each bottle by hand with a bottle brushing, hot water and dish soap. This proved fairly easy for most bottles, but a few caused problems with a spout that was too small, or just because the bottle was too long.
The bottom line
What better way to stay hydrated throughout the day and your workouts than by bringing along a bottle? There are so many types of water bottles and seemingly endless varieties within those that it helps to narrow down your search first.
We found it best to start your search by thinking about what you'll be using the bottle for most.
If you'll be stowing a bottle in a bag which may contain electronics or other moisture-sensitive items you want to keep away from condensation, a vacuum insulated bottle is the best option for you. Specifically our top pick, the Klean Kanteen. This is the only type of bottle suitable for hot beverages. This bottle is also our overall top pick too, because of its wide mouth design and easy usability and maintenance. This brand also has some well-loved lid options to fit your needs like the new Cafe Cap 2.0, and the Flip D-Ring lid.
If you're on the move or prefer something lighter, something made of plastic might be the best fit for you. For extreme portability at the cost of some utility, our top pick for collapsible bottles was the Vapur Element. If you're just hitting the gym or just want something lightweight and convenient to use at your desk, we recommend the Thermos Intak.
Although all the plastic bottles we tested were BPA-free, some still had an odd smell. If you're particularly sensitive to that kind of thing and don't care about insulation, the Klean Kanteen – Classic stainless steel bottle is a good option for you, thanks to its wider-than-normal mouth and easy-to-use loop cap.
And if you don't mind a little weight and like the clear look and vibrant designs that come with glass bottles, then we recommend the Takeya Classic. Glass is totally safe for the dishwasher, and is void of any smells or concerns about chemicals and tastes we have with the other bottles. Even if you're a bit of a klutz, our tests showed these all are capable of surviving a few drops.