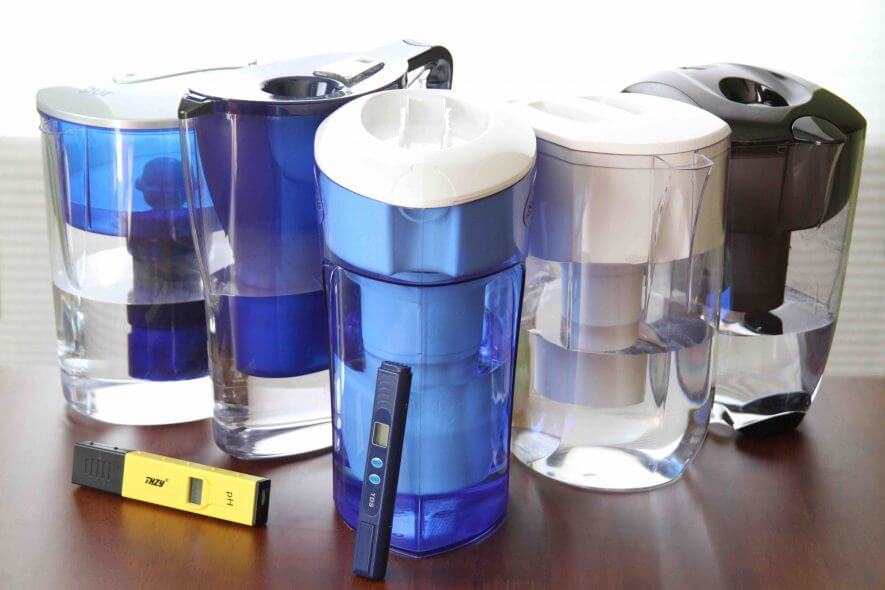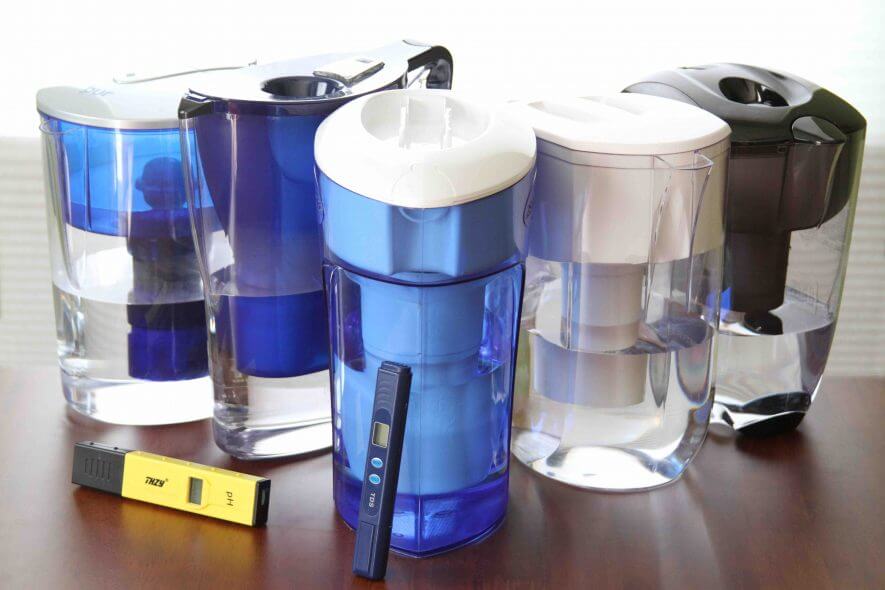 The 7 Best Water Filter Pitchers
We've researched water filters extensively, and after years of long-term tests with the best water filter pitchers we've determined that the Brita – Longlast Filter system is the best value and a good filter for chlorine and some hazards like lead. If you want to go a step farther, the ZeroWater – 6-Cup Pitcher deionizes your water to remove nearly everything. For this 2023 update, we recommend Waterdrop, which has a filter that lasts for 200 gallons.
We've researched water filters extensively, and after years of long-term tests with the best water filter pitchers we've determined that the Brita – Longlast Filter system is the best value and a good filter for chlorine and some hazards like lead. If you want to go a step farther, the ZeroWater – 6-Cup Pitcher deionizes your water to remove nearly everything. For this 2023 update, we recommend Waterdrop, which has a filter that lasts for 200 gallons.
Table of contents
The 7 water filter pitchers we tested
Best value: Brita – Monterey with Longlast Filter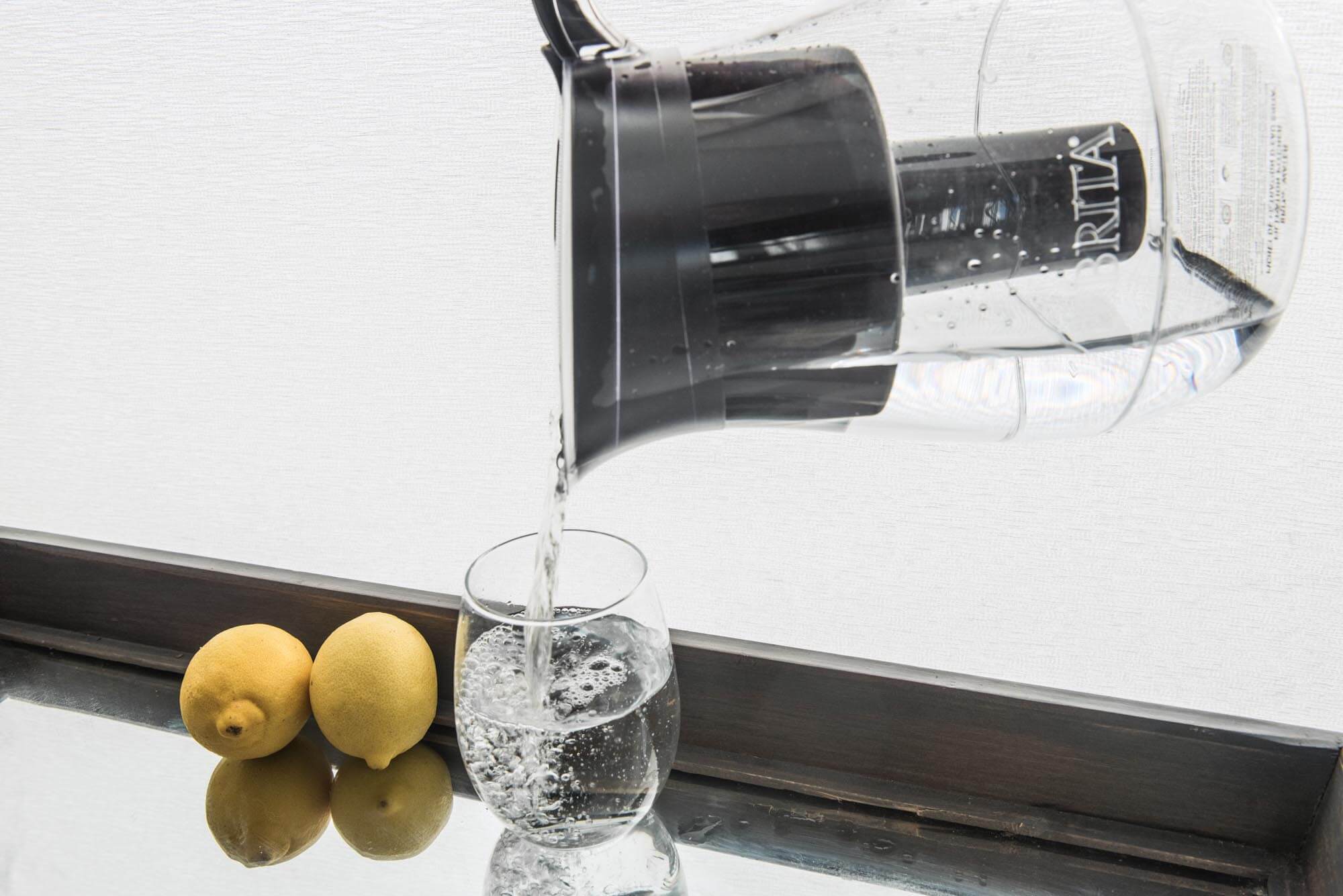 The Brita – Monterey comes from the most well-known manufacturer of water filter pitchers, and Brita is largely responsible for the growth in popularity of filter pitchers since the late 1980s when they were introduced to the U.S. market. Brita is the undisputed market leader, with more than two-thirds of overall water filter pitcher sales.
The standard Brita filter doesn't remove much more than chlorine for most households. With the new Longlast filter, Brita is trying to up their game: In the aftermath of the Flint water crisis, and with other cities discovering the liability of lead pipes in older homes, it's no mistake that "99% lead reduction" is front and center in Brita's promotional material.
Things we liked
Brita's system improves the taste of your tap water, and independent tests show it will remove heavy metals. For the vast majority of us, chlorine reduction is going to be the major concern, and safeguarding against accidental exposure to lead, cadmium and mercury is a peace-of-mind bonus.
The Longlast isn't as thorough as the carbon block used in Brita's faucet-mount system, but it is certified to clean out easier-to-grab organic compounds, such as benzene, and pharmaceuticals like ibuprofen. In a blind test, our judges couldn't tell apart the water from a Brita Longlast pitcher filter and the Brita faucet filter, but they each beat the old-style non-lead-removing filter.
The biggest win for Brita is value. These filters are certified to last for six months or 120 gallons. That's even longer than the carbon-block filters in their faucet-mount systems.
Things we didn't like
The two Brita pitchers we tested that are available with the Longlast filter included, the Everyday and Monterey, are 10-cup pitchers. They're heavy and a bit clunky to lift and pour from. (You can also fit the new filters into basically any Brita pitcher, like the 5-cup Metro.)
In a few instances, we also saw unfiltered water seeping out at the front of the reservoir if we tried to pour the first cup of water out while the top of the pitcher was still full. That's not an uncommon problem (the PUR pitcher will pop the top and spill all the water if you try this) but it's frustrating that so much work has gone into making elaborate dust-covers without fixing this basic part of the pitcher.
When we checked our water with a chlorine reagent test, we were surprised to find out that chlorine reduction was identical between a used-up Brita filter and a new one. The biggest taste improvement for most tap water is clearly the easiest job, unless you prefer the mineral-free non-flavor of ZeroWater.
Even the Brita Longlast filter, which removes slightly more minerals in a carefully engineered system to take out lead, won't do much to change mineral-heavy well water. If you only want to remove odors or set your mind at ease about lead and pesticides this kind of filter might be perfect, but it won't stop hard-water scale from taking over the insides of your favorite Keurig.
If you're looking for a reliable improvement in the taste of chlorinated water or an efficient way to prevent potential lead exposure, Brita makes a good pitcher with a great filter.
Key takeaways:
The Brita – Monterey Pitcher with Longlast Filter removes bad-tasting chlorine and dangerous metals like lead.
Brita's filters don't remove minerals the way ZeroWater does.
Many people prefer the natural taste of the minerals in their tap water, and Brita leaves them in.
The purest water: ZeroWater – 6-Cup Pitcher
Of all the water filters we tested, none were able to create pure water as effectively as the aptly-named ZeroWater filter. It's also the most expensive, unless you've already got mostly mineral-free water.
ZeroWater is different from all the other filters we tested. Instead of relying on activated carbon granules to do most of the filtering, ZeroWater filters are full of mineral-attracting ion exchange resin, plus some of the usual carbon media to remove chlorine and the easy-to-grab organic materials.
In other words, the ZeroWater filter removes essentially everything from the water itself — which is why they advertise the fact that their filters produce a reading of "000" on a "total dissolved solids" (TDS) meter. The upsides of this are apparent, particularly in areas where water quality is questionable or even dangerous.
Dissolved minerals aren't usually a bad thing, though. Some of them, such as magnesium, are beneficial for your health and for the taste of your water. There's some controversy around the practice of drinking mineral-free water, and one study recommends monitoring your mineral levels and taking supplements if you're not getting calcium, magnesium and sodium in your water.
During our testing we found that some people did not like the taste of ZeroWater, and some even said it had a "chemical" taste. This is ironic, since it's the absence of chemicals that leads to this result, but if you're used to the minerals in your water the change will be easy to distinguish. Still, other testers (especially those with reverse-osmosis systems at home) loved the taste.
After using the 10-cup ZeroWater pitcher for a year, we had to admit that it's a bit bigger than we'd like. We tried out the 6-cup pitcher, and it's easier to pour from. The spigot at the base of the 10-cup pitcher was a neat idea, but in practice it was so slow to drain, and we rarely used it. So, we've switched our recommendation to the 7-cup model.
Things we liked
We also like the fact that the ZeroWater pitcher comes with a TDS meter. Before you ask: Yes, we checked the results against another TDS conductivity meter, and no, ZeroWater isn't tricking you with some kind of rigged tester that only works with their own filters.
ZeroWater instructions recommend that the filter be replaced when the meter reads "006." This is helpful because you don't have to estimate how many gallons you've poured when replacing a filter. Instead, you can simply check on the TDS meter and replace the filter when the reading hits 006.
If the cost of filters is a turn-off, it's worth noting that ZeroWater has the best recycling program of all the water filters we tested. ZeroWater will actually pay $5 for each filter that is returned. This means that customers have an incentive not to fill up landfills with filters, and the ion-exchange media inside can actually be regenerated.
ZeroWater didn't succeed in designing a perfect pitcher, but at least the top is less likely to leak or pop off if you pour while the top reservoir is full. The fill port cover isn't as convenient as the flip-up design on the PUR or Brita, but there's nothing wrong with it.
Things we didn't like
ZeroWater filters are some of the most expensive pitchers we tested. While there are occasional email coupons and the recycling rebate helps, customers will still need to spend more money to filter water with ZeroWater than any other filter — particularly if they live in a city where tap water has high levels of dissolved solids. We looked around for alternatives that might allow cheaper replacement or regeneration of the ion-exchange resin beads, but this process is rare outside of industrial or laboratory use.
On the whole, the filter fits in at an uncomfortable middle ground. It's cheap enough to buy these filters that it's usually a viable alternative to bulk bottled water. But if you've got more than 300 PPM of dissolved solids in your water, ZeroWater cartridges will likely need to be replaced every 15 gallons or less. A water softener and reverse-osmosis system might still be cheaper in the long run for some well water.
Ultimately, ZeroWater is an easy-to-use option for those who want the purest water possible but can't install a reverse-osmosis system. If you want to add back some flavor, a squeeze of lemon does the trick nicely.
Key takeaways:
ZeroWater filters use ion-exchange technology to remove almost all minerals from your water.
This taste was a hit with some of our testers, but others prefer the natural mineral flavor.
The compact 6-cup pitcher is easiest to pour from, even while it's still filtering.
If you've got a lot of minerals to filter out, the ZeroWater filters might be more expensive than bottled water.
Also great: Waterdrop
There have been a lot of improvements made to water filter pitchers since we first began testing them, as evidenced by the Waterdrop pitcher. Even though the Waterdrop's water had a slightly metallic taste, this pitcher has decided benefits.
First, the Waterdrop's carbon filter can last up to an astounding 200 gallons, outdoing the Brita by 80 gallons. It's also the only pitcher that we tested in 2023 that removed all traces of chlorine and reduced alkalinity that matched the Brita. The Waterdrop's slim profile was designed to fit comfortably in most refrigerator doors, and it was the easiest to fill, thanks to an oval lever in the top of the pitcher that automatically opens inside as water is poured in.
The Waterdrop can hold 10 cups of water, and in our filling-speed test, it clocked in at only 49 seconds for filtering one cup of water. The pitcher also has a sensor that indicates when it's time to replace the filter, although it's not as visually precise as the Epic Water's sensor.
The Waterdrop pitcher is very reasonably priced, but the real bargain is the filters, which cost slightly more than $30 for a pack of three and calculates to only five cents per gallon. In many respects, the Waterdrop pitcher was our favorite for this 2023 update. Taste is, of course, subjective, and though our testers weren't as crazy about its taste as the two other pitchers we tested for 2023, it may suit yours and is worth checking out.
Key takeaways:
The Waterdrop pitcher's filter lasts up to a remarkable 200 gallons, 80 gallons more than our top pick, Brita.
Its slim profile is designed to fit into almost any refrigerator door.
The Waterdrop's filter replacements are an excellent value, calculating at only $0.05 per gallon
We tested two other water filter pitchers for this 2023 update, and results varied. Testing for 2023 differed from previous tests in that we began with tap water that had acceptable chlorine, mineral, and alkalinity levels. In all cases, the pitchers lowered levels but not as substantially as our top picks.
Epic Water
Of the three pitchers we tested for 2023, the Epic Water produced the best-tasting water. It has an attractive slim design that holds 10 cups of water, and its solid carbon-core filter has an LED countdown that begins counting backwards from 90 days when installed so you know exactly when you need to replace the filter.
The filter, though, is enormous, taking up a lot of room in the bottom receptacle that captures the filtered water, so when you fill the top half with water, the filtered water stays trapped in the filter until you pour water out. At four minutes, the Epic Water also took the longest to filter water, and it added a scant 5 PPM to tap water, which we account for as carbon from the filter.
On the plus side, however, the Epic Water filter lasts for 150 gallons, which surpasses the Brita Longlast filter by 30 gallons and is several dollars cheaper.
Aquagear
The Aquagear pitcher is manufactured by a small business that does good in the world by providing biosand filters to Tanzania for every filter that's sold and recycled. The difference in taste between Aquagear and Epic Water was minimal, and our testers were divided on which tasted better.
Aquagear claims its coconut-carbon filter removes 2000% more contaminants than other pitchers and retains healthy minerals, like calcium, magnesium, and potassium. We cannot challenge their claim, other than through testing, and after multiple tests, the Aquagear filter increased mineral deposits, even more than the Epic Water filter did.
For example, the TDS reading for our tap water was 135 PPM, while the reading for the Aquagear filter ranged between 199-205 PPM. We researched why such an increase in dissolved solids can happen, and depending on the efficacy of the filter, carbon particles filter through. These aren't harmful, but their presence does make the water less filtered as the other pitchers we tested.
The Aquagear pitcher holds 10 cups of water, like the other pitchers we tested, but it's much bulkier and heavier when filled. It has the same automatic filling lever as the Waterdrop pitcher, but it doesn't close properly, which could allow for dust and other debris to gather inside the top receptacle. Presumably, this would be filtered out, but it would be better if the lever sealed every time water was added. The filter lasts for 120 gallons, but it's pretty pricey, calculating to 37 cents per gallon.
PUR – 7-Cup Ultimate Pitcher
The water produced by the PUR water filter was polarizing among our taste testers. Some loved it, while for others it was their least favorite. After doing some digging, we found that those who had a preference for PUR water either used PUR filters in their home already, or had used them in the past — which goes to show the importance of familiarity when it comes to taste.
From a safety perspective, PUR is on par with the other filters we tested (excluding ZeroWater) so long as you use the "Ultimate" filter with the white cap for lead reduction. The pitcher itself is fine, but it doesn't distinguish itself except in the twist-lock system that tells you the filter is sealed.
Our biggest issue with the PUR was how slow it filtered, averaging nearly 4 minutes to filter 1 cup of water after several tests and three different filters.The feedback we found online was mixed, with some reporting similar stories and others saying the filters needed to be "shaken and mixed."
Ultimately, we think there are simply better options to choose from, with or without slow filtration times. Brita's Longlast filter lives up to its name with triple the filter life of PUR's filters, so if you're not interested in a zero-mineral taste profile that's our pick.
Clearly Filtered
In 2019 we took a chance on testing the non-certified Clearly Filtered water filter pitcher, to see how much there is to lose or gain with higher levels of filtration in a system other than the expensive ZeroWater.
The losses are pretty clear: price and speed. The refills for this system sell for more than $40, so the ongoing cost of ownership is about the same as a ZeroWater system in most cases. If you're handy with a hole saw, you can also get a reverse-osmosis system for about the same up-front price as the Clearly Water starter kit.
The Clearly Filtered pitcher took 10 minutes to filter one cup of water. This kind of performance makes the 3- and 4-minute times for Brita and PUR lead-removing filters seems speedy by comparison. It's not a hindrance to an occasional glass of water throughout the day, but if you find yourself filling three or four extra-large water bottles before a family outing it could be a major headache.
Clearly Filtered doesn't use a certifying authority like NSF or the Water Quality Association to test their products, but the results they post on their website are believable because of the long filtration time. Still, this system isn't giving you the purified taste of ZeroWater, and the price is almost as high.
BWT Designer Water Filter Pitcher (Discontinued)
We included the BWT pitcher in the first round of our tests, and it has an interesting and innovative design. The filter itself actually adds magnesium to the water, presumably to improve taste and increase the health benefits of the water. However, some of our taste testers did not like the flavor of the water filtered by the BWT pitcher.
BWT has their filters certified by the Water Quality Association, but they're only covered for cadmium, copper and mercury, not lead.
How we selected
We've been testing water filters since we started this website, and we've spent more than 60 hours researching the concerns and preferences of consumers who love to stay hydrated.
In our first round of research, we read studies on the types of contaminants that need to be filtered out to produce safe and great-tasting drinking water, and how the various water filters on the market work.
We also spoke with representatives and executives from the companies whose water filter pitchers we tested in order to learn more about how their filters work, and what differentiates them from one another.
Our research also included a deep dive into sources widely considered to be authorities on water safety, such as the Water Quality Association and NSF International, and we relied on their testing to gauge the effectiveness of manufacturer claims.
We scoured reviews, forums, and Reddit threads to determine which water filters were the most popular and which filters have problems.
How we tested
In order to determine the best water filter, we've used a combination of quantitative and qualitative tests to compare seven different water filters, and we've compared them with faucet-mount and reverse osmosis systems. Looking back at all of the testing we've done, we think your choice should be based on a good understanding of the tradeoffs, rather than an assumption that one product will be the best for everyone.
| Product | Seconds to Filter 1 Cup | Minerals Remaining (Starting 500 PPM): | Filter Cost per Gallon | Removes Lead |
| --- | --- | --- | --- | --- |
| Brita – Longlast | 188 | 300 | $0.09 | Yes |
| ZeroWater | 110 | 0 | $0.33 | Yes |
| PUR – Lead Reduction | 230 | 450 | $0.18 | Yes |
| Clearly FIltered | 730 | 400 | $0.46 | Yes |
| Brita – Standard | 40 | 350 | $0.10 | No |
| Waterdrop | 49 | 122 | $0.05 | No |
| Epic Pure | 223 | 141 | $0.24 | Yes |
| Aquagear | 85 | 205 | $0.37 | No |
| BWT (Discontinued) | 45 | 425 | $0.15 | No |
Mineral removal and taste tests
One of the first tests we conducted was a blind taste test, but over the years we've been surprised at how extreme the individual opinions on this ranking can be. In three different blind tests with groups of office workers, friends and family members, we asked testers to rank unmarked samples for qualities like "dirty," "refreshing," "artificial" and "crisp."
After running two different groups, the results were still tricky to draw conclusions from. But when we ran a third test with controls for what our judges drank at home, preferences lined up into categories: Filters that use mostly granular carbon (like Brita and PUR) were definitely more popular with people who drink tap water or spring water, and the mineral-free taste of ZeroWater is a clear winner with those who are used to a reverse-osmosis systems.
Results have shifted over the years for the top rank within the carbon filter group, but the important choice is definitely between leaving minerals in or taking them out.
Comparing these filter categories to bottled water brands, Evian and Arrowhead match the modest mineral levels of our tap water at 300–400 parts per million. (Perrier and Gerolsteiner are two or three times higher.) There are also bottled products that go through reverse-osmosis treatment to get near-zero levels of dissolved solids, like Dasani and Aquafina. Most bottled water sits somewhere in the middle, at between 50 and 150 ppm.
Water filter speed
We also tested each filter to determine how long it would take, on average, to filter one cup of water. While you might not be worried about this result, it's worth considering how long it takes to get more filtered water if you're ever going to fill bottles before a trip or serve water at a party.
For this test, the standard Brita filter is a winner at just 40 seconds on average to filter one cup of water. The slowest water filter in our tests used to be the ZeroWater filter, which took an average of 110 seconds to filter one cup of exceptionally-clean water.
When we switched to the lead-reducing versions of Brita Longlast and PUR filter, though, it was clear that their improved performance over standard carbon filters is related to the speed water is allowed to trickle through. They take about five times longer than the non-lead-filtering Brita, even longer than the ZeroWater.
With the fluoride-capturing Clearly Filtered pitcher, longer filter times are important to performance as well. But in this case it's almost unbelievably slow — over twelve minutes to filter one cup with a barely used filter.
Ergonomics
Our tests didn't stop with the filters. We also compared how well the pitchers work for delivering drinking water to a waiting cup or bottle. Most importantly, we looked to see whether the pitcher was comfortable to hold, even when it was completely full of water.
All the pitchers in our new lineup have features that allow you to pour before the top reservoir is empty, though the Brita and PUR both have flip-open filling ports you could use while holding the pitcher with only one hand.
None of these pitchers pour as well as we'd like. It's not exactly a problem, but each pitcher has one ideal pour angle where the stream is controlled. That narrow stream gets wider and more turbulent as you increase or decrease the angle and flow, so unexpected splashes are frequent until you learn just how to pour.
Pitcher size
We switched our top performer, the ZeroWater, from a 10-cup to a 7-cup pitcher because smaller pitchers are slightly easier to handle. They're also easier to fit in your fridge. With the smaller ZeroWater, you lose the direct-pour spout at the base of the bigger ZeroWater pitchers, but the flow from that spout is only a trickle. The PUR pitcher is available with the lead-removing filters in a smaller pitcher, but Brita only sells the better filters with a 10-cup pitcher like the round-base Monterey.
Chlorine removal
We wanted to see how much difference filter type really makes with taste's biggest enemy, chlorine. So, we called in a Hatch chlorine test kit that can detect a .01 part-per-million (ppm) difference in total chlorine.
The tap water we tested had between 0.7 and 1 ppm of chlorine across our tests over one year. We found that any filter we tried in our pitchers, no matter how long it had been in use, would remove all detectable traces of chlorine. The biggest changes in water taste are the easiest to make, so a budget-class Brita filter replacement from the hardware store isn't actually a bad buy if that's all you need. But if you're worried about lead or other contaminants, or if you want a mineral-free taste profile, you'll need one of these more expensive options.
Filter life
Filter life is the trickiest factor to rate. The water filters we tested all rely on capturing particles or attracting them to an activated medium, and that means they have a limited life. Unlike a ceramic or mesh filter that simply clogs up and doesn't pass water anymore when it's dirty, these activated filters will just become less and less effective over time as the contaminants build up and the water just flows past. If you let them go long enough, bacteria or mold can even start growing inside these filters.
Brita rates their standard filter for 40 gallons, and the Longlast Filter at 120 gallons. That's compared to our tested average of 15 gallons for a ZeroWater filter before it becomes ineffective.
As noted earlier, the life span of filters has improved substantially since we first tested water pitchers. For this 2023 update, the Aquagear filter matched the Brita filter at 120 gallons, but the Waterdrop and Epic Water filters have even better filter life at 200 gallons and 150 gallons, respectively.
Those "average" numbers are assuming a lot, though. If you've got more than 400 ppm of dissolved solids in your water, ZeroWater cartridges might need replacing after just 10 gallons. At about $10 per filter, a water softener and reverse-osmosis system start looking more reasonable if you're filtering more than a gallon per day of something like mineral-rich well water.
In contrast, the Brita filter is doing comparatively little to filter minerals, so it lasts longer. We watched the readings from a new Longlast filter for a few weeks, and after about 10 gallons the 20% improvement it showed over a standard Brita filter disappeared. You might get better-tasting water for 120 gallons, but after a month we wonder how much the filter is still doing.
If you're going to be diligent about replacing filters, the ZeroWater system is better at letting you know what's going on. You can check periodically with the included tester and see when the total dissolved solids climbs up from zero to 6 ppm, and replace the filter before it stops working altogether. When the filter media is saturated with metal ions, it actually starts to release some back into the water, and you'll immediately notice a sour or fishy taste. In comparison, you never really know when a Brita filter has lost its effectiveness.
Do you really need a water filter pitcher?
The benefit of filtered water is primarily taste. Even the most harmless particles can add undesirable flavors, so whether you're drinking water by itself, making coffee or brewing tea a filter pitcher will help.
Water treatment makes sure most of us in the United States have access to clean water. Some people have a private well that they need to monitor themselves, but the vast majority of us rely on a local water authority. Many of those offices will mail a consumer confidence report directly to you, or you can find it through the Environmental Protection Agency database. This shows how close household water is to the goals set by policy-makers. They'll also report on secondary standards, water-quality factors that affect taste, color and hardness.
When reading a consumer confidence report, if you see a listed contaminant that's too close to the limit for comfort, you can check for that contaminant on filter ratings before you buy.
Please note: None of the water filters we tested is certified to remove biological contamination. If you get a "boil water advisory" for your area, you should boil your water for one minute (and let it cool) even if you run it through a top-rated filter system to improve the taste.
Chlorine and taste
The main reason to filter drinking water is that chlorine and chloramine — the disinfectants used in most civic water supplies — taste awful. The amount is low, but you can make most tap water taste better by filtering it. This is all covered in NSF standard 42, which is the most common certification for consumer water filters.
When we tested with brand-new and well-used water-pitcher filters, we found that carbon filters are very effective at removing chlorine for long past their rated life.
What about lead pipes?
Water in our tester's city is lead-free at the source, but the consumer confidence report from the local water authority says that over 90% of the homes they tested have old pipes that add trace amounts of lead to tap water. It's about one third of the allowable level of lead but well above the public health goal.
This is a similar situation to homes in Flint, Michigan in the decades before the Flint water crisis. Those pipes were also considered safe, until a new water source corroded the protective mineral layer that was keeping the lead under control.
In response to the Flint crisis, lead filtration has become one of the most heavily-advertised features of water filters — for example, PUR has an upgraded version of their filters with lead reduction as the only distinction. All of the filtration systems we recommend are specifically tested to remove lead.
Filter testing certifications
NSF International works with many food, health and safety agencies worldwide as a private certification agency. Along with other standard-setters like with the American National Standards Institute (ANSI) and the product manufacturers, NSF establishes what's expected from a water filter, then they (or an approved partner like the Water Quality Association) test and certify products.
NSF isn't an agency that recommends products, though — they only test and certify passing results or approve tests from a few other labs like the Water Quality Association. These are the standard test groups for certified water filters:
NSF/ANSI standard 42 certifies that a water filter can improve taste and odor. It's an easy standard to meet with activated carbon and is the most common certification.
Class I Particle Filtration is typically included in standard 42 and means a filter will capture particles down to half a micron in size. That covers most microplastics as well as sediment.
NSF/ANSI standard 53 is the other common test group, and in this case it certifies that a filter can reduce levels of specific contaminants in water from unsafe to safe. Most filters have some NSF 53 certifications, though not all are certified for the same contaminants; it's important to note that the manufacturer chooses what to test for and advertise.
NSF/ANSI standard 53 — VOC is a subset of the safety test that covers volatile organic compounds ("VOCs"). Some VOCs, such as benzene, are easier to capture and can be tested individually. If a carbon filter is extra-effective — like the faucet-mount filters we've reviewed — manufacturers can choose a test with chloroform, which stands in for all the trickiest VOCs.
NSF/ANSI standard 401 specifically covers 15 contaminants that aren't yet regulated by health or water quality agencies. These include pesticides, flame retardants, detergents and pharmaceuticals. Only two of the brands we tested have been certified with any of these tests, and they each picked different compounds.
How many certifications is enough?
Comparing results for the different tests is tricky. "More certifications" sounds like a sure advantage, but remember that these are chosen by the manufacturers, and they only tell you about tests they pass.
An example of this complication: PUR has a comparison page showing their filters certified for removal of the VOC solvents benzene, carbon tetrachloride and tetrachloroethylene, along with three popular weed killers, while Brita's Longlast filter is only certified in these categories for removing benzene. Both brands picked three pharmaceutical compounds but not the same three.
Does the longer list mean the PUR is a better filter? No. According to standard carbon filter performance charts, these VOC compounds and herbicides are all expected to be captured in about the same way (a high or very high probability of being absorbed) by activated carbon.
Passing an NSF test requires that the performance stay consistent for three times the rated life of a cartridge, so it's also possible that Brita's narrower selection of compounds has more to do with the rating on how long you can use their filter — 120 gallons instead of 40 — and maybe Brita could have made the same claims if they'd chosen a shorter filter life rating.
We wrote to Rick Andrew of the Global Water Systems office at NSF International about the ways different tests are labelled, asking if different VOC listings can be considered equivalent. He noted that there are two levels of testing for VOCs: One test uses chloroform as a "surrogate" compound to stand in for all the rest, but individual compounds can also be selected for testing.
Rick notes that most filters are only tested for the volatile chemicals that are easier to grab: "The VOC surrogate test can be difficult to pass — this is intentional. So, there are individual contaminant reduction claims tests specified in NSF/ANSI 53. Filtration systems may meet these requirements, yet may not pass the VOC surrogate test."
If you're looking for more-complete filtering of organic chemicals like industrial by-products, our picks for faucet-mount water filters pass the most difficult VOC test. You can search NSF and WQA databases just in case someone has specifically tested for the compound you're worried about, but that's a frustrating process. The lead-removing filter pitchers are each grabbing some VOCs, but neither brand is a clear leader.
Can a pitcher filter remove fluoride?
Fluoride in water is a touchy subject. Studies continue to show that it can help offset the risk of tooth decay in the people who are most at risk. But most of us who brush with fluoride toothpaste don't need the fluoride in our water.
Setting aside the debate, if you want to remove fluoride from your water, what are the options?
Deionized water, as you get with a ZeroWater filter pitcher, is one option. These filters remove nearly everything from water for as long as the expensive ion-exchange media is still working.
A reverse-osmosis system will also remove everything, with a bigger up-front cost and some wasted water, but a long-term cost savings over ion-exchange filters. Distillation gives similar results, though it's slow and has high energy costs.
A specialized alumina filter can also work, as seen in community water projects in India that remove excessive naturally-occurring fluoride. There are now filter pitchers that use alumina, but they're very slow — the Clearly Filtered alumina filter takes more than ten minutes to filter one cup of water. The Berkey countertop water system is also available with a similar slow-acting alumina filter.
Thus far, NSF international has only tested and certified reverse-osmosis or distillation systems for fluoride removal.
The bottom line
If you're looking for water that is as pure as possible, and completely free of all dissolved solids (both beneficial and harmful), the ZeroWater filter is a great option; however you could wind up paying as much as bottled water costs for the filters.
Ultimately, any of the water filters we tested will easily improve the taste by removing chlorine. Brita's Longlast filter is by far the most cost effective, lasting three times more water than most of the other brands and removing more heavy metals than the basic Brita.