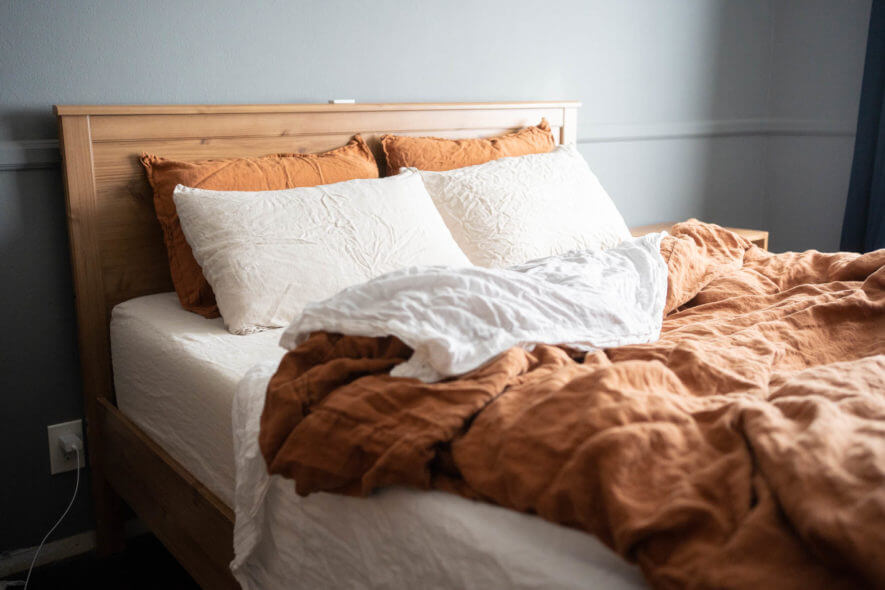 Parachute Sheets & Bedding Review
Parachute is one of the most well-known bedding brands to come onto the market since 2014. Parachute Home started as an online-only, direct-to-consumer brand that sold thousands of bedding sheets. We tested one of their most popular linen bedding sheet and duvet sets to see how well they hold up after months of use.
Parachute is one of the most well-known bedding brands to come onto the market since 2014. Parachute Home started as an online-only, direct-to-consumer brand that sold thousands of bedding sheets. We tested one of their most popular linen bedding sheet and duvet sets to see how well they hold up after months of use.
Why we're interested in the Parachute brand
We chose Parachute because it's a well-known brand for linen sheets. Based on recommendations from friends and family, it was a great starting point for testing linen sheets. Beyond this fact, we were also impressed by Parachute's various options for linen sheets, colors options, and company transparency among other things.
Each of the linen items we tested is made from 100% European flax and Oeko-Tex Standard 100 certified, which means these products are made without the use of harmful chemicals and synthetics. All bedding is produced from a family-owned factory in Portugal that has been manufacturing fabrics like linen for generations.
The Parachute sheets we tested
Since Parachute is best known for its linen bedding, we tested Parachute's most popular linen bedding options:
All bundled sets come in one color, so if you want to mix and match colors, we recommend buying some items separately. While we could've added a top sheet to our linen sheet set, we chose to buy a separate top sheet to buy a different color. This worked out because adding a top sheet to your sheet set doesn't technically save you money when bundling this together.
Percale vs linen vs sateen
When you're purchasing new sheets, it's more than just colors and patterns to choose from, but materials and fabrics like percale, linen, and sateen. The type of fabric is one of the most important things to consider for your bedding especially since you will be spending a majority of your life lying on your sheets. Here's a quick break of three of the most popular choices when buying new bedding:
Percale: These crisp and cool Parachute sheets are made of 100% Egyptian cotton and are best for use during hot summer months because they're breathable and keep you cool. If you prefer sheets with a matte finish, then Parachute's percale sheets are for you. Note that due to its 100% cotton material, it has a tendency to wrinkle faster than other bedding that is made up of a blend of materials or synthetic fabrics like sateen.
Sateen: If you prefer a satin-like, shiny finish to your sheets and are a cold sleeper, then sateen bedding from Parachute is for you. These sheets are also made with 100% long-staple Egyptian cotton but are less likely to wrinkle due to its finish and heavier weave.
Linen: This naturally durable fabric is breathable and perfect for those warm summer nights. Parachute linen is made from 100% European flax, which is known for its sustainability, hypo-allergenic, and antibacterial properties. This is a good choice for those warmer sleepers who appreciate a relaxed and rustic feel to their bedding.
Unlike other brands who list thread count on their websites, Parachute's thread count is nowhere to be seen on their website. They state that the use of thread count is often used as a marketing scheme, especially those with higher-end thread counts past 400. Instead, they advise consumers to focus on the type of bedding they want, the fiber content, and fabric finish (and Oeko-Tex certification for clean fabric production).
How we tested
Size: We tested the Parachute linen bedding on a queen size, memory foam mattress and a queen size down comforter. We made sure to check the measurements before ordering the sheets and noticed a discrepancy between the sizing of the duvet cover and our down comforter.
We opted to go with a queen size in order to make sure it fit inside. One con is that the comforter can shift inside the duvet cover and get misaligned during the night. We often had to re-align the duvet cover daily to make sure it was evenly spread out. To prevent this shifting, Parachute includes straps inside each of the corners of the duvet cover to tie itself to the comforter, unfortunately, some comforters (like ours) did not have anything to tie the straps to.
Texture: Admittedly, we were a little hesitant to try out linen bedding because it's also known to be more coarse in texture than traditional cotton sheets. Linen does have the ability to soften after a few washes, but this initial coarseness can sometimes feel scratchy against sensitive skin. However, we were pleasantly surprised to find that Parachute sheets were soft and pliant straight out of the packaging.
Parachute uses the process of garment dyeing each of its linen sheets after it's woven to add various colors to their sheets, but this process also relaxes and softens the fabric. They are Oeko-Tex Standard 100 certified, meaning they don't use harsh or toxic chemicals in producing their products. It's still concerning how these processes that color and soften their linens may affect their durability throughout years of wear.
After months of sleeping on and washing the sheets and duvet cover, the linen material has significantly gotten softer with every use without causing pilling or breakage so far. Linen is known for its durability because it's made of thick flax fibers–even with a cat sleeping and kneading on these sheets for months, it's durable enough to keep from tearing.
Appearance: Linen itself is known for its rustic and relaxed aesthetic, so it's important to remember that linen is easy to wrinkle even when it comes straight out of the dryer. After a few washes, these linen sheets crinkle easily along the edges and look a little disheveled compared to what they looked like coming out of the box.
Some reviews state that Parachute linen has a slightly heavier weight compared to other brands. The weight of these sheets along with their richly earthy colors give the linen bedding a luxurious, but relaxed look. We definitely prefer this effortless look to the bedding and it looks, even more, inviting at the end of a long day.
Temperature: For warm sleepers, linen is a perfect fabric to sleep in due to its breathability. Linen naturally wicks away moisture from your body and dries quickly due to the hollow flax fibers that make up the woven fabric. The linen Parachute sheets are no different and even allow us to use the duvet cover and comforter during warm summer months without getting too hot. Although in the winter, we foresee needing one more blanket for additional warmth.
Washing: We were surprised by the ease of washing the linen sheets once we read the instructions. Parachute recommends laundering their linen sheets in the washing machine using mild detergent and tumbling it dry on low. For those that want a neater look, you can also use an iron on low to smooth out the wrinkles but we prefer the rough and tumbled look.
After months of using the washing machine on these sheets, they've gotten significantly softer with every wash and have not caused pilling in any of the items. However, we have noticed that there is a lot of leftover lint in the dryer after each washing. This has not currently shown any wear on the linens themselves.
Parachute vs Brooklinen vs Boll and Branch
There are numerous linen bedding brands that are in the market right now. Parachute, Brooklinen, and Boll and Branch are all popular brands that are comparable in price, focus on sustainability, and millennial audience.
Based on their prices, each of these brands are relatively close in price, with Brooklinen being the most affordable and Boll and Branch being slightly more expensive than Parachute. Where each differs is their designs; There's an aesthetic for anyone.
Here's a quick breakdown of each company:
Parachute
Brooklinen
Boll & Branch
Price for Queen set
(1 fitted, 1 flat top, 2 pillowcases)
$279
(with added flat top sheet)
$242
$298
Bundle includes:
1 fitted sheet
2 pillowcases
(option to add a top sheet)
1 fitted sheet
1 flat sheet
2 pillowcases
1 fitted sheet
1 flat sheet
2 pillowcases
Material
100% Linen, made from European Flax
100% Linen, made from European Flax
100% Linen, made from European Flax
Certifications
Oeko-Tex Standard 100 certified
Oeko-Tex Standard 100 certified
Fair trade
Oeko-Tex Standard 100 certified
Color availability
Many earthy neutrals
Bright colors & patterns
Low options, mostly blue hues
Return policy
Within 60 days
Within 365 days (with a $9.95 processing fee)
Within 30 days
Parachute's return policy
If you find that Parachute's sheets aren't to your liking, they also allow returns within 60 days of delivery in the original method of payment–all shipping and handling fees are nonrefundable so keep this in mind when purchasing products. The only items that aren't up for a refund are final sale items, furniture, and other items listed on their website. Make sure to read all the details about each item before purchasing.
What's great about returning a product is that you don't have to feel bad about wasted items either. Parachute donates all usable bedding items to their partners at Habitat for Humanity of Greater Los Angeles and Habitat for Humanity of Berks County.
The bottom line
If you find the price range to be a little high, Parachute does hold sales twice a year during Memorial Day and Black Friday where you can save about 20% off or more on their linen beddings products.
Coming from basic discount sheets found at your local department store, Parachute linen sheets definitely felt luxurious and induced many relaxing nights. If you want an upgrade from your everyday cotton sheets, but enjoy a relaxed and super soft bedding (and are willing to put up a little extra cash for these sheets), then we would definitely recommend Parachute linen bedding.