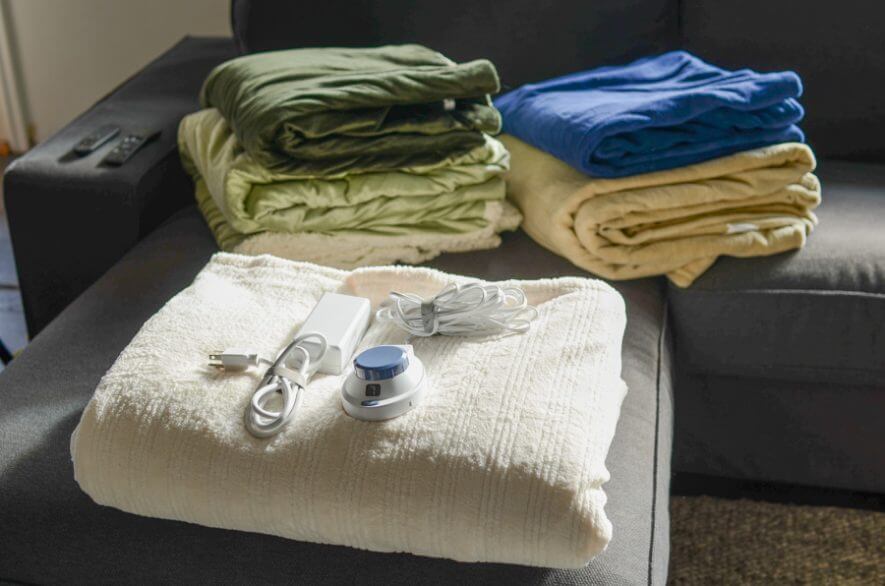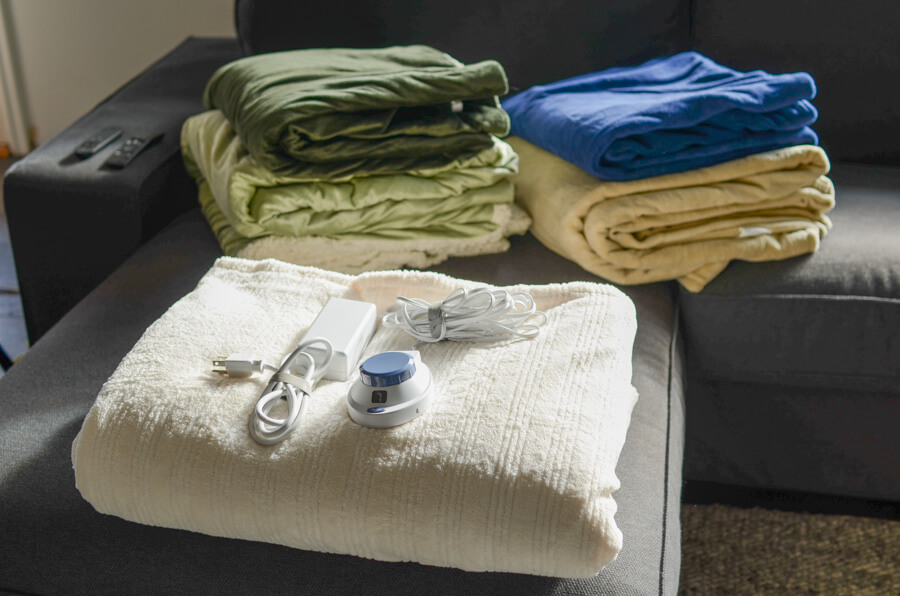 The 8 Best Electric Blankets
After more than 50 hours of testing, we concluded that the SoftHeat – Ultra Micro-Plush is the best electric blanket. With its low voltage DC current and auto-shutoff feature, the SoftHeat blanket is the safest choice of the electric blankets we tested. We also recommend the Sunbeam – Sherpa Mink electric throw with its unique warming system that senses body temperature and room temperature and automatically adjusts heat levels. For this 2022 update, we tested three additional electric throws, and the Tefici – Electric Heated Throw proved the best of the lot for keeping you cozy on a chilly day.
After more than 50 hours of testing, we concluded that the SoftHeat – Ultra Micro-Plush is the best electric blanket. With its low voltage DC current and auto-shutoff feature, the SoftHeat blanket is the safest choice of the electric blankets we tested. We also recommend the Sunbeam – Sherpa Mink electric throw with its unique warming system that senses body temperature and room temperature and automatically adjusts heat levels. For this 2022 update, we tested three additional electric throws, and the Tefici – Electric Heated Throw proved the best of the lot for keeping you cozy on a chilly day.
Table of contents
The 8 electric blankets we tested
Best overall: SoftHeat – Ultra Micro-Plush
Safety is a major concern for most electric blanket users, so it's no surprise that the low-voltage SoftHeat is one of the most-reviewed heated blankets on Amazon.com.
It uses low-voltage technology, with a small power supply box that changes 115 volt AC power into non-hazardous DC power for added protection and safety (even if the blanket becomes wet). It operates on less than 25 volts, about the same amount of current it takes to operate a light bulb.
Some users report that SoftHeat takes longer to heat up than a traditional heating blanket, due to its use of DC power, but we found that its unique preheat feature put it on par with the other blankets we tested. The indulgent and incredibly soft microplush fabric exudes a soft warmth.
If you're wondering what soft heat feels like, we'd compare it to cuddling up with warm towels fresh from the dryer. It does not feel hot to the touch nor does it heat up surrounding fabric such as sheets (even though it registers on the infrared thermometer at 104.1℉ on its highest setting), but you do experience warmth once you are wrapped up in its cozy softness.
If you're using an electric product merely to warm up a bed and plan to turn it off before getting in, you may want to consider an AC-powered blanket that does heat up the surrounding fabric.
One of the aspects we truly appreciated about SoftHeat was the "invisible wires." Because each wire is wrapped in a layer of fiberfill that directs the heat down towards you, you feel warm, but you definitely do not feel the wires. As flexible as they are undetectable, the ultra-thin wires allow you to bend, mold, or shape the blanket as you desire.
We loved how easily we could wrap it around ourselves and how it was less bulky on the bed. It also folds up as neat and small as a regular blanket, which allows for easier storage when the blanket isn't in use.
The non-slip digital controller is easy to read and adjust, with a lighted dial and an extra-long cord that was useful to reach outlets in any part of the room. While we tested a full-size blanket, the king size is divided in two separate zones and comes with two controllers to adjust the temperature of each side of the bed, allowing for individual comfort and control.
We appreciated the fact that SoftHeat is both machine washable and dryable (be sure to read the manufacturer's instructions for settings). Since you're most likely to use an electric blanket during the winter, finding a place to hang-dry a full-size or larger blanket could be a bit cumbersome. The other finalists we reviewed allowed for partial machine drying, but only SoftHeat and Serta were able to machine dry from start to finish.
With home heating costs on the rise and a move toward preserving natural resources, the low wattage of SoftHeat is an incredible boon to those looking to save money and energy. The Department of Energy estimates the average electric blanket to use 400 watts (although our five finalists used far less), and the low voltage SoftHeat blanket uses only 73 watts according to our test.
While priced slightly higher than other electric blankets of the same size, you can clearly see that it would quickly pay for itself. It's also about $40 cheaper than the comparably featured Serta Luxe Plush when this review was initially published, making it our clear winner.
Key takeaways:
The low voltage technology of the SoftHeat is similar to a battery and uses the same amount of voltage as a light bulb. You can rest assured that you're using one of the safest electric blankets on the market.
Ultra-thin and flexible wires wrapped in fiberfill make SoftHeat more like a traditional blanket than an electric blanket.
Costing less than $4 a year to use throughout the night during the cold months, SoftHeat will pay for itself in energy bill savings.
Best throw: Sunbeam – Sherpa-Mink
With its snuggly soft texture and cozy fleece side, the Sunbeam – Sherpa-Mink Throw Blanket is perfect to curl up with even before you turn the heat on. In fact, the premium soft material and plush thickness of the sherpa means you don't even feel the wires when the blanket is resting against your body.
It comes with Sunbeam's proprietary Thermofine warming system, which senses both your body temperature and room temperature and adjusts to deliver consistent warmth. We love this feature because if your feet are cold, Sunbeam's warming system automatically senses this change and directs additional heat to your feet. The system also employs patented carbon-based polymer Positive Temperature Coefficient sensing capability to provide more uniform heat.
We highly recommend this blanket when cozying up on a couch or recliner. At 50×60", it's perfectly sized for when you want to spend the evening hours in your living room reading or watching television. (Using an electric blanket in the evening as well as night allows you to lower your thermostat for even more hours of the day and adds up to greater cost savings.)
The three-hour auto-shutoff is convenient for evening use because if you forget to turn it off before going to bed, you won't have to worry. However, if you're planning on using this blanket to keep you warm all night, the short time frame for the auto-shutoff may mean you wake up with no heat source.
The cord has only three settings and is lighted for easy use in the dark. With a shorter power cord at six feet, this is again designed for use in a couch or reclining chair close to an outlet. In a bedroom, the shorter power cord may be slightly inconvenient. But for use in a living room, it's hard to beat the luxurious feel of sherpa and royal mink.
Key takeaways:
The Thermofine Warming System used by Sunbeam in the Olive Sherpa Mink Throw senses changes in body and room temperatures and adjusts accordingly for better sleep.
Whether you prefer ultra-soft RoyalMink fabric or snuggly sherpa against your skin, this reversible throw is the ultimate in cuddly softness on either side.
Also great: Tefici – Electric Heated Throw
For this 2022 update, we tested three different electric heated throws, and the Tefici – Electric Heated Throw used less wattage and produced a higher temperature than the other two. Like most electric throws, the Tefici measures 50×60″, so it's really only intended for snuggling up on the couch or in a chair. Many electric throws (certainly the three we tested for this update) have an actual measurement of the heating element that's less because of borders on all four sides. So, in the Tefici's case, the actual heating space is 44×38″.
The description of this throw is "flannel," but it's really micro-plush and is very soft to the touch. The plush is thick enough on both sides so the heating wires, spaced at 3.25″ apart, are barely noticeable to the touch. The Tefici has a generous 10-foot power cord, which allows you to move around without feeling tied down to one position.
The Tefici has three heat settings, and it took 5 minutes to reach the low setting, which hovered between 74-78F, and another 10 minutes to hit the highest temperature, a very toasty 105F. Because of the wide borders, we had to rearrange the throw over our shoulders and back to find the sweet spot where we felt the heat, and once we did so, the throw produced ample heat, particularly when we leaned up against a couch bolster or pillow. The Tefici comes in a larger size — 84×62″ — which could easily fit a twin or full-size bed.
Key takeaways:
The Tefici electric throw was the best of the three other throws that we tested for this 2022 update.
It reaches its highest temperature — a toasty 105F — in less than 15 minutes.
The Tefici has a generous power cord so you don't need to stay put in one place
Sunbeam – Microplush Throw

The Sunbeam Microplush wins praise for its ultra-soft material, exclusive Thermofine warming system, and heavier PrimeStyle controller. It's another good option for those desiring a throw blanket to use during the evening hours. The Sunbeam Microplush heats hotter than the Sunbeam Sherpa Mink, ranging from 93.1F at its lowest setting to 104.1F at its highest. If a warmer blanket is important to you, this makes the Sunbeam Microplush a good choice.
For those that are budget-conscious, it's also the least expensive blanket that we reviewed. Since it has many of the same options as the Sunbeam Sherpa Mink throw, such as an easy-to-use controller and three-hour auto-shut-off, it offers plenty of bang for your buck.
Biddeford – Heated Micro Mink
We couldn't get enough of the high-quality Sherpa and Micro Mink fabric, which makes the Biddeford Heated Micro Mink & Sherpa blanket an exceptionally cozy and snuggly soft blanket. It features ten heat settings, a ten-hour auto shut-off system, and an ultra-thin wire that is undetectable through the sherpa side.
We tested the full size, but the queen and king sizes also have the additional feature of dual temp control. The dual temp control has two entirely separate heating mechanisms, with separate cords and separate controllers for total warmth independence. Users appreciate its luxurious feel and therapeutic warmth, and ability to stand the test of time.
Veohaut – Heated Electric Throw
For this 2022 update, we tested the Veohaut – Heated Electric Throw, and despite its relatively positive reviews on Amazon, it didn't prove to be a winner in our testing. It measures 50×60″, but because of the non-wired borders on all four sides, the heating element actually measures 36×48″, which should have been enough to provide sufficient warmth around the shoulders and back. Its wires are spaced 2″ apart — which could be very noticeably felt beneath the thin microplush — potentially indicating that more heat would be generated, and that wasn't the case.
The Veohaut has six heat settings, each of which increases by only 2 degrees. In fact, the difference between settings was so negligible, the lower settings were useless. The highest setting hit only 90F, and to really feel the warmth, we had to wrap ourselves tightly in the throw.
Serta – Reversible Sherpa Throw
Because we loved our former runner-up, the discontinued Serta – Luxe Plush, we had high hopes for the Serta – Reversible Sherpa Throw. This throw measures exactly the same as the Veohaut and came with the exact same instructions, so we're presuming that both are made by the same manufacturer and rebranded. The Serta had a temperature range of 78-96F but only in a small square in the center of the throw. We measured temperatures from the corners and around the center square, and they were very spotty and uneven, ranging from 78-84F.
We really needed to bundle the throw around us to feel any heat, and although it was warm and comforting, this is not a throw suited for people who want or need a higher temperature for therapeutic reasons.
Serta – Luxe Plush (Discontinued)
(Editor's note: We learned that the Serta – Luxe was discontinued in 2022.)
The Serta – Luxe Plush has similar features to the Soft Heat blanket, at a higher price. Serta is a well-recognized name in the mattress and bedding world, so this electric blanket comes with the reassurance of a leading brand dedicated to quality and consumer satisfaction. There's also the option to purchase coordinating Serta products, such as low-voltage micro-fleece throws.
The Serta Luxe Plush is made by Perfect Fit Industries, so it uses the same patented Safe & Warm low voltage technology as the SoftHeat Ultra Micro-plush and has many of the same features, including:
Innovative, energy-saving, and extremely safe low-voltage technology.
An additional inner layer of fiberfill and soft fabric that covers each thin wire, making it undetectable and distributing the heat evenly without the bulkiness of traditional electric blankets.
A pre-heat feature that allows you to warm your entire bed before getting in.
Independently zoned heating and dual controllers with the king- and queen-size blankets.
A completely machine washable and dryable blanket is convenient during winter.
The areas where the Serta Luxe Plush excels are in weight and cost-efficiency. At 7.4 pounds, it is the heaviest blanket we reviewed. With super soft micro-fleece fabric, the Serta Luxe Plush is one of the softest, most flexible, and most comfortable electric blankets on the market. Of the five finalists we tested, it's also the least expensive product to operate. With a wattage of 68, it only costs $3.25 annually to use nightly in the winter months.
Users credit the Serta Luxe for its longevity, quality, and performance, and after thorough testing, we are inclined to agree.
How we selected
We started out our testing process with market research, combing through articles and blogs on the topic of electric blankets. Our research phase involved finding out the features and benefits of using an electric blanket, the safety and care of electric blankets, and the principles of AC and DC power (two options when choosing an electric blanket).
Then we used sources such as subreddits like r/frugal and YouTube video reviews to gather input from consumers on which are the most popular choices for electric blankets, and which features are the most important to users when choosing an electric blanket. This allowed us to narrow the field down to our five finalists.
Finally, we busted out our ruler, scale, infrared thermometer, and Kill A Watt Electricity Usage Monitor to dive into the nitty-gritty details of our electric-blanket finalists to see which would emerge as the best electric blanket.
How we tested
Test #1: Cost efficiency
Since one of the major reasons to purchase an electric blanket is to reduce energy use and save money, let's take a look at the cost breakdown to use each of these electric blanket finalists annually. We tested the energy consumption of each finalist by first testing the wattage with the Kill A Watt Electricity Usage Monitor. It connects to household appliances to assess its energy use in voltage, watts, and kilowatt hours.
For this test, we looked at the costs of using each electric blanket on a medium setting for eight hours a night for a period of 50 days. According to the U.S. Energy Information Administration, the average national cost of electricity is about 12 cents per kilowatt hour for residential use, which is the number we used to tally our total costs. (For this 2022 update, the national cost of electricity is 13.72 cents per kilowatt hour, and we adjusted our calculations for the three new blankets we tested accordingly.)
We found that any electric blanket is the least expensive method of heating, with the most expensive blanket to operate (the Sunbeam Olive Sherpa Mink) costing only $7.82 per year. The other AC-powered ranges were also in the $7.00 range.
However, the SoftHeat and Serta blankets, which convert to DC power, cost less than four dollars a year to operate. When you think of the high energy and fuel costs to heat an entire home, and how much you could reduce your energy bill by using an electric blanket at night for part of the year, that's a huge incentive.
Test #2: Heating capabilities
If you're using an electric blanket to reduce your heating bill, you want to know that it will keep you warm at night while the thermostat is set at a lower temperature. Of course, how warm an electric blanket gets can be subjective when reviewed by consumers.
When the temperature is chilly outside (or inside), the blanket may not feel as hot as it would on a warmer day. This is especially true if the user has a lowered body temperature for any reason, or is prone to feeling cold.
To counteract this objectivity, we used our infrared thermometer as a diagnostic tool. Because it measures temperature within a two-percent plus or two-degree minus range, we felt confident our reading would accurately reflect a true comparison between electric blankets. We checked the exact temperature at high, medium, and low settings. For blankets with ten settings, we checked the temperature at settings one, five, and ten.
Many electric-blanket consumers use the preheating feature when available, or manually preheat the blanket before retiring to bed. However, it's nice to know that you can warm yourself up quickly when necessary. We looked at the number of minutes each finalist took to heat up, using a timer and the infrared thermometer. We tested at five, ten, and fifteen minutes to determine how long each blanket took to reach its maximum temperature.
Each of our finalists averaged the same amount of time to heat up, taking five minutes to reach the temperature we measured at the lowest setting, and a total of fifteen minutes to reach its highest temperature.
The Biddeford Micro Mink & Sherpa blanket reached the highest temperature of all the blankets, at 107.1 degrees Fahrenheit. It also had the widest range of temperatures, with a low setting of 81.7 degrees. Close behind in ranking for the highest temperature were the Serta and SoftHeat blankets, at 105.8 and 105.7 degrees respectively. The Sunbeam Olive Sherpa & Mink blanket ran at the lowest temperature setting, with a high of 85.4 degrees.
Test #3: Evenness
According to the many consumer reviews we read, a heating product with hot or cold spots is the bane of electric blanket users. In order to get the maximum benefit of an electric blanket, it's important for the heat to be distributed evenly.
First, we measured the spacing of the wires. We looked at the distance between the wires, and how close the wires ran to the edges. The more evenly the heating element is distributed, the more likely it is that the blanket will give off a uniform heat.
We then checked all four corners and the center of each blanket, testing by hand to make sure there were no hot or cold spots. Then we double-checked with the infrared thermometer, again testing all four corners and the center to make sure the heat was distributed evenly.
Each of our finalist blankets did a great job of heating evenly, with no discernable hot or cold spots. However, in terms of overall heat distribution, the SoftHeat and Serta blankets were both clear winners, with the most uniform feel of warmth when under the blanket.
While the "invisible" wires were undetectable, and we were, therefore, unable to take measurements, the manufacturer for each of these blankets states the width at three inches apart, much closer than traditional electric blankets.
Although the wires of the Sunbeam Microplush were centered towards the middle of the blanket, it had the closest distance between wires, at only one and a half inches apart.
Test #4: Comfort
You may be influenced to purchase an electric blanket for the cost savings, but when it comes to picking out the brand and style, it all comes down to comfort. Is it soft and cozy? Is it easy to use? Will it be your go-to blanket for curling up in front of the television or getting into bed at night? After all, if an electric blanket doesn't get used, it won't benefit your energy bill.
We looked at four benchmarks for this test: plushness, weight, cord length, and wire thickness. First, we used a ruler to measure the thickness of each blanket to determine the plushness. The fleece-lined blankets (Sunbeam Royal Mink Sherpa and Biddeford Micro Mink Sherpa) were both noticeably more plush to the hand, as well as half a centimeter thicker than the other blankets.
Next, we weighed the blankets. After all, a heavier blanket is warmer in the winter, even before you reach for the controller. The Serta Luxe Plush was the heaviest blanket at 7.8 pounds, and the SoftHeat Ultra Micro-Plush was the next heaviest at 6.8 pounds. Of course, the throw blankets were both lighter due to size, with the Sunbeam Royal Mink Sherpa weighing 3.5 pounds and the Sunbeam Camelot Cuddler weighing just three pounds.
Because a longer cord allows for easier reach to electric sockets without pulling the blanket, we measured the length of each cord. The throw blankets both had a short reach of nine feet, which correlates to use on a couch or recliner. The Serta and SoftHeat had the longest cords, reaching 23 feet and comfortably stretching to any outlet in the room.
Finally, we looked at wire thickness. Being covered up by fabric, this was difficult to measure with a ruler, so we used a flat palm to run our hand across the surface of the fabric. With all but the Serta and SoftHeat blankets, which have "invisible wires", we could easily detect the wires running through the blankets.
However, the Sunbeam Royal Sherpa Mink and Biddeford Micro Mink Sherpa blankets were lined with fleece, meaning that once we had the blanket covering our lap, the wires were undetectable from the side closest to our body.
Why use an electric blanket
When the temperature drops, you may find yourself reaching to adjust the thermostat. But is that really your best option? According to the U.S. Department of Energy, heating and cooling are the largest expenses for most homes, accounting for more than half of the energy use in a typical household. In the winter months, this can cause your electric or fuel bills to skyrocket, especially if your home is more than 20-years old.
Making smarter and more informed decisions about how you heat your home can save you a significant amount of money.
At night, you spend an average of eight hours in a single room sleeping. If you can avoid heating the whole house during this time, or even lower your thermostat by a few degrees, you can appreciably lower your heating bill.
A space heater is one way to heat a small area like a bedroom, but an electric blanket is the best way to both conserve resources and save money. In a comparison between space heaters and electric blankets completed by the U.S. Department of Energy, the electric blanket was the most energy-efficient choice.
The cost to run a space heater for eight hours a day, 50 days a year, is approximately $66 a year, while our tests estimate our top electric blanket finalists to cost three to seven dollars annually to use for the same period of time.
You can save as much as three-percent in energy for every degree you drop by lowering the thermostat at night. Think about it this way: With the money you save on your energy bill, an electric blanket will pay for itself in a matter of months.
If your energy bill costs $300, you can save $24 a month if you turn down your thermostat by eight degrees each night. With the savings, even the most expensive blanket we reviewed (the Serta Luxe Plush) will pay for itself within six months and less expensive blankets much sooner.
Important features to consider
After sorting through user reviews and expert opinions, we've come up a list of key metrics to use when determining the value of an electric blanket:
Weight: A heavier blanket will keep you warmer, with or without its electrical heating element turned on.
Number of settings: The greater the number of settings, the more likely you are to strike that perfect balance between staying warm and using the least amount of wattage.
Warranty: In the event that the cords, controller, or blanket malfunction, a warranty will replace the blanket or parts at no cost to you (usually up to five years). Keep in mind that it won't cover accidents or damage.
Thin wires: The thinner the wire, the easier it is to wrap the blanket around yourself and relax or sleep more comfortably. Thinner, more flexible wires add to your comfort and make the blanket easier to store in summer months (since it folds up smaller).
General ease of use: Lighted dials for use at night, uncomplicated settings, and cords that actually reach to your sockets are important considerations when choosing an electric blanket.
Comfort: Luxurious materials like soft micro-fleece and plush sherpa make today's electric blankets more comfortable than ever.
Auto-shutoff: Never worry about leaving your electric blanket on when you leave for work; auto-shutoff gives you peace of mind and makes for safer use.
Preheat feature: Preheat settings mean that for the first 15 to 20 minutes, a blanket turns on at its highest temperature, then drops to the setting you select.
AC vs conversion to DC power
Two of the electric blankets we tested, the Soft Heat electric blanket and Serta Luxe low voltage use the patented Safe and Warm low-voltage technology. This means it converts the AC power used by most electric blankets to a safer low-voltage DC power.
Both Serta and SoftHeat are made by Perfect Fit Industries, and its products are currently the only ones in the U.S. market that meet Underwriters Laboratories standards for "non-hazardous low voltage". Although it takes longer to heat up, it is safer and offers a "soft warmth". This means that while the blanket itself is not hot to the touch, the experience of using the blanket is warm and cozy.
You might be wondering what exactly is the difference between AC and DC power, so let's talk about that. The Massachusetts Institute of Technology School of Engineering gives a thorough explanation, which we'll summarize here. Alternating current (AC) and direct current (DC) are different types of voltage or current used for the conduction and transmission of electrical energy. AC is the dominant power source you'll find in daily-use items like lamps, whereas a battery uses DC power.
The fundamental difference between AC and DC is the direction of flow. DC is constant and moves in one direction, while AC changes over time in a back and forth repetition. This oscillation is the reason AC power can be more dangerous; since the voltage alternates, it can cause current to enter and exit your body even without a closed loop, since your body can store an electrical charge. The higher the voltage, the greater the risk of electrical shock.
Are electric blankets safe?
Safety concerns about malfunction, overheating, and electromagnetic frequency waves (EMFs) are among the top questions the Electric Blanket Institute receives. Even though the U.S. government has spent $65 million on research and studied over 500 peer-reviewed papers to conclude that EMFs aren't a problem, in 1992, Sunbeam started making blankets with much weaker EMFs. Each of the blankets we looked at met the latest Underwriters Laboratories electric bedding standards.
There is also the newer option of buying electric blankets, such as the SoftHeat, that converts AC power to DC power.
For very small children, pregnant women, or anyone who is prone to heat insensitivity (such as those with diabetes) or incapable of operating the controls, the safest bet is to use an electric blanket to pre-warm your bedsheets and then turn it off prior to retiring for the night.
The bottom line
The SoftHeat Ultra Micro-Plush remains our top pick for 2022 because of its low-voltage technology, built-in over-temperature protection, and cost efficiency at only $3.50 annually. With its undetectable wires and incredible "soft heat" sensation throughout the blanket, the SoftHeat was easily the leader in comfort.
For the best electric throw, we recommend the Sunbeam – Sherpa-Mink. Using Sunbeam's proprietary Thermofine Warming System, this throw blanket automatically adjusts heating levels along your body to be at the most comfortable and warming where you need it most.
Another great choice is the Tefici – Electric Heated Throw, which has a long power cord for easy maneuverability and can keep you warmed at a nice toasty temperature on a chilly night.