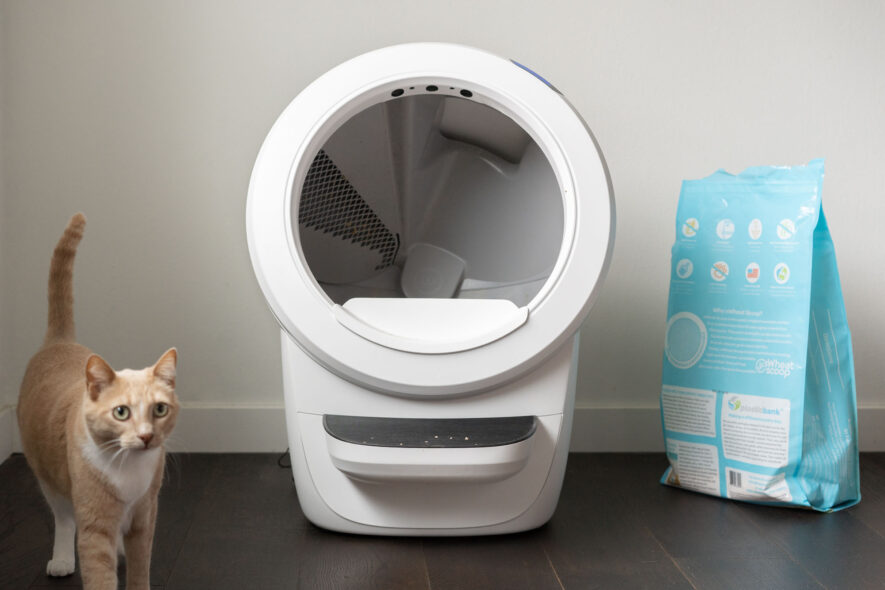 Litter-Robot 4 Review: Cat-Testing a $700 Litter Box
Cleaning the litter box is one of the worst cat parent duties, but this self-cleaning litter box, Litter-Robot 4, will lighten that load. Whisker created the Litter-Robot to scoop up dirty litter automatically, so you don't have to, and they even built a custom app that monitors your cat's litter box usage and health! After using the Litter-Robot 3 Connect for over three years, we tested the Litter-Robot 4 for three months since October 2022 to see if it was worth the $699 price tag.
What is a Litter-Robot & what to expect
The Litter-Robot is a self-cleaning litter box that can accommodate up to four cats in one household. Compared to other automatic kitty litter boxes, the Litter-Robot differs in its circulating globe design that thoroughly scoops up and filters dirty litter instantly. Note that if you use lightweight litter (like wheat or corn-based litter pellets), you may have some leftover clumps that you need to scrape once a day, as we experienced.
When we transitioned our cat Gob into the new Litter-Robot 4 from our old Litter-Robot 3 Connect (see our review), it was easy for him to acclimate even though it had a different design. Also see our Litter-Robot 4 vs. 3 comparison post.
If you're new to the Litter-Robot family, Whisker has a guide on how to introduce your cat to this device. The latest version, Litter-Robot 4, features a sleeker redesign to increase comfort for cats of all sizes and shapes with a wider entrance and many tech features.
With this new iteration, the Litter-Robot 4 is remarkably quieter than the Litter-Robot 3 Connect when it's cycling–we almost didn't realize it was cleaning. The quiet cycling sound didn't startle our cat as often, either. Not only does it look aesthetically better, but they also moved the control panel to the top of the globe for better accessibility. We liked having better access to these buttons and knowing the machine's status based on the colors changing (for example, red means a cat is detected, and flashing blue means the waste drawer is full).
How much does the Litter-Robot 4 cost?
The Litter-Robot 4 costs $699 from the manufacturer at the time of this writing and comes with wifi connection to link with their custom app. Whisker also sells starter bundles that include kitty litter, extra garbage bags, an odor trap, and a litter mat at $859; this would save you $60 if you are already planning to purchase these accessories. Of course, you are welcome to buy these accessories separately. We prefer other brands of litter mats.
Litter-Robot 4 dimensions
While the Litter-Robot 4 is smaller than the previous version, it's still a large piece of furniture to place in your home. The overall dimensions are 22'' x 29.5" x 27," so it's essential to keep this size in mind before purchasing and ensuring you have enough room in your household.
The footprint of the Litter-Robot 4 is 22'' x 27'', and the entryway for the cats is 15.75'' x 15.75". Our cat is 12 lbs and measures 19 inches long (nose to base of the tail). Whisker advises that the litter box needs to sit on a cool, dry, and flat surface without touching any walls to prevent it from tipping over or overheating while in use.
The platform of the entryway is 6.9" from the ground, so you need to make sure that your cat can jump this far from the floor to reach the entrance. Currently, Whisker does not have a ramp option for the Litter-Robot 4 yet (this will launch in 2023), so keep this in mind for senior cats with less mobility.
Machine setup experience
Find a flat and firm surface for the Litter-Robot 4 to sit. Whisker recommends using the same location as a previous litter box to help your cat transition to a new device. Ensure the Litter-Robot 4 isn't touching any walls and is nearby a power outlet. If you're using a litter mat or rug, place this in front of the unit.
The Litter-Robot 4 comes fully assembled, but here is a breakdown of its parts: the globe (the inner main compartment your cat will use), the base (with a waste drawer), and the bonnet (a semi-circle that covers the globe with control panel buttons).
Fill the machine with kitty litter to the max line inside the globe–this is about one gallon by volume or 8-10 lb. Whisker recommends using their kitty litter; however, we've used wheat-based litter, which has worked for us. You can use standard clay or a heavier brand of kitty litter for this machine, but Whisker does not recommend using wood pellets or any non-clumping or loose-clumping litter like newspaper because they will not get filtered and get stuck in the machine.
Plug your machine into an outlet and press the power button; this should start an initial cleaning cycle that lasts two minutes. For more set-up information or tips on how to introduce your cat to the Litter-Robot 4, check Whisker's website.
Litter-Robot 4 mobile app: Whisker
The Litter-Robot 4 works with the Whisker app, and if you already have a Litter-Robot 3 Connect, you can add another machine to the same account. The Whisker app tracks your cat's litter box usage, similar to the Litter-Robot 3 Connect. For example, when a cleaning cycle begins and ends and if the waste drawer is full.
When you open the app, you can choose which litter box profile to view, and it's accompanied by an icon of what the machine looks like with its current litter levels. With the new Litter-Robot 4, there is new information we can gather, like your cat's weight, how much litter is in the inner chamber, and can eventually track which cat is using the machine (this feature is slated to come out in 2023).
Our favorite parts about the user interface are the home page that gives you a colorful graphic on litter levels, how much your cat currently weighs, and recent activity. You can also look at the cleaning cycles in the past week and the month to see any changes in your cat's behavior. The Whisker app also gives you control over your machine, like putting on the light, placing the device in sleep mode, turning it off or on, or just doing a simple cycle.
It's especially helpful when we're traveling and have a catsitter, so we still know our cat is keeping up his daily litter box usage. Typically, we use the Whisker app a few times a week to check his litter box usage, if our cat's weight is okay, current litter levels, and whenever the app tells us that the waste drawer is full.
Daily & long-term maintenance
Daily scooping
We like using wheat-based litter for environmental purposes because it's eco-friendly and sustainable, and we found that this type of litter also works in the Litter-Robot 3 Connect and the Litter-Robot 4. However, because it's not as heavy as clay litter that clumps easily, it doesn't sift through the filter as easily. As a result, a small amount of used litter is left inside the globe after a clean cycle. To ensure it stays clean between each deep clean, we do an "end-of-the-day" scrape to remove any leftover used litter.
This may sound crazy because the Litter-Robot is supposed to reduce the number of times you clean the litter box, but we don't mind this extra task. Compared to a traditional litter box where it's full of dirty litter throughout the day until you scoop, using the Litter-Robot 4 reduces labor and odors because it filters out dirty litter with every use.
Trash bags / How often does Litter-Robot 4 need to be emptied?
Litter-Robot 4 comes with a few waste drawer liners with a 9-11 gallon capacity; however, we use 10-13 gallon Kirkland garbage bags because they're more affordable, and we already use them for our garbage cans. In addition, the Whisker app typically tells us to change out the litter bag about every two weeks (or earlier) based on our cat's usage.
Deep cleaning the Litter-Robot
Litter-Robot recommends deep cleaning the machine every one to three months, depending on your cat's routine. Deep cleaning means taking apart the machine, using soap and water to clean the globe, and wiping down the rest of the machine.
If you have more than one cat, you will need to clean it more often. However, you can usually get away with wiping it down every few weeks. We use paper towels and a natural cleaning spray to wipe down the bonnet, fence, and outside base to remove any dust and particles of litter. We also change the waste drawer bag and vacuum up any leftover litter when prompted.
Deep cleaning this machine was similar to cleaning the Litter-Robot 3 Connect–i.e. this took a good portion of the afternoon. We recommend reading the user manual to understand how to disassemble the globe from the bonnet and the base and learn how to properly clean each part without damaging the electronic control panels, wires, and sensors. Cleaning the Litter-Robot is probably one of the caveats of owning this machine because it's much more time-consuming and delicate to clean than traditional, manual litter boxes.
Health features
The Litter-Robot 4 has new sensors that are part of its OmniSense™ Detection system. The detection system includes laser-based sensors that monitor when your cat uses the device, real-time litter, and waste drawer levels. After using this device for a few days, we ended up silencing notifications except for waste drawer limits because we ended up with so many messages from Whisker giving us up-to-date information. The levels are fairly accurate from our experience.
Weight sensors also help weigh your cat, and SmartScale™ technology keeps you up to date on the Whisker app. Similar to our experience with the Litter-Robot 3 Connect, we also loved using the custom Whisker app. This app gives you instant notifications whenever your cat uses the litter box. It took a few uses for our cat's weight to be accurate on the website, but since then, it's stayed consistent.
Odor control
The Litter-Robot 4 is still a litter box, so there are still some odors, especially after our cat uses it. However, we've noticed it's better at controlling odors than the Litter-Robot 3 Connect. The waste drawer redesign allows for a tighter seal around the used litter and prevents odors from escaping. You can adjust the cycle timer to sift litter quicker once your cat relieves itself. The faster the Litter-Robot 4 filters dirty litter, the fewer odors will escape from the device.
Does the Litter-Robot contain scatter?
Although the Litter-Robot 4 has a wider entrance than its previous iteration, we noticed less litter scattering after our cat used the litter box. We think it's due to the new redesign with a wider stepping platform that catches more excess litter off the cat's paws. This may be entirely subjective based on your cat's personality, so if you have issues with litter outside of the Litter-Robot 4, some accessories can help you.
Whisker sells a litter trap mat to help cats kick off excess litter on their paws before walking elsewhere in your home. Note that we tested litter mats, and our cat prefers another litter mat because he's more enticed to kick off the excess litter on the softer microfiber fabric. In addition, the Litter-Robot 4 now comes with a fence to prevent litter from escaping the globe as your cat kicks out excess pieces.
Best cat litter to use in the Litter-Robot 4
Whisker recommends using natural and clumping clay litter for the Litter-Robot 4 that they sell on their website. However, if your cat is used to other types of litter, like more environmentally friendly wheat or corn-based litter, these will also work because they are small enough to pass through the filters.
The Litter-Robot 4 can now use litter beads or crystals that are small enough for the filters. However, whisker doesn't recommend using non-clumping or weak clumping materials like newspaper or wood pellets because they won't filter out the screen.
Warranty
Whisker wants to ease any anxiety you might have about transitioning your pet to the Litter-Robot, so they offer a 90-day trial to see if it works for your household. They also have guides on how to introduce your pet to this machine. Each purchase also comes with a 3-year warranty. Whisker also prioritizes sustainability through its products by selling replacement parts for almost every piece of the Litter-Robot. So if one part breaks in the future, you can easily buy it directly from the company with instructions on how to repair it yourself.
Is the Litter-Robot worth it?
The Litter-Robot 4 is a hefty machine with an equally hefty price, so it's essential to consider a few things before purchasing, like having enough space in your house for the device, if you're okay using an app for a litter box, and if it's in your budget. It's also important to understand that your cat needs to be at least three pounds to use the Litter-Robot 4.
After using the Litter-Robot 4 for almost two months, we definitely think it's worth it for our household because it reduces the amount of sifting and scooping we have to do daily. The cleaner the litter box, the healthier it is for our cat. We recommend the Litter-Robot 4 to anyone who loves cats but hates daily cleanup.