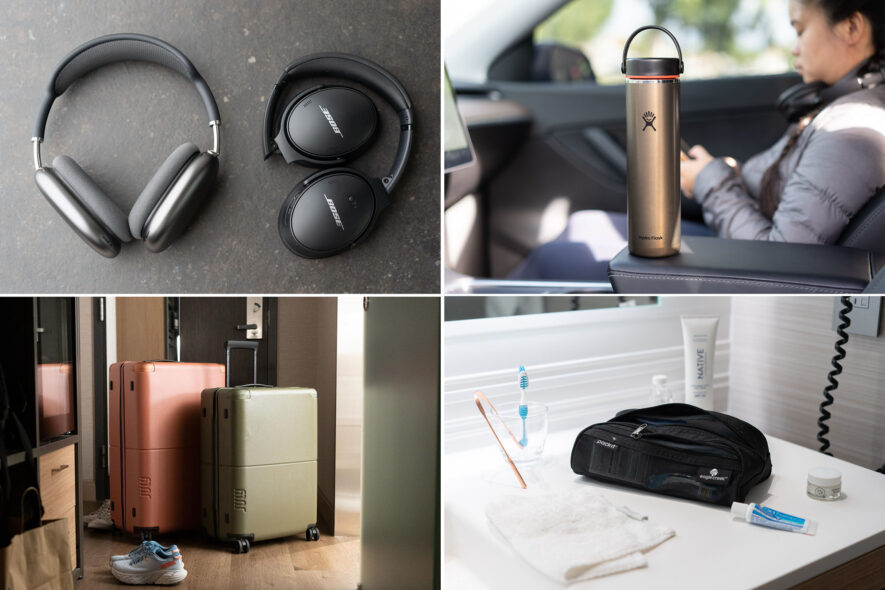 The 18 Best Travel Accesories & Gear
I've been traveling a lot in the last five years both internationally and nationally and have gotten a chance to rethink and refine what and how I pack. Much of my travel is fueled by a love of food, exploration, and many of these trips are to visit loved ones.
No matter the reason for the trip, they each required a careful packing of luggages and backpacks with essential gear, electronic accessories, flight-specific amenities and weather-specific clothing. Check out what I've found to be some of the best travel accessories that have made my trips easier and more enjoyable. It covers items you'll need at the airport, on an airplane, things you'll need at a hotel, in the bathroom, and everything in between to make your trips complete at your home away from home.
Phone & device chargers
Currently using: Spigen – GaN USB-C charger, Anker – Dual USB-A charger
I carry a bunch of electronics when I travel. The primary ones are a cell phone, watch, laptop, headphones, and white noise machine, and I need a way to charge everything in case my destination doesn't have chargers.
Many hotels have USB-A ports built into their clocks and power outlets, but I have USB-C cables too. I can't run the risk of not being able to charge everything, so I pack everything I need regardless of destination, but I've pared it down to essentials.
I carry a charging block with 2 USB-C ports and one charging block with 2 USB-A ports. I like the new GaN chargers because they are the latest tech–they can charge at higher watts with a much smaller design and less heat output.
For the USB-C port charger, I use the Spigen – GaN 452 45W dual USB-C port charger. It also comes in a slightly smaller 35W version and a larger 65W version. For me, 45W over two devices is plenty because my 13" laptop doesn't draw that much power. For the USB-A charger, I use the Anker – 12W dual port charger. This is a lower watt charger, compact yet enough power for my white noise machine, and Apple Watch.
Dopp kit / toiletry organizer
Currently using: Eagle Creek – Pack-It
Having one of these helps me stay organized. Sure you can throw everything into a plastic zip top bag but having a nicer dopp kit gives more structure and organization options for your bathroom and shaving supplies.
I prefer a flat design like this from Eagle Creek, as opposed to the taller bucket style designs or the designs that fully open and split in half, or any ones with two large equal sized compartments. I prefer one large compartment with a few smaller ones for organization, like this has. Some dopp kits I passed on have larger secondary compartments that dedicate a lot of space to things I don't want to spend that space on–such as 3-4 uniform bottles for travel liquids, but this is just me. I cherry-pick my liquid products and go for containers compact as possible, and they all don't need to take up as much space as some of these dopp kits require.
I must admit I've used the same bag for almost 20 years and only recently upgraded to this Eagle Creek toiletry organizer. Must-haves for me in a dopp kit are water-resistance since its near the sink, the size is large enough to fit all my goods without too much leftover space, it fits in my backpack, and that its more flat so items are easier to access without everything stacking on each other.
Nail clippers
Currently using: Seki Edge – SS-101
Nail care is essential. Nothing's worse than being out on a trip getting ready to head out to dinner and realizing your nails are long and unsightly! I used to carry a nail clipper, cuticle trimmer, and cuticle pusher, but for most trips, simply carrying a nail clipper does the job.
I bought the Seki Edge – SS-101, first in 2017, and now own three of them. One of them is in my dopp kit dedicated to travel and the others are in the bathrooms at home. The catcher on it is a dream. I can't even believe I used to just hover my clipping sessions over a trash can hoping it would catch them all. The only complaint is that the angle of the clipper's lever is a bit steep, so it feels slightly awkward to hold and clip–I'm sure it's designed to maximize leverage and make clipping easier. I've yet to find a better clipper though.
Face lotion
Currently using: Youth To The People – Superfood Air-Whip Moisture Cream (travel size), First Aid –  Ultra Repair Firming Collagen Cream
My first face lotion requirement is that it's clear of harmful ingredients like phthalates, formaldehyde, parabens, talc, or other unsettling chemicals. My second requirement is that it either comes in a travel size enough for 1-2 weeks for two people, or its texture allows me to transfer it to a good travel lotion container.
I like using First Aid's Ultra Repair Firming Collagen Cream and Youth To The People's Superfood Air-Whip Moisture Cream because they're both clean products with no synthetic added fragrance. I always like to moisturize before flying because my skin has a tendency to get dry during flights and both of these lotions keep my skin from drying up.
Sunscreen: face and body
Currently using: Supergoop! – Mineral Matte Screen, Supergoop! – Mineral Sheer Screen, Native – Unscented Body Sunscreen
Similar to face lotion, I prefer to buy the safest and cleanest ones available. I also am allergic to most chemical sunscreens, so I need to buy physical or mineral-based sunscreens. Some of my favorite everyday face sunscreens are Supergoop's Mineral Matte Screen because it's tinted and doesn't leave a white cast and Supergoop's Mineral Sheer Screen because it's lightweight.
For reapplying sunscreen throughout the day, I also like to use Supergoop's (Re)setting Mineral Powder for easy application. My favorite body sunscreen is Native unscented body sunscreen because there isn't a white cast and it doesn't feel sticky. This comes in a small and large tube–the small tube makes it easier to dispense an exact amount, but I can't pass up the immense savings of the larger 5 fl oz tube (50% cheaper per oz).
Facial cleanser
Currently using: Youth to the People – Superfood Cleanser for foaming cleanser.
After trying out different types of facial cleansers throughout the years, I really prefer using Youth to the People's Superfood Cleanser for my daily face wash. It's a foaming cleanser that comes in a liquid form and has a light and fresh scent that isn't too overpowering. This gentle face wash removes all the oils and sunscreen from my face even when using mineral sunscreen.
The Superfood Cleanser is made with 100% vegan ingredients and includes anti-inflammatory and soothing ingredients like green tea and aloe. Since I have sensitive skin, I prefer using products without too many synthetic ingredients like dimethicone or phthalates.
I like that Youth to the People sells different sizes to use for traveling, every use with a pump, and a value refill size. The travel size also comes in a recyclable glass bottle like the other sizes, but it's a bit of a hassle to pour out the liquid into your palm. You always have the option to transfer it to an easier bottle.
Utilitarian packing cubes
Currently using: Eagle Creek – 3 Pc. Starter Set
We tested 9 different packing cubes to find this gem. The Eagle Creek – Pack-It Starter Set quickly became my go to utilitarian packing cubes because they're well-built, durable, and easy to use. The set comes with two packing cubes and a folder organizer to prevent wrinkles on dress shirts or pressed clothing.
Made of durable nylon body and thick piping around the lid and bottom of each cube, these organizers were structured and kept their shape even after they were filled with clothing. I especially love the mesh lid so I can easily figure out which packing cube had specific clothing.
The folder organizer is basically a rectangular storage case with four flaps that gently secures the center of stacked shirts. This single case can hold up to eight to twelve shirts. It also includes a thick, plastic template that instructs you on how to fold the shirt to fit the case.
Upgraded packing cubes
Currently using: Thule – 1 Piece Clean/Dirty
When I'm not using the Eagle Creek – Pack-It Starter Set, I'm using the Thule – 1 Piece Clean/Dirty as an upgraded packing cube (or when I'm going on a shorter trip). This individual Thule (pronounced "too-lee") packing cube is 14.61 x 10.87 x 1.54 inches and has a dual compartment design that helps you reduce the number of packing cubes to bring. I love that I can fit an entire weekend trip's clothing options in one bag. And dual function also acts as a dirty clothes bag when packing to go home.
The Thule – Clean/Dirty cube is bluesign® approved and is designed with environmental sustainability and social responsibility criteria in mind. What's great is that it also comes with a lifetime product warranty. Although it's pricier than most packing cube options, I think the durable water-repellent fabric, smooth zippers, and thoughtful design are worth the upgraded price.
Rolling suitcase
Currently using: July – Checked, July – Checked Plus
For over a decade, I used an expanded carry-on size rolling suitcase for all my trips, but wanted an upgrade. Recently, I've upgraded my suitcases to July Checked and Checked Plus luggage and I never looked back. Since I use the July Carry All backpack as a carry-on, I only use checked luggage for suitcases.
The July Checked luggage measures at 26″ x 18.75″ x 11″, weighs 8.3 lbs, and has an 80 L capacity. This bag is great for long weekends. The larger July Checked Plus has a 110 L capacity, weighs 10.5 lbs, and measures 30.25″ H x 19.75″ W x 12.5″. I found the Checked Plus size is perfect for week long trips or International travel because it can hold a lot more.
Swivel wheels are a must and each of these suitcases comes with July's proprietary SilentMoveTM wheels that are easy to move around and quiet on any surface. Its smooth extendable handle has 20 height settings to make moving the luggage easy for any traveler. The hardshell case has a pebbled surface, comes in an array of modern colors that make it easy to spot on the conveyor belt, and it's also reinforced with metal corners.
Laptop backpack
Currently using: Incase – Icon Pack, REI – 18L Ruckpack (discontinued, from our laptop backpack review), July – Carry All Backpack Series 2
I need a bag to keep things on me at the airport and during flights that I don't want to check in. I want one that's waterproof on the outside so I can wipe it down, and one that can stand up on its own without having to hang or lean on anything. But this bag also needs to fit under the airplane seat and still spare some legroom.
The items I always have on me for a flight include: noise canceling earbuds or headphones, a jacket, a phone and laptop charger, tissue paper or napkins, sunglasses, and snacks for the flight. An 18L backpack can be tight if I'm stuffing a medium sized jacket in and something chunky like headphones. If you know you'll be carrying one or more chunky items like that I'd try to go 20L or more for a backpack.
After testing many backpacks on our backpack review post, I've continued using the Incase – Icon Pack for many years. Of course for different occasions, sometimes I want a larger or smaller bag to fit different items, so like anything else it's not meant to serve all purposes. But this backpack fits all of my travel needs and has lasted over three years without really showing any signs of wear.
Travel jewelry case
Currently using: Becko – jewelry roll
Whenever I'm traveling, I like to carry some jewelry for everyday wear and also for nice dinners or events. Previously, I just used Ziploc bags or pill cases, but it didn't really help with organization or keeping my jewelry safe. I've now found my holy grail of travel jewelry cases (see our full review here) with the Becko – Jewelry Roll.
This travel roll case is lined with a soft velvet-like fabric and has a suede casing that protects the jewelry on the inside. At 5.91″ x 8.1″ x 0.8″, it's small enough to put in a carry-on, but also has a large capacity to hold different types of pieces like seven necklaces, 16 pairs of earrings, over a dozen rings, and watches or bracelets.
Cheap sunglasses
Currently using: Joopin (Rayban Wayfarer replicas)
I used to own a pair of Ray-Ban Clubmaster oversized sunglasses and lost them on vacation. Then rebought it and a few years later lost the next pair in Hawaii. And I almost never lose anything else throughout the year. Not cool
I like the design of the sunglasses, but just don't want to risk the loss anymore. Now I travel with cheap but still good looking (in my opinion!) sunglasses. The frame and lens build quality doesn't feel lacking, and they provide full UV protection. I've yet to lose this new pair for a few years, but after 3 years of ownership one of the joints finally broke and I bought a fresh pair for under $12.
Ear plugs
I have sensitive ears, so I always pack a pair of reusable earplugs. We tested a bunch of disposable and reusable ear plugs here before. You never know when you're going to attend a spur of the moment show, a loud club, or if you'll have noisy hotel neighbors. Far too many times I've been in this situation and no workers at the show or hotel have extra pairs of plugs to hand out.
Disposable ones are cheap, but I like that the reusable ones come with a case to keep them clean, and you reduce waste. During flights and while waiting at airports, I'll be using my noise canceling headphones though and not ear plugs.
White noise machine
Currently using: Marpac Yogasleep – Portable White Noise Machine
One of my top travel accessories that helps me get a restful night's sleep is my Marpac Yogasleep – Portable White Noise Machine. Whether it's a hotel, Airbnb, or a friend's house, I can sleep like a baby because this portable white noise machine lulls me to sleep and cancels out any noise from my environment. It's even our top travel pick for our Best White Noise Machines review.
I've used this machine for over two years of travel and nightly use. It easily covers the noise of city streets, barking dogs, or outside conversations. At full charge and unplugged, this lightweight machine lasts twelve hours of constant, digital white noise to get you through a relaxing night. I like to bring a micro-USB cable that it comes with and plug adapter to recharge the machine during the day on longer trips. At 3.5 inches and under four ounces, it's small enough to fit into a backpack or small purse for any trip.
Noise canceling headphones
Currently using: Apple – Air Pods Pro 2 (what a mouthful), Bose – QuietComfort 45, Apple – Air Pods Max
The Bose QuietComfort 45 headphones provide a better seal on my head than the main headphones I use, the Apple AirPods Max. It's great at blocking out noise while in an airplane cabin, including the loud engines and nearby crying children.
Bose is a perfect fit for someone who has a smaller sized head and tiny ears. The tighter fitting seal doesn't leave gaps because the space between your head and the band isn't as spacious as other brands like the Apple AirPods Max. The Bose are also lighter in comparison to the Apple AirPods Max, so if your head is too small, they will easily fall off with slight movements.
One issue with the Bose QuietComfort 45 headphones is its inability to turn off or adjust the active noise cancellation, and instead, using the "aware" feature that allows some passive noise to seep through the headphones.
If you have an iPhone, it's hard to not appreciate the quick connectivity and overall seamlessness of connectivity from any AirPods product. The Max is good, and quick to take off and put back on when traveling through the airport and plane, however the seal on the ear cups were not as good as the Bose for me. The tiniest bit of air leakage made a big difference in noise cancellation. I ended up switching to the AirPods Pro 2, for a wayyy smaller footprint, less weight, and much better noise canceling performance due to a proper fit.
Reusable water bottle
Currently using: Hydro Flask – Lightweight
Bringing a reusable water bottle while traveling is so helpful. Most airports in the US we've traveled to have refillable water fountains for bottles near the restrooms so we refill an empty water bottle once we get through security. One tip is to make sure you drink all of you water BEFORE you go through security, otherwise, this will alert TSA and you may need to go through security before again.
Our favorite water bottle to bring on trips is the Klean Kanteen 20 oz. or the Hydro Flask lightweight because it helps keep the water cold for long periods of time. Both of these models fit most cup holders and fit in our carry on backpacks. This is also a good option for bringing hot liquids too since it's a metal container. The looped lid is also great for hooking onto your backpack while traveling.
Travel bag
Currently using: Sherpani – Vale Crossbody Purse
For any trip, I enjoy using the Sherpani – Vale Crossbody Purse as a travel purse because of its versatile style and usefulness. Its 13.5" x 14" x 4.5" size fits a 24 oz Hydroflask, wallet, iPhone 13 Pro, and a medium-sized jacket easily. This bag is made with anti-slash fabric and has locking cable attachments and zippers to prevent thieves from stealing your bag or valuables.
It's also designed with many interior and exterior pockets to help organize all your items. The sleek design is reversible so you can wear it in different ways or colors. You can wear it as a shoulder bag, crossbody, or messenger bag–I love the different options. It's very easy to wear it from daytime tours to nighttime dinners.
Dirty laundry bag
Currently using: Sea to Summit – Ultra-Sil compression dry sack
My favorite bag to bring with me for dirty clothes is the Sea to Summit Ultra-Sil compression dry sack. I originally purchased this for camping trips and I've found it's useful for all sorts of trips. It's really helpful to separate your soiled clothing from clean clothes in your luggage. There are three straps that help compress the bag into ⅓ of the original size. The eVent fabric allows air to pass from the inside out, but also prevents water from entering in case you're by the beach.
This might seem a bit overkill for most people, so cheaper dry sacks or even a trash bag also work for a dirty laundry bag. The main idea is that you're able to separate dirty from clean clothes when traveling. Some hotels will even give you a laundry bag in the room too.