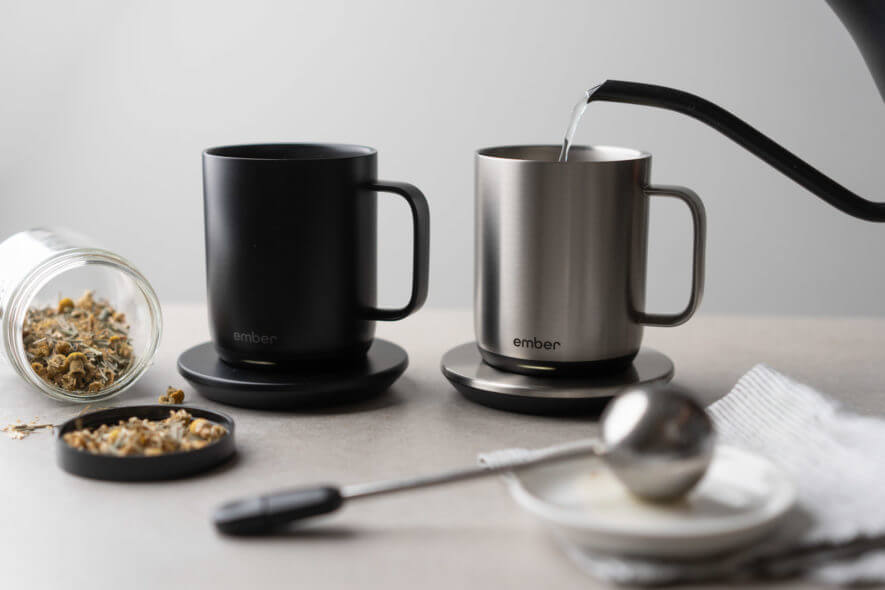 If you, like many other people, are prone to 'coffee sipping,' you probably don't finish it before it turns warm, then lukewarm, then undrinkable. Microwaving your mug is the go-to solution, but it never manages to get that 'freshly brewed' taste back. The Ember Mug², however, is the solution that can buy you time.
If you, like many other people, are prone to 'coffee sipping,' you probably don't finish it before it turns warm, then lukewarm, then undrinkable. Microwaving your mug is the go-to solution, but it never manages to get that 'freshly brewed' taste back. The Ember Mug², however, is the solution that can buy you time.
At first glance, many people tend to judge this mug as ridiculous, over-indulgent, expensive, and over-engineered–and they are not wrong. It is all these things, but more importantly, the Ember mug works well and feels good. Self-professed coffee nerd, Ember CEO Clay Alexander recognized the tepid coffee problem and set out to solve it. Coffee aficionados in this age of YouTube/Reddit/TikTok are known to spare no expense to find the best technological and aesthetic solutions to innocuous problems we didn't know needed fixing. I know because I am one, insufferable and overbearing.
While designed to impress the most discerning of coffee people, the Ember Mug² meets the demand of a much wider audience, even if they weren't sure they needed it. People who work all day at a desk, the chronically forgetful, the impossibly busy, parents who are constantly pulled away could all benefit from this stalwart piece of tech. Common are Youtube video comments attesting their love for this gadget–especially after initial skepticism.
How does the Ember Mug work?
Equipped with multiple sensors and a microprocessor, the Ember Mug² intelligently senses the liquid capacity and heats it using convection. Heated water rises to the top and creates a current, heating up the contents uniformly and precisely to the set temperature. The lithium-ion battery provides about 80-90 minutes of continuous heat off of its charging base. Syncing to a smartphone through bluetooth allows you to set the temperature to the degree in a range between 120 °F (50 °C) and 145 °F (62.5 °C).
It turns on automatically when it senses liquid inside. After two hours, the mug automatically shuts down if there is no movement triggered by the accelerometer.
Ember Mug² design and materials
The Ember Mug² takes a pleasing form, rounded, well-balanced with a satisfying, weighty feel. It's really nice to hold and with its sleek matte finish (in black or white), it will fit right in with the vignette of carefully considered objects on your desk. Ember CEO Clay Alexander admitted that designing the mug was a painstaking process, fitting all its tech into the bottom of the mug in a nice, unnoticeable way. This cup is expensive, and this styling delivers on that price tag.
This version of the ceramic mug has a smooth, satin finish and look. (Ember has more recently released metallic versions of this mug with a higher gloss finish and material). Sandwiched between the walls of the mug is a steel piece that heats up the sides. It's not considered double-walled but more of a triple layer since there isn't much air to  insulate the outer layer. The cup feels warm to the touch when heated, not cool. Experientially, this is closer to using a regular ceramic mug. It's nice and cozy.
An unexpected touch is that there is a rubber bottom, gripping your table a bit and adding to its sense of stability and weight.
Ember vs. stainless double-walled mugs
Double-walled stainless mugs, tumblers and bottles from companies like Yeti, Klean Kanteen, and Hyrdo Flask provide a low tech solution to the tepid coffee problem. While these double-walled mugs can keep your beverage hot for about as long or longer, there are a few things that the Ember does better. These lidded mugs steadily decline in temperature, while the Ember cools down until the target temperature and stays there. According to influencer coffee god, James Hoffman, this would be the best case scenario for preserving flavor from the ravages of time.
Insulated thermoses, like Zojirushi or Hydroflask, tend to keep the heat well above comfortable drinking temperatures for too long. This may have the potential to degrade the flavor of the coffee quicker. For example, when you attempt to reheat your coffee in the microwave, you may too easily overheat it, which in effect overcooks all that good stuff you painstakingly crafted in the brewing process.
If you are a fussy coffee person, you know that keeping precise temperatures is key to everything, from roasting to brewing to finally drinking. The people at Ember know this.
Moreover, stainless steel travel mugs touch your lips differently–cold, metallic. They bring to mind less ideal situations like camping or rushing out of the house. Moreover, the inside walls tend to trap oils and alter the taste of your beverage. They do such an efficient job of keeping all of the heat inside that the outside is cold to the touch. On the other hand, ceramic mugs give off a pleasant radiant heat which is nice to hold in cold mornings. As an avid user of stainless mugs, this is the thing that I miss the most about ceramic mugs. The Ember gets you back that warm coziness and even better, makes it last a whole lot longer.
The Ember Mug vs Ember Mug²
The biggest difference between the older version and v2 is the battery life–it's 50% better to be exact. Secondly, it's got better waterproofing. V2 is submersible up to 1m deep for up to 30 minutes without damage. Knowing this frees you from stress as you lovingly suds up your mug.
Lastly, the charging base is slightly rounder in profile and the mug sits a bit differently in the cradle. The mug itself has not changed shape or function at all, indistinguishable from each other visually.
From the time V1 was released until now, the 10 oz. Ember Mug² has increased in price from $80 to $99. With increased battery capacity and higher demand for computer chips, it's no surprise that the price has increased.
The Ember smartphone app
The Ember Mug² has an app for both iOS and Android that allows you to adjust and customize. You can sync more than one mug and have different settings for each. Once you have decided on your ideal drinking temperature, there is little reason to keep using the app. However, you can use shortcuts for different types of drinks requiring different temperatures. In its default shortcuts, coffee is set to 55-57​​°C while different tea types range from 57-59°C.
Worry not if you wander outside the range of your phone, or if your phone runs out of battery. The mug is designed to work with or without a connected smartphone. Going in and out of range is okay too.
The iOS app seems to have some functionality with Apple's Health app, helping to denote caffeine intake. This requires using the app each time you have a drink. For those tracking this anyway, this feature could be helpful.
For most people, setting the mug to Celsius or Fahrenheit, checking battery life and changing temperatures will likely be the most common uses of the app.
Charging time and battery life
To charge the mug, you simply place the mug on the charging base. Keep in mind that it only charges when the mug is empty. Placing a full mug on the base draws only enough power to maintain the target temperature, not enough to simultaneously charge and heat. This is a minor detail that wasn't immediately obvious.
It takes about an hour to charge up completely. The battery lasts about 80 minutes for the 14oz size and 90 minutes for the 10 oz. size when using without the base. If you want to take longer than this to finish your beverages, you'll want to keep the mug on the charging base between sips. The charging base lives on my desk to draw out the life of my beverage for sometimes over three hours.
Usage experience
I've been using this mug almost exclusively for the past few weeks. It functions mostly like a regular mug, except it requires a bit more babying to maintain. Follow these rules and the mug should last:
Always handwash the mug (warm water and soap)
Make sure that the base is completely dry before placing it on the charger
Avoid using with metal utensils
In my opinion, the extra care is worth the extra function. The weight and feel of the mug is pleasant, and it has a nice radiant heat that you miss from using double-walled mugs or thermoses. For desk warriors, putting this base station where you would normally place your vintage ceramic mug is a lateral adjustment.
The learning curve is very small. Off base, you can power it on or off by holding down the rubberized button at the bottom of the cup. The same button puts the mug into bluetooth pairing mode when held down.
The only thing that wasn't completely intuitive is that the mug does not charge while full. We are used to being able to use our phones while plugged in, but this is not the case here likely due to the smaller draw of energy. If you stay in one spot with the charging base, it's not a bother at all. For those who move around a lot, 80-90 minutes is the time limit. If your cup is still full after it runs out of battery, you cannot simply charge back up while the mug is full. You must empty it first, as it refuses to charge and heat at the same time.
There have been some reports of unpairing in places with interference. Depending on how much you use the app, it could be pretty annoying to have to keep re-pairing the mug. However, I have not had any issues with this and I've got many bluetooth devices around me.
Conclusion: Is the Ember Mug² worth it?
From busy parents, forgetful people, to chronically slow folks, the Ember Mug² fills a void that most people might not have considered. At the time of writing, the Ember Mug² is $99 (and $129 for the larger 14oz model)–a steep investment for a cup. However, we find that it delivers what it promises and lives up to the cost.
Thermoses and double-walled, lidded mugs may offer comparable functionality, but the Ember adds to that more precision, sustain and control while preserving the warmth and comfort of a traditional ceramic mug. It's pleasantly textured walls heat up to a cozy touch and remain warm the entire time it's on.
Ember also makes a heated travel mug (if an unheated travel mug isn't your fancy) using the same heating and sensing technology for those on the go. The v2 travel mug has a battery capacity of up to three hours, making it a better candidate for those who want more time and freedom from a charging base.
With a kitchen cabinet full of perfectly functional low-tech mugs, it might be difficult to justify the premium cost. However, I have been using it almost exclusively since I've got it, rendering all my traditional mugs obsolete. If you have suffered enough cups of cold coffee, wasted enough time brewing another cup of tea to replace that one that was sadly forgotten, then the Ember Mug² might just be worth it after all.