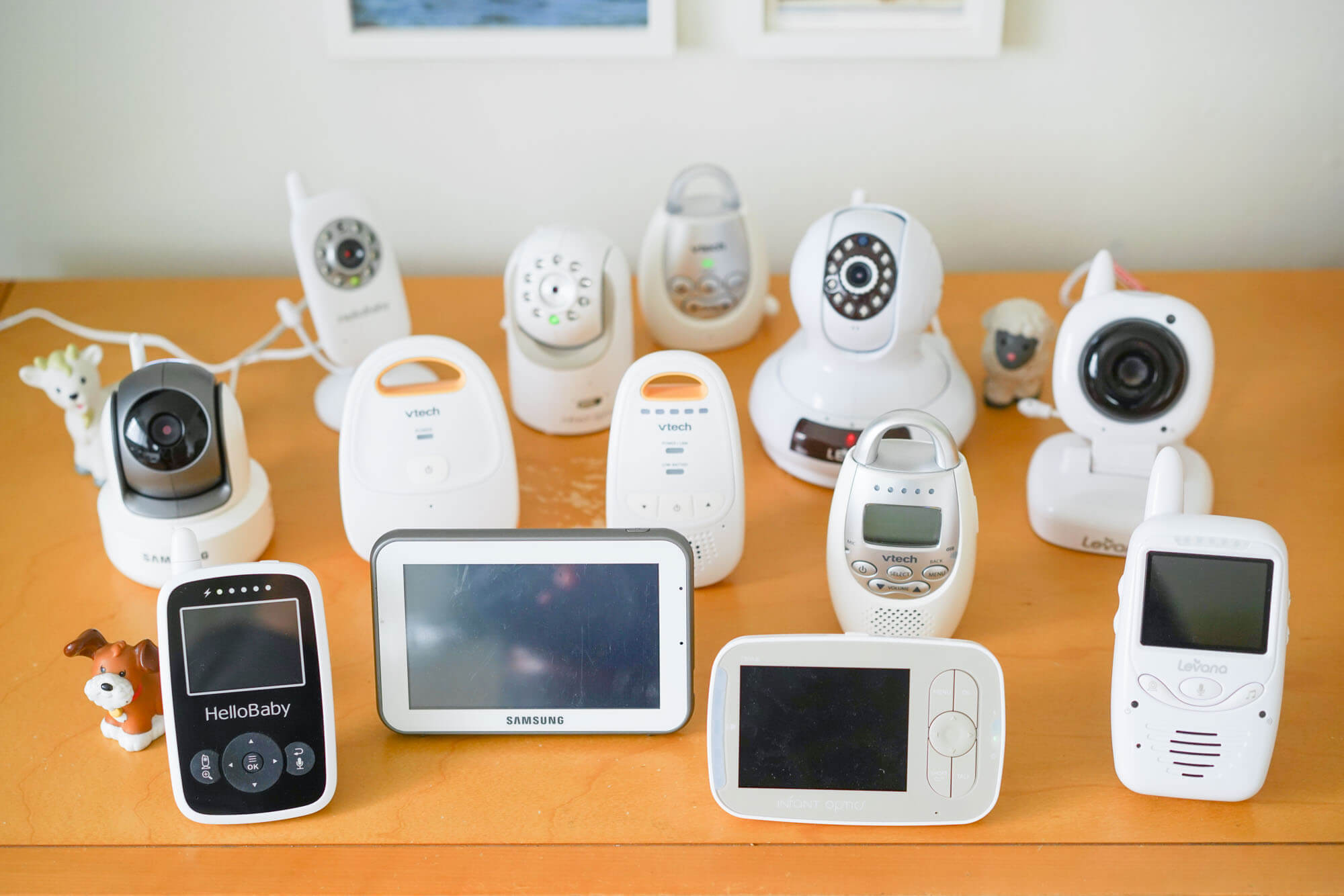 After testing seven top products over four weeks, we found that the Infant Optics – DXR-8 is the best baby monitor overall. Great image quality and unmatched motorized camera controls make this much better than all the cheap models, and without sacrificing battery life or resorting to touch-screen controls. If you're not ready to spend more than $160 for a baby monitor, the Hello Baby – HB-24 is half the price of our top pick and still offers enough video quality to be very usable, but you lose the motorized control.
After testing seven top products over four weeks, we found that the Infant Optics – DXR-8 is the best baby monitor overall. Great image quality and unmatched motorized camera controls make this much better than all the cheap models, and without sacrificing battery life or resorting to touch-screen controls. If you're not ready to spend more than $160 for a baby monitor, the Hello Baby – HB-24 is half the price of our top pick and still offers enough video quality to be very usable, but you lose the motorized control.
Table of contents
How we selected finalists to test
As always, we looked around at other reviews and guides to see what features are must-haves and what's just fluff. The Wirecutter prioritizes image quality and battery life, while reviews.com focuses on ease of use; The Bump is all-in on premium features like sleep quality tracking.
We considered unorthodox ideas like using a GoPro or an old smartphone as a baby monitor, but the success of those ideas really depends on what equipment you already have; we wanted to get a clear recommendation that will work for everyone.
We didn't test any wearable vital-sign monitors, either; we're not judging you if you feel that you need to constantly monitor your infant's blood oxygen level while they sleep, but many physicians note that it's not going to help with SIDS risks.
We narrowed our list down to video monitors for less than $200 with good reputations and essential features. On the higher end of that price bracket we looked for nice screens and motorized camera movements. On the budget end, the screens are smaller and you don't get fancy controls, but we found models with all the essential features and more.
Some features, like noise alerts or thermometers, weren't available on a few models, but all the video monitors we tested can link up with extra cameras and they're all great at seeing in the dark.
We also bought one Wi-Fi based camera to test the state of internet-transmitted video monitoring, and we talked in-depth with a fellow parent who's also a security expert to see what extra risks come along with a "smart" camera.
We included two audio-only baby monitors, since we know some parents just don't want to put a camera in the nursery. (You'll also save some money if you skip the camera.)
Compare the best baby monitors
Who needs a baby monitor?
Nap time is the reason we own baby monitors. By the time your little bundle of joy is sawing logs mid-afternoon, you're usually more than ready to take a break and do something other than sit quietly in the corner. A baby monitor lets you close the door (so you can make some noise) without worrying that you've abdicated responsibility. We love our babies, but it's great to be able to love them from the comfort of a downstairs sofa while they're asleep in their cribs.
Fear of "what might happen" is also a big driver of baby monitor sales: the original "Radio Nurse" was created by designer Isamu Noguchi for the Zenith Radio Corp. after parental paranoia peaked in response to the Lindbergh baby abduction of 1932.
Some worry that a monitor might make you more neurotic about nap time rather than help you relax. If you can hear or see anything that happens behind a closed door, though, you're less likely to interrupt a nap when checking on your baby, and that's good for everyone. A baby monitor works great in tandem with a white noise machine to keep your baby from being disturbed without making it hard for you to know if something happens in the room.
Two of our testers for this comparison are dads working from home, and they're not alone: 3.9 million employees are now telecommuting at least half of their work hours, which amounts to almost three percent of the U.S. workforce. (And that doesn't even include freelancers.) A video monitor doesn't mean you can double up and watch your baby while you're on a call or working at your computer, but if you're tag-teaming with another caregiver a video monitor can make life much easier.
Important features to consider
Video monitoring: Not everyone wants a video camera in their nursery, but being able to see as well as hear what's going on can be helpful.
Motorized camera adjustments: The more expensive video monitors will allow you to aim the camera with your remote, which is helpful if the camera needs to be in an awkward position or if you're monitoring a "baby" who's big enough to get up and run around the room.
Range: Manufacturers often list straight-line, no-interference transmission range, but in the real world of concrete walls and wireless interference those numbers probably don't tell you much. We found that the stronger signals were more stable through walls (from a detached garage, for example), but all of these monitors are usable in a two-story townhouse.
Battery life: Like range, the number you see on the box might not match your actual experience. The good news: these monitors all have enough battery life to cover even the longest naps. We tested each monitor under the same conditions to make sure you have a fair impression of their relative longevity.
Display size: With a video monitor, there's a big difference between watching a blurry lump and being able to clearly see your baby.
Temperature monitor: If you're in a different room you may want to keep an eye on room temperature, especially if you live in a place like California where you're not using a thermostat all the time to maintain room temperature. None of the thermometers we tested had better accuracy than three degrees Fahrenheit, but it might add to your peace of mind.
Wake on noise: Most of these monitors will wake up from screen-off "sleep" when there's a sound above a set threshold. (The LeFun WiFi camera is motion activated instead, and our top pick does not have this feature.)
Is a Wi-Fi baby monitor safe?
We talked to a friend and fellow parent, Robert (aka p0pr0ck5), who is a security researcher based in L.A. Being a security guy, he's innately suspicious of the "Internet of Things" and all the unforeseen problems that come with it.
Now that most of us use Wi-Fi everywhere in our houses for everything from looking at cat pictures to streaming music, Wi-Fi transmission is practically free. Using Wi-Fi also means that you can see your monitor feed from work or your phone — even while you're traveling. The internet is really the only way to get that kind of amazing flexibility.
Robert says this cheap-and-flexible approach creates the biggest risk. "Too often, IoT devices communicate with the internet without any encryption, making it easy to snoop on what your fridge has to say, what your internet-connected lights are talking about or what video stream your security cameras or baby monitor are sending to their provider."
Even if your device uses encryption, the biggest risk is still security on the camera manufacturer's side. Robert notes: "I can use a password that no human or computer in the universe could ever guess, but if my account provider isn't handling my password securely, and they are breached by hackers, my ultra-secure password is worthless."
Wi-Fi baby monitors rely on two-way communication between your camera and a server, and that means someone else might also be able to exploit mistakes that were made in designing the security protocols that should keep the cameras safe.
The worst examples of vulnerabilities are shockingly bad: "back-door" access to a camera that can overwrite passwords or even install malicious software. We checked the one Wi-Fi model we tested against common vulnerabilities, like an open telnet port or easy-to-guess root password. Our untrained tester couldn't hack it, but is that enough?
Robert was quick to caution that this is a far cry from thorough investigation of the "full stack": the website, the applications and the infrastructure being used to get video from your camera to a server and back to your laptop or smartphone.
Robert sums it up like this: "We don't know the real security risks, because no one with the capacity to properly analyze these things from an unbiased perspective has the resources to do so — and if they do, they most likely don't have permission."
"In a culture where new IoT devices constantly flood the market, consumer perception of function, affordability and integration with other IoT solutions is the main goal. Privacy and security simply are not a focus for the average consumer. Often (very often), the financial and timing costs far outweigh the value add [of a full-stack security audit.]"
After our testing, the value of a cheap-and-powerful device like a $40 camera doesn't really seem to outweigh the risks. (Especially considering all the extra steps setting it up.) For now, our top pick has a local-transmission-only video camera.
How we tested
Video image quality
PRODUCT
MAX DISTANCE*
NIGHT VISION VISIBILITY
ZOOM
SCREEN SIZE
Infant Optics - DXR-8
8.8'
☆☆☆☆
2x Optical, 2x Digital
3.5"
Hello Baby - HB24
5.7'
☆☆☆
2x Digital
2.4"
VTech - DM221
N/A
N/A
N/A
N/A
LeFun - FI-368
10.3'
☆☆☆☆☆
2x Digital
Your Phone/Tablet
Samsung - SEW3043
10.5'
☆☆☆☆☆
2x Digital
5"
Levana - Jena
4.9'
☆☆☆
2x Digital
2.5"
VTech - DM111
N/A
N/A
N/A
N/A
*Maximum distance away from the camera to maintain good detail
For the most part, the limiting factor that determines how well you can see your baby with one of these setups is screen quality. The camera sensors in these monitors are pretty good at picking up detail, even in low-light environments. A bigger screen lets you see all of that detail, though it also comes with a bigger price-tag.
In addition to real-world testing in the nursery, we tried to get a more unbiased measurement of picture quality using a 1/4″ grid test pattern. We measured how far away the camera needed to be in order to display the pattern clearly (with zoom turned on, if available). The best results came from the big motorized cameras with correspondingly large screens, while the little screens on more affordable monitors made it difficult to make out tiny details from far away.
All of these systems will work for you if you just want a rough idea of what's happening in a crib, but it's definitely nicer to be able to see facial expressions clearly on the big screens.
Night vision, surprisingly, was nearly the same across all of these cameras. Infrared sensitivity of digital camera sensors is very good, and the IR light emitters on the cameras do a good job of showing what's a baby and what's not in the dark. There was a much bigger difference in things like auto-white-balance adjustment, which is nice when it works, but is not as essential to your peace of mind.
Audio quality
Audio quality on baby monitors is pretty terrible, but that's partly because the conditions are worst-case-possible: the microphone is relatively far away from what you're trying to hear, and you can't really filter or prioritize frequencies like telephones do.
Parents want to hear everything, but the most important sounds for a baby monitor to transmit (crying, crashes) are pretty easy to recognize even through a tiny and muffled speaker. If you want to calm your baby with the soothing sound of your voice while they're waiting for you to come to the nursery, though, you might be disappointed.
The real stand-out in our audio tests was Samsung, but instead of being ahead of the pack as they were in the video tests, the audio components disappointed. Voices sound muffled on both ends, and the receiver is just hard to hear if there's any noise around.
Typically, even poor sound quality is sufficient to hear your baby cry, so this isn't a disqualification, but Samsung's system would have ranked higher if they paid as much attention to audio quality as they did to video.
Range and clarity
Unless you're using your baby monitor while camping on the open plains, range is going to be measured in frustration rather than distance. Range on digital wireless devices is basically an all-or-nothing scenario. If you can see the video feed, it's crisp and clear; once you go beyond the range of the transmitter, the video starts to go blank and you'll soon get a "no signal" or "out of range" warning.
We found that most of these monitors gave good connection quality in a small townhouse. The Levana shows its limits quickly, though: the feed dropped out frequently when we turned on the other cameras, and while it still picked up video from across the street with no buildings in between, it was by no means a reliable connection at the range limits.
The other three monitors were bulletproof in the house, but only the Samsung gave stutter-free connectivity out in the detached garage.
Battery life
For each video monitor, we charged the battery fully and turned off any screen timers to use as much power as possible, then waited for the batteries to run down.
If you need more than a few hours of screen time you should be able to hook up the charger, so even the 4-hour battery life on Samsung's receiver is sufficient for real-world use. That said, the extra two hours provided by our top picks does make a difference if you forget to charge from one day to the next and want to sit on your patio during nap time.
If you need to move around the house and can't keep your monitor on a charger all the time, the Levana system will run for 13 hours with the screen on. That's so far beyond ordinary needs that it didn't really offset the video quality and range issues when we were ranking our picks.
Temperature sensor
For the units that have a thermometer, we compared the temperature to a stand-alone thermometer in the same location to see how accurate they are. The biggest error we saw was seven degrees Fahrenheit, which is not insignificant, but for an $80 camera it wasn't totally surprising.
The high/low temperature warning is a handy feature that could tell you about something like broken A/C or heater systems, but don't rely on it for anything critical. The HelloBaby was the only monitor that let us set custom high/low temperature thresholds.
Best video monitor: Infant Optics – DXR-8
The DXR-8 from Infant Optics is one of the most popular cameras on the market, with glowing reviews from many parenting sites. We like this camera too, and it's our top pick for a good match of image quality, battery life and ease of use.
The screen isn't quite as big as the Samsung touchscreen, but it's almost as clear. The smaller 3.5″ screen also means you get more battery life than Samsung's 5″ offering.
The camera also gives you a bit more flexibility with a screw-mount optical zoom adapter. If you're just watching a cradle during naptime, the zoom shows more detail. In a few years when you're monitoring a toddler, then you can take off that zoom lens and get a wider view so you won't need to pan and scan as much to follow the action.
The range and quality of the image from this camera wasn't quite as good as the Samsung setup, but we did like the audio from the Infant Optics hardware more than Samsung's. The connection worked wherever we tried it in the house, and it was reliable all the way out to a detached garage.
The game-pad-style controls were also easier to use than a touch screen, though remembering shortcuts for volume and zoom settings wasn't as easy as it might have been with dedicated buttons for those functions.
If the only advantage offered by this model were a bigger screen, or pan/tilt control, or the zoom lens accessory or the better transmission range, then we might not have picked this camera as best overall. The fact that it's better than the $80 cameras in all of these categories is not a small advantage, though. You're not paying $100 more for any one feature, but for a better-quality package. That's the kind of difference we like to see in a winning product.
The one surprising omission from this system is a wake-on-sound feature. There's a feeding timer that can wake you every four or six hours, and an option to make the system warnings (low battery, lost connection) quieter, but no auto-wake. The screen can automatically turn off (to save the battery) after three or five minutes while the sound is still on for you to listen for anything happening, but you're relying on the sound of your baby to get your attention.
This is a surprising omission, considering audio-only baby monitors have been doing vibrating/beeping notification of a crying baby for a long time now. If having the screen come on to notify you of a loud sound is a big deal, then the Hello Baby – HB24 (or the audio-only VTech – DM221 with vibrating notification) is probably a better pick.
Key takeaways:
The Infant Optics – DXR-8 is a versatile package with all the essential features, plus a zoom lens add-on that nobody else has.
The image quality here isn't quite as good as Samsung's, but the controls and battery life are far better.
This is a solid setup, with good range and good sound quality sealing the deal.
The only feature that's missing in sound-activated notifications so you can listen to Netflix without being worried you'll miss any crying.
Best budget video: Hello Baby – HB24
Compared to the 5″ screens and motorized cameras on top-ranked models, Hello Baby's HB24 definitely made some compromises to get their price down to around $70. The essential functions, though, are all handled well.
The camera itself is compact and looks a little bit wobbly; we were surprised at how well it worked in testing, though. It seems clear that the limitations on resolution come from the small screen, and the low-light performance is great.
Hello Baby designed the most pocketable "parent unit" monitor/receiver of any that we tried. There's no belt clip, but the fold-out kickstand works very well.
The tiny 2.4″ screen is bright enough and clear enough to see what's happening in a crib or watch a toddler playing in the next room, and the digital zoom lets you see a little bit more detail if you need to. Camera placement is definitely the key to making this system work well, but if you have reasonable expectations this system will give you what you need.
There's a thermometer, eight lullabies, adjustable sensitivity for the sound-activated mode and even a timer that will beep to remind you about your feeding schedule if you don't already have a plan for that.
Hello Baby's audio quality is pretty good. There's not much we can say about baby monitor sound quality except that your expectations should be low. The HB24 is better for both listening and talking back to your baby than Samsung, but that's really not saying much.
In our transmission range test this model also sits right in the middle: it's nothing amazing, but for monitoring a room on the other side of your house it should be sufficient. When we took the monitor out to the detached garage there were some spots where the signal didn't come through, but we always found a spot where it worked.
Key takeaways:
The Hello Baby – HB24 is a solid performer on a budget. All the features are present and accounted for.
The small screen makes this easy to carry without being too small to be useful.
Battery life, transmission range and sound quality are all comparable with our top pick.
It includes a sound-activated mode that turns on the screen when your baby cries, which can help if you're worried you might miss something but don't want to sit hunched over a baby monitor waiting for something to happen.
Best audio-only: VTech – DM221
Some parents don't want video cameras in their nurseries, and we understand. There's a good argument for a cheap, reliable audio monitor, and the VTech – DM221 is a great example.
Audio quality in a baby monitor is not hi-fi, but this model lets you hear what's going on just a bit better than the video camera systems. The big feature VTech brings to the table is that you can mute the speaker and let the parent unit notify you of loud sounds with "silent" vibration. You can set a "beep" notification, too, if you're worried about falling asleep and missing notification from the baby monitor.
The battery life on this receiver is, at almost 18 hours, pretty astounding. The battery pack itself is nothing special; almost certainly it's made from a pair of AAA-size NiMH battery cells and the connector plug in a plastic wrapper.
It did start beeping an occasional "low battery" warning after only six hours (less than halfway through the battery's capacity) to remind you to top it up, but if you're in a pinch it's got a lot of reserve battery.
Since most people will be able to plug in at some point before elapsing six hours of baby monitoring, this should be more help than hinderance. Sadly, this means that even though it could comfortably run all night on the battery, you'll definitely want to plug this one in before you fall asleep lest the battery warning wake you up. The occasional "beep beep" isn't as loud as the notification that your baby's crying, but it's not something you want going off at 2:00 a.m..
Key takeaways:
The VTech – DM221 is a fully-evolved audio monitor. If you don't want video, you don't have to give up any of the useful monitoring features.
Range and battery life are top notch, and audio quality is as good as any baby monitor we've heard.
The low battery warning kicks in early, which is a bit annoying, but it's usually not hard to have your monitor plugged in most of the day anyhow.
This is the only monitor we tested (other than smartphone apps) that gives a vibrating notification when there's a loud sound, which can be a great feature if you're watching a movie or talking on the phone during naptime.
Other finalists we tested
For the networking guru only: LeFun – Fi368
We are tempted to recommend the LeFun Fi368 camera to more people, but there's basically one thing stopping us: Wi-Fi itself.
As Wi-Fi-connected cameras go, this one is pretty solid. It has at least rudimentary firewall protocols built in, so it won't just give itself over to you with easy-to-guess passwords like some other common cameras do. There are still risks, but that's true of all Wi-Fi home devices.
Setup is more work than for the non-Wi-Fi cameras, since you can't tell the camera your Wi-Fi password directly. Instead, your phone will tell the camera your password with audio or a QR code generated by the control app. This setup process requires patient obedience of strange directions, and it is more than a bit creepy when your mobile phone suddenly starts loudly chirping/screeching and the camera gives a happy "bloop" in response.
If you're fortunate enough to have ethernet cable run to a good spot for a baby monitor camera, then you can avoid that whole setup process and skip straight to setting up an account. Sadly, the camera does not take power-over-ethernet, but it will run off a USB port with the included adapter cable.
Once you're networked and you've set up an account on MIPC.com, things are both great and scary. The web page is kind of slow and hasn't been updated since NPAPI plugins were made illegal; there's also no obvious "password reset" function and nothing that makes clear exactly what a "guest" account can or cannot do. It wasn't clear what plugin it's using to run video, but it worked on the Chrome browser we tested with.
We tested both the Android and Windows programs for controlling the camera, and they worked quite well, much better than the website. The apps will do everything a baby monitor should with your phone or computer: detect sound or motion and notify you, let you listen or talk back and let you control the camera pan/tilt motors.
If you're planning to use this in a working-from-home scenario for nap monitoring, that's pretty great. If you've got a spare tablet device around, it's even better. If you're expecting to run this from a public terminal or a restricted-access work computer, you might be out of luck.
As far as stories of randomly logging into other people's nurseries or pranksters playing death metal in the middle of the night … it's as unlikely you'll be the victim of cyber pranks as it is that someone will throw a brick through your nursery window, but it's still something you have no control over. This camera is more secure than a Chromecast (you need the serial number off the camera to even start connecting, you can't just walk into range and see the camera pop up on your phone), but that's not a high bar to clear.
If you're confident in the security of your home network then this might be a great choice, but for some people the unknowns will be too many and the benefits too few.
The even uglier side of this is that while Wi-Fi works most of the time and enables amazing freedom in our use of the internet, it's not always reliable for some of us. The thought of one more device to troubleshoot, whitelist or reboot is enough to assure us that the extra $40-$130 for a camera with a dedicated monitor is going to be justifiable for many of the people who just need a baby monitor.
Samsung SEW3043
There were some great things about the Samsung SEW3043 video monitor, but on the whole, we just don't recommend it. Since we tested Samsung has started including a second camera in this package, though the price has also gone up so it's still a terrible value.
Update: After we tested our original lineup in 2018, Samsung has stopped making baby monitors altogether.
The range you can use this monitor at is great, and it was the most immune to interference or drop-outs. The screen is also the biggest, which makes it easy to see what's going on in night vision mode. Combined with full pan/tilt control, this is a solid video setup on paper.
The performance perks come at a price, it seems: even with a giant lithium-ion battery pack, this monitor died after just four and a half hours of screen-on time. Battery life is sufficient in standby mode (where the screen only turns on for noise/motion) or if you leave it plugged in, but it's disappointing compared to the life of the other monitors we tested.
Some little conveniences and features look good on paper, but turn out to be detrimental in actual use. For example: this monitor features a belt/pocket clip, but Samsung made it part of the snap-on battery cover. If you actually try to use the clip you'll hear the monitor clattering to the floor after the whole battery cover pops off under the weight.
The touchscreen controls are also disappointing. It looks nice, and in 2018 maybe a new generation of parents find the icon-based on-screen menu more intuitive than our testers, but we mostly preferred the direction-pad-and-buttons interfaces on the Infant Optics parent unit.
VTech – DM111
The VTech – DM111 is very much like the DM221, our audio-only pick, but stripped of every extraneous feature and $15 cheaper. VTech probably uses the same microphone in the nursery unit and the same speaker in the parent belt pack, but that's all the DM111 really is. No two-way communication, no rechargeable battery, no vibrate alarm when your baby cries while you're wearing headphones.
The DM111 doesn't include any batteries, though it'll run without them with the included wall adapter. It accepts standard love-them-or-hate-them AAA cells; we used high-capacity rechargeable batteries for testing, and they ran for almost 14 hours. The receiver won't recharge batteries when plugged in like the 221 will, so we think this is really only a sensible buy if you're not planning to run it on batteries at all and you don't want to have to think about the extra features of that model.
Levana – Jena
We nearly went with the Levana – Jena for our budget video option, since it has a few very strong design points. In the end, we eliminated it because it was the most susceptible to interference: when other monitors or cameras were turned on in the same room, the receiver would lose connection to its camera even on the other side of a wall or floor.
The range was good with line-of-sight or only one or two walls between camera and monitor, but at nearly the same price the Hello Baby system was more reliable and has better video quality. The Jena's button layout also isn't as intuitive as Hello Baby's.
The Jena was very impressive in one test: for battery life, it bested all but the audio-only systems. Levana managed to get 13 hours of screen-on-time out of its 1800 mAh battery pack, and it comes with an easy-to-use charging dock, too. The Jena also has a belt clip that works, unlike Samsung's silly clip that seems designed as a prank.
The bottom line
Baby monitors are tricky to test and recommend, since every parent will rely on a monitor in a slightly different way. Video monitors are becoming popular, though, and for obvious reasons: being able to see your baby is a big deal if you're in the next room and you hear a sound.
The Infant Optics – DXR-8 Video Baby Monitor has a great camera and a good remote monitor to give you control of the essential features. This isn't a cheap monitor, and there are some features we're surprised it doesn't have, but the design is much better than the closest competition.
For those who can't shell out more than $100 for a system, two choices really stand out: the Hello Baby – HB24 doesn't have the video quality of a top-dollar system, but it works well and has all the features you'd expect to see.
For audio-only monitoring with features like vibrating notification and two-way talkback, VTech has nearly perfected the baby monitor in the DM221.