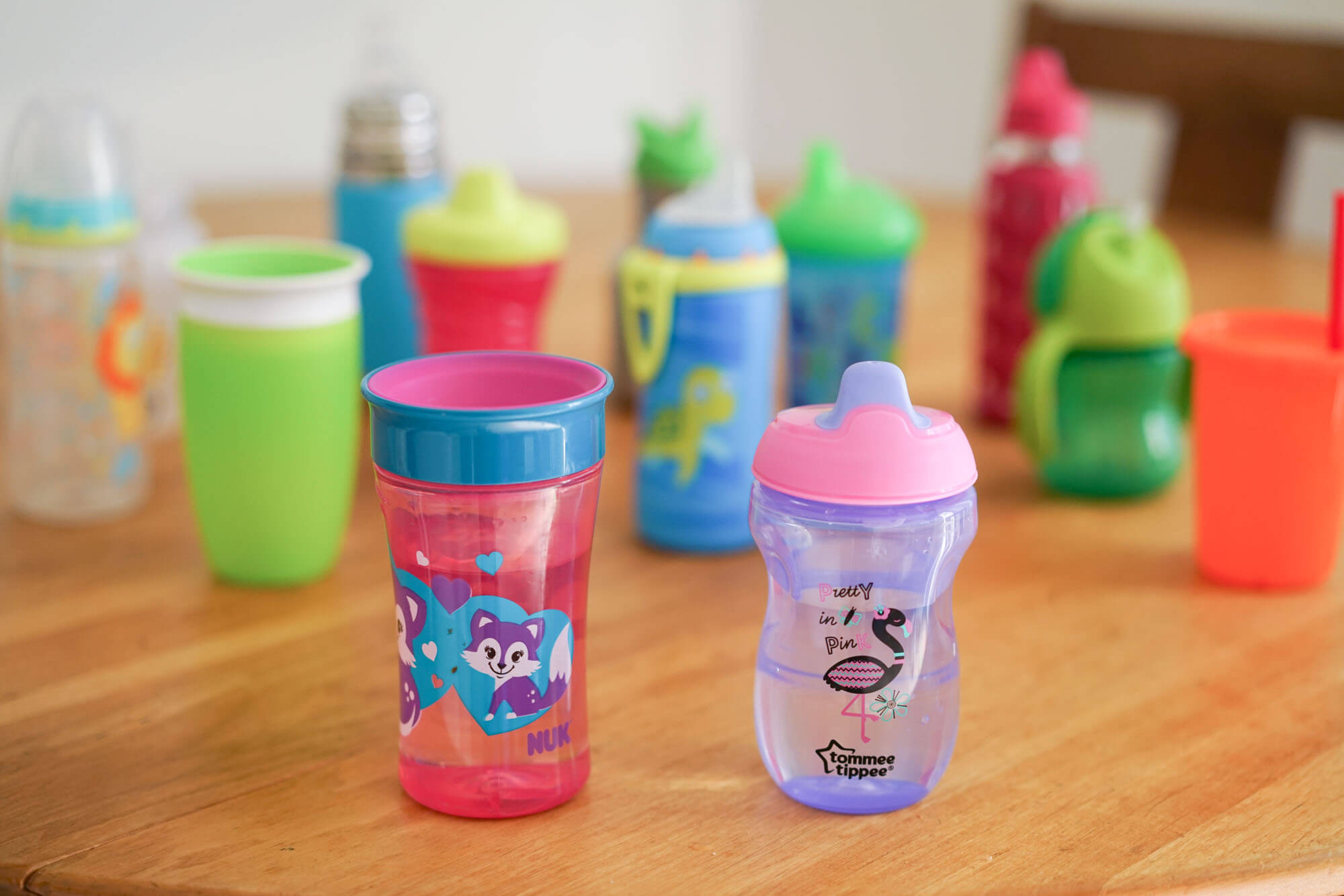 After three weeks of research, extensive polling of mom groups and five months of testing 13 of the highest-rated sippy cups available, we chose the Nuk – Magic 360 as the best sippy cup. The Nuk is leak-proof, its lid is easy to disassemble and clean, and the 10-ounce tumbler is just right for small hands. Our runner-up Tommee Tippee is the most leak-proof cup we've ever seen, though a bit harder to clean.
After three weeks of research, extensive polling of mom groups and five months of testing 13 of the highest-rated sippy cups available, we chose the Nuk – Magic 360 as the best sippy cup. The Nuk is leak-proof, its lid is easy to disassemble and clean, and the 10-ounce tumbler is just right for small hands. Our runner-up Tommee Tippee is the most leak-proof cup we've ever seen, though a bit harder to clean.
Table of contents
How we selected finalists to test
Due to the high volume of sippy cup product offerings available, we started by creating a list of the top-rated sippy cups offered across Amazon, Target, Walmart and specialty baby stores.
We polled our friends and a private parenting group online to see what other parents were looking for, what they loved about their cups and especially to find out what they hated.
We then narrowed down the list by looking at the highest number of online reviews and ratings above 4-stars for each retailer and cross-referenced our list with Reddit at /r/beyondthebump, review site BabyGearLab and parenting websites Mom Loves Best and Lucie's List.
Types of sippy cups and other transition cups
Soft-spout sippy cups: Soft spouts are designed to be gentle on gums while teaching a baby to drink from a spout. They're sometimes called "trainer cups" or "transition cups," though those labels are also applied to all the other types. Often a soft spout is designed with air vents to help reduce swallowing air, and it allows much more water to flow through than a bottle nipple does. These are designed to be easy for a baby to grip and sip, though we wouldn't blame you if you said they're an awful lot like fancy fast-flowing baby bottles with handles.
Spouted sippy cups: This is what most of us think of when we hear "sippy cup." The spout means a child can control the flow pretty easily and won't dump a whole cup of milk on his head without at least giving you a fighting chance. The spill-proof versions of these cups will save you from mopping the floor thrice daily, but the inside of the spout and silicone seal are a pain to get clean. Recently, studies have raised concerns about tongue-muscle development, tooth position and speech pattern problems in kids who use spouts for too long.
360° / spoutless cups: This is a relatively new invention, and the list of improvements is impressive: your kid still controls the flow by sucking and the lid stops leaks, but in most other ways it's just like a regular cup. This style of cup is getting a lot of attention after the freak-out about spouts. Recommended for children 12 months plus, though the learning curve isn't as bad as we feared.
Straw sippy cups: This is the other way to deal with the concern raised about spout-style sippy cups: the straw doesn't interfere with tongue position as much, and it forces better posture (since you have to hold the cup right-side-up for the straw to work). They're also easier to clean than spouts, so long as you have a way to scrub out the inside of the straw.
Compare the best sippy cups
When and how to use sippy cups
There are two reasons commonly given for transitioning away from a bottle and getting your child to use a "grown-up" cup: First, dentists warn that sucking from a bottle for a long time means sugar (even in milk) pools around the developing teeth and can lead to early tooth decay. Second, if your kid gets formula or milk in a bottle during the day, he may not want to eat solid food at mealtimes.
Most dentists recommend training your toddler to lift and drink from a regular (non-breakable) open-top cup as soon as you can. Sippy cups (or "transitions cups") are a way to get you closer to that goal, even if you're not actually solving all the problems right away.
We've seen first-hand the result of letting a child use a sippy cup like a bottle. The soothing effect is cute, and it can seem like a lifeline during weaning, but it's hard to break the habit and it leads to extra diaper changes. Establishing a routine for when drinks are allowed can cut back on changing time and will also help avoid the developmental concerns that are getting more and more research attention.
Important features to consider
Leak-proof: If it were easy to teach kids to drink out of open-top glasses, we wouldn't need sippy cups. Great cups go beyond just slowing down the river of milk coming off the table, though: Leak-proof means you can stow a water cup in a diaper-bag pocket or even inside your tote bag without getting everything soaked.
Easy to clean: The #1 concern among moms we talked to was mold. Any corners or crannies that trap solids and aren't easily scrubbed will make mold growth possible, even if you're just filling a cup with water. All those cleaning problems get much worse if you forget about a cup with milk in it for an afternoon.
Orthodontic and developmental risks: The concerns about oral health and sippy cups are partly about sugar and tooth decay, but a hard nozzle may lead to crooked teeth or speech development problems the same way thumb-sucking does. Straws and spoutless cups are designed to avoid those risks.
Beverage suitability: Insulated bottles mean you can carry milk in your diaper bag for an afternoon without worrying about it going bad. If you're giving your tot smoothies for breakfast, on the other hand, a straw-cup will probably be a better investment (but watch out for tiny straws that you can't actually drink a smoothie through!).
How we tested
Ease of use test
We tested ease of use with our volunteer toddlers, paying attention to how easy the cups are to grip, the way they handled the weight of the cups, how much effort was required to sip through the spouts or straws, and noted any reactions to specific cups.
All the spout-style sippy cups we tested scored a rating of 5 for ease of use except for the "eco-friendly" sippy cups from Klean Kanteen, Pura and Lifefactory. One two-year-old volunteer stated each was "heaby" (heavy) and handed them back one after the other, though eventually she warmed up to the Lifefactory glass sippy. Each sippy cup was approximately 50-percent full during the testing period.
When you first see the "360° spout" cups, you'll probably be as baffled as we were about how they work. The spill-proof silicone lid inserts mean you can't just tip the cup back and pour water into your mouth. It took us a few minutes to realize you hold these just like a regular cup, but seal around the lid with your lips and suck like you would from a wide, flat spout. Surprisingly, our toddlers figured it out almost as quickly as we did!
Rating ease-of-use for straw cups is tricky, since kids will probably have no trouble at all with straws unless you switch back and forth between straws and spouts. As soon as you teach one way to drink out of a cup, that's what will be expected from the next cup you hand them. Our kids became adept at switching back and forth by the end of the test period, but we felt sorry for them trying to drink from the Philips – Avent for the first few times, since it looks and feels so much like a spout-type cup.
Leak test
We rated the sippy cups from a score range of 1-5 (1 being the leakiest) in the following tests: inversion (being held upside down), shaking while upside down and dropping on a hard floor from a height of about 22 inches.
The Nuk Blue Turtle and Jungle Animals cups scored high in early testing, but by the end of five months the ends of the soft silicone spouts had split enough that they now drip steadily when held upside down.
Spout-style sippy cups scored highest overall in these tests, since they use small, tightly closed silicone seals in the tips of their spouts. Sadly, that's also the reason they're so hard to clean.
The 360 "spoutless" cups are our favorite for spill-prevention, though they only score a 4 due to some noticeable water spatter when dropped on a hard surface, and they shed a few more drops than the sealed spout cups if shaken upside down.
For a water cup, these are all pretty great; we didn't feel bad about letting our kids walk around the house or climb into bed with any of them so long as water dribbles were the worst result. For packing in a bag, though, we really like the flat-top shape of the 360 cups best, since any pressure on the top of the cup will just seal it better.
Hand-washing tests
We scored easy cleaning on a number of factors that will probably be easily understood by anyone transitioning from baby bottles: how many parts are there, can I fit a cloth/sponge inside to wipe it down, do I need special tools to clean all the parts, and are there any parts that simply can't be cleaned without an army of microscopic janitors? We scored each cup on a scale of five.
Our test dad has been searching far and wide to find a brush that would fit all the way into the corners of his daughter's Minnie-Mouse-cup spout, but it hasn't appeared. The tiny corner-spaces trap solids and grow mold even in a cup that's used exclusively for water, so he was ecstatic to see that in the Nuk – Magic 360, even the tiny flow-channels are designed so you can get a scrub sponge into them.
All 13 cups we tested are top rack dishwasher safe, and were fairly easy to clean by hand once all the parts were removed. Straws are probably the hardest parts to clean (in some cases even if you have a special cleaning tool or a supply of pipe-cleaners), but we also docked points for tall or narrow-mouth bottles that basically require a bottle brush.
Note: The Gerber – Graduates cup doesn't technically have many parts to keep track of, but the valve insert is so difficult to get in and out of the lid that we docked an extra point.
Materials and eco-friendly options
One of the things you're probably thinking about more and more as your child grows is "what's this made of?" Another daily reality is the pile of stuff your kid has chewed up or broken, ready to be thrown out after one more drop on the floor. We gave each sippy cup a rating from 1-5 based on what they're made from and how long you can use them before they wind up in a landfill.
While there are no certified organic sippy cups, we did give higher scores to "eco-friendly" bottles made from easily recyclable materials like stainless steel and glass, since they'll last far longer than any of the plastic cups unless you drive over them with a car.
The glass bottle from Lifefactory has an edge for being the only totally non-reactive sippy cup, but we can't deny that a stainless bottle is more durable. We've looked into the safety of stainless steel before on our travel mug review, and we still think it's a solid choice (though, like glass, heavy for smaller kids).
The rest of the cups we tested are free from BPA and other phthalates like those used in PVC, since they're all made from polypropylene, a common plastic that handles heat and cleaning well. Silicone is used in seals and soft spouts, so there's no worry of allergic reactions to natural rubbers. Sadly, though the polypropylene and silicone are recyclable by specialized plants, we know that the parts are also probably never going to be sorted and shipped to places that will actually do so.
The best overall: Nuk – Magic 360
Nuk's Magic 360 surprised us in a few ways. We were skeptical about how easy it would be to drink from and how effectively it could replace an old-fashioned sippy cup, but by the end of our testing period we were pretty thoroughly convinced that this is the best cup you can buy.
Nuk licensed the "Wow cup" technology from Wow Gear LLC, and their invention is deceptively simple: a tumbler-shaped cup without spout or straw that doesn't spill if you turn it upside down. The first time we heard a fellow mom describe the "magic" cup she had found, we were convinced she was delusional. Surely no cup could be that good.
The secret "trick" to this design is that silicone flap on top. It forms a fairly simple one-way valve, but it's sealed against a channel-filled lid surface underneath; the combo is just stiff and restrictive enough that you need to suck on the edge to get water flowing through.
After a week of using the Magic 360, one of the two-year-old testers seemed to have better control with a no-lid tumbler. It's not enough of a transformation that we're giving her an open glass of OJ to carry around on the carpet, but it does seem like it's helping the transition.
This design isn't 100% spill-proof: if some small person whom you know and love throws a Magic 360 across the room, a "magical" spray of liquid will certainly still come out. Even gravity-powered drops from toddler height sometimes leave drips. That said, turning this cup upside down and shaking does not cause a leak.
Transition cups and oral health
The two downsides of a traditional sippy cup are the way the spout sits in the mouth (interfering with the tongue and pushing on developing teeth) and the way it teaches kids to lean their heads back unnaturally. The 360 "spoutless" design deals with both of these problems, and it's a nearly perfect transition to an open-top cup.
With one of our test-toddlers, we noticed right away that she didn't use the Magic 360 cup like a bottle when falling asleep — sucking down water for comfort rather than thirst — like she previously has with a spouted sippy cup. She still takes a sip if she's thirsty, but not out of habit. That means less overnight wetting, and hopefully will help reduce bedwetting when she transitions away from overnight diapers.
Nuk – Magic 360 vs Munchkin – Miracle 360
Nuk has some minor advantages over Munchkin despite the similarities. If you're standing in front of a rack of sippy cups and you only see Munchkin's cups, grab one and go before your toddler pulls down the tower of basketballs in the next aisle. If you've got a chance to buy the Nuk, though, it's our pick of the two for milk and our favorite overall.
For one, we like that the Magic 360 is transparent enough that we can almost always tell what kind of liquid is inside, which hopefully reduces the number of times in a week you'll be cleaning spoiled milk out of something.
When hand-washing, the Nuk cup has channels or grooves between the plastic and flap rather than holes, and you can actually get a scrubber or sponge on all of that surface area. A dishwasher is going to be far quicker, but one test household didn't have a dishwasher in their apartment and Nuk's design didn't leave them with worries about missed grime.
Both cups present a big step up from the nightmare of sticking your nose inside the spout of a silicone-sealed sippy cup and vainly trying to find that last bit of hidden, congealed whatever-it-is. Leak-proof performance is almost identical between the 360 cups.
If branding is going to be the deal-breaker for your kid, Munchkin has versions of their cup with Paw Patrol and Hello Kitty, while Nuk has PJ Masks and TMNT. Each maker also offers a variety of generic-but-friendly designs. If you're looking for Disney characters specifically, there's a very comparable cup we didn't test from The First Years.
Key takeaways:
The Nuk – Magic 360's spout-free design means this is easier to clean than a traditional sippy cup and doesn't have the developmental side effects you've heard about.
This is the best cup for milk, too, since you can easily see what's inside.
Leak-proof enough for a bedtime water cup, though there's a splash if you drop it.
Easy to take apart and clean with only three parts.
Most leak-proof: Tommee Tippee – Sippee Cup
The Tommee Tippee – Sippee Cup is the most complex cup we tested, but it does exactly what it's supposed to: It prevents spills using a fantastic hidden silicone valve and a better-than-average spout, but it's still easy to drink from.
You may have heard about this cup a few years ago in less favorable terms: The old sealed one-piece valve was basically impossible to clean and got a full recall. The new design has more parts to keep track of, but you can clean them all thoroughly by hand or in a dishwasher.
We like that the firm silicone spout of the Sippee has a tube-shaped inner passage rather than being hollow, since this prevents things from getting trapped in impossible-to-reach corners and growing mold or bacteria. Although you need a pipe cleaner or straw scrubber to scrub out the tube, it doesn't have impossible-to-reach corners like most sippy cup designs.
The real win for this design is that it's as close to totally spill-proof as we can imagine. The silicone valve actually locks the spout closed until you start sucking on it, at which point the pressure change inside the cup opens a little plunger and your kid can drink freely. In our testing, it also seems less prone to the high-pitched squealing that comes from air leaking into or out of a conventional seal on a leak-proof cup.
This cup would probably leak in your luggage if it were packed upside down in a checked bag on an airplane, but other than that kind of rapid pressure change we couldn't find a way to make this cup leak. It's the only one we'd pack in a camera bag.
For all its strengths, the Sippee cup has tiny parts to disassemble and clean and requires an extra cleaning tool. Also, after our first washing test, we also had some major leakage problems because we didn't get it back together just right. After a year of practice you'll probably be able to field-strip the parts and re-assemble blindfolded, but that's not a challenge most parents are looking for.
This cup also comes with all the developmental worries of spout-style sippy cups. We like the Tommee Tippee design enough to feel happy about recommending, but it's not as amazing as the Nuk – Magic 360.
Key takeaways:
The Tommee Tippee – Sippee Cup has a silly name, but it's the most leak-proof cup we've tested.
This is easy for kids to drink from without compromising thorough cleaning or allowing spills.
Any concerns you might have about spouts will still apply, but it's a semi-soft silicone spout.
Extra parts make for a lot of work to take this cup apart and reassemble it.
Best for smoothies: The First Years – Take & Toss
Because it leaks so readily with water and it's so disposable, we couldn't in good conscience recommend the Take & Toss from The First Years as top straw cup for water, let alone best cup overall. However, because it's the only cup we tested with a large-bore straw (just less than ¼" inside diameter, like a typical beverage straw), this is the only one we recommend for blended smoothies.
We tried berry-yogurt smoothies in the other cups, and they simply wouldn't go. In the Take & Toss, you might have to blend longer to avoid chunks if you're working with a straw that's flattened on one end, but it'll work fine. Yes, you'll want pipe-cleaners to scrub out the middle of that straw, but otherwise the cup is easy to wash.
The downside to straws like these, compared to the softer straws on the Philips and NuSpin straw cups we tested, is that they're hard. That makes them easier to insert in the lid and also easier to wash, but some teething toddlers will almost certainly mash the end flat after a week or two, like ours did. It's a good thing they're cheap. There are silicone replacement straws available, though if your kid is anything like ours those might get bitten through even more quickly.
Straw cups in general are recommended as an alternative to spout-style sippy cups because they don't force the tongue and teeth into strange positions, and also because they encourage good posture. Unless you buy one of the exotic weighted-straw sippy cups, your toddler can't hold a straw cup upside down and lean back the way they would with a spout or bottle-nipple, since the straw would then be up in the air.
It was a bit cruel switching our kids back and forth between straw and spout style cups during tests, and you're really better off sticking with one style of cup if you can. One of our tester households likes the Nuk 360 cup best but uses a straw for smoothies, and for a case like that the Take & Toss is nice to have around.
Key takeaways:
The Take & Toss Straw Cup isn't water-tight for bedtime and you certainly couldn't put it in a diaper bag without puddles, but it's great for walking around with.
It's easier to wash than every other straw cup we looked at.
The straw is made from thicker material than a standard disposable straw, and will hold up fairly well to biting.
For smoothies, the straw is just the right size.
Other finalists we tested
Spoutless cups
Munchkin – Miracle 360 Trainer Cup
Almost everything we liked about the Nuk Magic cup also applies to the Munchkin – Miracle 360. That's good, because you might not be able to find the Nuk in a moment of desperation, and Munchkin also might sell a character-branded cup or color that your kid prefers.
We did find the Nuk design easier to clean by hand, and we like that it's transparent enough to tell the difference between apple juice and water, but they're both great cups.
Straw sippy cups

NuSpin – Zoomi Straw Sippy Cup
There's a lot to like about the NuSpin – Zoomi straw cup, but at the end of the day we're not convinced that a straw is the best way to go for an everyday use toddler cup. There are lots of parents we know who started trying straws in order to make it easier for youngsters to enjoy a healthy smoothie without spoon-feeding them, but a tiny straw like NuSpin uses just won't work for that.
This is also one of the more expensive cups we tested, and the straw isn't easy to replace or to clean. If a straw is the way you want to go for a go-to water-drinking cup, this cup has a slight edge over the Philips for how easy it is to clean and it is more leak-proof than the Take & Toss cup.
Philips – Avent
Philips has a huge line of baby products, and they're all packed with features, but at the end of the day all of those features just makes the Avent – My Bendy Straw Cup harder to use than it should be. The three-piece straw has a valve in the middle to prevent backwash and a curved piece inside the cup to make draining the last drops easier, but all of those pieces create spots for mold or milk-eating bacteria to hide.
The flip-down lid is effective at preventing leaks in a diaper bag and it won't disappear in a week the way most caps do, but it's still an extra part to break and it may frustrate a smaller toddler (or impatient parent) when you're trying to pass a water cup from front seat to back seat in the car.
Hard-spout sippy cups
Gerber Graduates – Fun Grips
There's a lot to like about the Gerber – Fun Grips design: the shape is hard to tip over, fairly easy to grip and nearly 100 percent leak-proof even after five months of use. All of the usual problems of a hard spout design are present, though.
The spout harbors tiny mold spots and is impossible to fully clean by hand, and to make matters worse the silicone seal insert is held in place by a piece of hard plastic that's harder to remove than it should be.
Also, If you're worried that your toddler will trade his milk bottle addiction for a sippy-cup addiction, or if you're thinking about future orthodontist bills, this design won't help you at all.
Munchkin – Alphabet Sippy Cup
The Munchkin – Alphabet Sippy Cup is about as ordinary as you can get in a leak-proof sippy cup. It's a tiny bit easier to clean the silicone seal here than it was on the Gerber cup, but we can't call it the best by any stretch of the imagination since the spout still holds enough moisture to grow mold and can't be easily scrubbed.
The leak-proofing isn't quite as good as Gerber's, though, and neither cup has any advantage over the Tommee Tippee, let alone Nuk's Magic 360 cup.
Eco-friendly sippy cups
Pura – Kiki Stainless Steel Insulated Sippy Cup
If you've always wanted to put an easy-sipping soft spout on your favorite insulated water bottle, the Pura – Kiki is an insulated bottle made for you.
Pura has got a lot of good press for the recyclable, plastic-free design, and we do like that you can keep milk cold in this bottle for much longer than any of the other cups. The soft spout is fairly leak-proof; far better than the worst sippy-cup spouts, but not nearly as carpet-safe as a Tommee Tippee or Nuk – Magic 360.
We like that this is a bottle that's designed to grow with your child, allowing you to change the spout for the sport-oriented lid when you're ready.
There's a silicone cover to keep dirt out of the spout, which is a nice touch, but if your kids are anything like ours that will be lost in a few weeks. The soft spouts are also going to leak badly if you rest them upside down inside a bag, even with the cover on.
We'd say this is the best easy transition from a bottle, except that it's so heavy. One of our two-year-olds just handed it back and didn't want to drink from it. Given enough time, even a smaller toddler can learn to manage the weight, but the soft spout and the weight of the body are mismatched.
Another downside to this design is that the vent to replace what your kid is drinking with air is basically just the seal at the base of the silicone spout. If you tighten this lid too much, your drinking child will leave a vacuum inside the bottle and the soft nipple will get sucked in. Maybe you're used to that from your baby bottles, but it's an extra factor to think about when you're just trying to get a cup of milk into the hands of a crying two-year-old.
Lifefactory – Glass 9 oz Sippy
Glass is a love-it-or-hate-it bottle material, but Lifefactory's 9-Ounce Glass Bottle is one of the top sellers in this category. This is the same bottle that's all the rage at yoga classes, but in a smaller size and with sippy-style spout included. There are even bottle nipples available in the full range of flow rates if you want to give your infant a head start on bicep curls with a weighted bottle. (Okay, there's a 4 oz bottle for infants but they can all use the same lids.)
Though the Lifefactory bottle offers an inviting brightly-colored silicone wrap to offset the weight and cold touch of glass, the lack of a vent hole in the lid means (like the Pura) you can't screw it down all the way. If you do you'll undoubtedly hear something like "daddy, it don't works!" Even after unscrewing a bit, it's the most restrictive spout in our lineup (and it still leaks if you shake it).
Klean Kanteen – Classic Sippy
We like Kleen Kanteen as a company, and we think their insulated bottles are superb, but for toddlers the Kleen Kanteen – Classic Sippy design just doesn't stand up to the competition.
One test toddler liked this bottle-style sippy least of all: it was hard for her to figure out where to hold it, and cold metal isn't as inviting to small fingers as it is to a backpacker on a through-hike. We like the finger-loop for easy carrying of the bottle after a toddler says "hold my milk" in anticipation of snapchat-worthy stuntz, but it definitely appealed more to our tester parents than our tester kids.
The materials used here are great: The single-wall steel bottle is nearly indestructible and easily recyclable. That said, there's the same polypropylene plastic in the spout as you'll find in the other landfill-packing sippy cups, and the silicone ring that seals the lid to the body can be a pain to get off for a really thorough cleaning.
The biggest problem with this cup is that it leaks, badly. After a few months of use, it drips a few drops every seconds just from being upside down. The spout is harder to clean than most, too.
Soft-spout sippy cups
We were looking for a cup to recommend as the best cup for transition from a bottle or from breastfeeding, and we tried a few cups from Nuk: the Learner Cup and Active Cup. These are the most bottle-like cups we tested, with soft spouts that might appeal to some youngsters who refuse to wean with the hard spout on a conventional sippy cup.
First, the positives: These cups are simple to clean. They're basically large bottles with high-flow nipples. Everything you've learned about cleaning bottles through the first months of parenting will apply here.
On the flip side, these cups are really less of a transition than a stop-gap. Most experts suggest transitioning to an open-top cup because sticking with a bottle can make it difficult to get your kid to eat solid food. If your goal is transition, this will be a change from the bottle or nursing, but not enough of a change to hit those milestones.
The main reason we're not recommending these cups is that the nipple/spout leaks after a few months. Out of the box these were good performers, but after five months of testing they'll dribble if you hold them upside down. The snap-on cap keeps dirt out of the spout, but how long do you expect you can keep track of a cap for a cup that a toddler will be walking around with?
The Pura – Kiki stainless insulated bottle has a similar soft silicone spout that doesn't have as many leaking problems, but it's a heavy bottle that's not going to be an easy transition for weaning. (Even one of our two-year-old testers didn't like the weight.)
The bottom line
We hope this guide has given you helpful information and helped you decide which cup is right for your toddler. We know that you're depending on this cup to last for at least a few years, and that means you might fill it and wash it thousands of times.
For a leak-proof sippy cup that's better-designed than average, the updated version of the Tommee Tippee – Sippee Cup really is leak-proof and easy for a toddler to drink from. It's not even more expensive than most cups, though taking the valve apart for cleaning is a bit more work that we'd like.
For smoothies, we know it can be hard to find a straw cup that will actually work and not be impossible to clean. We liked the Take & Toss Straw Cup from The First Years for that reason: It's not an amazing feat of engineering or a durable product that will last for years, but your toddler can actually drink a banana-yogurt smoothie out of it, and you won't go crazy trying to clean it.
For most families, the best sippy cup is probably going to be the Nuk – Magic 360 spoutless cup. This isn't an open-top cup, but it's so close your toddler will definitely get a chance to feel more grown-up than the other kids with their "baby bottle" cups. Most importantly, it's easy to take apart and clean after you leave it in the sun over a weekend and a colony of something-or-other grows inside.