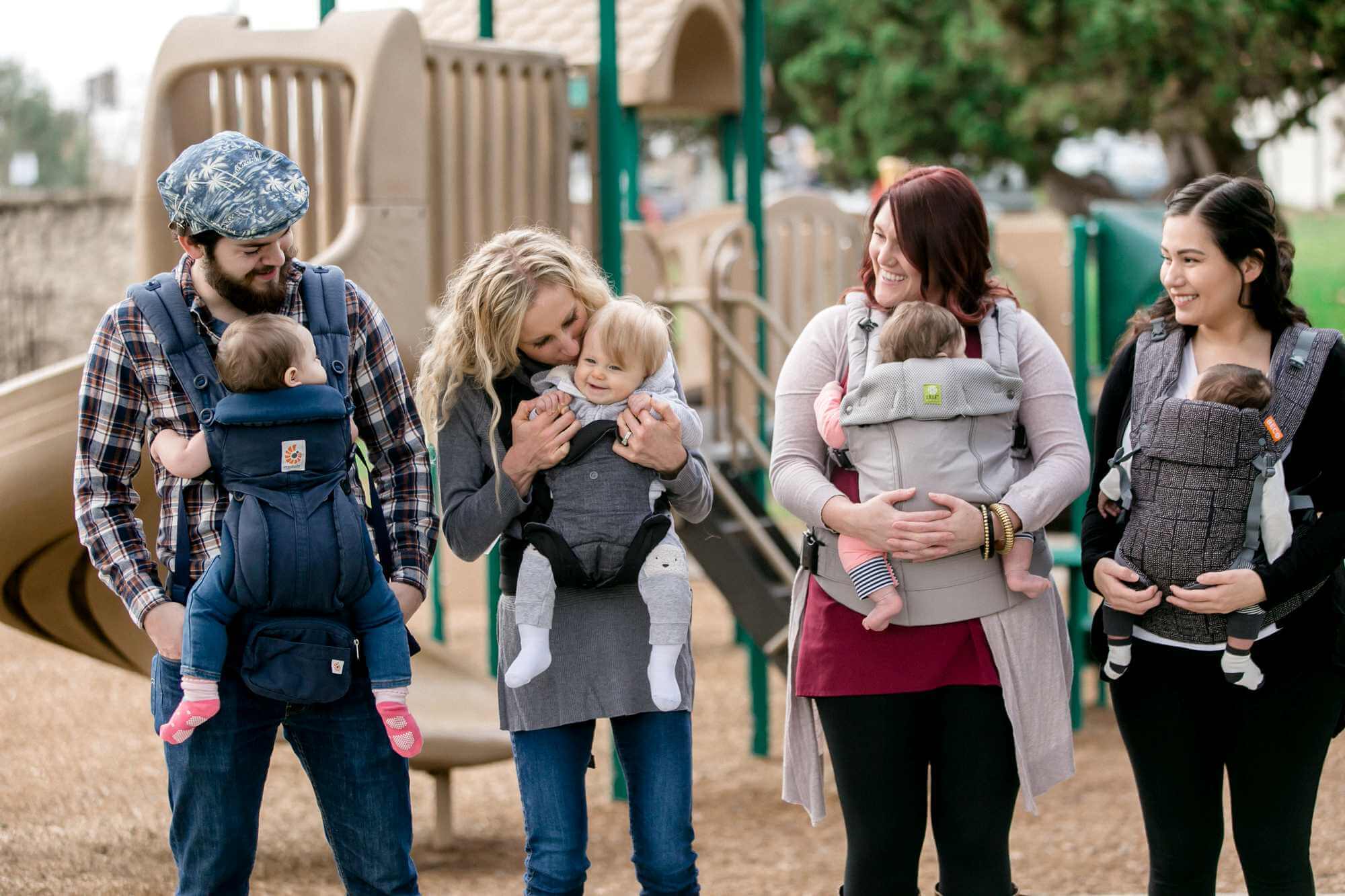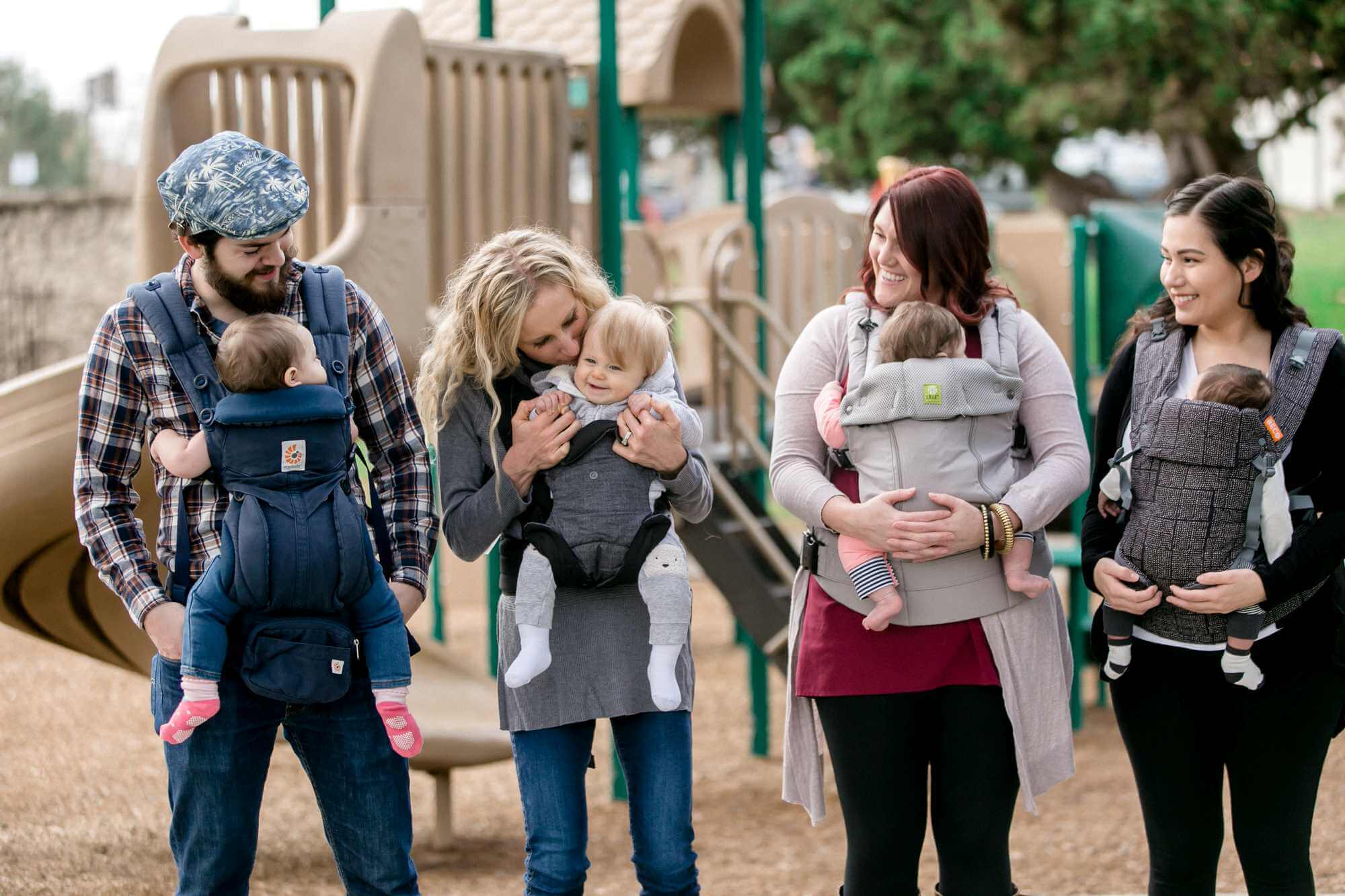 After using four of the top baby carriers for three months, our team of six experienced babywearers picked the LÍLLÉbaby – Complete as the best baby carrier for hiking, quick errands and just freeing up your hands at home. The Ergobaby – Omni 360 is a close runner-up, and the Infantino – Fusion is a good value if you can't spend more than $50, but the LÍLLÉbaby pulls ahead with extra features and subtle refinements.
After using four of the top baby carriers for three months, our team of six experienced babywearers picked the LÍLLÉbaby – Complete as the best baby carrier for hiking, quick errands and just freeing up your hands at home. The Ergobaby – Omni 360 is a close runner-up, and the Infantino – Fusion is a good value if you can't spend more than $50, but the LÍLLÉbaby pulls ahead with extra features and subtle refinements.
Table of contents
How we selected products to test
Our test team for this review consisted of our resident babywearing dad and six volunteer moms. We also reached out to some friends who are experienced baby-wearers for research and to participate in our photo shoot.
Our lead tester has been using a soft structured carrier for three years with both of his kids. He's got extensive experience with the original Tula and a few wrap-style carriers. Our test parents have used everything from the old-school crotch-dangling BabyBjorn and the Infantino to an older version of the Ergobaby.
As parents, we've followed the developments in babywearing with great interest. Most of us have been fairly satisfied with carriers for specific uses, but frustrated by limitations and complexities.
We read reviews of baby carriers extensively, noting selections from Wirecutter, BabyGearLab and reviewed.com. After compiling a list of 14 noteworthy carriers based on their popularity and features, we checked in-depth comparison videos on YouTube and watched all of the manufacturer instruction videos we could find to get an idea of what the different models were like to use. We also scoured Amazon reviews for signs of long-term reliability problems or drawbacks to specific designs. In the end we narrowed our list using a few key design qualifications.
Our first concern with selection of products was ensuring that the products we selected were safe for babies. The International Hip Dysplasia Institute has been studying the effects of carry positions for decades. They now advocate for baby carriers to create a "m-shaped" seat posture when you're looking at the legs of your inward-facing baby in the mirror. The IHDI provides educational information and now certifies popular designs — all of our picks are "hip healthy."
A note on hip dysplasia: Some babywearing advocates have started to downplay the importance of this point, as there's now some evidence against the effect of swaddling and posture on the development of hip problems in babies who aren't born with existing dysplasia, but the wider seat offered by hip-healthy carriers is comfortable and certainly can't hurt.
Second, we only picked designs that provide infant neck and leg support without an insert. After using baby carriers in the past that require bulky extra pieces to accommodate infants safely, we were happy to find competitive designs that work out of the box for newborns.
Finally, we looked for convertible designs to allow forward-facing carry (when a baby is old enough).
We didn't test any of the new designs that try to do something beyond baby carrying: the MiaMilly with its hip-ledge, for example, or the Onya Cruiser that converts from a carrier into a chair harness. There's even the Mountain Marsupial babywearing jacket. These products require an infant insert for newborns and the extra functions didn't seem like a clear benefit for all the extra bulk and complexity.
Compare the best baby carriers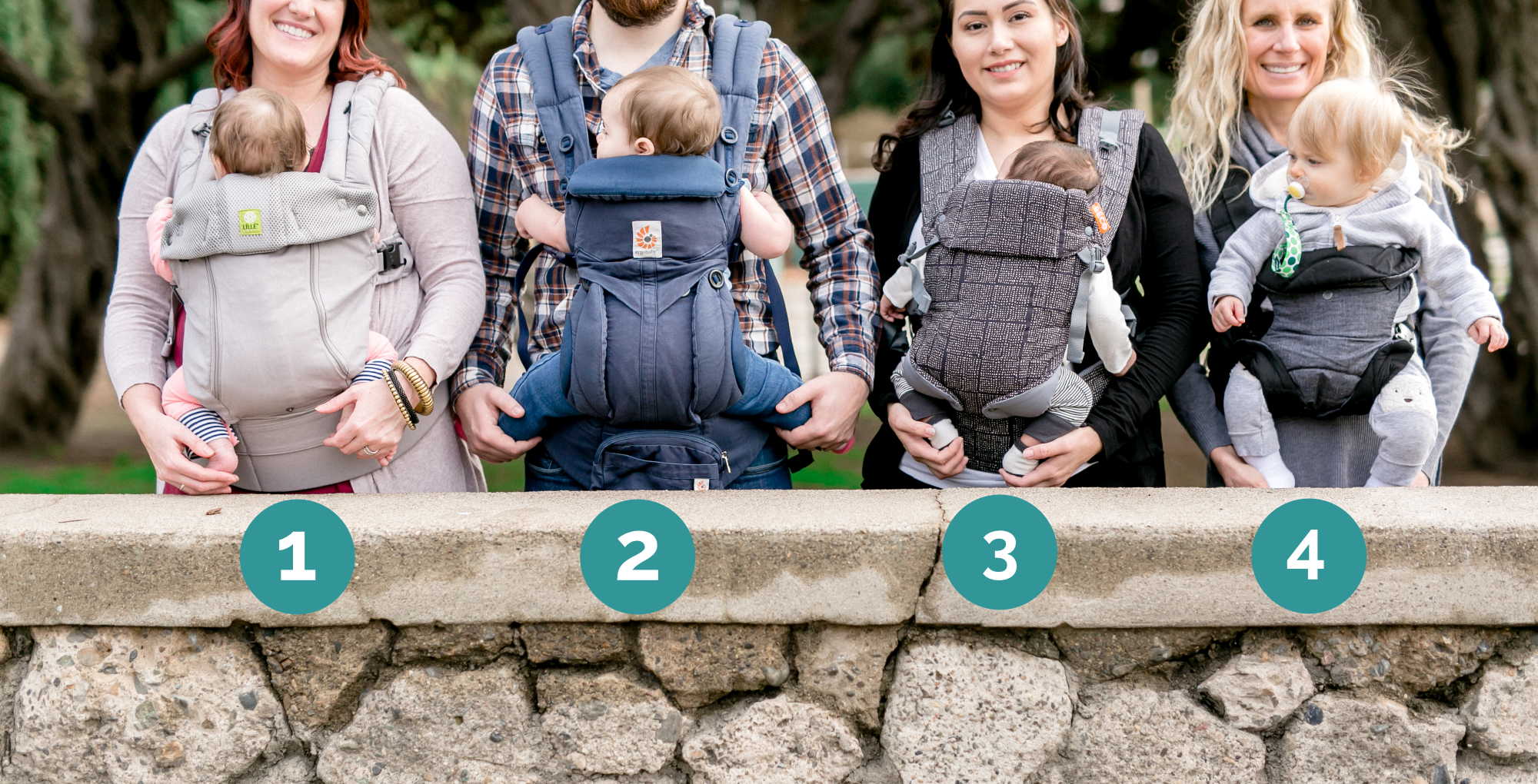 Who needs a baby carrier?
Using a baby carrier is now popularly referred to as "babywearing" in the U.S., but it's a practice that seems to have been around for as long as busy parents have been taking care of babies. Some kind of cradleboard, sling, wrap or other style of on-the-body baby carry can be found in the history of people on every continent.
Attachment parenting advocates are quick to cite the developmental benefits of close and lasting contact — while that's certainly a plus, there are plenty of reasons carrying your baby around will help you, too.
For one, carrying a baby with a harness frees up your hands. A carrier isn't an excuse for ignoring your baby, but often babywearing is a far more effective way of soothing a fussy infant than any amount of rocking and cooing. The fact that you can catch up on washing your baby's laundry at the same time racks up the bonus points.
The carrier also means you aren't stuck with lugging around a cradle or stroller if a nap sneaks up on you. (That said, having the option to leave your sleeping baby in another room with a baby monitor while you're working is still great for sanity.)
Another reason to prefer babywearing is that it's often much less work than some other means of transport. Strapping on a carrier isn't instantaneous, but using a stroller means stairs are suddenly insurmountable obstacles. If you can lift your ultra-plush car seat into a shopping cart and let your child sleep, more power to you — but that doesn't usually work on trips to the DMV or post office.
Double strollers and Disneyland go together like PB and J, but all of our testers who've bought double strollers still sometimes use a baby carrier for the extra versatility and mobility at the park or for hiking.
Back-carry with an older toddler is a great way to extend the range of your family outings. Especially when you have more than one child walking, a carrier gives you flexibility you just wouldn't have otherwise.
This leads us to the other benefit of babywearing: it's a great workout! But with the right carrier, you'll forget about how much weight you're lifting and just enjoy the time spent close and seeing the world together.
Important features to consider
Weight range: Our top pick and runner up are both designed to handle weight up to 45 pounds, while the others are rated at 35 or less. That's a lot of weight to carry around, but the better weight-bearing designs have stronger construction and more comfortable straps even with a smaller toddler.
Crossable straps: If your shoulders are narrower, crossing the straps behind your back can help distribute weight and keep the harness feeling secure.
Infant/fetal carry options: All of the carriers we tested are designed to carry infants in a way that doesn't unnaturally straighten the hips. These carriers also provide neck support, either as a neck pillow or flip-up head covering.
Extra carry modes: While the ergonomic baby carriers of yesteryear were often limited to just inward-facing front and back carry modes, these new carriers all offer a seat that supports baby's legs in a posture-friendly outward-facing mode. Some carriers also give instructions for leg-tucked-in fetal position options and hip-carry.
Mesh panels for ventilation: On a hot summer day, you'll be thankful for all the ventilation you can get. Usually you'll need to buy a different mesh version of a carrier, but LÍLLÉbaby makes their All Seasons version with a zip-off panel.
Snaps, buttons and toggles: For securing the seat panels and neck support flap, Ergobaby and Infantino use buttons or toggles, while the other manufacturers use snaps. Each method has its own quirks.
How to use a baby carrier
While researching for this review, we reached out to Holly Kohlmann, a local babywearing coach, for some advice about getting the best fit in the most popular carry configurations. She offered to help us film this video demonstrating how to use Ergobaby carriers in three commonly-used positions: Newborn, hip-carry, and front-facing carry.
How we tested
For three months our seven babywearing testers took these carriers everywhere. On hikes in the Sierra Nevada mountains, in airports moving between connecting flights, festivals and concerts, and even shoveling snow. For context, our testers compared the carriers against other soft structured carriers they've used in the past, as well as slings and wraps.
Comfort
| Baby Carrier | Comfort | Mesh or other venting? | Weight Distribution | Loading/Unloading |
| --- | --- | --- | --- | --- |
| Lillebaby - Complete All Seasons | ☆☆☆☆☆ | Yes | ☆☆☆☆☆ | ☆☆☆☆ |
| Ergobaby - Omni 360 | ☆☆☆☆ | No | ☆☆☆☆☆ | ☆☆☆ |
| Beco - Gemini | ☆☆☆☆ | No | ☆☆☆☆ | ☆☆☆☆ |
| Infantino - Fusion | ☆☆☆ | No | ☆☆☆☆ | ☆☆☆☆☆ |
While wearing the carriers in sessions of two hours or more, we compared factors like weight distribution, padding, ventilation and adjustment options to decide which carriers would be the most comfortable on a long day.
The LÍLLÉbaby – Complete All Seasons has an edge in this test for a few reasons. The thick padding is also more breathable than the other models and there's the zip-off panel that reveals a mesh panel for summertime wear. But even without the ventilation, the lumbar pad is bigger and there's a little more adjustment range for the straps.
Our babywearing coach notes that some petite parents find the long shoulder straps on the LÍLLÉbaby more of a nuisance than they're worth, but none of our testers has specific complaints. The lumbar pad will probably need to go if you have a smaller waist, but with the pad removed it's the same as the Ergobaby and smaller than the Beco.
Convenience

Easy loading and adjustment of the carriers is essential. For example, we loved the velcro tabs for adjusting the seat width of the Ergobaby – Omni 360, but really didn't like fumbling with the extra-large buttons to change other flaps.
The Infantino – Fusion is tricky to score in this category, since it's the only design to use a fully separate set of inner straps. If you unclip the baby-supporting buckles, this carrier doesn't just fall off your shoulders like the others do. That's pretty convenient for loading and unloading quickly, but the extra straps mean you can't really breastfeed while your baby is in this carrier.
Most carriers have an accessory pouch somewhere, and it's often a great place to stash your phone or keys when you're on a quick errand. LÍLLÉbaby wins this one as well, with a big pouch that's easier to reach than the rest.
Versatility
| Baby Carrier | Crossable straps? | Belt Length (Max. Inches) | Belt Length (Min. Inches) | Flap-Securing Fastener |
| --- | --- | --- | --- | --- |
| Lillebaby - Complete All Seasons | Yes | 48 | 26 | Snaps and loops |
| Ergobaby - Omni 360 | Yes | 52 | 26 | Buttons |
| Beco - Gemini | Yes | 50 | 27 | Snaps |
| Infantino - Fusion | No | 50 | 29 | Buttons |
All of these carriers give fairly similar instructions for how to carry babies and toddlers at different ages.
LÍLLÉbaby is the only company that provided instructions for a leg-tucked-in fetal position, aided by a swaddling blanket tucked inside to replace the giant carrier-within-a-carrier infant inserts of older models like the original Tula and Ergobaby. LÍLLÉbaby gets points for offering clear instructions, though our coach notes that if you're carrying a small newborn then LÍLLÉbaby's optional insert is easier to use than the blanket, and the ErgoBaby has an edge for simplicity.
The Infantino is the only carrier that won't allow crossing the back straps, which makes it a little bit less versatile.
The best overall: LÍLLÉbaby – Complete

The LÍLLÉbaby – Complete All Seasons really lives up to its name. This carrier is designed to handle any situation you can think of and it's competitively priced.
This is an updated version of the Complete, with a few modifications. First, it has the zip-open panel in front that allows for more ventilation. This is a thoughtful addition; in every other case we saw, a completely different carrier is necessary if you want mesh for hiking on a long summer day.
For newborns that are bigger than seven pounds, but too small for the seat pocket made by the shape of the carrier in the narrow mode, LÍLLÉbaby provides instructions for using a swaddling blanket to create a "fetal carry" position that doesn't squash baby's hips. Check out their video here. Some parents find folding and positioning a blanket tricky, but we were satisfied in our testing. We should note that our local babywearing coach prefers and recommends the optional LÍLLÉbaby newborn insert rather than a blanket when she uses this carrier.
LÍLLÉbaby's belt is well thought out, with a really big lumbar support pad. This is a nice perk when you're carrying a heavy toddler on a long walk. Another benefit of this design is that you can remove the lumbar pad if you don't like it — other carriers just have padding built into the front section of the belt.
The maximum waist circumference for the belt is lower than average, but at 48 inches it will serve most people well. Plus, you can purchase a ten-inch extension if you need more.
LÍLLÉbaby is also the only soft-structured carrier manufacturer that offers baby carrier stirrups if you really want to test your limits. Stirrups shift the weight of an older child's legs from your shoulders to your hips, which can make a big difference on a hike.
LÍLLÉbaby includes a storage pouch in the zip-off panel on the front. This isn't a perfect solution, since that panel rolls up for summertime venting and you'll lose the pocket, but if you really need a place to stow your wallet, phone or keys it's always an option and it's easier to reach than a pouch down on the belt. The pocket measures four by five inches, so a bigger cell phone will peek out at the top.
The zip-open panel actually makes itself a big pocket when it's zipped up, which is a nifty feature if you find yourself in need of a place to keep something big like a set of passports. Just don't stick anything lumpy or sharp in there since it's going to be pressed against your baby's back.
The biggest drawback of the LÍLLÉbaby is that you have to thread the waist strap through two loops in the seat-support flaps in order to convert from narrow to wide mode. In comparison, the other carriers use velcro, toggles and snaps.
If you're carrying a toddler and you switch between inward-facing or back carry and outward-facing carry modes frequently, all that threading could get annoying, since you need to thread the belt through the loops and the lumbar pad each time you convert.
Fortunately, if your baby is at an age where they're old enough to face outward but still likely to fall asleep in the carrier, you won't have to change the seat width to face the little one inward.
If you find that a blanket is too difficult to keep in place when you're carrying a smaller newborn, Lillebaby also sells a pillow insert that will help you get the perfect position. Our babywearing coaches say they always recommend buying the insert for a newborn, since they've seen too much confusion about what blanket to use.
If the LÍLLÉbaby were the same price as the Ergobaby, most of the differences would come down to individual fit we'd tell you to try them both out. The LÍLLÉbaby is almost always about $40 less expensive than the competition, and all our testers were happy with the range of adjustment to get a good fit.
Even LÍLLÉbaby's limited-edition patterns (right now there are 21 to choose from) are less expensive than the Ergobaby and they go on clearance from time to time.
Key takeaways:
The LÍLLÉbaby – Complete is a do-it-all design at a good price.
Adjusting seat width takes a bit of work, but the rest of the buckles and snaps are easy to use.
A zip-open mesh vent panel gives year-round comfort options.
The big lumbar pad helps make long hours with big kids easier.
A big pouch holds the biggest cell phones.
Better for newborns: Ergobaby – Omni 360
If you've been watching the trends in baby carriers for the last 15 years, you're probably quite familiar with Ergobaby's reputation.The Ergobaby- Omni 360 brings together all of the best features of past models to make a versatile, comfortable and high-quality baby carrier.
Founder Karin Frost says part of Ergobaby's mission is to make a "thoughtful" baby carrier — the Omni 360 has some great features that demonstrate that philosophy.
The big difference between the Ergobaby and the other carriers we tested is how easy it is to adjust seat width. If you've got a bigger toddler who needs full-width seat support when facing in, but you still like to use the front-facing mode once in a while, you'll be impressed at how simple the velcro tabs are to adjust. There are still upper flap buttons you need to switch, but it's a much quicker process than it is with the LÍLLÉbaby.
The way the shape of the seat "pocket" changes as you vary the width and adjust the upper tabs is very impressive. Ergobaby is one of the few manufacturers to convince experts that you really don't need an insert for tiny newborns. The LÍLLÉbaby works, and our testers don't have any real reservations about recommending it since most babies will only be tiny for a few months, but the Ergobaby design is definitely more elegant. That's what makes this the best baby carrier for newborns, in our opinion.
This feature isn't enough to make it a better carrier for the other two years you'll use it, though. What did bug us frequently was the extra locking tab on the side-clips: Ergobaby decided the usual quick-release buckle needed improvement, so there's a tab you have to lift while you squeeze the sides. It's not difficult to learn how once you know about it, but it's definitely an adult-proof feature when you're taking off the carrier for the first time.
One of our testers, R.D., compared the new Ergobaby to her old carrier, the original 2004 Ergobaby. She said it was great finally being able to do hikes in a front-facing carry position with her seven-month-old, which was something she'd always wanted to try with her first baby. Happily, the Omni 360 also does away with the noisy velcro waist belt of the 2014 Ergobaby – 360 All Positions model.
R.D. lamented that none of the new Ergobaby models have a chest-panel storage pouch as big as the one on the original carrier. There's still a wide and shallow pouch for the rain hood, but a bigger smartphone won't fit through the six-inch opening and it's hidden under a flap in most modes. The new Sporran-style crotch-dangling storage pouch is functional and roomy enough for the essentials, but it's not easy to find the zipper on a pouch you can't even see. It's really no surprise Ergobaby removes it for most promotional photos.
Now that Ergobaby is expanding into other corners of the baby-product marketplace, we hoped we would start to see the special-edition patterns coordinating across different lines. There's a diaper bag with a dedicated storage compartment for the carrier, but it's only available in one pattern. In our review of the best diaper bags we found that other bags are a better value anyway, but it's an opportunity we hope Ergobaby capitalizes on.
If the buttons and storage pouch were a bit easier to work with this would be have landed in first place. As it is, the Ergobaby is a great carrier that only really outshines the competition when you're transforming it from one mode to another, which isn't something you'll do every day. This carrier takes a close second place, but the LÍLLÉbaby was a slightly better carrier overall and is less expensive.
Key Takeaways:
The Ergobaby- Omni 360 is a versatile, flexible design.
Velcro seat-width adjustment makes that part of changing between modes easier.
Seat design is top-of-class for carrying infants without an insert or other workaround.
Other buckles and buttons are more complicated than on the LÍLLÉbaby.
Ergobaby's dangling belt storage pouch is kind of annoying.
The price is also higher than our top pick.
A budget carrier: Infantino – Fusion
If you're looking for a good carrier but aren't ready to spend more than $100, the Infantino – Fusion is an option worth investigating.
Based in our own dear San Diego, Infantino (formerly a part of the Step 2 company, but now owned by an overseas toy manufacturing group) has been making carriers since about 2005. They've always targeted a wider retail market rather than chasing the babywearing enthusiasts who are willing to splurge on more luxurious materials.
The lack of limited-edition designer prints and the lower price might actually make this the best baby carrier for dads — or a certain kind of dad, anyhow.
Infantino's carriers share a core design feature with the classic BabyBjorn carrier: The straps and the carry cradle are mostly independent, so you can put the carrier harness on your torso securely before you even pick up the baby.
This is either a great benefit or an inconvenience. One of our testers loved the design and said she found it much easier to set up and get ready to go with the Infantino: the carrier stayed put on her shoulders as she picked up her baby. A few other testers felt like the extra elastic webbing and straps just got in the way.
If you're hoping to breastfeed in your baby carrier, a design with inner straps like the Infantino is definitely not going to help. It's not as restrictive as some of the new BabyBjorn designs with a full mesh panel, but it's still going to get in the way.
Unlike the "crotch dangler" carrier designs of last century, the new Infantino models are all designed to properly put a baby's hips and legs in a natural position. Like the other carriers we tested, the Infantino has a supportive seat (adjustable to grow with your baby) that allows the knees to make a natural M shape when you look at the carrier in the mirror.
The difference we noticed right away is that this carrier seems smaller than the others. The basic dimensions of the support structure — like width between buckles and the height of the neck support point — are nearly identical to other carriers. Infantino has cut-out sections at the sides, though, and the fact that the front panel isn't part of the shoulder straps means it doesn't need to be full-width to provide the same support through the clip-in strap points.
The Infantino is the only carrier we tested that won't allow crossing the back straps. Since they're permanently attached to the front part of the harness with elastic, it won't slide off before you clip the side support buckles. The inner harness design does mean hip carry mode isn't going to work.
Infantino says that this carrier shouldn't be used with a toddler bigger than 32 pounds — we think that's a bit on the high side. We wouldn't say it's useless above 15 pounds like some reviewers have, but the useful life is definitely shorter than its $150 competitors.
Infantino's training video is here and explains the carrier modes very thoroughly. Check it out if you have any questions about how the carrier works.
Key Takeaways:
The Infantino – Fusion comes in at less than one-third the price of other models, but still provides a full-featured carrier.
The materials and padding used here are definitely not as luxe as our top picks.
Infantino's smaller carrier panel gives less coverage than other brands, but the support fundamentals are the same.
The straps for the inner-harness design make this carrier more complex and get in the way if you want to breastfeed.
Loading and unloading your baby can be quicker with this design.
Another finalist we tested
Beco – Gemini
The Beco – Gemini covers all the basic functions, but doesn't offer much to justify its price tag. There's really not much wrong with the Beco, so if you find the style you want at a lower price than the LÍLLÉbaby it's a pretty good pick. Beco's list price is high, but when they're clearing out certain patterns they can go lower than $100, just like the LÍLLÉbaby.
For the extra money, you get a simpler construction and conversion system and thick padding everywhere. That said, all the extra perks from our top picks are missing. If anything, all the padding in the front panel is too thick to be comfortable in hot weather.
The one feature our testers really didn't like about the Beco was the snaps for adjusting seat width. Some brands use buttons, and LÍLLÉbaby puts snaps on the outside of the belt, but on the Beco you've got two open female snap rings on the inside of the belt, just ready to dig into your skin. It's not a fatal flaw, but some kind of fold-over cover for the snaps (along with a lumbar support pad) would make the Beco more competitive.
The bottom line
When you learn how to adjust the fit and support of a baby carrier, it can really transform the time spent holding your baby. Babywearing not only frees your hands, but it gives your baby a chance to see the world around you while still being protected and supported.
For extra comfort and versatility, we love the LÍLLÉbaby – Complete All Seasons. This carrier has more supportive padding, nicer finishing touches, and a zip-open vent panel. Just be sure to read the instructions carefully so you don't wind up embarrassing yourself like Ryan Reynolds did with his LÍLLÉbaby carrier.