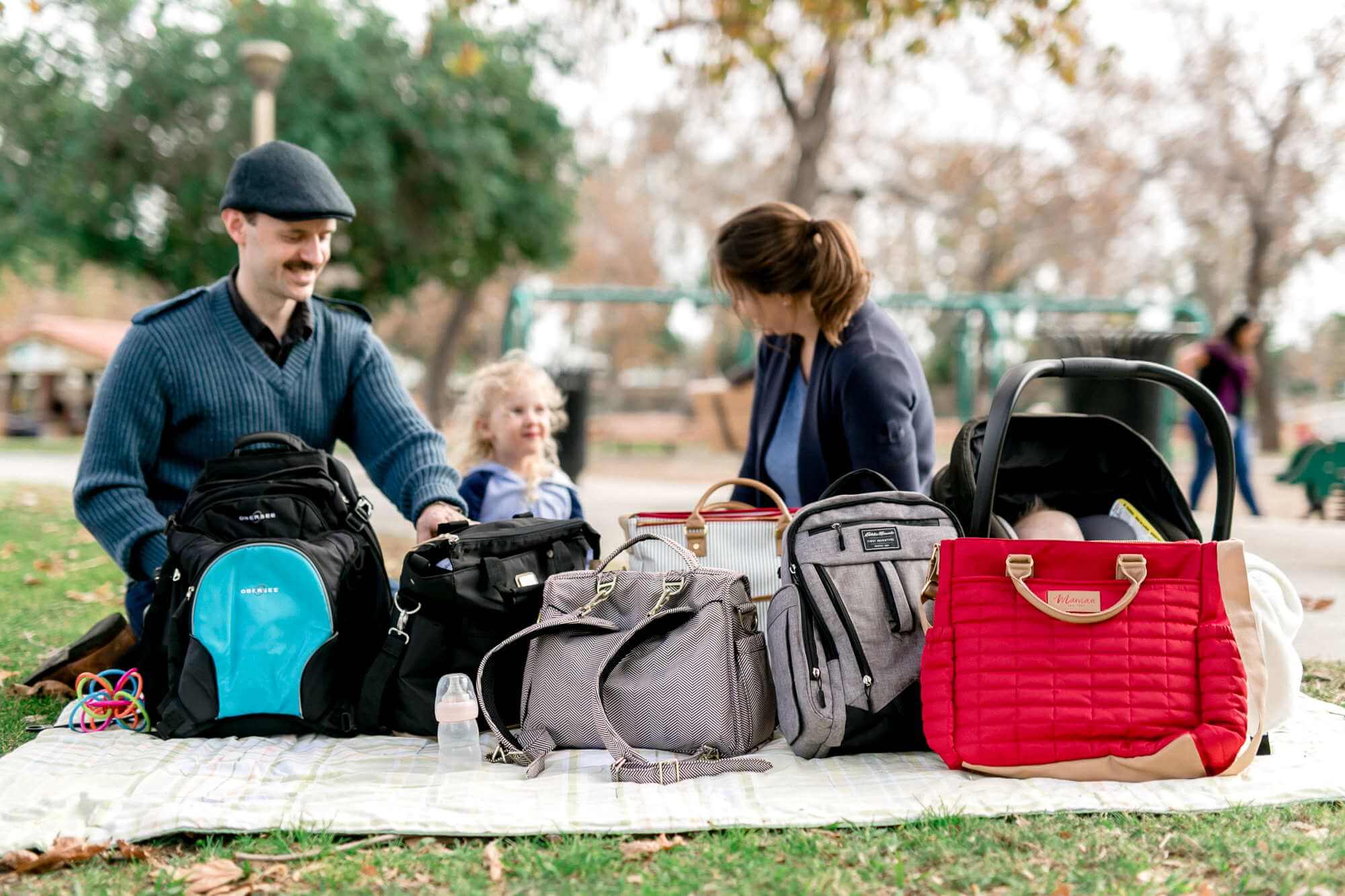 After we lugged baby gear around in six top-rated baby diaper bags for three months, our team of seven veteran parents carefully deliberated on their picks. The JuJuBe – B.F.F. was the best overall, with convertible backpack straps, high-quality materials and great organization features. The best diaper bags on a budget are the Eddie Bauer – Traverse backpack diaper bag and the stylish Skip Hop – Duo Special Edition tote-style bag.
After we lugged baby gear around in six top-rated baby diaper bags for three months, our team of seven veteran parents carefully deliberated on their picks. The JuJuBe – B.F.F. was the best overall, with convertible backpack straps, high-quality materials and great organization features. The best diaper bags on a budget are the Eddie Bauer – Traverse backpack diaper bag and the stylish Skip Hop – Duo Special Edition tote-style bag.
Table of contents
How we selected finalists to test
Our researcher for this project has used a variety of diaper bags over the years, so we already had some expectations about what to look for. We checked the latest reviews from testing sites like BabyGearLabs and Wirecutter.
We also looked at the latest trends on The Bump, Babylist and Instagram. One trend that we had to make a call on was leather and leather-like bags: After researching user reviews for popular artificial-leather bags we decided that they don't stand up to wear-and-tear well enough to be a best pick overall.
Genuine leather is a material that usually wears well in a bag, but water and staining are problems. We also recognize that many people simply don't want to use leather or other animal products, so we skipped leather bags, at least for this test.
After collecting recommendations for 24 popular diaper bags, we narrowed the field to a set of finalists. We eliminated bags that had more than a handful of complaints about material quality or flaws in manufacturing. We also picked bags that at least claimed to offer insulated bottle pockets.
We eliminated bags that were expensive without justification in the materials used. Most of the bags we tested came in at less than $70. We did make an exception for the JuJuBe's perennial award winner; compared to other bags we looked at in the $150–180 price range,  JuJuBe's zippers and fabric are actually an upgrade (with a warranty to back them up).
We wanted to find bags with style options, rather than focusing on different diaper bags "for girls" and "for dads." For example, the fashion-forward JuJuBe – B.F.F. comes in a range of "black-out" styles to cater to all sensibilities.
We did test a few designs that were aiming to be more trendy, too. We avoided overtly "tacti-cool" dad-bags, but we tested some diaper changing pads that you could add to any good backpack or messenger bag that you already trust.
Compare the best diaper bags
Do you really need a diaper bag?
Should you buy a diaper bag, or is a regular messenger bag or backpack just as good? The case for buying a new diaper bag might seem to rest on style, but there are some compelling reasons to have a dedicated bag.
Most importantly, there is an essential feature missing from a shoulder bag or backpack: a changing pad.
A changing pad isn't always necessary to change a diaper. Sometimes, though, you see a puddle on that already-sketchy changing table in the mall. Many public restrooms can make you wonder why you don't carry a bottle of bleach solution everywhere.
If you don't even have a changing table to work with, a diaper bag changing pad can't make every location suitable, but it really helps in situations where you're not prepared to sacrifice your baby's favorite blanket.
If you already have a bag you like and just want to make it into a diaper bag with a changing pad, check out our reviews of add-on changing pads below.
But there's another reason you should think about buying a new bag: A dedicated diaper bag means you don't have to shuffle diapers and other essentials in and out of your favorite backpack or shopping bag.
Additionally, a diaper bag eliminates confusion about which bag has the diapers in it when a spouse or sitter has the baby for a few hours. Nothing's worse than realizing you brought the wrong bag on a day trip just as certain smells begin to fill the car.
A dedicated diaper bag doesn't automatically re-stock itself with diapers, so picking the best bag doesn't solve all your problems. But knowing exactly where to stash your emergency supplies is at least a start to winning back some sanity. This is the bag you'll take everywhere you go with your baby, so make sure it's a good one.
How we tested

We started our testing with a survey of seven experienced parents, many of whom had three or more kids already out of diapers. We asked them to rank the importance of factors like storage capacity, specialized organization options and backpack straps versus shoulder slings.
After in-depth testing of all the bags, we ranked them against these concerns. We then asked our group of testers to rank the bags from most-desirable to least-desirable.
| Diaper Bag | Organizer Pockets | Comfortable Straps | Changing Pad | Insulated Bottle Pocket |
| --- | --- | --- | --- | --- |
| JuJuBe - B.F.F. | ☆☆☆☆☆ | ☆☆☆☆ | 21"x12" | Open Pouch |
| Eddie Bauer - Traverse | ☆☆☆☆ | ☆☆☆ | 22"x14" | Zip Pocket |
| Skip Hop - Duo (Special Edition) | ☆☆☆☆ | ☆☆ | 22"x12" | Open Pouch |
| Ergobaby - Coffee Run | ☆☆☆☆ | ☆☆ | 22"x18" | Open Pouch |
| Maman - Designer Tote | ☆☆☆☆ | ☆☆ | 22"x12" | Open Pouch |
| Obersee - Bern | ☆☆☆ | ☆☆☆☆☆ | 23"x14" | Removable Cooler |
Storage versatility
This is the category where our testers were fairly ambivalent about specific bags. Organizer pockets are a great idea, and they can turn out to be perfect for what you need to keep on hand. Most times, however, a bag is just a bag.
After testing, we decided that the best organization features were options to separate the contents of your bag. Especially if you have stuff for more than one kid in there, this helps you find a specific item without pulling everything out.
The stand-out bag here is the JuJuBe – B.F.F. It combines a spacious main compartment, extra side pockets and organizer pouches to make it practically perfect, even for those parents who keep extra stuff in the diaper bag all the time.
On the flip side, the Obersee – Bern is a great backpack that really doesn't distinguish itself as a diaper bag. The tall compartments and organization features are better for carrying laptops and pens than wipes and spare socks.
Comfortable straps
How well a particular bag carries definitely depends on your body, but good straps never hurt. We ranked these bags based on how we felt about them after an all-day outing.
In the case of the two backpacks, we took them on a trip that involved shambling around the SFX airport for hours late at night with a three-year-old and an infant.
The Obersee – Bern isn't going to win awards from backpackers on a through-hike, but it's definitely the best diaper backpack for comfort. The closest competitor was the Eddie Bauer, though we have to give JuJuBe credit for designing convertible backpack straps that actually work and keep up with the purpose-built backpacks.
The cross-body straps on the rest of the bags are fine if you only need to wear them for a half-hour, but you'll be looking for ways to ditch them after that. This is one area where the convertible JuJuBe and the Ergobaby – Coffee Run really stand out.
Changing pad size
We used the changing pads for diaper changing and they're all good enough — that is, they provide you with the reassurance that your baby won't be lying on top of something icky during a change. They're all fairly small.
The pads are also waterproof enough, but none of them are large enough to change a diaper in a puddle. Check out our add-on changing pad review if you want something bigger.
The Eddie Bauer and Maman bags lose points here because the fabric soaks up a trace of liquid and they also use sponge padding instead of closed-cell foam, so they could trap liquid inside. Water beads up and rolls off quite well, but you do not want to leave these pads sitting in something wet and nasty.
Insulated bottle pockets
An ice pack is essential for keeping bottles chilled if you're on a day-long outing in the heat, even if you're using a fully-enclosed cooler. We found the same results in our cooler review and when testing the best lunch boxes: Insulation helps, but you need ice to keep perishable food safe for longer than a few hours.
This is another case where our testers had mixed feelings. If you use a lot of bottles every day, having a way to carry them for a little bit longer at safe temperatures is a big deal. But only one of our testers was really sold on having a bottle cooler integrated into a diaper bag.
If you're carrying a bottle around for more than a few hours on a hot day, an insulated pocket will do very little to keep it cold. You will need to use an ice pack to keep cooler temperatures on an all-day trip.
The Obersee – Bern is the only diaper bag we tested with insulation worth noting. It can hold three small bottles along with a slim ice pack, which might make all the difference when you're traveling.
Style options and diaper bags for dads
Many dads resent diaper bags. The look of most trendy diaper bags mimics designer purses or tote bags, so a handful of enterprising men have started companies to offer alternatives. There's now an entire market segment for diaper bags designed around military aesthetics: Stuff like MOLLE-style ladder straps and velcro for clever diaper-joke morale patches.
Jason McCarthy of GORUCK bags insists that a specific bag design for diaper-bag duty is a ridiculous idea, and he's not entirely wrong. McCarthy tells you to buy his $400 GR1, of course. It and a lot of other great "tactical" bags are very capable of holding diapers, wipes, a change of clothes and other necessities.
We're well aware of the diversity of preferences among parents. Not every dad wants to use an ammo pouch to carry bottles, and not all diaper bags for girls will have pastel floral prints. Happily, there are now diaper bags on the market that suit nearly every possible taste.
| Diaper Bag | Style Overall | Styles Available | Dad-Friendly Options |
| --- | --- | --- | --- |
| JuJuBe - B.F.F. | ☆☆☆☆ | 14 | ☆☆☆ |
| Eddie Bauer - Traverse | ☆☆☆ | 3 | ☆☆☆☆ |
| Skip Hop - Duo (Special Edition) | ☆☆☆☆☆ | 12 (Two in SE) | ☆☆☆ |
| Ergobaby - Coffee Run | ☆☆☆ | 4 | ☆☆☆ |
| Maman - Designer Tote | ☆☆☆ | 6 | ☆ |
| Obersee - Bern | ☆☆ | 18 bottle pouch colors | ☆☆☆☆ |
As we've already said above, though, we don't think it's as easy as saying your favorite bag for other purposes is also your best choice for a diaper bag. If you're splitting play-date duties with your spouse, finding a diaper bag you can both be happy with will save you some confusion when you're rushing to get somewhere on time.
Fortunately, most of the bags we tested come in at least neutral colors and design options. Our dad testers and our mom testers didn't think any specific bag style was objectively "most neutral." Taste is still going to play a big role in what you like. That said, we did have some popular picks.
JuJuBe won big with moms for the huge range of styles available. There are offerings that cover the entire spectrum of fashion sensibilities: many are colorful prints, but they do offer more subdued versions, like the "Gray Matter" style. It's not going to pass for "tactical," though.
The Eddie Bauer- Traverse won some points in this category with the subdued-but-not-boring textured gray fabric. It's only available in that color, but nearly everyone loved it.
There's nothing stopping you from buying two diaper bags if you can't agree on one design or shape. Just make sure you and your partner are on the same page about which bag actually has diapers and spare clothes in it.
Top pick: JuJuBe – B.F.F.
The JuJuBe – B.F.F. is a lesson in excellence through compromise. This isn't a gigantic bag, but it's not too small to carry more than the essentials. It's not a bag for all-day trekking, but the comfortable straps can be un-clipped. This is both a great shoulder bag and the best backpack diaper bag.
The fabric is durable, with a Teflon coating that makes it washable and stain-resistant. It feels smooth and supple, a real upgrade from the cheap polyester or even the Cordura-style nylon you find on suitcases and messenger bags.
Organization features are the real key to the B.F.F.'s success. The main compartment is spacious and allows for carrying bulky items along with your diaper-change essentials. The front zippered compartment keeps smaller items from getting lost, and there's a no-scratch front pocket that's great for sunglasses or smartphones.
The side pockets are great, easily holding baby bottles as well as our favorite water bottles and sippy cups. They're insulated with Thinsulate, which is very good as far as insulation materials go. On a summer day when you're out for more than a few hours, you'll still want to use an ice pack inside the bag to maintain safe temperatures for milk or formula.
The founders of JuJuBe came from the world of sneakers, backpacks and sunglasses, and they've put together one of the largest selections of styles and prints available. This is a designer diaper bag, but it doesn't sacrifice functionality for style.
This range goes from chic patterns like the "Queen of the Nile" print we tested to florals like "Sakura at Dusk." They also meet the needs of parents with subdued tastes with the "Gray Matter" style and their blacked-out "Onyx" collection. They've even released Tokidoki and Hello Kitty collaboration editions.
When it comes to the changing pad, there's a lot to love about the quality, but it's the smallest pad we tested. The memory foam in the middle provides great cushioning, but it would probably be too thick to fit easily in the side pocket if it were any wider. The pad has one satin and one waterproof side to help with a variety of diaper emergencies and environments.
JuJuBe has been making this bag since 2005 and it's a design they haven't topped. Some of our friends have used JuJuBe bags for more than five years, and they just don't die.
Key Takeaways:
The JuJuBe – B.F.F. is a near-perfect balance of style and functionality.
You can make the B.F.F a backpack or a shoulder bag and it's great either way.
This bag is not too big for one baby, not too small for two toddlers.
Good materials, zippers and buckles are guaranteed for a lifetime against defects.
JuJuBe promises these bags will stand up to machine washing.
Runner-up backpack: Eddie Bauer – Traverse
The Eddie Bauer – Traverse backpack diaper bag has a look that all of our testers liked. It's not the height of fashion, but the gray textured nylon has a sleek look that helps it blend in anywhere. This diaper backpack also has some features that make it great for carrying your baby-care essentials.
This is definitely the best diaper bag backpack on a budget. The zippers and other hardware are all fine. Not amazing, but perfectly acceptable for a $50 backpack. The one place where the price shows most clearly is in the changing pad: It will work well enough for a year or so, but the stitching on the edge of the pad started to unravel after washing it once.
Among our testers, the only thing more important than good organization features is good backpack straps. This bag has both. If you weigh it down with books it won't beat a high-end backpack, but the shoulder straps are still comfortable when the bag is full of clothes and diaper-change supplies.
The main internal compartment is narrower than the JuJuBe, but it's still a great diaper bag. There are obvious places for diapers, wipes, and other essentials. Our lead tester took this backpack on a Christmas vacation trip with two kids, and the sheer number of pockets with external zippered access was impressive.
Having a few carefully planned pockets is usually better than having random pockets all over a bag. That principle becomes apparent when you're getting used to a backpack like this. There are many pockets that could hold your keys, wallet or baby's favorite pacifier, but the chance you'll forget which one you used is high for the first week or so.
The wipe pocket on the side of the bag is a handy feature to have that we quickly learned to appreciate in a late-night airport layover. Tossing a 100-count pack of our favorite wipes into the bag is less annoying than figuring out how many wipes to load. The side-pocket dispenser makes going back for that last sneaky blob of poop less of a hassle.
Stroller clips are built in to the top of this backpack, so you still have a way to hang it if you're just out for a stroll. We know that some people don't like stroller-mounting bags since a heavy bag can tip some strollers, but it's nice to have the option.
Key Takeaways:
The Eddie Bauer – Traverse looks like a regular backpack, but inside it's all diaper bag.
Real backpack straps make this easy to carry for all-day outings.
Our testers all liked the style of this bag.
For the price, quality and materials pretty good.
Wipes are kept handy in a convenient dispenser pocket.
Runner-up tote: Skip Hop – Duo SE
This is a special edition of the Skip Hop – Duo that brings some extra touches to a reliable budget-friendly tote. The handles and buckles all look better than the nylon luggage look of the original model, but the upgraded wipe-clean fabric is also stiff enough to help this bag stay upright better.
Compared to the JuJuBe, this is a smaller bag, about 13 liters instead of 16. But the fact that it's tall and slim means it feels even smaller than it actually is while carrying loads of baby gear.
The real downside to the slim-and-tall shape of this bag is when you need to carry heavy, bulky stuff. Pumps, lunch boxes and shopping items have to be narrower than three inches to fit down to the bottom of the main compartment. That's not a big problem since it's a bag that will mostly carry folded clothes, diapers and wipes. However, if you like carrying a jumbo-size package of wipes you might be surprised at how much it fills the space.
This is a cross-body shoulder bag only, which means if you're on an all-day outing you may start to resent it flopping around at your side. The shoulder strap is decent, but nothing special. Skip Hop has also sewn in a set of stroller attachment loops.
There are some simple but very effective organization features in this bag. The side pockets are a good size for bottles, and they're zippered so the bottles sit inside the bag. This way you get even better insulation than you would with a bit of padding on the outside of a pouch pocket.
A zippered accessory pocket on the top holds as much as a mid-size purse — it won't keep your glasses safe from your keys, but it's a great catch-all for stuff you don't want to lose in the bottom of the bag.
There's a key-clip ring conveniently positioned on the zipper pull (we've never met anyone who used a key-keeper that's hidden inside a pocket), but it doesn't actually have a clip. Points for making it potentially useful, but none of our testers actually used it.
Front pockets on the Duo have magnetic buttons that don't really do much to keep stuff in if you turn the bag upside-down, but they're big enough for a 32-ounce insulated water bottle like our favorite Klean Kanteen.
There's also a pen loop cleverly hidden in one of the front pouch pockets. We'd rather keep a pen in the zippered pocket, but at least it won't fall out in either case.
The quality of the Skip Hop is not at the same level as the JuJuBe: The fabric stained in one spot after a few weeks and the zippers definitely feel less reliable (though we didn't have any problems). Skip Hop won't cover damage from a washing machine under warranty either. There's a two-year warranty against defects.
The price is definitely a crowd-pleaser, though: Some of our testers assumed it was a $200 bag like the JuJuBe, but the list price is $70 and we've seen it going for as little as $42.
Key Takeaways:
The Skip Hop – Duo Special Edition is an even better version of a mainstay budget diaper bag.
You can still hold a lot of diaper-changing gear in this tall, deceptively-slim design.
Special Edition style choices are limited, but they're top-tier looks.
While this version only comes in fashion-forward patterns, the regular Duo comes in more neutral styles.
A shoulder bag only, so if you've got a long day you'll be relying on the stroller clips.
Other finalists we tested
Ergobaby – Coffee Run
In many ways, the Ergobaby – Coffee Run feels like an attempt to make a better version of the Skip Hop Duo. The shape and pocket configuration are similar, though this is about 40% bigger than the Duo. The big difference is the addition of shoulder straps to make it a convertible design.
On the plus side, Ergobaby has included a big, totally-waterproof changing pad with this bag, six inches wider than most of the others. The organization of the interior pockets is good, and the front zippered pouch is insulated.
Ergobaby is famous for their baby carriers, which are usually made from materials that feel great and have excellent padding. We mostly bought this bag on faith that it would live up to that legacy. It's a bit of a let-down that their foray into diaper bags feels like a cheap nylon school backpack.
Even with the water-resistant tub bottom and mesh panels on the shoulder straps, and after looking at the other color options, the look and feel did not impress any of our testers. Many assumed the Ergobaby was the least-expensive bag we tested, when it was actually more expensive than most at $70.
That said, all but one of our testers said backpack straps are in their top two priorities for diaper bag features. Even if the Ergobaby straps aren't exactly class-leading, they're better than nothing. Compared to other large totes, like the Skip Hop – Grand Central or the JuJuBe – Be Prepared, these backpack straps can really save you from an aching neck when you load up the bag.
Maman – Designer Tote
The Maman – Designer Tote is putting all their style-eggs in the quilted-jacket basket, and it works pretty well. If you love this look, there's a lot to love about the design of this bag, too.
As far as we can tell, this style launched around the same time as the Skip Hop – Duo Special Edition, so we're not going to call out an original or a copycat. The styles are distinct because of the fabric, but most of the actual features are surprisingly similar. That's not a bad thing, though, since the Skip Hop tote design has been a great choice since they launched it in 2003.
The same things we loved about the Skip Hop are present here: it's a slim, tall tote shape that stands fairly well on its own. Maman gives you places to keep stuff from sinking to the bottom of the bag, but it's not an overwhelming number of pockets to lose your keys in.
After using the bag for a few weeks, we started to wonder how well it would resist stains. The waterproof coating on the fabric does its job and it's more durable than we expected. The quilt-stitching is almost certainly going to be the weak point in the long-term if you let this bag get buried under other stuff in your trunk or closet: wear on the corners of a bag is one thing, but there's nothing appealing about a running stitch on a quilted design.
Obersee – Bern
Obersee has made the Bern backpack diaper bag out of a unique combination of pieces you'd expect to see other places. This is basically an anti-diaper bag, but in the best way.
If you cover up the labels, you could easily mistake this bag for a SwissGear laptop backpack. Obersee is a real family-owned American company that mostly sells gymnastics gear, not a giant luggage-brand-conglomerate that just swaps labels, so there's nothing disingenuous about saying this was designed as a diaper bag. But the changing pad pocket is definitely a repurposed laptop pocket, complete with a fleece-lined tablet pouch on the side.
This is still a good bag for carrying baby gear. There's a full-length zip-up mesh compartment for a change of clothes and plenty of room for whatever you might need to throw inside. There aren't any features designed around carrying baby-specific items, but maybe you want a music player headphone pass-through more than a wipe dispenser. We won't judge.
There are a few pieces that really do seem like the result of carefully thought-out design and clever innovation. The changing pad is slightly bigger than average, 23 by 14 instead of 22 by 12 inches. It also has a nice easy-cleaning waterproof side, like the Ergobaby changing pad.
The clip-on bottle pocket is a nifty design that does a much better job of keeping two or three bottles cold on a long summer day, but only if you slip an ice pack into the mesh pocket. Without ice it's still not really any safer than throwing a bottle in the bottom of a regular diaper bag.
Having a bottle cooler is a great idea. When we took this bag on a trip it was very rewarding being able to store bottles, liquids and gels in it to detach when going through TSA checks before a flight.
Most of the time, though, this clip-on system wasn't any better than having a separate bottle cooler bag. If anything, it kind of gets in the way when you need to open the backpack. We found ourselves leaving it detached most of the time we were testing.
If all of that sounds good, maybe this bag is for you. The price was what pushed it to the bottom of our ranking, though: For $80, you can probably find a backpack you like even better and slip an accessory changing pad into it, with money left over for a great small cooler.
Changing pad replacements we tested
If you have a backpack or tote you like already, there's nothing stopping you from adding a changing pad to make it a great diaper bag.
We tried the DaffaDoot and Baby Loovi changing pads, both much bigger than the average diaper bag pad and fairly affordable. They're also great replacements if you happen to lose the pad that's included in your diaper bag.
An absorbent pad: DaffaDoot
The first changing pad we tested is the DaffaDoot. It's gigantic — double the size of the average pad. It's soft fleece on one side, water absorbent in the middle, and waterproof on the bottom. All that plush material makes this more difficult to fold up and stow in a bag, but it's an excellent changing pad.
If you're looking for a replacement to carry around in a bag, though, all our testers agree that a waterproof pad is definitely better than something that absorbs the kinds of fluids you might encounter during a diaper change. If you have a containment leak in a mall washroom, you want to be able to wipe everything off then and there.
For an emergency in the car (where keeping the upholstery clean is mission-critical) DaffaDoot's pad is perfect. You'll probably be happiest if you store it in a plastic bag you can seal well until you have a chance to wash out whatever it soaks up.
A wipe-down changing pad: Baby Loovi
We also tested the Baby Loovi change pad, an even bigger pad than the DaffaDoot at 25 by 31 inches. It's easy to wipe down after any sort of messy encounter with a leaky diaper.
If you're the kind of person who appreciates a well-folded roadmap (do they still make those?), or someone who can get a bed-in-a-bag sheet set back in the storage pouch, you'll love that the Loovi comes with a storage pouch that's just big enough to keep your bag tidy.
If you can't fold things to save your life, The Baby Loovi still a pretty manageable changing pad without the pouch. It isn't as cushioning on hard surfaces as the DaffaDoot, but it's much better than your average changing pad and easier to carry around.
The bottom line
Buying a diaper bag is a lot like buying most parenting gear: After spending years researching our baby carrier review, car seat review and baby monitor review we think it's clear that parents are faced with overwhelming choices. After carefully selecting and thoroughly testing six diaper bags, we're confident that this is these picks all have something you'll appreciate.
We asked our testers what stood out after using a bag for five years or more, and they told us that backpack straps really do make a difference, but sometimes it's also nice to have a shoulder bag.
The JuJuBe – B.F.F. is the best example of a do-it-all bag: The straps totally convert from one mode to the other. Either way, the bag is great at keeping stuff organized for one or two babies.
If you prefer a purpose-built backpack or tote, the Eddie Bauer – Traverse and the Skip Hop – Duo SE are great bags too. They don't quite live up to the great materials that make the JuJuBe such an unstoppable force in the world of diaper bags, but these two bags are still dependable and well-made for the price.