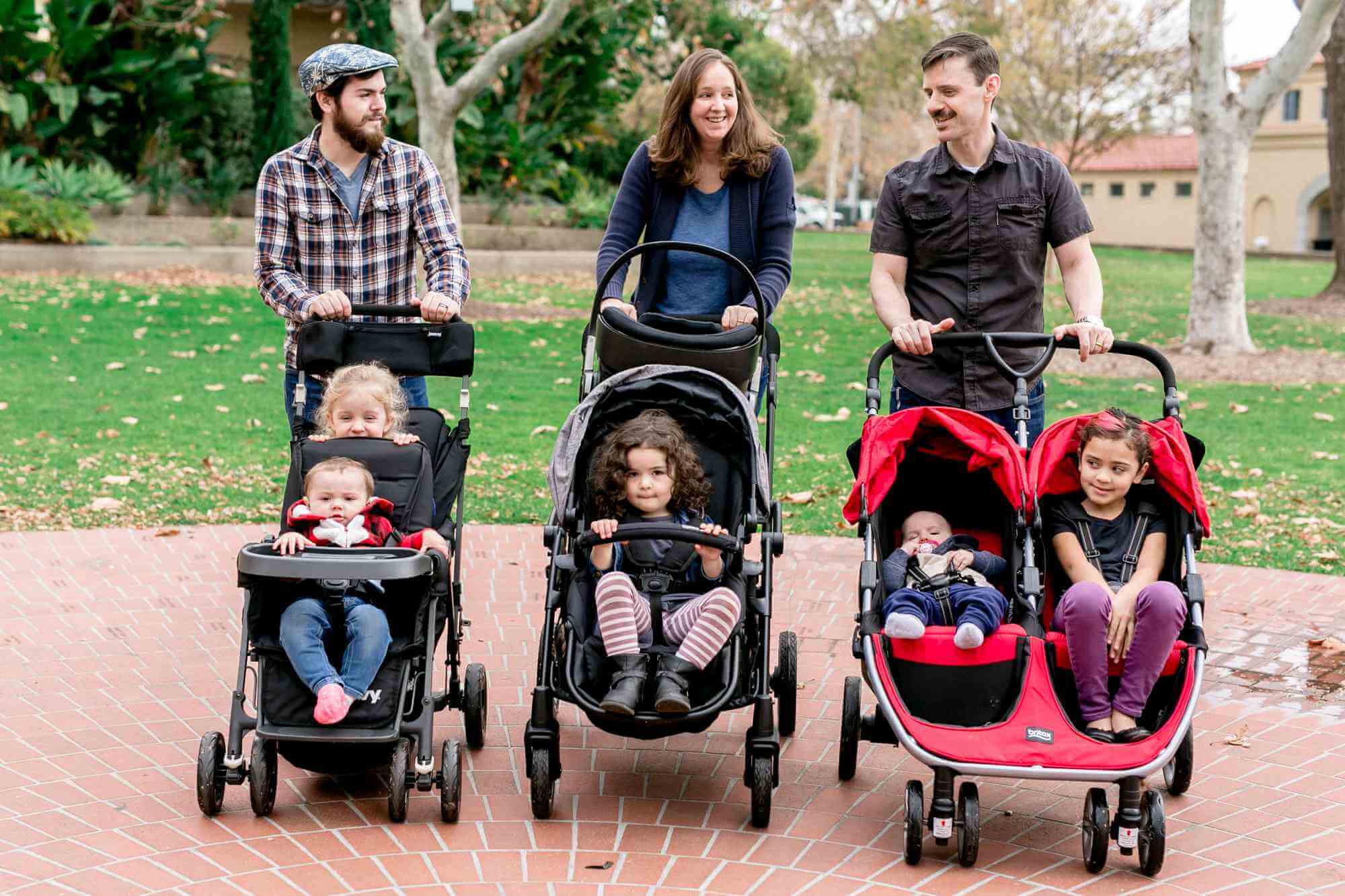 The Best Double Strollers
We spent nearly a full month researching and scoping out the best double strollers, personally inspecting more than 15 different models before picking our top three. After testing those three finalists for ten months at parks, malls and on downtown walks, the Contours – Options Elite is our pick for a versatile stroller that can carry car seats and toddlers in style. There are reasons to consider the Britax – B-Agile and Joovy – Caboose Too as well, so check out the details below.
We spent nearly a full month researching and scoping out the best double strollers, personally inspecting more than 15 different models before picking our top three. After testing those three finalists for ten months at parks, malls and on downtown walks, the Contours – Options Elite is our pick for a versatile stroller that can carry car seats and toddlers in style. There are reasons to consider the Britax – B-Agile and Joovy – Caboose Too as well, so check out the details below.
Table of contents
How we selected products to test
Double strollers are a tricky category since the different types of strollers available have very different strengths and weaknesses. We spent a week searching forum posts, watching YouTube videos, and listening to podcasts to figure out what other parents love and hate about double strollers. We paid close attention to top picks from review sites like Baby Gear Lab, Wirecutter and Lucie's List, and we hunted for negative reviews and accounts of long-term pain points.
By the end of our research, we had seventeen potential picks and we worked for another two weeks narrowing down the list. After looking at the core criteria, we settled on some main features.
Compact folded size
Many people who use doubles every day love jogging strollers because they're easier to push and offer rugged durability. Popular joggers like the B.O.B. – Revolution aren't easy to fold and store, though, and right off the bat we eliminated any stroller that wouldn't fit in the back of our tester's compact car — a Toyota Corolla. If you're driving something bigger maybe that isn't as much of a concern, but if you're driving around with two or more kids, you probably need all the cargo space you can get.
Options for infants
Umbrella strollers are compact when folded, but even the well-reviewed Zoe XL2 double umbrella (which we nearly tested) doesn't recline far enough for infants. We did test one stroller that doesn't have attachment options for carrying an infant car seat, but that model folds down to a very low angle to protect infant necks from flopping around. Umbrella strollers are also hard to push around and fold.
Comfortable seating positions
We settled on two tandem strollers and one side-by-side design for our testing group. The phil&teds – Sport (with an added second seat) is a well-reviewed stroller at a moderate price, but nobody we talked to actually liked using a stroller with the second seat so low to the ground.
Budget
This is where picking a "best" product gets tricky. Some will insist that the premium materials used on UPPAbaby or Mountain Buggy or Bugaboo strollers are well worth the price, but when we looked at the features we really needed and compared the strollers in person, we settled on a budget more of us can afford.
Sensible design features
We also paid close attention to tell-tale factors like weight ratings. Many strollers give a weight rating for each seat, but on a side-by-side model, that's really just half of the limit of the whole stroller's weight capacity. The exceptions are strollers like the UPPAbaby – Vista, which has a low limit in the front seat because all the weight is directly over the small front wheels (which have trouble swivelling with a bigger child in that seat). We also looked for comfort perks like adjustable handlebars and flip-flop-friendly brake releases.
After all that research, we sent our expecting double-dad with his three-year old and pregnant wife to local retailers to try every prospective stroller he could get his hands on (and to interrogate the staff about returns and warranties). After exhaustively comparing all the relevant stats, we settled on three top-ranked strollers that get you the features you need without breaking the bank.
Compare the best double strollers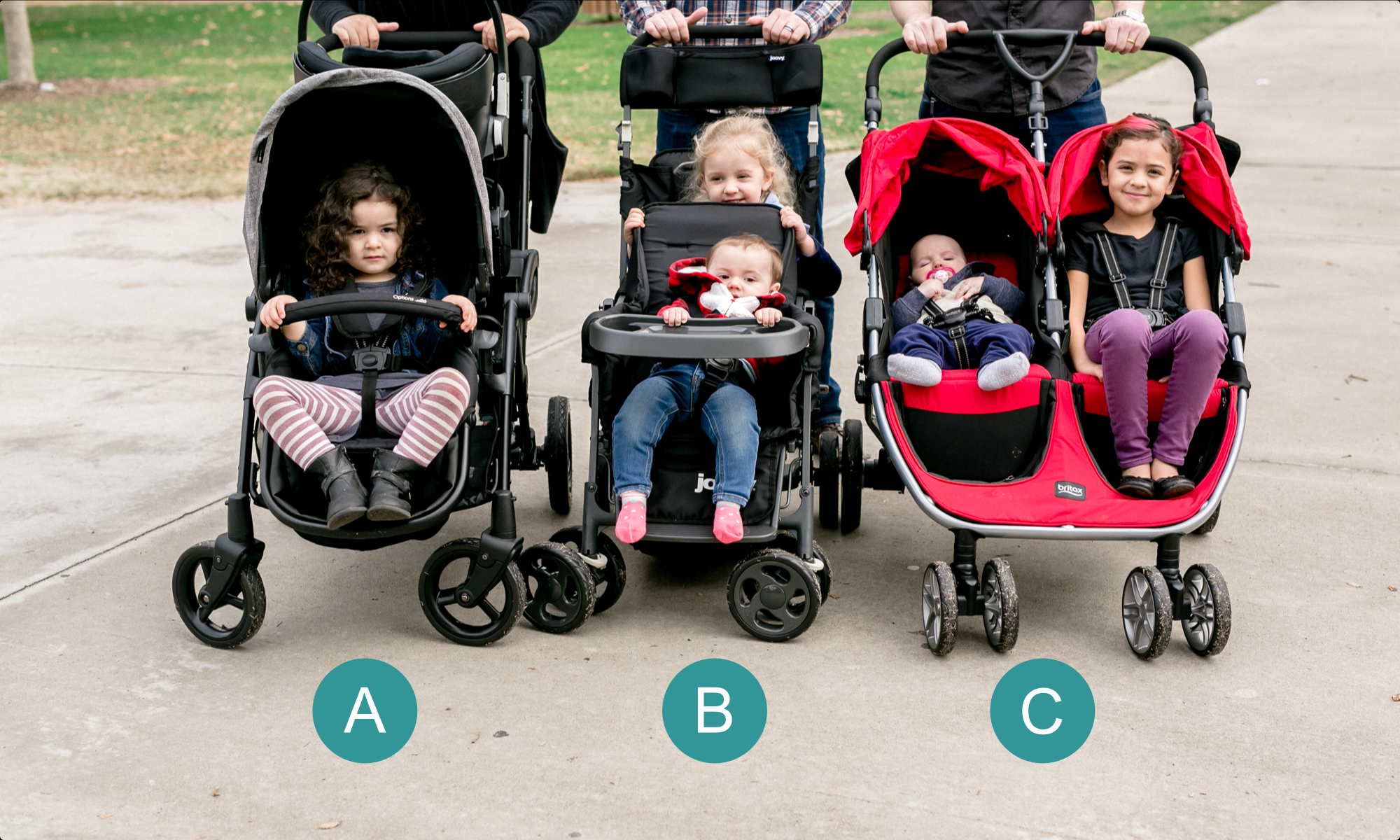 Important features to consider
Stroller width: This measurement is a catch-22. Wider strollers are easier to turn, but they also may not fit through some passages or doors.
Folded size: It's important that you can actually take your stroller where you need it. If you haven't bought a minivan yet, trunk space can get tight.
Wheel size: A larger wheel rolls and swivels more easily, plus handles bumps better. They also make the stroller bulkier when folded.
Recline angle: A stroller seat that reclines far enough can safely carry a newborn. Sources we checked list 30 to 45 degrees from horizontal as the maximum angle you should have your newborn sitting up.
Car carrier compatibility: Not all car seats are compatible with all strollers. Generally speaking, if you're buying from one of the bigger car seat manufacturers that also makes popular strollers, you don't get any options for carrying other brands. Two of our picks have universal compatibility options.
Disney park stroller and wagon restrictions: Since the spring of 2019, Disneyland and Disney World have specifically banned strollers bigger than 31 inches (79 cm) by 52 inches (132 cm). What's more, no wagons or stroller wagons are permitted, even if they're well within that size.
All the double strollers we've tested are technically approved, though the Britax B-Agile just barely squeaks through a 31-inch doorway; lots of reports say that it's accepted by Disneyland staff, but it's the tightest fit of the models we tested.
Stand-up fold position: Some strollers will stand on their own when folded, which makes them less likely to fall over in front of your car when you're parking in a small garage. Toddlers love climbing on parked strollers even when they're folded, so storage hooks for hanging are still a good idea.
Flip-flop-friendly brakes: This design allows you to both engage and disengage the parking brake lever with the downward motion of your foot, so you don't have to use your toenails to take the brake off.
Strollers for toddler and infant: There are a few ways to optimize a stroller for tinies and bigs at the same time. All of our strollers feature dual full-sized seats, so two kids get the full stroller experience. Two of our picks also carry infant car seats. Other options when one of your kids gets bigger include a sit-and-stand or rear-facing bench configuration, where a bigger kid can ride in the back without needing to be lifted in and out of the seat for every single ride.
Types of double strollers
Tandem strollers: Arrange the seats one behind the other. The biggest benefit to a tandem stroller is that it can be just as narrow as a single stroller: you can still fit through nearly all doorways and between parked cars. The downside, of course, is that they're long. This makes the stroller more difficult to steer, and can even make turning some corners quite difficult. You won't have as much trouble fitting down the aisle at the pharmacy, but you may not be able to make the turn at the end.
Side-by-side strollers: This style has seats arranged next to each other, so they're as short in wheelbase as a single stroller but much wider. The big benefit to this arrangement is that they're easy to turn: our side-by-side pick can be spun in a circle with one hand. The wide wheelbase means that you may have trouble fitting through some doors or walkways, though.
Double jogging strollers: This is a specialized variety of the side-by-side type. Jogging doubles have big bicycle-style wheels, locking front steering wheels for coasting without wobbles, and safety brakes that activate automatically if you let go of the stroller. The big wheels are a benefit any time you're pushing, especially on rough terrain, but these strollers are harder to fold and transport in a car (they don't even fit in some SUV hatchbacks). We didn't test any jogging strollers, though many of our friends are "B.O.B. snobs" who wouldn't go back to a regular stroller unless you forced them.
Strollers vs. wagons
If you're in the market for a double stroller because you have too much stuff to carry, you should also check out our review of the best folding wagons. We've compared the popular models that come in at less than $400 (sorry, Keenz and Veer fans) and found that they're good at different things than a stroller is.
The big question when comparing a wagon and a stroller is how long your kids will be riding at a time. If you just need to get your kids (and a diaper bag, and a beach chair and pop-up shelter and a small cooler on top of all that) down to the beach, wagons are amazing. Wagons are less helpful if you want to quickly click in an infant car seat and walk around the mall for an hour or more.
Comfort is also a trade-off: Strollers are unquestionably more comfortable for kids to sit in for a long period of time when they're strapped in and you're walking, but kids have less room to wiggle or lie down. A wagon like the Radio Flyer – 3-in-1 is like a combination between a bassinet and a rolling bench, and it folds to a more compact size than even a single stroller.
How we tested
Our lead tester has cycled through these strollers for ten months of day-to-day use with his three-year-old and newborn. Each stroller went to parks, festivals, on walks to the library, and car trips out of town. We tried to find the worst situations for each stroller, and we also consulted with other testers who owned the same strollers or similar strollers to find long-term pain points.
Mobility and accessibility
We wheeled these strollers over all kinds of urban terrain, from muddy parks to busy malls. Broken sidewalks, cobbles and curbs all revealed the difference in ride quality you get with larger wheels and spring suspension.
It quickly became clear, once we had walked the strollers on the same paths, that wider wheels make for better maneuverability. The Britax – B-Agile Double Stroller is so easy to turn, it's almost a game. The weight is evenly balanced over the wheels, and the adjustable handlebar means short or tall parents don't have to hunch or curl their arms awkwardly.
In comparison, the tandem-configuration strollers we tried became more difficult to steer the narrower they got. The biggest difference with a narrow stroller is a feeling of instability, like you're going to push the stroller over instead of making a tight turn.
There's a trade-off to make, of course. A wider stroller won't always fit where you need to go. If you arrive at a hotel room with two screaming kids and your stroller doesn't fit through the door until you unload everything and fold it, you might start crying, too.
Kid comfort
The biggest impact on kid comfort in a stroller is definitely personal space. If you're looking for a narrow tandem-style design so you can fit through tight doorways, you're turning your stroller into a tiny two-seat version of an airplane cabin. If the front seat reclines, the kid in the back will feel it. That said, the Contours – Options Elite gives a good amount of legroom for a tandem, and its seats give more headroom for taller kids than the Britax does.
Folding and storage
Not everyone who needs a double stroller will need to fit it in the back of a small car, but many of us do. Even if you're driving a minivan while sightseeing on a road trip, a compact fold can be the difference between enjoying your stroller and wishing you'd left it at home.
The Joovy – Caboose Too Ultralight is a long, skinny, flat package when folded, and technically takes up the least volume. The Britax scores points here, though, because while it takes up more height and depth there's room to slide a carry-on suitcase beside the folded stroller.
Folding the Contours (pictured above in the trunk of a Toyota Corolla) you have a similar footprint to the Joovy, but in some configurations you'll have to take one seat off before you load it in a small trunk so you don't run out of height.

| Double Stroller | Wide | Folded Length | Weight |
| --- | --- | --- | --- |
| Contours - Options Elite | 25.75 | 43.5 | 34 |
| Joovy - Caboose Too Ultralight | 21.25 | 54 | 23 |
| Britax - B-Agile | 31.25 | 30.5 | 26 |
Versatility
All of these strollers offer various options. If one of your babies is already three years old and you have a newborn on the way, you may not need a seat for your oldest very often. A stroller like the Joovy – Caboose Too is perfect for this scenario, with any combination of a car seat cradle, forward-facing seats, a bench seat, and standing platform.
If you've got two infants of the same size and want to keep them both in car seat carriers while you go for a stroll, Contours easily wins this category. Joovy only handles one car seat with the Caboose platform, and Britax has discontinued car seat adapters altogether. Contours also allows you to re-orient the seats to face any way you want.

| Double Stroller | Compatible Car Seats: | Wheel Diameter | Seat Back Height | Recline (Degrees Above Flat) | Flip-flop Friendly Brake |
| --- | --- | --- | --- | --- | --- |
| Contours - Options Elite | Click-in for most brands, plus universal strap-in | 10" | 23" | 25 | Yes |
| Joovy - Caboose Too Ultralight | Universal strap-in | 8" | 24"+ | 32 | No |
| Britax - B-Agile | N/A (recall on old adapter for Britax) | 9" | 18" | 18 | Not really |
Best for twins: Contours – Options Elite
The flexibility of its seating positions makes the Contours – Options Elite the best double stroller for twins. It handles beautifully compared to other tandem strollers in this price range, with bigger wheels and a wide wheelbase to make rolling and turning easier.
Unlike other strollers that prioritize one seat over the other, the Options Elite uses identical seats in both positions. You can also add car seat adapters in either position, with click-in adapters available for all of the best infant car seats we tested. Note that because of seat size, some pairs of car seats may only fit in certain orientations.
The fact that these seats can be installed to face each other was a huge highlight of our testing time. There's opportunity for fighting siblings to torment each other this way, of course, but changing to facing-away mode is just as quick and simple.
Everything about the Contours stroller is a little bit nicer than the other models we tested, but list price is $399, only a third the cost of a premium stroller like the UPPAbaby – Vista.
The wheels on the Contours are already quite large for its class, which is part of what makes this stroller roll smoothly. Unfortunately, those 10-inch baller rims also make this stroller tricky to fit in your trunk. The seats also won't let you fully fold this stroller if you have them in certain positions or recline angles.
You can easily pop the wheels and seats off if needed, and we could usually figure out a way to adjust the seats or wheels to make this stroller still fit in our tester's Corolla with everything attached. Forget about fitting anything else bulky in the trunk at the same time, though.
The one other caveat with wheels is that the rear wheels stick out wider than the rest of the stroller. If you've ever owned a stroller with this design feature, you've probably got the rear wheel stuck on a tight doorway. It's a minor complaint, since the wider wheelbase goes a long way to making turning more stable, but it's something you should be aware of when comparing strollers.
The other minor sticking point on this stroller is the fold-release lock. While the folding action is smooth and works well, the multitude of possible seat positions means the lock that keeps the stroller folded isn't a tight fit the way the locks on the other two strollers are. The amount of wiggle room makes it slightly more difficult to disengage the lock while you're unfolding, and if you try to pull the stroller apart after the lock accidentally re-engages enough times, you could break it.
Unlike the Joovy, the Contours doesn't come with a snack tray. If you want to buy accessories, though, you can add a tray to both seats, unlike the Joovy which doesn't have an option for the rear seat.
The seats themselves are also loaded with features. The recline mechanism allows each seat to go all the way down to 25 degrees above flat — not as far as the Britax, but lower than the recline of most car seats. The leg rests are also adjustable and the built-in canopies are bigger than average. The zip-open mesh "peekaboo" panel on the canopy is a nice touch, too.
Another great feature of the Contours is the storage basket. It's big and easy to get into in most configurations. Even if you've got a kid's legs obstructing your access from the back, there's a side access option.
When you've got the stroller unfolded and ready to go, this is a dream ride compared to the Joovy. It rolls and turns more easily because of the wide wheelbase and the more balanced weight distribution — not as easy to turn as the Britax side-by-side, but it's good for a tandem stroller.
The most obvious reason to pick this stroller is if you want to use two car seats at once. Even if you just want to use one car seat, click-in adapters for all the different car seat brands make this stroller nicer to use than the Joovy.
Key takeaways:
The Contours – Options Elite gives you more seating options: each seat can be mounted forward or rear-facing.
Adapters available to click-in most car seats in either position.
This tandem design makes a good compromise between easy pushing and narrow width.
This is the biggest stroller we tested when folded, but it still fits in a compact car trunk.
Full-featured reclining seats with room to grow.
More expensive than our other picks, though still very competitive with other brands offering the same features.
Versatile Value: Joovy – Caboose Too
The Joovy – Caboose Too Ultralight is based on the popular Joovy Caboose sit-and-stand stroller, with the addition of a snap-in extra rear seat. It's a very popular stroller in either configuration. The flexibility and value are the real stand-out selling points: if your babies are spaced more than a year apart, this stroller will grow with them.
For mounting a carrier like the ones we tested in our car seat review, Joovy's built-in system uses the side-rails and a front-mounted neoprene cradle for the front of the car seat. There are two straps stored permanently in side pockets so you can cinch the car seat down tight. The way the strap is attached to the buckle makes finding the right length more difficult than it could have been, but it won't loosen accidentally.
If you've got twins, the Joovy is a great stroller as soon as they can sit up. Even with older twins, the bench configuration offers enough leg room to get a year or two more of use when the rear forward-facing seat is too cramped.
With an older toddler and a baby sibling, the space offered in the forward-facing back seat is just big enough for a three-year-old like E.J., the blondie in our pictures. Joovy designed this stroller so you'll probably hit the 80-pound weight limit before they outgrow the legroom. The canopy is taller than most, too, at more than 24 inches above the base of the front seat.
Unlike taller convertible tandems like the Contours, the Joovy lets you move a heavier child to the rear seat (so you can still steer the front wheels) without having to lift them so high off the ground.
This stroller is identical to the regular Joovy – Caboose Ultralight except for the addition of the snap-in rear seat. Once your oldest is too big for the constraints of the rear seat, converting to Joovy's signature rear-facing bench seat is simple. In a few more years, it's just as easy to slide the bench forward so an older kid (or two, if they're light enough) can hitch a ride by standing on the platform.
The flexibility of the Caboose Too is its strongest suit. Long after other doubles are uselessly small, you'll still be able to throw your library books or groceries in the basket and give a seven-year-old an occasional break from walking while a four-year-old naps in the front.
Folding and unfolding the Joovy is very similar to other tandem strollers. The trickiest part is figuring out how to stand so you can pull the outside pieces of the frame together; if your arms are long enough, you can stand at the back and grab the front tray or seat and just pull it toward you.
Fitting this stroller into storage or the back of a compact car is a cinch. We looked long and hard to find another tandem that's as compact, and we have yet to find one. The Joovy lies flat in your trunk so you can fit groceries and backpacks on top, but it will take up most of the width.
That said, if you'd rather have a stroller take up nearly the full height of two-thirds of your trunk but still have room for a carry-on suitcase beside it, the Britax side-by-side is what you want.
When it's folded, the Joovy doesn't stand on its own. With the brake on it's stable leaning against a wall, and you can also wheel it around in the folded configuration if you leave the brake off. It's also the lightest full-function stroller we found and you may prefer to carry it around.
For twins, there's no way to attach two infant car seats to this stroller or fully recline both seats. You could still use the front position with a carrier in the universal-fit cradle while you carry a twin in a baby carrier, but if you're expecting twins that's probably not what you had in mind from a double stroller. Contours and Britax are both much better choices if you've got two babies who can't sit up yet.
Our long-term tester, A.A., says maneuverability is her biggest complaint. You can't steer this stroller with one hand, and it's tricky with tight corners. "I knew this going in," she said, "and as much as it bothers me from time to time, I put up with it to have a relatively small double stroller."
The four-wheel suspension doesn't work nearly as well as Joovy would like you to think. When you roll over cobblestones or uneven sidewalks, you'll definitely feel it. It's better than some umbrella strollers, but doesn't compare well to the suspension systems used by bigger strollers we tested.
A.A. also notes that the open-cell foam used for padding the handle does pick up perfumed scents from the hands of anyone who uses the stroller.
Key takeaways:
The Joovy – Caboose Too Ultralight is a flexible and affordable double stroller.
When folded, this is a very light and compact package.
A stroller that grows with your family, from the birth of your second child until you don't need a stroller anymore.
The front seat reclines down low, though it gets into the space of the back seat.
This isn't an option for infant twins, since the back seat has limited recline.
With a long, skinny wheelbase, this is not a maneuverable stroller.
If your kids are spaced further apart than three years, skip the second seat and just get the regular Caboose Ultralight.
Best side-by-side: Britax – B-Agile
The Britax – B-Agile Double is a classic take on a side-by-side design. It's light, easy to fold and pack, and easy to maneuver. If you can manage your infant (or twins) without a travel-system attachment for your car seat, this our pick for best side-by-side double stroller.
The Britax is the easiest to maneuver out of our three picks. The handlebar height quickly adjusts to make things easier for parents who are shorter or taller than the average, and you can turn this stroller on a dime. It also has a 100-pound weight limit, 20 than most strollers in this price bracket.
The only downside to the short wheelbase is that this stroller is wide. It's one of the narrower side-by-side designs we looked at, at only 31 inches, so it'll fit through any doorway that complies with the 32-inch Americans with Disabilities Act standard for accessible design. That's not every door everywhere, but it's most of them. We ran into trouble at a hotel in San Diego when we found out that our room had a 29-inch doorway.
It's a full 10 inches wider than the Joovy, so on a narrow sidewalk or in a crowded store aisle you could find yourself obstructing other people, but at least you'll be able to turn around easily if you get stuck.
Reclining the Britax means loosening the support strap that holds up the backrest, like on many strollers. The Britax uses two straps, which probably makes the seat stronger than the seats which use plastic gears at the attachment point, but you have to hook your finger through two loops when you're pulling. It's not a bad seat design, but the other seats are quicker to adjust with one hand.
Car seat adapters and recalls
The elephant in the room with this stroller is the car seat adapter. Britax used to make one that works as a click-in docking system with their own car seats, and also a universal strap-down cradle. Then there was a recall.
The recall reports are pretty shocking: The car seat attachment adapters were totally exposed and sticking out when the stroller is folded, and became unreliable after they were damaged by dropping or sliding around in car trunks. Car seats fell off of strollers.
Britax issued a replacement part with a safety strap that should prevent them from detaching, but you can't buy any of these parts in North America. The attachment point is still part of the frame, and the EU version of the B-Agile adapter is still sold over there. Britax HQ says that the car seats used in the EU are "totally different," and they aren't concerned.
If you really want to attach a car seat to a side-by-side stroller like this, the Baby Jogger – City Mini Double works the same way the old Britax system did. Baby Jogger has also recalled some of their strollers and car seat adapters over unrelated issues, though you can buy the replacement versions.
If you can find the safe updated version of the Britax adapter, or you decide to shell out the extra cash to buy the Baby Jogger and get more car seat compatibility (for Graco, Cybex, and Maxi Cozi car seats), think twice before resting a Costco box on top of them in your trunk. These bits of plastic are going to bear the entire weight of your child and car seat.
Other features
The adjustable handlebar on the Britax is a pretty great perk that even the Baby Jogger – City Mini Double doesn't have. In addition to more comfort for short or tall parents when strolling, it also allows you to position the handlebar so that the stroller can stand up when it's folded. That makes this the only free-stander from our top picks.
The brake release on the Britax doesn't really qualify as flip-flop-friendly, but it's close. The pedal is large and easy to release. There aren't sharp edges, either, so our testers didn't feel like it was a problem when wearing sandals.
The mesh panel windows with cover flaps are a great way to keep an eye on what's happening down below the canopy, and make it easy to take a peek when your baby is taking a nap inside the snug little cave created by the fully reclined seat.
These seats are very nice and roomy, right up until your child is too tall. The back measures 18 inches from seat to the start of the canopy: an older kid (like O.M. in the image above) can still ride on the stroller, but leaning against the edge of the canopy is barely more comfortable than the bench seat on the Joovy.
Key takeaways:
The Britax – B-Agile Double Stroller lives up to its name, and is the easiest stroller to push without spending more than $400.
This side-by-side design won't fit through 30-inch doorways, but otherwise it's good to go.
A square-ish folded shape makes this even easier to fit in a trunk than a long-but-narrow tandem.
The Britax is 20% lighter than the closest competing side-by-side, and half the price.
The seats are shorter, but this stroller easily carries more weight than the others we tested.
An adjustable handlebar makes this great for parents who fight over how tall things should be.
Recline angle goes very low for newborns, but Britax has discontinued all car seat attachments for this model.
The bottom line
We researched dozens of strollers and spent ten months testing our top picks, and it's tricky to say that any one stroller is going to be the very best for everybody. But we've got three great strollers that are a good value and have specific perks that could make them the best stroller for you.
The Contours – Options Elite gives you, like the name says, options. You can get this much seating flexibility in other convertible strollers that cost more, but we like that Contours has balanced the seat placement specifically to make it a good double stroller. The wheels are big enough to give a smooth ride, but they don't stop you from fitting the folded stroller in your trunk.
If you have an older child and a baby, the Joovy – Caboose Too Ultralight will synchronize better with your needs than nearly any other stroller. Even after your older child is too big for the removable rear seat, Joovy has you covered with a bench seat and a running board. Joovy's strap-down car seat cradle system doesn't give you snap-in compatibility, but you won't have to worry about finding adapters.
If you don't care about car seats at all, Britax has you covered with the truly easy-to-push B-Agile Double. Extra perks like low-recline seats and adjustable handlebar height make this a very tough competitor to beat. It's also the most compact double stroller in the trunk, and very light if you need to carry it.